Hey! This site is reader-supported and we earn commissions if you purchase products from retailers after clicking on a link from our site.
Massachusetts is an absolutely beautiful state in the Northeast, especially during the summer and early fall. There is a ton of great RV camping in the more rural parts of the state and is wonderful to travel through if you find yourself in that part of the country with your RV or van. Just make sure to plan out where you are staying ahead of time!
Through our research and personal travels, we compiled a list of the top campgrounds in the state, so here they are – our picks for the best campgrounds in Massachusetts.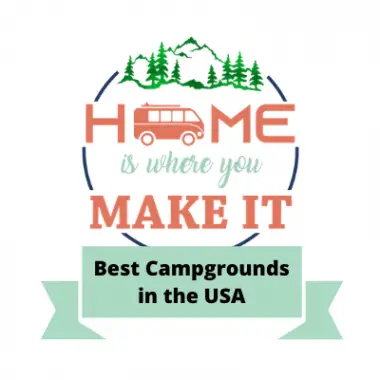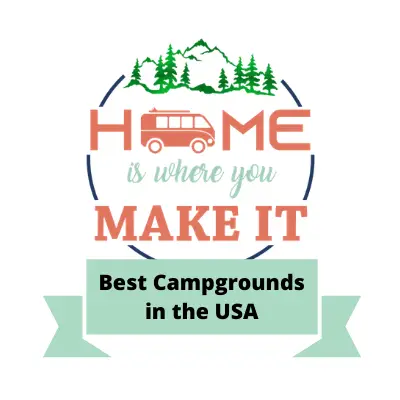 Pine Acres Family Camping Resort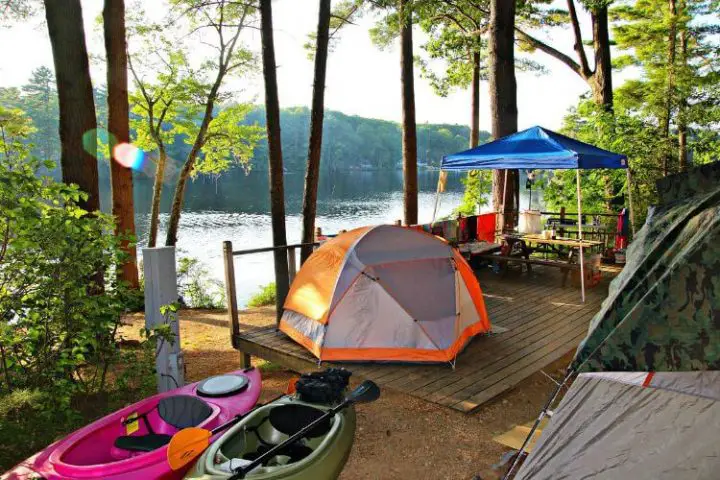 Offering scenic lakeside RV camping on 70-acre Lake Dean, Pine Acres Family Camping Resort in Oakham is the perfect getaway in central Massachusetts. The campground offers a range of options to its visitors, from secluded tent camping spots in the wilderness area to premium waterfront RV sites with full hookups, as well as cabin and RV rentals.
Spend your days at Pine Acres enjoying the lake and all its activities; you can bring your own boat or rent one from the campground.
Address
203 Bechan Road, Oakham, MA 01068
Phone Number
(508) 882-9509
Reservations
Normandy Farms Family Camping Resort
Normandy Farms Family Camping Resort is known as a luxury campground that caters well to travelers who prioritize a premium experience. The resort offers top-tier amenities including a fitness center, wellness center with massage appointments available, sauna, and four pools across the grounds. The excellent experience at Normandy Farms extends to your furry companions as well, with a dog park, day kennels, and even a dog-walking service!
Address
72 West Street, Foxboro, MA 02035
Phone Number
(866) 673-2767
Reservations
Country Aire Campground

With open and shaded pull-through sites as well as tent sites and vacation rental cabins, Country Aire Campground is sure to have the camping accommodations you're looking for. The nearby hiking and biking trails, fishing and canoeing on the Deerfield River, and excellent wildlife and foliage viewing ensure that you won't be short on things to do while staying at Country Aire. Onsite, the campground also features a new swimming pool, playground, and a picnic pavilion.
Address
1753 Mohawk Trail, Charlemont, MA 01370
Phone Number
(413) 625-2996
Reservations
Laurel Ridge Camping Area
Laurel Ridge Camping Area is all about creating fun family memories, with a packed activity schedule that includes an annual pig roast and a pool for its guests to enjoy. Past visitors appreciate the family-oriented atmosphere and effort that goes into maintaining fun activities alongside a relaxing ambiance. The friendly owners and staff round out the pleasant Berkshires camping experience that Laurel Ridge provides.
Address
40 Otis Tolland Road, Blandford, MA 01008
Phone Number
(413) 269-4804
Reservations
Boston Minuteman Campground
Named for the militiamen who were a big part of the Boston's Revolutionary War history, Boston Minuteman Campground is located outside of the city but still within easy range of many historical and natural attractions, including the U.S.S. Constitution, Bunker Hill National Monument, and scenic Walden Pond.
The well-equipped RV sites, tent sites, and cabin rentals make for a comfortable stay, and amenities like a volleyball court, bocce ball, and swimming pool bring on the summer fun.
Address
264 Ayer Road, Littleton, MA 01460
Phone Number
(978) 772-0042
Reservations
Mt. Greylock Campsite Park
"A jewel in the Berkshires," Mt. Greylock Campsite Park is located at the base of Mount Greylock Reservation, a public recreation and nature preservation area around Massachusetts's highest peak. The scenic surroundings and well-kept grounds of this campground draw in new visitors and keep the old coming back for repeat visits.
The park can accommodate tents, pop-ups, trailers, motorhomes, and RVs up to 45 feet, with deep, wide sites that are separated by trees and grass.
Address
15 Scott Road, Lanesborough, MA 01237
Phone Number
(413) 447-9419
Reservations
Prospect Mountain Campground
Prospect Mountain Campground is a family-owned and operated campground nestled in the foothills of the Berkshires in southern Massachusetts. The location looks out over the Connecticut River and Pioneer Valley, and guests can enjoy the wooded, natural sites and two lakes at the campground.
Enjoy themed family weekends over the summer (including Christmas in July and Las Vegas Weekend), live band performances in the park's pavilion, looking for treasure in the gem and fossil mining sluice, and much more at Prospect Mountain.
Address
1349 Main Road, Granville, MA 01034
Phone Number
(413) 357-6494
Reservations
Sunsetview Farm Camping Area
Sunsetview Farm Camping Area has been helping create family memories since it was started in 1970, and it doesn't show any signs of slowing. Built on land that was originally a dairy farm and apple orchard, the campground has retained its bucolic feel as both a convenient road trip stop and destination in itself.
Sunsetview has several extras that complete the experience including a swimming pond (in addition to a pool), a teen tower where older kids can hang out, and a kids' fishing brook.
Address
57 Town Farm Road, Monson, MA 01057
Phone Number
(413) 267-9269
Reservations
Pinewood Lodge Campground
Located in historic Plymouth, where the Pilgrims first set foot on the shores of what would become the Massachusetts Colony, Pinewood Lodge Campground itself is steeped in a rich history of the area. Their website details the centuries-long backstory of the land that is now the campground.
Beyond the obvious local historical attractions, Pinewood Lodge offers additional features including a lodge with a bar overlooking Pinewood lake, two playgrounds, and designated dog-walking areas around the park.
Address
190 Pinewood Road, Plymouth, MA 02360
Phone Number
(508) 746-3548
Reservations
Cape Cod Maple Park Campground and RV Park
A large campground that features over 500 campsites on 600 acres of scenic woodlands, Cape Cod Maple Park Campground, and RV Park is centrally located before the Cape Cod bridges and traffic. Amenities include kayak and paddle boat rentals, golf cart rentals, and half a mile of sandy beach along the two freshwater swimming ponds. Offsite, guests can explore local attractions like whale watching, Martha's Vineyard, and cranberry bogs.
Address
290 Glen Charlie Road, East Wareham, MA 02538
Phone Number
(508) 295-4945
Reservations
Have any other favorite campgrounds in Massachusetts that we didn't cover? Let us know! We would love to check them out.
Be sure to check out the rest of our choices for the best campgrounds in the USA: