Hey! This site is reader-supported and we earn commissions if you purchase products from retailers after clicking on a link from our site.
Colorado is such a beautiful state and should be on everyone's list to travel through if you're in an RV or van. The views, outdoor activities, and the people you meet along the way are absolutely amazing. In fact, it's where Lindsey is right now with her van, Venus! We did the research to find the best campgrounds across the entire state – here are our findings. Without further ado – the 10 best campgrounds in Colorado.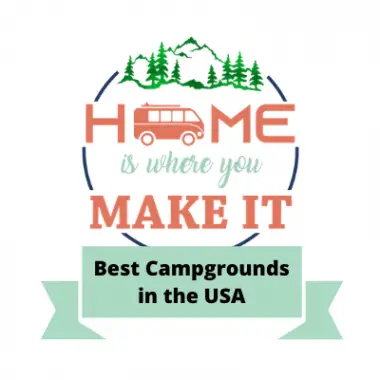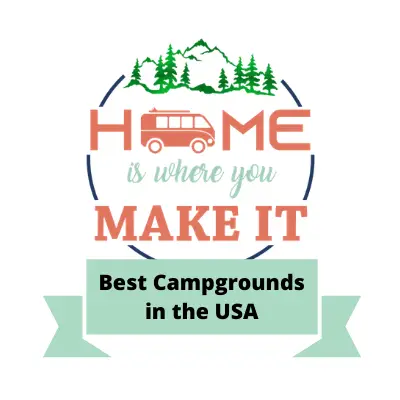 Base Camp at Golden Gate Canyon
Base Camp lives up to what its name promises, offering anything that a camper would need, whether they're on a relaxing staycation from nearby Denver or traveling from far away to enjoy the ample views and activities of Golden Gate Canyon State Park. To that end, the campground offers a variety of accommodation options ranging from tent and RV sites to cabin rentals. The campground also features an onsite convenience store and liquor store to provide any groceries, snacks, toiletries, or other needs a guest might have.
Address
661 Highway 46, Black Hawk, CO 80422
Phone number
(303) 582-9979
Reservations
Woodlake Park
Woodlake Park earns rave reviews for its friendly staff and owner as well as its beautiful location just outside of Lake City. The campground welcomes tent campers as well as RV campers to its spacious, full-hookup, pull-thru sites. The endless list of activities in the area includes visiting historic and geological sites (such as old mines); Jeep, OHV, and motorcycle trails; and fishing. Woodlake also offers comfy cabin rentals for those looking for more of a glamping experience.
Address
2690 Colorado Highway 149 S, Lake City, CO 81235
Phone number
(800) 201-2694
Reservations
Arrowhead Point Campground and Cabins
"You'll come for the scenery…you'll stay for the hospitality" reads the website of Arrowhead Point Campground and Cabins. The camping experience here delivers on that promise, offering both a spectacular location and amenities galore. The location in Buena Vista makes the campground a home base for day trips to surrounding cities, river rafting down the Arkansas River, and Rocky Mountain sunsets every night back at camp. Besides the top-notch amenities of a well-stocked camp store and WiFi, Arrowhead Point goes above and beyond with a new Espresso Bar, pet kennels/boarding service, and free shuttles to the river for rafting.
Address
33975 US Highway 24 N, Buena Vista, CO 81211
Phone number
(719) 395-2323
Reservations
Dolores River Campground
Named for the river which flows through its grounds, Dolores River Campground is a getaway you can't miss! Guests wanting to fish have to look no further than the river itself or the onsite fishing pond. Amenities and activities at the campground include a dog walk and nature trail through the Bullwinkle Woods, Saturday evening ice cream socials in the summertime, and Wednesday evening made-to-order woodfired pizza.
Address
18680 Highway 145, Dolores, CO 81323
Phone number
 (970) 882-7761
Reservations
Grape Creek RV Park
With beautiful views of the Sangre de Cristo Mountains and Wet Mountain Valley, Grape Creek RV Park is a gem of south-central Colorado. The certified International Dark Skies of the Westcliffe area offer unbeatable stargazing, and the surrounding area also offers hiking, climbing, ATVing, and jeeping for visitors. The campground itself features clean restrooms, a fully-equipped clubhouse, and well-appointed sites alike.
Address
56491 State Highway 69, Westcliffe, Colorado 81252
Phone number
(719) 783-2588
Reservations
Indian Springs Ranch and Campground
Indian Springs Ranch and Campground delivers on a true Wild West experience for its guests, who are getting the chance to stay on a real, working ranch complete with cattle and horses. The town of Cañon City is close by with additional attractions, but there is plenty to do at Indian Springs, ranging from swimming to arrowhead hunting to exploring the old stagecoach road and surrounding scenery.
Address
3257 County Road 67, Penrose, CO 81240
Phone number
(719) 372-3907
Reservations
indianspringsranchcampground.com
Sportsman's Campground and Mountain Cabins
Surrounded by towering ponderosa pines and sitting at an elevation of over eight thousand feet, Sportsman's Campground and Mountain Cabins delivers on a true Colorado experience of the great outdoors. Visitors can enjoy the ample activities in the area, including horseback riding, trout fishing, and hiking, or opt to relax in the quiet atmosphere of the campground.
Address
2095 Taylor Lane, Pagosa Springs, CO 81147
Phone number
(970) 731-2300
Reservations
Garden of the Gods RV Resort
Sporting spectacular views of Pikes Peak, Garden of the Gods gives visitors the perfect combination of historical mountain town surroundings and top-notch amenities. It's no wonder that this campground has received rave reviews from CNN Money and Fortune with its clean and spacious bathrooms, two heated swimming pools, and free WiFi throughout the resort.
Address
3704 West Colorado Avenue, Colorado Springs, CO 80904
Phone number
(719) 475-9450
Reservations
The Views RV Park and Campground
Appropriately named, The Views RV Park and Campground makes its guests the unique promise of being able to see all four states visible from southwest Colorado. The campground encompasses over 42 acres which include hiking trails, easy access to McPhee reservoir, and a pavilion for group gatherings. Camping options include big rig-friendly full hook up RV sites, tent sites, and glamping tents to meet a range of different preferences.
Address
24990 Highway 184, Dolores, CO 81323
Phone number
(970) 749-6489
Reservations
Sugar Loafin' Campground
With historic Leadville, Colorado just minutes away, Sugar Loafin' Campground offers visitors a window into the area's mining-town past as well as the outdoor activities of today. The campground is close to the nation's highest golf course and aptly named Turquoise Lake, which can be driven and hiked around. The special perks at this campground include mountain bikes, gold panning, and even a nightly ice cream social.
Address
2665 County Road 4, Leadville, CO 80461
Phone number
(719) 486-1031
Reservations
Did we miss any Colorado campgrounds that you absolutely love? Shoot us an email and let us know! We will definitely check them out.
Be sure to check out the rest of our choices for the best campgrounds in the USA: