Hey! This site is reader-supported and we earn commissions if you purchase products from retailers after clicking on a link from our site.
The Mid-Atlantic is a very cool region to travel through by RV or van. There are a lot of great sights to see and people to meet. Maryland in particular has a lot of great camping, so planning your trip ahead of time to make sure you hit all the best spots is important. The state has so many beautiful waterways, a long coastline, and lots to explore.
We've traveled through Maryland a few times ourselves and explored the many campgrounds around the state. From our own travels and research, here are our picks for the top campgrounds in the great state of Maryland.
Table of Contents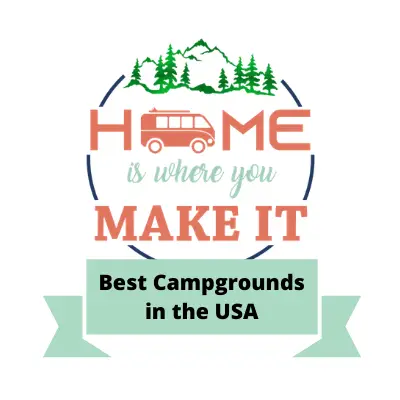 Bayshore Campground
With a setting on the scenic Chesapeake Bay, Bayshore Campground is halfway (only three miles each way) between the East Neck Island Wildlife Refuge and the town of Rock Hall, allowing guests to enjoy natural attractions and the comforts of a small town simultaneously. The campground's location directly on the bay makes it easy to relax on the beach, collect sea glass, or fish along the shore line, while ending every day with watching a beautiful sunset.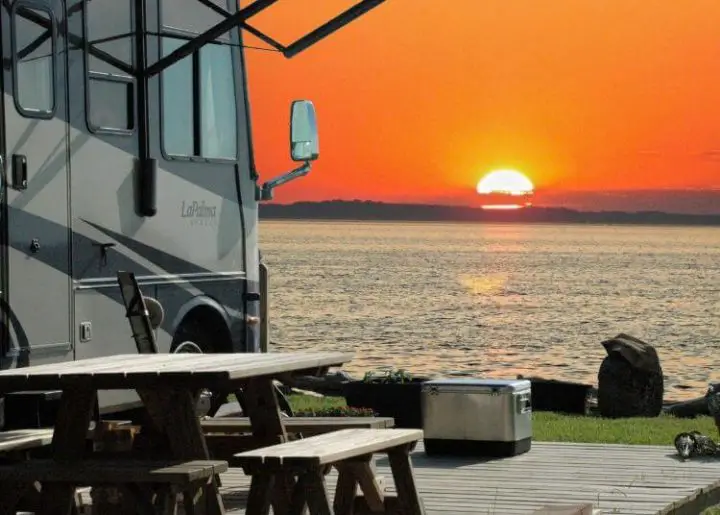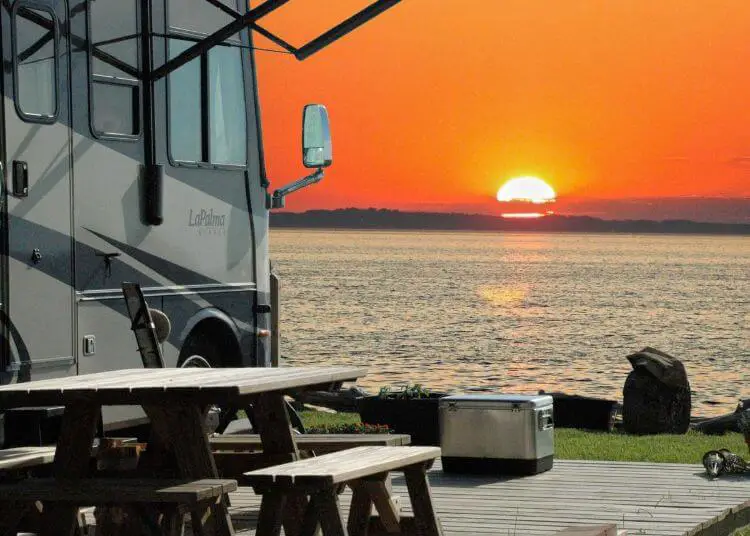 Address
4228 Eastern Neck Road, Rock Hall, MD 21661
Phone Number
(410) 639-7485
Ramblin' Pines Campground
Ramblin' Pines is your perfect choice for full-service family camping. The quiet, wooded setting contrasts the surrounding vacation attractions of D.C. and Baltimore, which make for great day trips. If you don't want to venture away from your campsite, you'll find fun activities like horseshoes and swimming and frequent events like hayrides and live entertainment to keep you busy onsite.
The exercise room, general store, and pet park ensure that all your needs are met here!


Address
801 Hoods Mill Road, Woodbine, MD 21797
Phone Number
(410) 795-5161
Castaways RV Resort & Campground
Though the name of this campground may conjure up images of Tom Hanks marooned on an island, Castaways RV Resort & Campground is anything but, delivering a luxurious and scenic camping experience. The waterfront campground sits on Sinepuxent Bay with spectacular views of the Assateague National Seashore and Ocean City.
Find food, drink, and nightlife onsite at the cafe, tiki bar, and coffee/ice cream shop. Come find out why this place is a perennial favorite for many families!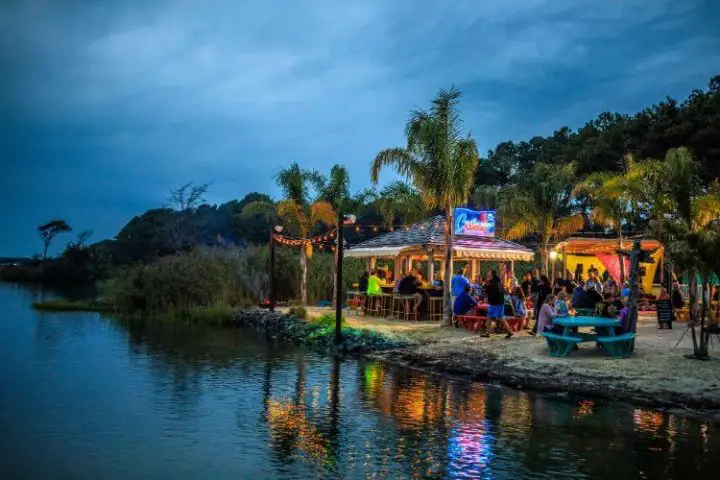 Address
12550 Eagles Nest Road, Berlin, MD 21811
Phone Number
(410) 213-0097
Frontier Town RV Resort & Campground
If you're looking for a themed camping experience, look no further than Frontier Town RV Resort & Campground. The Wild West blends with the East Coast at this combination campground-amusement park. Staying at the campground will get you free or discounted access to the water park, mini-golf course, Western theme park, high ropes adventure park, and the great white shark exhibit, all of which are onsite.
If you somehow get bored with all of that, you can venture out to the 200-foot pier or participate in one of the many planned activities put on by the resort.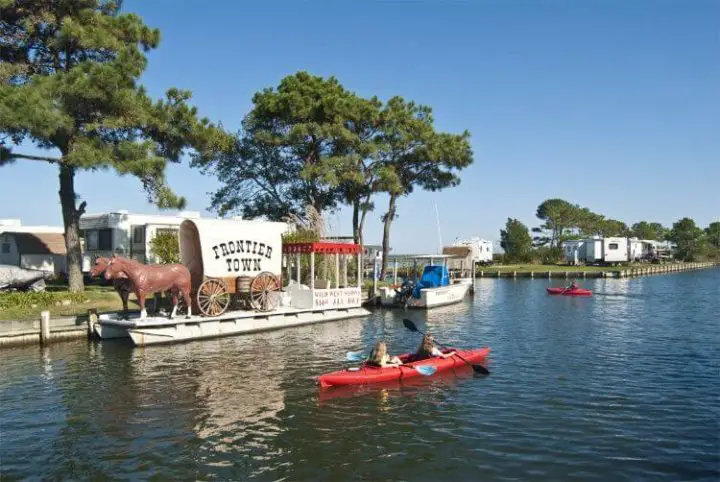 Address
8428 Stephen Decatur Highway, Berlin, MD 21811
Phone Number
(800) 228-5590
Little Orleans Campground
Located on 222 acres of woodlands in the Upper Potomac River Valley, Little Orleans Campground provides a complete camping experience, regardless of time of year. The tent and RV sites are spacious, each coming with a fire ring, picnic table, full hookups for the RV sites. The campground also rents out full-service cabins.
Little Orleans is about half a mile north of the Chesapeake & Ohio Canal, giving guests easy access to canoeing, kayaking, and boating in other small watercraft via the boat ramp at the canal.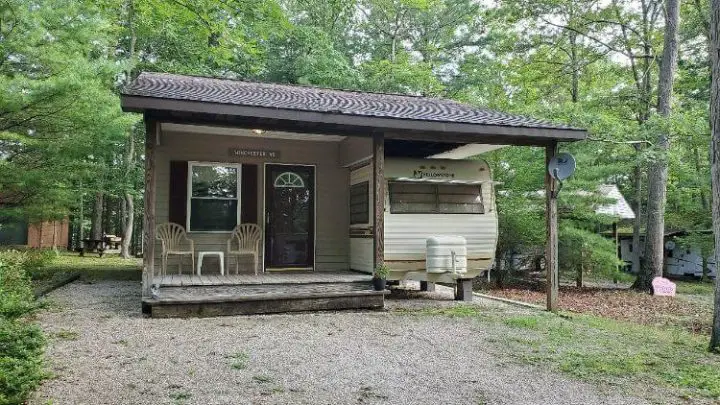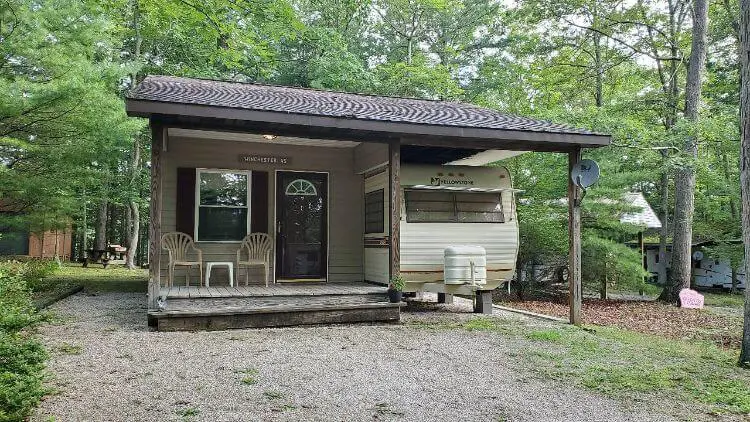 Address
31661 Green Forest Drive SE, Little Orleans, MD 21766
Phone Number
(301) 478-2325
Island Resort Campground
Island Resort Campground is an RV park co-op in Newark, Maryland, which is close to Ocean City. The large RV sites allow plenty of room for big rigs and come with full hookups. Spend your time splashing in the heated pool, fishing with the campground's catch-and-release program, or renting a canoe to explore the bay. If you don't have an RV or don't want to bring yours, you can also rent a trailer or cabin from the campground.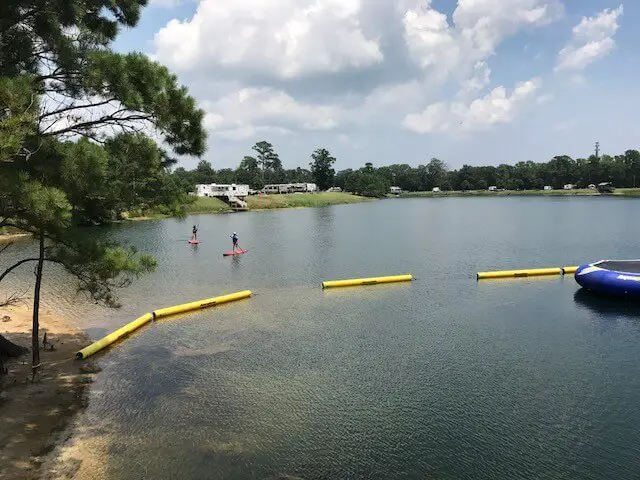 Address
9537 Cropper Island Road, Newark, MD 21841
Phone Number
(888) 641-9838
Treehouse Camp at Maple Tree Campground
Treehouse Camp at Maple Tree Campground may be one of the most one-of-a-kind, magical campgrounds we have encountered! As the name implies, Maple Tree's cottages and tent sites are immersed in the surrounding forest and nature, making for a secluded experience.
The tree cottages and tree houses are built up high, so you'll feel like Swiss Family Robinson in your accommodations. For J. R. R. Tolkien fans, the campground even has a Hobbit House complete with a circular door that can be rented!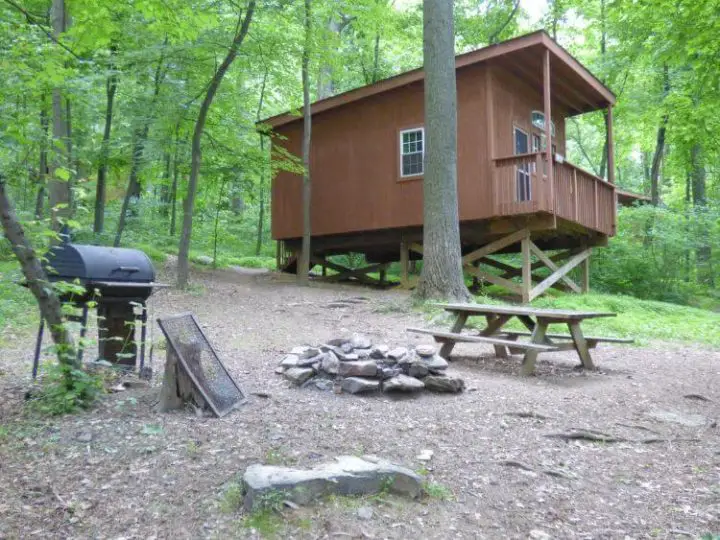 Address
20716 Townsend Road, Rohrersville, MD 21779
Phone Number
(301) 432-5585
Roaring Point Waterfront Campground
A family operated business since 1974, Roaring Point Waterfront Campground is small in size but big on creating valuable memories, both spending time with loved ones and in nature. Spend your time at the campground fishing, crabbing, swimming or just relaxing.
The property adjoins the Nanticoke River, making it part of an area that has seen pirates, Civil War soldiers, and famous steamboats in its storied past. Learn about history while creating your own memorable stories.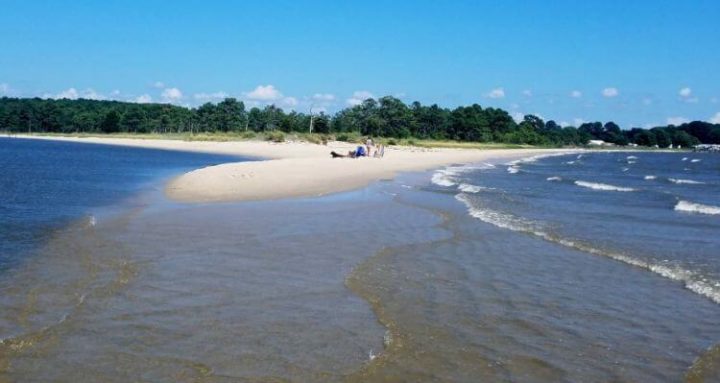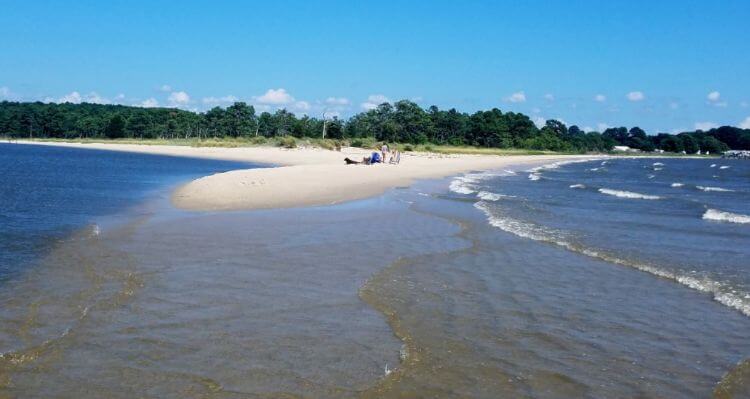 Address
2360 Nanticoke Wharf Road, Nanticoke, MD 21840
Phone Number
(410) 873-2553
Woodlands Camping Resort
After almost 50 years of business, Woodlands Camping Resort has perfected the Maryland camping experience and has the accolades to prove it–the resort was rated as the best in the state by Reader's Digest! You will love the campground's features which include a large swimming pool, a sunbathing deck, and a fishing pond. The event calendar is always full of activities like bingo on Saturday nights, Mother's Day pancake breakfasts, and corn hole tournaments.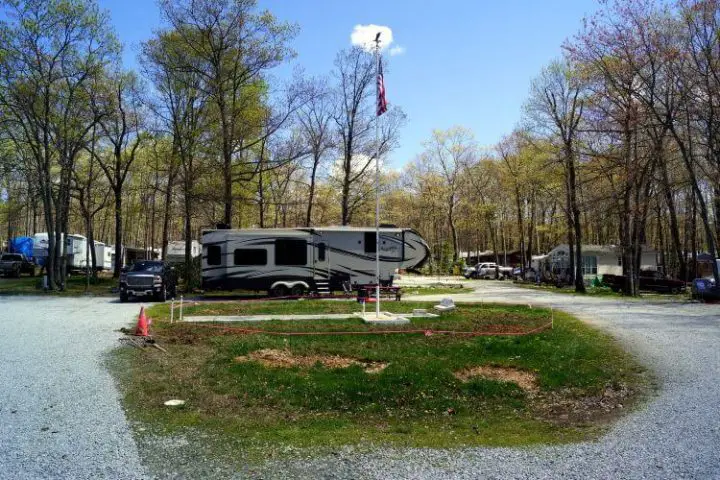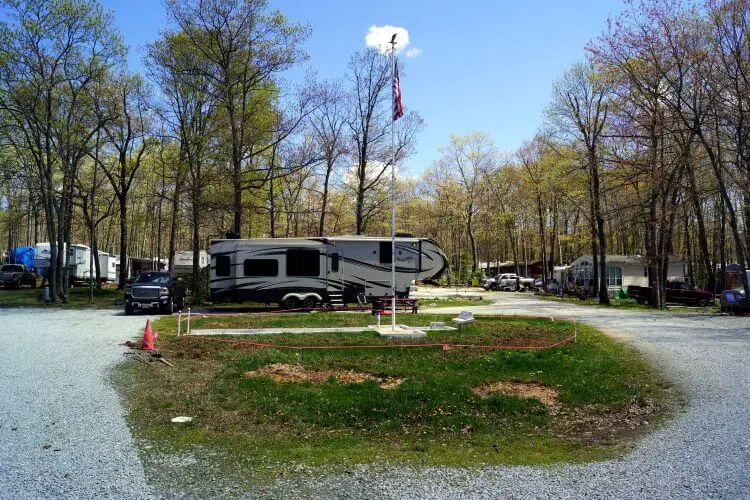 Address
265 Starkey Lane, Elkton, MD 21921
Phone Number
(410) 398-4414
Brunswick Family Campground
With over 100 campsites, Brunswick Family Campground on the Potomac River is the perfect place to spend your camping trip. The location of the campground is convenient to reaching Washington, D.C. as well as Baltimore, but the camping area has none of the hustle and bustle of those major metropolitan areas. Sit back and relax at your campsite as you take in views of the river, Short Hill Mountain, and the great blue herons that call the area home.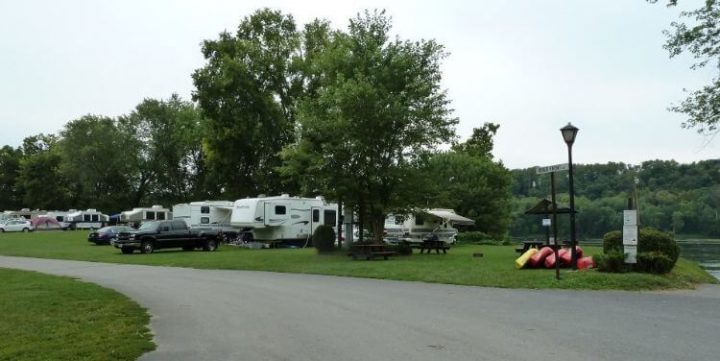 Address
100 S Maple Avenue, Brunswick, MD 21716
Phone Number
(301) 834-9952
And that's it, folks! Did we miss any of your favorite spots to set up camp in Maryland? Let us know, we would love to check them out.
Be sure to check out the rest of our choices for the best campgrounds in the USA:
If you don't own an RV just yet, renting is also a great option. Be sure you're renting from the right company though. Check out our top picks for the best RV rental agencies.