Hey! This site is reader-supported and we earn commissions if you purchase products from retailers after clicking on a link from our site.
From the shores of Lake Erie to the southern parts of the state, Ohio has a ton of great places to camp and explore. And lots of great people to meet! If you're planning on traveling through Ohio on your next adventure, make sure to plan out ahead of time where you'll be staying overnight.
There are tons of great campgrounds around the state, so we did the research to find the best ones. From our own travels and additional input from other RVers and travelers, here are our top picks for the best campgrounds in Ohio. Happy camping!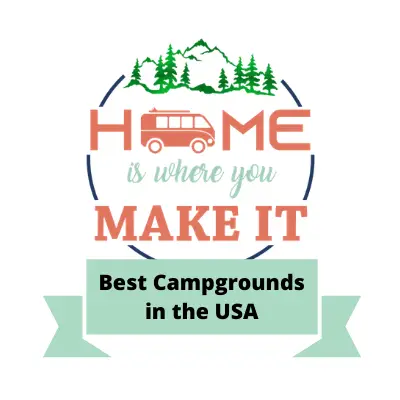 Countryside Campground
If you're looking for a family-oriented camping experience near the Mogadore Reservoir, Countryside Campground has the perfect balance of quiet and fun to make for a great family trip. Besides enjoying direct lake access to the reservoir, guests can venture to the many attractions in the surrounding area, which include the Rock and Roll Hall of Fame, the Pro Football Hall of Fame, and concerts at the Blossom Music Center.
The heated swimming pool, mini golf, and game room at Countryside ensure that your kids won't get bored back at the campground either.
Address
2687 State Route 43, Mogadore, OH 44260
Phone Number
(330) 628-1212
Reservations
Mohican Adventures
Though Mohican Adventures offers excellent camping including full RV hookups, primitive camping, and 45 log cabin rentals, it's much more than just an average campground. Mohican Adventures started out as a canoe livery and still offers river trips down the Blackfork/Mohican River in tubes, canoes, kayaks, and rafts.
Visitors can also enjoy go-karting, climbing through an Aerial Adventures ropes course, and mini-golfing on one of three courses that vary in difficulty.
Address
3045-3058 State Route 3 South, Loudonville, OH 44842
Phone Number
(419) 994-2267
Reservations
Berlin RV Park and Campground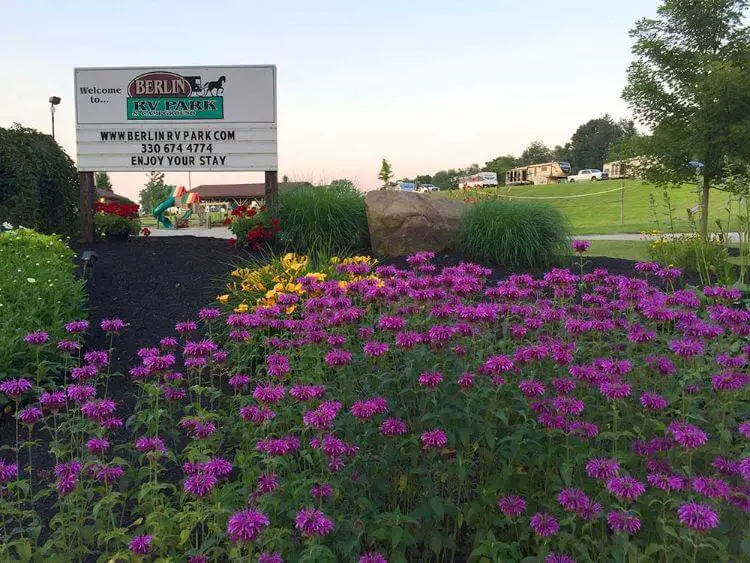 Located in the heart of Amish Country, Berlin RV Park and Campground are one of the newest campgrounds in the area, just two miles west of downtown Berlin. You can watch horses and buggies roll by from the campground or venture out into town to sample Amish food or shop for high-quality Amish furniture. Amenities onsite at the park include an herb garden where you can pick your own fresh herbs, a free dumping station, and a group picnic area.
Address
5898 State Route 39, Millersburg, Ohio 44654
Phone Number
(330) 674-4774
Reservations
Leafy Oaks Campground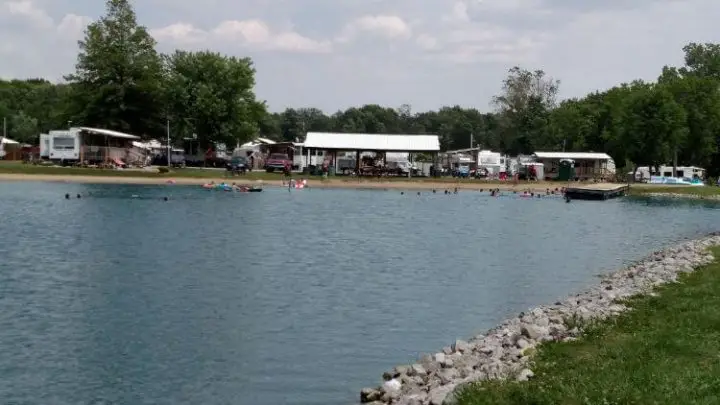 Centrally situated between Toledo and Cleveland, Leafy Oaks Campground balances access to those cities without compromising on the tranquility of its natural setting. The campground features both a swimming pond and a fishing lake for its guests to enjoy, and a licensed camp store onsite ensures that all your food and supply needs can be met as well.
Leafy Oaks also has a busy event schedule of weekend activities that bring together all of the guests and staff at the campground.
Address
6955 OH-101, Clyde, OH 43410
Phone Number
(419) 639-2887
Reservations
Roundup Lake Campground
Roundup Lake Campground in Mantua is a large campground with over 350 sites as well as a range of other accommodation options including lodge, cottage, and log cabin rentals. The onsite activities are top-notch; guests can relax on the sandy beach at the spring-fed lake, rent kayaks, canoes, or rowboats, or join in on one of the regular theme weekends.
Repeat visitors can't get enough of the community-like feel at Roundup Lake, which manages to bring people together despite having all of the size and amenities of a large campground.
Address
3392 State Route 82, Mantua, Ohio 44255
Phone Number
(330) 562-9100
Reservations
A & E Camping Resort
Close to local attractions like Indian Lake, Mad River Mountain, and Ohio Caverns, A & E Camping Resort offers a balance of activity and relaxation. Choose between primitive camping, full hook-up RV sites, or a luxurious lodge rental for your stay at A & E. While you're staying at the campground, you can go swimming, fishing, hiking, or riding around on golf carts.
A & E even has a lakeside chapel and event space that's perfect for hosting a low-stress wedding or other events in a beautiful environment that doesn't break the bank.
Address
3299 OH-540, Bellefontaine, OH 43311
Phone Number
(937) 593-0220
Reservations
Rainbow Springs Family Campground
With over 45 years of history, Rainbow Springs Family Campground has been helping create unique family memories for years. The campground is especially welcoming to seasonal campers, with very reasonable seasonal rates to match.
Past guests wax poetic about the campground's caring owners and staff, neighborly and family-friendly environment, and swimming lake that is open to all guests. Don't miss this relaxing getaway if you're in the Loudonville area!
Address
3435 State Route 3, Loudonville, OH 44842
Phone Number
(419) 994-5095
Reservations
Cross Creek Camping Resort
Cross Creek Camping Resort earns high ratings from us as well as an array of other reviewers for its family-friendly feel, comfortable amenities, and a long list of activities that can keep even the most energetic camper busy. Swimming in the pool, basketball, volleyball, tennis, cornhole and much more are all included in the price of camping.
Also included are themed weekend activities, fire engine rides on holidays, wagon rides every Friday, and candy bingo on the weekends. For a small additional fee, visitors can also enjoy looking for treasure in the gem mine, boat rentals, and special dinners on select weekends.
Address
3190 South Old State Road, Delaware, OH 43015
Phone Number
(740) 549-2267
Reservations
Tee Pee Family Campground
With over 200 sites and recently updated facilities, Tee Pee Family Campground has everything you need for a comfortable getaway with family and friends. The two stocked fishing ponds and large swimming pond with a beach allow you to spend your days on the water while the onsite camp store makes sure that you are outfitted with all of the supplies you need for your stay.
On top of that, the rates at Tee Pee are very reasonable, so you can rest assured that you are getting the most for your money.
Address
6499 State Highway 199, Upper Sandusky, OH 43351
Phone Number
(866) 808-2952
Reservations
Oakdale Campground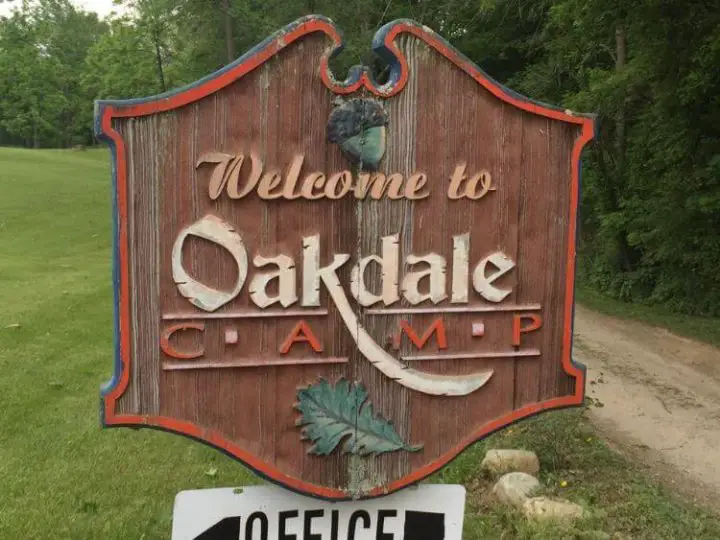 A so-called "hidden gem on the Miami River", Oakdale Campground offers a simple yet comfortable camping experience in west central Ohio. The seasonal rates are some of the lowest you can find in the area, and there are few additional fees involved in camping here (hot showers and pets are both free with your reservation).
For the kids, there are two playgrounds to choose from at Oakdale, and past visitors have described their stay there as peaceful, restful, and easy.
If you are considering Ohio here is an article on common pests in Ohio.
Address
4611 OH-235, Quincy, OH 43343
Phone Number
(937) 407-0031
Reservations
That's it! Did we miss any of your favorite campgrounds in Ohio? Shoot us a message and we will check them out.
Be sure to check out the rest of our choices for the best campgrounds in the USA: