Hey! This site is reader-supported and we earn commissions if you purchase products from retailers after clicking on a link from our site.
Idaho is one of the many hidden gems across our nation. The landscapes across the entire state are so beautiful and varied – all the way from Yellowstone, to St. Anthony Sand Dunes, up to Couer d'Alene and Kaniksu National Forest in the northern part of the state. There is so much to see!
That's why planning out where you stay overnight ahead of time is so important. If you're traveling through Idaho, you don't want to miss any of the great sights and people. After our research and travels, we compiled a list of the top 10 campgrounds in the state of Idaho. Here they are!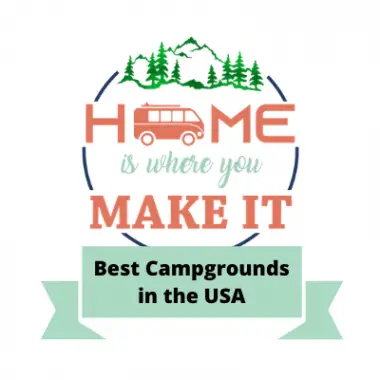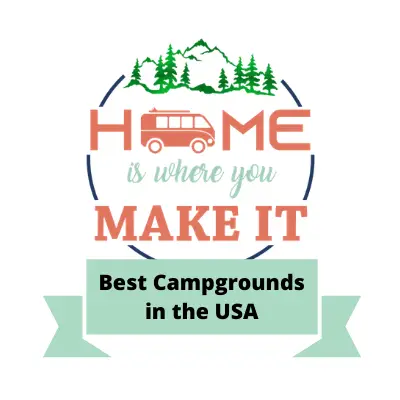 Creekside Campground Idaho City
Located a 45-minute drive from Boise and just six miles from historic Idaho City, Creekside Campground is a family-owned campground and event center worth checking out if you're in the area. The campground is on the smaller side, with only ten sites that accommodate most RV vehicles, so you can really relax and enjoy the beautiful nature without other guests in your way.
The event area can be reserved at an additional daily cost and consists of a pavilion, ice house for storing food and drink, and parking for up to 250 people.
Address
3193 Highway 21, Boise, ID 83716
Phone Number
(208) 392-4325
Reservations
creeksidecampgroundidahocity.com
Snake River RV Park & Campground
Snake River RV Park & Campground is a full-service RV campground open year-round. The spacious pull-through sites, fun activities, and comfortable amenities secure this campground's place in our top ten list for Idaho. The swimming pool, playground, and pet areas ensure that every family member can enjoy the campground. The RV campsites are up to 85 feet long, so feel free to come with your big rig.
Address
1440 Lindsay Boulevard, Idaho Falls, ID 83402
Phone Number
(208) 523-3362
Reservations
Country Corners RV Park
Country Corners RV Park's location in the "Wine Region" of Idaho makes it the perfect place to stay if you're looking to sample the wines at the three wineries in Caldwell. The perks of this campground don't stop there, though. Other nearby attractions include museums, a golf course, raceways, and several state parks.
When you're back at Country Corners after a day full of seeing the local sights, you can enjoy their free WiFi, community garden, and well-maintained campsites.
Address
17671 Oasis Road, Caldwell, ID 83607
Phone Number
(208) 453-8791
Reservations
Village of Trees RV Resort
Situated on the Snake River in Declo, Idaho, Village of Trees RV Resort lives up to its name with beautiful natural surroundings and a prime location. Attractions in the surrounding area include Shoshone Falls, the Minidoka Dam, and Lake Walcott State Park. The campground is open year-round making it a great home base whether you're in the area to ski in the winter or to hike and fish in the summer.
Address
274 Highway 25, Declo, ID 83323
Phone Number
(208) 654-2133
Reservations
Valley View RV Park Campground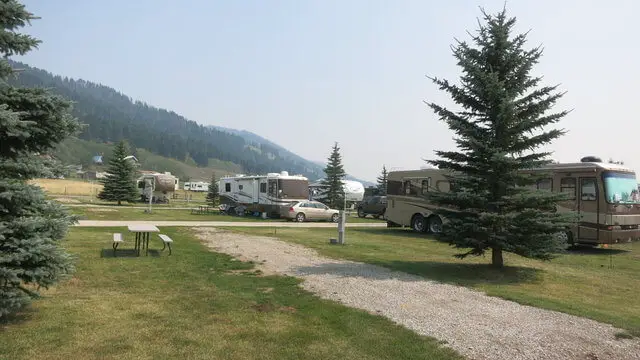 Just 15 miles west of world-famous Yellowstone Park, Valley View RV Park Campground delivers and up-close and convenient access to the national park's best attractions. While you're at the campground, enjoy onsite amenities like the rec room, convenience store, and even a gas station. Past guests especially rave about the kind and friendly owners and beautiful views at Valley View!
Address
5152 Highway 20, Island Park, ID, 83429
Phone Number
(208) 558-7443
Reservations
Lost Moose Campground
If you're looking for a more off-the-grid camping experience in Idaho, Lost Moose Campground might be just the place for you. The campground's remote location in northern Idaho makes it an ideal mountain getaway for active travelers, though you should be prepared to give up a few amenities in exchange for an amazing experience.
The long list of outdoor activities available in the surrounding area includes hiking, ATVing and motorcycling, canoeing and kayaking, cycling, and fishing.
Address
27706 S Latour Creek Road, Cataldo, ID 83810
Phone Number
(208) 682-3555
Reservations
SISCRA Willow Creek Campground
SISCRA is the nonprofit organization that manages Willow Creek Campground, a gorgeous site located on a 66-acre peninsula on Lake Cascade. As a seasonal campground, Willow Creek is the perfect place to stay for a summer visit to the central Idaho mountains. With 190 campsites, there's plenty of room for you even without a reservation, though you can reserve for groups.
Address
12991 SISCRA Road, Donnelly, ID 83615
Phone Number
(208) 325-8130
Reservations
Indian Springs Resort & RV Park
Indian Springs Resort & RV Park garners rave reviews for its outgoing and helpful staff, beautiful and well-kept grounds, and large pool. The campground is easily accessible from the highway, and many families return year after year to swim and camp. If you want to organize a larger gathering for family or friends, Indian Springs also features four pavilions that can be rented for events.
Address
3249 Indian Springs Road, American Falls, ID 83211
Phone Number
(208) 226-7700
Reservations
Idaho Dunes RV Park
Idaho Dunes RV Park is located in Eastern Idaho with direct access to the St. Anthony Sand Dunes Recreation Area, an incredible attraction that consists of over 10,000 acres of massive sand dunes open to the public for off-road vehicle riding. The campground includes 56 RV sites as well as 25 acres of dry camping space. Amenities back at the campground include a fully-stocked general store and well-maintained restrooms and showers.
Address
1695 E 500 N, Saint Anthony, ID 83445
Phone Number
(208) 624-3275
Reservations
Stanley RV + Camp
Stanley RV + camp is a unique, smaller campground in central Idaho. Accommodations include full hookup RV sites, several tent camping sites, A-frame cabin rentals, and even rooms in the rustically-outfitted Basecamp Lodge for additional comfort.
The campground's proximity to Sawtooth National Recreation Area makes it easy to explore local activities like hiking, fishing, and more. Other perks include complimentary WiFi and a quiet atmosphere.
Address
12655 ID-2, Stanley, ID, 83278
Phone Number
(208) 774-2202
Reservations
That's it! Have any other favorite campgrounds that you've stayed at in Idaho? Let us know and we will check them out!
Be sure to check out the rest of our choices for the best campgrounds in the USA: