Hey! This site is reader-supported and we earn commissions if you purchase products from retailers after clicking on a link from our site.
Arizona has so much to offer. Great views, spectacular views, and amazing people. There are a ton of camping options when you're traveling through the state. So, which campgrounds do you stay at? We did the research the find the best ones all across the state that are in cool areas, have great amenities, and have friendly staff. Here are our picks for the 10 best campgrounds in Arizona.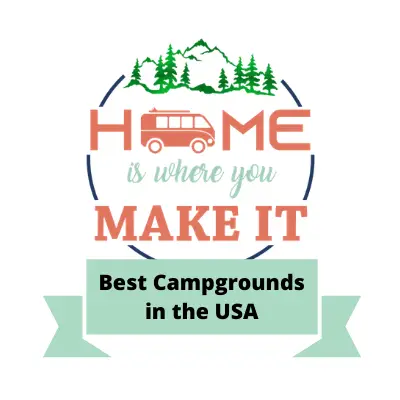 Railside RV Ranch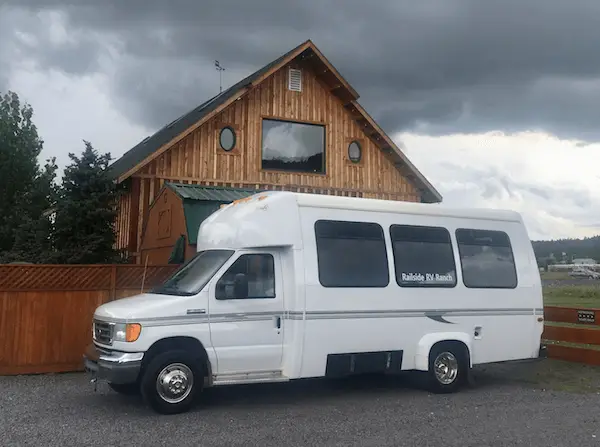 A self-described "perfect hub for your Grand Canyon and Northern Arizona experience," Railside RV Ranch prides itself in its location adjacent to the historic Grand Canyon Railway and the full-service camping experience it provides. The Ranch offers shuttle service as well as help with booking train rides, horseback rides, air tours, and other private tours.
Address
877 E. Rodeo Road, Williams, AZ 86046
Phone Number
(928) 635-4077
Reservations
Zane Grey RV Village
Zane Grey RV Village's is uniquely located with a creekside path and lots of shade, all near the popular Arizona attractions of Sedona and Red Rock. Past visitors praise the campground's well-maintained sites, quiet natural environment, and friendly atmosphere.
Address
4500 E Highway 260, Camp Verde, AZ 86322
Phone Number
(928) 567-4320
Reservations
Apache Lake Marina and Resort
Known for its scenic views and unparalleled seclusion, Apache Lake is the setting of Apache Lake Marina and Resort, which caters to visitors who want to experience the watersports and other outdoor recreation activities the lake has to offer. The Resort offers both a designative RV park as well as primitive camping, which is available throughout the resort, including along the beaches of the lake.
Address
229.5 Mile Marker, Roosevelt, AZ 85545
Phone Number
(928) 467-2511
Reservations
Meteor Crater RV Park
Meteor Crater is aptly named for the meteorite impact site located 5 miles from the campground. This RV park provides the uniquely interactive opportunity to see and experience the world's best preserved impact site while camping in a well-appointed and natural setting nearby. RV park guests receive discount coupons to visit the crater itself.
Address
Interstate 40, Exit 233, Winslow, AZ 86047
Phone Number
(928) 289-4002
Reservations
Rancho Sedona RV Park
Rancho Sedona RV Park offers the perfect balance of access to the natural beauty of the surrounding area while maintaining a location in the center of the town of Sedona, meaning that visitors are also within walking distance to shops, galleries, and restaurants. Prospective visitors should note that the park has RV sites only–no tent sites!
Address
135 Bear Wallow Lane, Sedona, Arizona 86336
Phone Number
(928) 282-7255
Reservations
Arizona High Country Campground
Located near the Apache-Sitgreaves National Forest, Arizona High Country Campground is smaller yet friendly and well-taken care of option for RV-ers and tent campers alike. Visitors to the campground can enjoy the free WiFi, clean laundry, and sparkling restrooms, as well as the refuge from the heat that the High Country offers.
Address
5064 Sawmill Road, P.O. Box 806, Clay Springs, AZ 85923
Phone Number
(928) 739-4383
Reservations
arizonahighcountrycampground.com
La Siesta Campgrounds
The small and family-owned campgrounds at La Siesta are appreciated for their pared-down experience of privacy, quiet, and cleanliness. Past visitors also rave about La Siesta's hospitable and friendly staff that make the campground feel like a home away from home.
Address
16005 W Hardscrabble Road, Arivaca, AZ 85601
Phone Number
None
Reservations
Tombstone RV Park and Campground
Tombstone RV Park and Campground is the best campground to stay at if visiting the rustic, Wild West-style town of Tombstone in southeastern Arizona. The campground echoes the same Western theme with its Cowboy Suites, rustic camping cabins, and RV and tent sites. Tombstone RV Park even offers a shuttle to the town of Tombstone for overnight guests.
Address
1475 Highway 80, Tombstone, AZ 85638
Phone Number
(520) 457-3829
Reservations
tombstonervparkandcampground.com
Canyon Lake Marina and Campground
Named for the lake it borders, Canyon Lake Marina and Campground is an ideal destination for visitors who want to enjoy the watersports on the lake, explore the rock formations of the surrounding area, and marvel at the incredible sunset views, all within an hour's driving distance of Phoenix. The campground offers RV and tent sites, and allows you to either explore the lake on your own boat or rent one for your visit.
Address
16802 N.E. Highway 88, Tortilla Flat, AZ 85219-9898
Phone Number
(480) 288-9233
Reservations
Page Lake Powell Campground and RV Park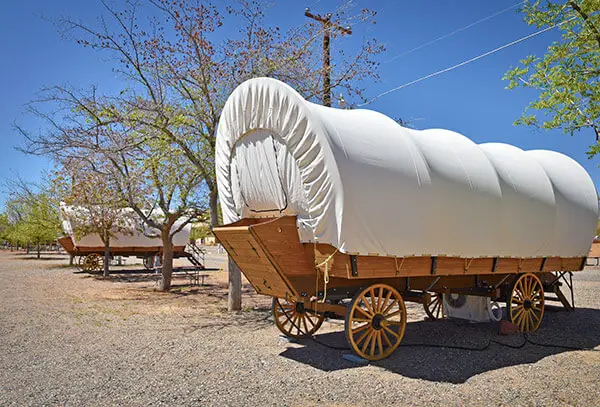 Offering the "best rates for hundreds of miles around," Page Lake Powell Campground caters to several different camping experiences ranging from RV sites, to tent camping, to glamping in luxury covered wagons, for a true Wild West feel. Additional amenities include free WiFi, boat parking, a fitness room, and an indoor pool and hot tub.
Address
849 S Coppermine Road, Page, AZ 86040
Phone Number
(928) 645-3374
Reservations
And that's it! Do you think we missed any? Let us know and we'll be glad to check them out.
Be sure to check out the rest of our choices for the best campgrounds in the USA: