Hey! This site is reader-supported and we earn commissions if you purchase products from retailers after clicking on a link from our site.
The rolling hills of Kentucky are such a beautiful part of our country, bordered by the Ohio River in the north and the Appalachian mountains in the east. Louisville is a cool city to visit (especially if you like horse racing), but I personally love all the hiking and scenery that is around the state.
Whether you're traveling in an RV or van, there is a lot of places to camp and a lot of campgrounds to choose from! So make sure you're planning your trip ahead of time. Through our research and travels, we've compiled the 10 best campgrounds in Kentucky – our winners are below. Happy camping!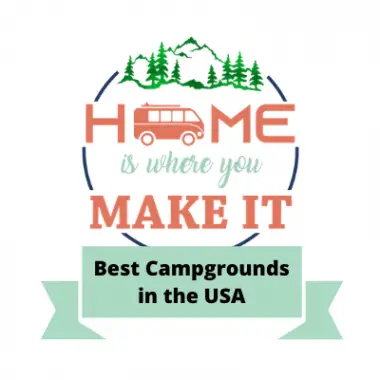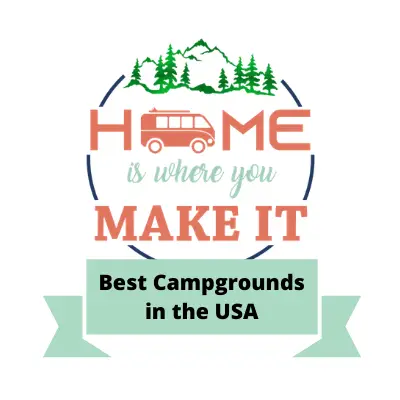 Elizabethtown Crossroads Campground
Location is everything with Elizabethtown Crossroads Campground, as it is within arms reach of all major attractions in Kentucky's heartland, including Churchill Downs (the home racetrack of the Kentucky Derby), the Louisville Slugger Museum, and plenty of bourbon distillery tours.
The campground is open year-round, and there are pull-through and back-in RV sites available, as well as cabins if you prefer to rent a space to stay. Amenities include an enclosed pavilion that can serve as a meeting or recreation space, a swimming pool, and a small grocery store with basic goods.
Address
209 Tunnel Hill Road, Elizabethtown, KY 42701
Phone Number
(270) 737-7600
Reservations
elizabethtowncrossroadscampgroundky.com
Whispering Hills RV Park
Whispering Hills RV Park is in Georgetown, Kentucky, which is right in the midst in Kentucky horse country. If you want to try your hand at riding, Whispering Woods Riding Stables is just north of the campground, and venturing just a little bit farther will take you to attractions such as a full-size replica of Noah's Ark and Veterans Memorial Wildlife Park. You'll love the reasonable nightly rates, friendly staff, and well-kept grounds.
Address
257 Rogers Gap Road, Georgetown, KY 40324
Phone Number
(502) 863-2552
Reservations
Kentucky River Campground
Situated right on the banks of the Kentucky River, Kentucky River Campground and RV Park offer plenty of river frontage to enjoy, whether you want to fish, kayak, boat, or even swim. The campground has been operating for over 40 years, and the owners and staff run the whole experience of camping there like a well-oiled machine. There's a full-time maintenance crew, as well as onsite propane service and a camp store to supplement what you brought with you.
Address
1489 Steele Branch Road, Frankfort, KY 40601
Phone Number
(502) 227-2465
Reservations
Elkhorn Campground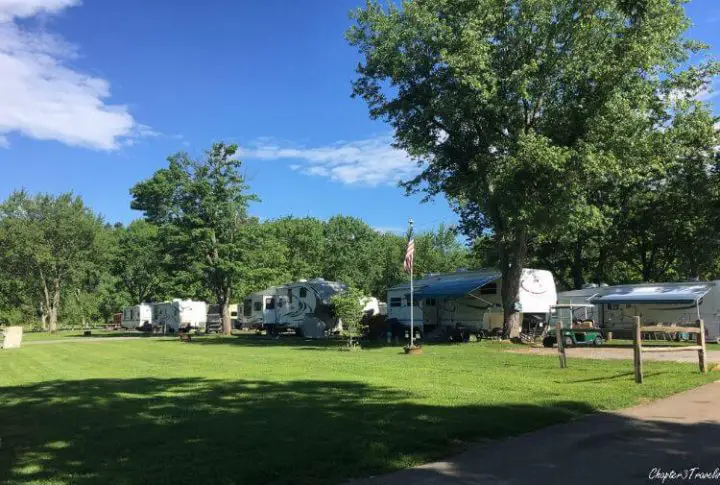 Elkhorn Campground is a peaceful creekside campground in Kentucky's capital city of Frankfort. The campground is all about creating a family-friendly environment, with perks like a pool to cool off in, a large playground for younger family members, and games including putt-putt, horseshoes, volleyball, and basketball. The onsite general store is there to meet any need you might have on the go–including the hand-dipped ice cream cones, of course.
Address
165 North Scruggs Lane, Frankfort, Kentucky 40601
Phone Number
(502) 695-9154
Reservations
Falls Creek Cabins and Campground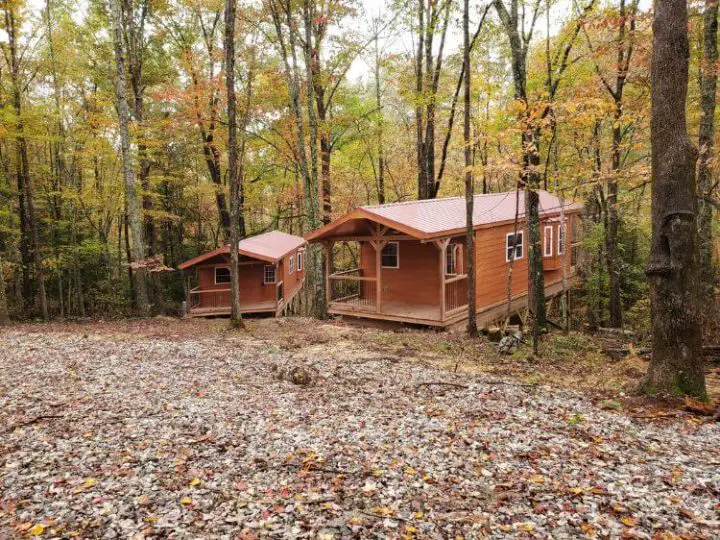 For a truly rustic experience that combines relaxation and adventure into an unforgettable getaway, visit Falls Creek Cabins and Campground. With several cabin options to choose from as well as covered wagons, the campground will transport you to the old days of Kentucky. If you prefer to bring your own tent or RV, you can though.
As part of the Sheltowee Trace Adventure Resort, the campground also offers access to whitewater rafting, zip lining, canoe trips, and more.
Address
1943 KY-90, Corbin, KY 40701
Phone Number
(800) 541-7238
Reservations
Cave Country RV Campground
If you're an avid spelunker, Cave Country RV Campground might just be the place for you. Its location within just five miles of Mammoth Cave National Park, the largest known cave system in the world makes it the perfect place to stay if you want to spend some time exploring the caverns. Back at the campground, you'll be well taken care of, with amenities including big-rig friendly sites, WiFi and cable TV included, and a game and fitness room.
Address
216 Gaunce Drive, Cave City, KY 42127
Phone Number
(270) 773-4678
Reservations
Dad's Bluegrass Campground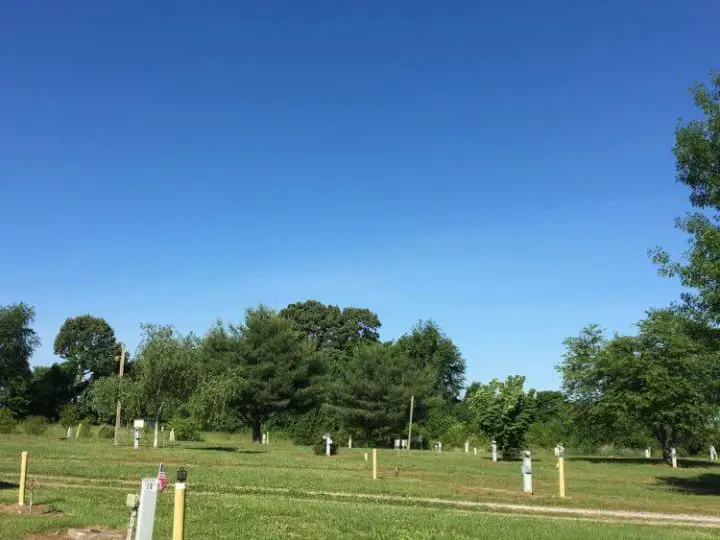 Just off of Interstate 65, Dad's Bluegrass Campground is a family-oriented spot close to the cities of Nashville, Tennessee, and Bowling Green, Kentucky. Stay in a camping cabin rental, full hook-up RV site, or deluxe tent site, and see all the campground has to offer.
Living up to its name, Dad's Bluegrass Campground has a steady lineup of live music acts performing once or twice a month; check the website to see who is up next!
Address
2889 Scottsville Road, Franklin, KY 42134
Phone Number
(270) 253-5191
Reservations
Laurel Lake Camping Resort
As Laurel Lake Camping Resort's website puts it, there's no better way to experience the natural beauty of southeastern Kentucky than to camp out surrounded by the area's rolling green hills, scenic mountain range, and pristine woodlands. The camp store and café ensure that you're never short on snacks, souvenirs, or other supplies.
Staff will even deliver lunch from the deli to your campsite if you request it! On top of that, the activities are top-notch, including golf cart rentals, a floating waterpark, and a fishing pond. An ice skating rink is the most recent addition.
Address
80 Robert E. Blair Memorial Highway, Corbin, KY 40701
Phone Number
(606) 526-7876
Reservations
Natural Bridge Campground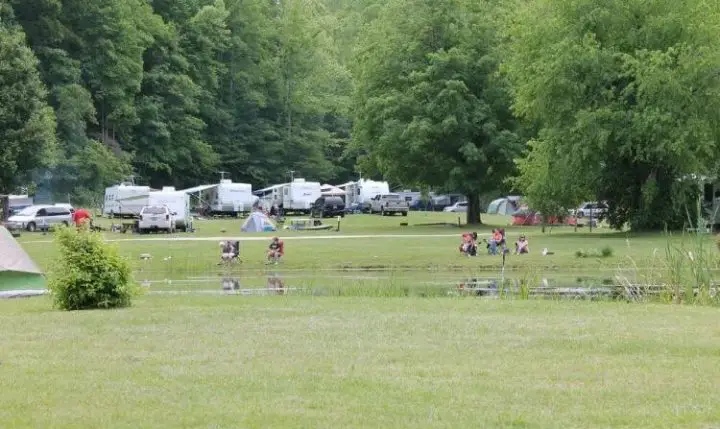 Follow in the footsteps of adventurer Daniel Boone as you explore the rivers, climb the rocks or relax by the lake at Natural Bridge Campground located in the historic Daniel Boone National Forest at Red River Gorge. With RV sites, primitive tent sites, and cabin rentals, the campground can accommodate anyone from the casual weekender to the hardcore enthusiast.
The campground gives you a great home base while you explore the massive expanse of wilderness, trails, mountains, creeks, and more.
Address
90 L & E Railroad Place, Slade, KY 40376
Phone Number
(606) 663-9352
Reservations
4 Guys RV Park at the Gorge
Less than half a mile away from the historic Nada Tunnel and just a few minutes from Red River Gorge, Natural Bridge State Park and Daniel Boone National Forest, 4 Guys RV Park at the Gorge is ideally located for all of the attractions in the area.
However, if you're more prone to hang out at the campground, there's plenty to do there as well. Swim in the pool, fish for large-mouth bass in the pond, hike onsite, or participate in one of the themed activity nights.
Address
10137 Campton Road, Stanton, KY 40380
Phone Number
(606) 481-5130
Reservations
And that's it! Do you have any other favorite campgrounds in Kentucky that we missed? Drop us a line and we will check them out.
Be sure to check out the rest of our choices for the best campgrounds in the USA:
If you don't have your own rig yet, but are thinking about renting one, make sure to read our guide on the best rental companies for RVs as well.