Hey! This site is reader-supported and we earn commissions if you purchase products from retailers after clicking on a link from our site.
If you ever craved a road trip complete with campfires and scenic backdrops, you should consider an RV vacation. You don't even have to commit to purchasing an RV; you can rent a camper, motorhome, or travel trailer and take off on an amazing outdoor adventure!
From quirky or vintage to sleek and luxurious, RV rental companies offer a different type of vacation that brings you closer to the great outdoors. With so many choices, it may be difficult to make a decision. That's why we compiled an overview of the top three companies to get you started.

RVshare
RVshare is a peer-to-peer RV rental platform, very similar to Outdoorsy below. They facilitate rentals from private RV owners, but if you're looking for something brand new, they also show rentals from dealerships.
The companies vets all renters to protect both parties. Everything is secure and handled online, including payments. It's nice that you don't have to worry about sending money to a shady person or third party, it's all handled through RVshare to protect both parties.
As a bonus, their site is user-friendly and loaded with information. It would be nice if RVshare had more information about vehicle owners attached to the actual vehicle profiles on the site.
Pros
They offer an impressive insurance package with up to $500,000 for liability coverage and $200,000 RV value coverage.
Booking is simple and handled solely through their site.
There are no membership fees involved in renting with them.
Roadside assistance is available 24/7.
They have an excellent selection of vehicles, including brand new models available from dealerships.
The company offers a rewards program for repeat renters.
Cons
Though they have a lot of 5-star reviews, they aren't as highly reviewed as Outdoorsy.
Some areas may not have a lot of vehicle options available.
The vehicles are privately-owned, so they may not be in prime shape.
Some reviews note that private renters canceled the rentals at the last minute.
Though their insurance is good, but they're not as forthcoming about the coverage as they could be. They don't even tell you what insurance company they use.
Pricing
Pricing varies by the size and type of vehicle you choose. There are travel trailer rentals as low as $40 per night, and luxury motor coaches starting at $250 per night. While some vehicles include unlimited miles, others may have an additional mileage fee.
RVshare also charges a service fee that covers things like the Roadside Assistance program. The amount of the service fee varies and depends on the price of the vehicle you choose.

How to Book with RVshare
The RVshare process sounds simple enough. Start by creating a profile. You need to be at least 25 years old, possess a valid driver's license, and pass a DMV check.
After you pass the DMV check, you can select an RV from thousands of options. You can filter your choices by location, features, and type of vehicle.
Set your arrangements by contacting the owner through the site. There's even an Instant Book option that sets you up with a reservation instantly. Otherwise, the owner has to approve your request to finalize the rental.
Read our full RVshare review.
---

Outdoorsy
Outdoorsy facilitates peer-to-peer RV rentals. It's a win-win for RV owners who don't regularly use their vehicles and people seeking a different type of vacation.
The company makes it easy for people to experience life on the road without committing to the purchase of a camper or motorhome. Outdoorsy offers an array of choices, including cool, custom motorhomes, and quirky, vintage vehicles.
A convenient rental process and reasonable pricing make Outdoorsy a fun alternative for your next vacation. They also have a history of outstanding customer service and reasonable renters.
Pros
They provide an incredible insurance package with up to $1 million in coverage
Booking is fast, easy, and entirely online through their site.
There are several add-ons available for many of the vehicles (like a gas grill with propane tank).
Roadside assistance is available 24/7.
Since the rentals are privately owned, you can find some neat vintage and custom vehicles.
Some rentals can be delivered directly to a campsite or set pick up location.
Outdoorsy has more than 5,000 5-star reviews, which translates to roughly 93% of reviewers.
Cons
The cancellation policy may be problematic for some renters, especially since it can vary from vehicle to vehicle.
Some owners may present vehicles as better than they are, which can cause problems for renters.
In the event of an accident or breakdown, some users complained of slow, difficult processes that resulted in less than full refunds.
Though there are relatively few negative reviews, most of those seem to be from RV owners who had bad experiences with renters and the company.
Pricing
Pricing varies based on the vehicle you choose because the owners set the prices. The location and dates of the trip have the most impact on pricing, so keep that in mind when searching.
Travel trailers, fifth wheels, and pop-up trailers average from $50 up to $150. Class A, B, and C rentals can cost you an average of $100 to $275 per night. Some owners may include unlimited mileage in the rental cost, but you want to keep an eye out for those additional fees.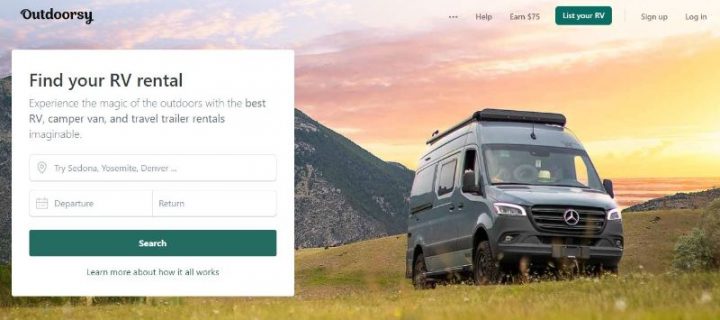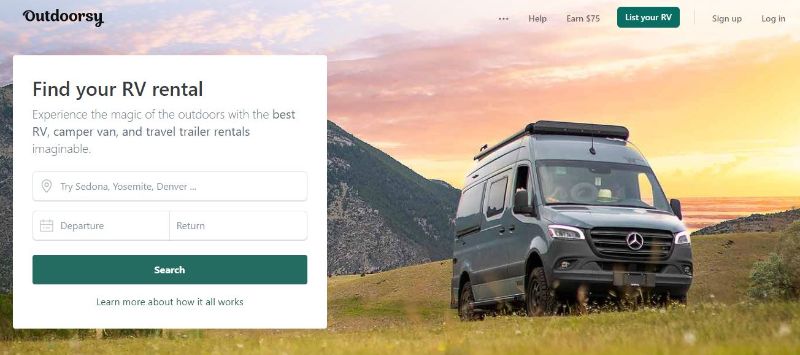 How to Book with Outdoorsy
Head to the Outdoorsy site to book your rental with their easy, online process. Enter your starting location and dates to search available vehicles. You can further filter your search based on the number of people, price, and type of vehicle.
Once you select a vehicle, you have the option to make the reservation. You can also message the owner if you have questions before booking.
Read our full Outdoorsy review.
---


Cruise America
Cruise America takes a slightly different approach to RV rentals. Instead of renting from another person, you rent from the company's fleet of vehicles.
There are no specialty vehicles in the Cruise America fleet, so if you're looking for something other than a camper, you may want to look elsewhere. They have four size choices: Large RV, Standard RV, Compact RV, and Truck Camper.
Plan on a lot of fees if you rent from Cruise America. While you may not have to pay all of them, it's a good idea to read the contract thoroughly, so you're aware of all of the potential charges.
Pros
Four sizes of campers to choose from depending on the size of your party.
The company maintains all of the vehicles. You can expect a clean, functional RV for your trip.
They offer some discounts for certain types of trips, destinations, or specific dates.
Cruise America offers one-way and long-term rental options.
The rentals are pet-friendly.
Cons
Customer service is disappointing and often frustrating, with several complaints about delayed rentals and lack of response from employees.
Pricing is much higher than the other two, with a lot of additional fees.
There aren't many rental locations meaning you need to tack on transportation to and from the rental site.
Roadside support is unreliable at best.
They have a bad reputation, including a C+ rating with a warning from the Better Business Bureau.
Pricing
Like everything else about Cruise America, pricing is a bit different. Their rentals average $99 per night with an additional mileage charge of $0.35 per mile and a $3.50 per hour generator charge. Plan on paying additional fees for staples, like bedding.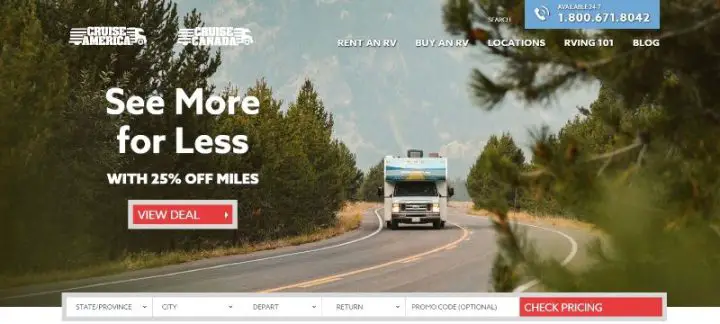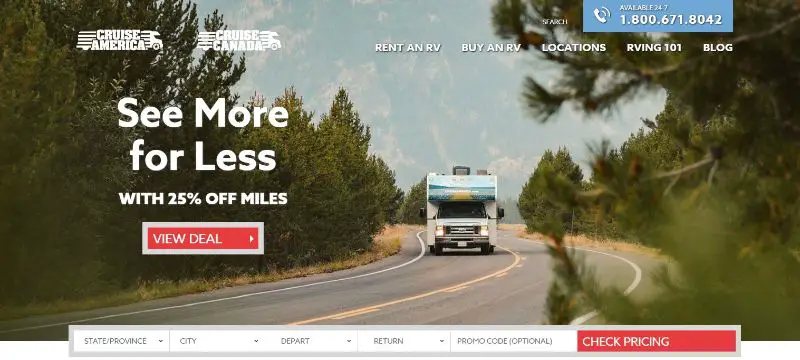 How to Book with Cruise America
Renting is a bit more complicated with Cruise America because the process is a little more involved. Their website is easy to navigate, or you can call them.
Online, simply choose your city, state, desired departure, and return dates, and they will give you a list of options that fit your criteria. From there, choose your vehicle and start the rental process.
Cruise America has 126 rental centers across the United States and Canada including in popular cities like Las Vegas, Denver, San Francisco, Los Angeles, and others, which are all great starting points for an RV trip.
Read our full Cruise America review.
---
Frequently Asked Questions About Renting an RV
What's the average cost to rent an RV?
The cost of renting RVs vary based on the type of vehicle, location, and time of year.
There are other factors to consider aside from the base cost of the vehicle, but it's much like renting a car.
The base cost of the vehicle averages between $50 and $250 per night.
Factor in mileage fees. Unless you find a rental with unlimited mileage, plan on $0.25 to $0.45 per mile.
Insurance is an additional fee, and not all companies have the same coverage.
Include state taxes, usually between 5% and 7% of the rental fees.
Plan for a security deposit, usually around $500.
Determine if you want trip protection or additional damage protection on the RV.
There may be additional fees for things like generators, kitchen utensils, or bedding. Make sure you ask about them before booking, so you aren't surprised by fees or lack of supplies.
They also may offer discounts for first time renters, so make sure to ask.
For more details on cost, read Brian's research on RV rental prices.
Do I need a special license to rent and drive one?
Unless you choose a huge vehicle, you can drive an RV with your general license. Usually, with a general license, you can drive RVs up to 26,000 pounds (that's a lot of vehicle!) and less than 16 passengers.
However, it's important to check the requirements in the state (or states) where you're renting and traveling. Some states have special requirements for certain classes of RVs and require a commercial driver's license.
How long can you rent an RV for?
RV rental can be short-term or long-term, depending on your vacation plans. Usually, rentals that last less than a month are considered short-term. On the other hand, if you're looking to spend the summer on the road seeing national parks and other attractions across the USA, you need to find a company that does long-term rentals.
How do you decide which type of RV to rent?
Generally, you can choose from six different types of RVs. Be aware that not all companies carry an inventory of each type. Consider what you're most comfortable driving and how much room you require once you reach your destination.
Class A motor homes are the largest, most spacious options. They are the most expensive with the lowest miles per gallon (MPG).
Class B RVs include camper vans. They are the smallest motor homes and are similar to driving a van.
Class C RVs fall somewhere between the other two classes with plenty of room and an array of options. They are usually more cost-effective and easier to drive than Class A motor homes.
Travel trailers can range from a small pop-up to a massive trailer with almost all the bells and whistles of a Class A motorhome. To choose this option, you must also have a vehicle capable of towing the trailer.
Fifth wheels are enormous living spaces on wheels. They are the biggest options with some of the most extravagant amenities and price tags to match.
Truck campers consist of a camper attached to a truck bed. They are affordable options for a minimalist outdoor experience.
How big of an RV can you rent?
The size of the RV that you can rent depends on the company you go with. Each of our top picks offers multiple size options. Cruise America has 4 RV sizes, the largest of which sleeps 7 people. You're likely to find some bigger options on Outdoorsy or RVshare just because of the diversity of their RV inventory that you can choose from.
Should you rent from an RV owner or a traditional rental company?
Peer-to-peer RV rentals are becoming more and more popular with services like Outdoorsy and RVshare. They are rivaling more traditional camper rental companies like Cruise America and El Monte RV. Each type has their own pros and cons.
For peer-to-peer rentals, the benefits are:
You typically get a wider selection of RV models to choose from.
The rental process is typically smoother.
You often don't have to pay a membership fee, you just pay and go.
However, there are some drawbacks to peer-to-peer rentals:
RV quality may not always be consistent.
Some campers may not be pet friendly.
Policies can differ depending on the vehicle you rent.
On the other hand, motorhome rental companies like Cruise America and El Monte RV have some benefits:
Families typically have a very consistent experience.
You can drop the RV off at any dealership.
The RVs are typically pet friendly.
However, these companies do have some significant drawbacks:
Customer service can sometimes be poor.
You have very few RV configuration options to choose from.
These companies are known for having additional rental fees.
Ultimately, I think you're better off going with a RV rent by owner service like RVshare or Outdoorsy.
Have questions? Feel free to shoot us a message.