Hey! This site is reader-supported and we earn commissions if you purchase products from retailers after clicking on a link from our site.
They say Virginia is for lovers and we certainly love camping across the state. From the Chesapeake Bay to the Appalachian Mountains, the state just has so much to offer. Beautiful views, wonderful people to meet, and lots of great camping.
If you're planning a trip through Virginia, you need to make sure you're planning out where you want to stay throughout the trip. Through our travels and research, we've compiled what we think are the 10 best campgrounds in Virginia. Here are our top picks.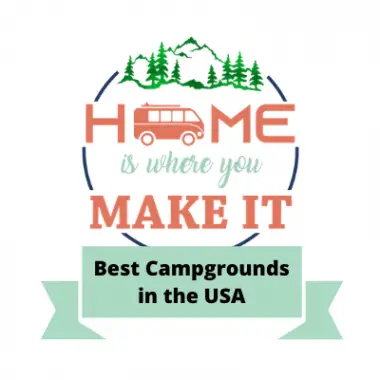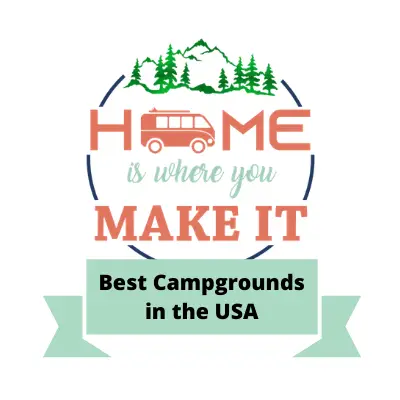 Holiday Trav-L Park
As the campground closest to the resort area of Virginia Beach, Holiday Trav-L Park makes it easy to spend your days enjoying the sand and surf. However, all the fun activities and comfortable amenities at Holiday Trav-L Park make it hard to leave.
If the four large pools, 18-hole mini golf course, and two basketball courts aren't enough, then there are also four playgrounds and a game room. During the in-season, the campground also has regular nightly programming, ranging from DJ and live band nights to bingo and hayrides.
Address
1075 General Booth Boulevard, Virginia Beach, VA 23451
Phone Number
(866) 849-8860
Reservations
Misty Mountain Camp Resort
Misty Mountain Camp Resort is a great spot for a private getaway, family vacation, or even a group gathering. Its scenic location at the foot of the Blue Ridge Mountains and close to historic Charlottesville makes it ideal both for nature lovers and history buffs.
Guests can take full advantage of the nature trails, swimming pool, creek, and fishing pond at the resort or venture out to Charlottesville to explore other sights. For kids, there's a mining company where they can prospect gemstones and fossils as well as a splash park to cool off in.
Address
56 Misty Mountain Road, Greenwood, Virginia 22943
Phone Number
(888) 647-8900
Reservations
Ed Allen's Campgrounds and Cottages
Located on the shores of beautiful Chickahominy Lake, Ed Allen's Campgrounds and Cottages have just what you need for a relaxing getaway midway between Richmond and Williamsburg. The scenic setting compromises 85 acres of shaded tranquility with two stocked fishing ponds, a fishing pier, and rental services for boats, kayaks, and paddle boats. Come in an RV, bring a camper, pitch a tent, or stay in one of the cottages.
Address
13501 Campground Road, Lanexa, VA 23089
Phone Number
(804) 966-2582
Reservations
Walnut Hills Campground and RV Park
With a large swimming pool, lake for fishing, and even a game room, Walnut Hills Campground and RV Park create a family-friendly environment with plenty to do. Though the nearby town of Staunton is no metropolis, it has several worthwhile attractions including Woodrow Wilson's birthplace and presidential library and the American Shakespeare Center, which includes a full replica of Shakespeare's Blackfriars Theatre in London.
The campground offers tent sites, RV sites, and cabin rentals, all with varying degrees of amenities to choose from.
Address
484 Walnut Hills Road, Staunton, VA 24401
Phone Number
(540) 337-3920
Reservations
Bethpage Camp-Resort
Bethpage Camp-Resort makes it clear that it's all about creating a fun experience for its guests. The park features a waterpark complete with multiple slides and pools, a newly redesigned mini golf course, and even a floating trampoline on the freshwater lake. As for accommodations, take your pick of RV camping (all sites are full hookups) or renting one of the fully-furnished vacation cottages.
To top it off, Bethpage keeps the calendar full with activities, which include hayrides, cornhole tournaments, DJ dance parties, and scavenger hunts.
Address
679 Brown's Lane, Urbanna, VA 23175
Phone Number
(804) 758-4349
Reservations
Crabtree Falls Campground
"Just west of nowhere, straight south of heaven" is how Crabtree Falls Campground owners describe the campground, and it's not hard to believe. From the tranquil forest environment with sites right by the river to easily walking to the Crabtree Falls themselves, this campground is a place to get away and unplug for a few days (or more). The newly renovated bathrooms, well-stocked general store, and mulched playground complete the experience.
Address
11039 Crabtree Falls Highway, Tyro, VA 22976
Phone Number
(540) 377-2066
Reservations
Cherrystone Family Camping Resort
Cherrystone Family Camping Resort has been lauded as the best campground in the Mid-Atlantic region, and there's good reason for it. The campground encompasses 300 acres of waterfront on the Chesapeake Bay with a huge capacity of over 700 sites, each shaded by tall trees.
The extensive features include five swimming pools, four piers, a beautiful beach, and even a dog park with its own dog beach. Cherrystone also has a bait and tackle shop, a general store, and a café for its guests to enjoy.
Address
1511 Townfield Drive, Cape Charles, Virginia 23310
Phone Number
(757) 331-3063
Reservations
Americamps RV Resort
The rule of thumb at this campground is "the customer is always right," and it shows in their excellent service and friendly staff. Only eight miles north of historic Richmond, Americamps provides a perfect vacation spot made sweeter by Southern hospitality with features like an escort to your site. The brand-new fitness center ensures that you can stay in shape even when on the go, and the pool is there when you need refreshing from the summer heat.
Address
11322 Air Park Road, Ashland, VA 23005
Phone Number
(804) 798-5298
Reservations
Christopher Run Campground
At Christopher Run Campground, you have a choice of staying in a cozy camper cabin, deluxe camping lodge, or one of their spacious wooded campsites. The campground's location right on Lake Anna makes it easy to take advantage of the six boat ramps, the fishing piers, complimentary shore tie-ups for your boat, and boat rentals. Christopher Run even sells live bait and rents winter storage for the off months to make sure you get the full experience.
Address
6478 Zachary Taylor Highway, Mineral, VA 23117
Phone Number
(540) 894-4744
Reservations
Shenandoah Valley Campground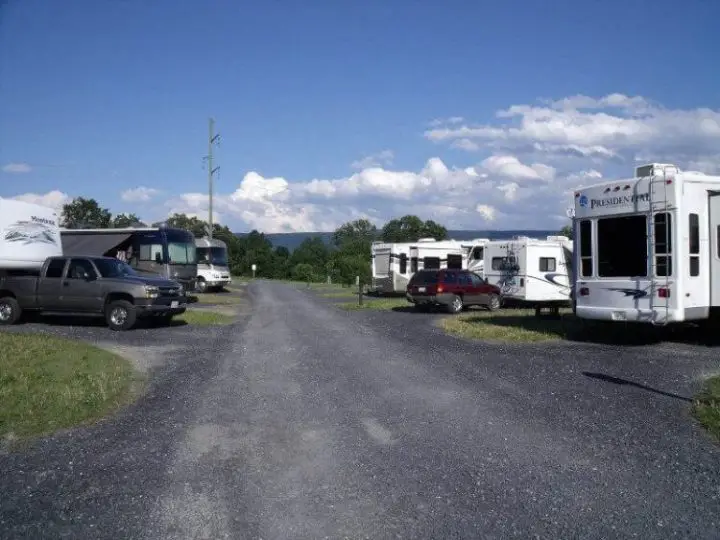 As a family-owned and operated campground in the heart of Virginia's Shenandoah Valley, Shenandoah Valley Campground is an ideal place to enjoy the comforts of home while exploring the rich nature and history of the Valley.
The campground is open year-round with a camp store that will keep you stocked on all of the essentials and fun extras including a mini golf course, cornhole, basketball court, and playground. Camping options include tent camping, full hook-up RV sites, and deluxe cabin rentals.
Address
168 Industrial Park Road, Mt. Jackson, Virginia 22842
Phone Number
(540) 477-3080
Reservations
shenandoahfamilycampground.com
There you have it! Did we miss any of your favorite camping spots in Virginia? Let us know and we will check them out!
Be sure to check out the rest of our choices for the best campgrounds in the USA: