Hey! This site is reader-supported and we earn commissions if you purchase products from retailers after clicking on a link from our site.
Wyoming is one of the most beautiful states in our nation. Whether you go to Yellowstone National Park, Bridger-Teton National Forest, Bighorn National Forest, or one of the many other amazing places in Wyoming, there is no shortage of sights to see and places to camp. So, if you're headed to Wyoming in your RV or van, make sure to plan out your stops ahead of time!
There are a lot of great campgrounds around the state, so how do you choose which ones to stay at? Through our research and personal travels, we compiled a list of what we think are the best ones around the state. So, without further ado – the best campgrounds in Wyoming.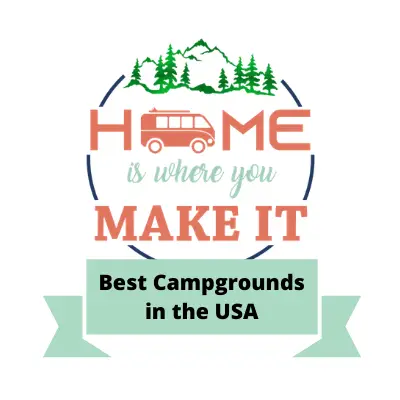 WYO Campground & RV Park
With pull through sites, WiFi, and a pool, WYO Campground & RV Park has everything you look for in a campground. The glowing guest reviews identify the campground's friendly staff, good security, and beautiful scenery as some of the reasons why this place is highly-recommended.
The location in the Wyoming state capital of Cheyenne makes for fun and interesting day trips where you can explore local attractions like rodeos, a bison ranch, or even the Cheyenne gunslingers.
Address
4066 Interstate 80 Service Rd, Cheyenne, WY 82003
Phone Number
(307) 547-2244
Snake River Park
Jackson Hole, Wyoming is known for its world-famous ski resort, but Snake River Park offers visitors another look at all of the natural beauty and activity that the area has to offer. The campground is located right on the Snake River, and offers river trips that can be scenic, whitewater, or a combination of both.
Note that the RV sites cannot accommodate a trailer longer than 25 feet or a motorhome longer than 30 feet, but otherwise be sure to check out this campground next time you are planning a trip to the Jackson Hole area.
Address
9705 S US Highway 89, Jackson Hole, WY 83001
Phone Number
(307) 733-7078
Lazy Acres Campground & Motel
Lazy Acres Campground & Motel's shady, grassy sites are situated on the banks of the Encampment River in aptly-named Riverside, Wyoming. Staying at one of the well-kept campsites is the best way to appreciate the natural surroundings, but if you're a little fainter of heart, you can rest assured that the comfortable motel rooms will meet your accommodation needs. The onsite amenities include WiFi and cable TV.
Address
110 Fields Avenue, Riverside, WY 82325
Phone number
(307) 327- 5968
Indian Campground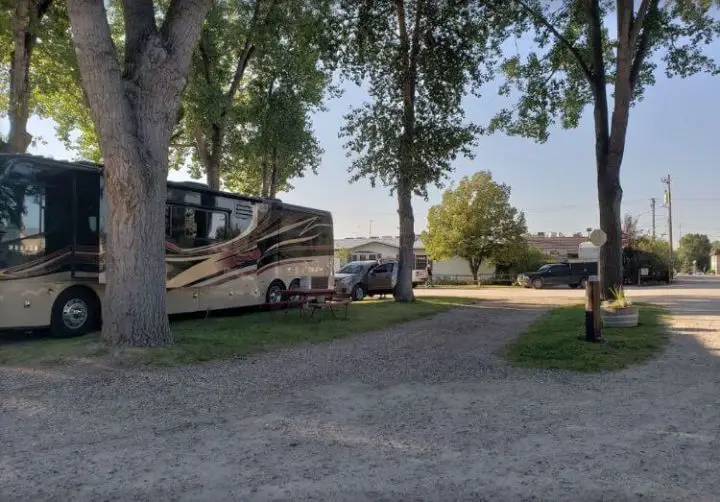 Indian Campground's location at the junction of I-90 and I-25 situates it perfectly to access a bevy of Wyoming's most sought-after attractions, including the Big Horn Mountains, Cloud Peak Scenic Byway, and the historic Bozeman Trail.
Nature enthusiasts will love the abundance of flora and fauna that can be observed in the area, from pronghorn antelope and moose to spring wildflowers. The campground is open from mid-April to mid-October, so don't miss your window to come to visit!
Address
660 East Hart Street, Buffalo, WY 82834
Phone Number
(307) 684-9601
Cody Wyoming Trout Ranch
We can guarantee that you have never experienced anything like this campground before. To call it a mere campground would almost be doing it a disservice because Cody Wyoming Trout Ranch is a combination camping/glamping site and trout hatchery.
While staying here, you can catch your own dinner, even without a fishing license, and the camp staff will clean and package your fish as well as provide the equipment you need. The unique accommodation options include tipis and sheep wagons, all on the banks of the Shoshone River.
Address
4727 Powell Highway, Cody, WY 82414
Phone Number
(307) 578-6757
Shell Campground
As the closest full-service campground to the Big Horn Mountains and National Forest, Shell Campground makes for the perfect Big Horn base camp. The campground is right on US Highway 14, making it ideal for travelers who are following the route to attractions like Mount Rushmore and Yellowstone Park.
Shell Campground's owners aim to provide a more "boutique" experience with only 13 RV sites, 20 tent sites, and 6 cabins, as well as more unique accommodations which include glamping tents and even a 1920s sheep wagon.
Address
102 1st Street, Shell, WY 82441
Phone Number
(307) 765-9924
Twin Pines RV Park & Campground
With almost 15 years of experience serving campers from far and wide, the people at Twin Pines RV Park know what they are doing. The campground's proximity to places like Red Canyon, the ghost mining town of Atlantic City, and Sink's Canyon State Park means that you'll never have a dull moment while you're staying here.
Of course, if you want a dull moment for a change, the campground's complimentary WiFi access and clean restrooms with hot showers make for a relaxing and comfy stay.
Address
7345 State Highway 789, Lander, WY 82520
Phone Number
(800) 986-4008
Sleeping Bear RV Park & Campground
Sleeping Bear RV Park and Campground is a family-run and peaceful vacation spot in the small town of Lander, Wyoming. Your family will love the fun amenities like the splash pad, playground, and dog park. In your time offsite, explore the area's hiking, rock climbing, and mountain biking. There are also many historical sites related to the Oregon Trail and the Old West for history buffs to explore while in the area.
Address
715 E Main Street, Lander, WY, 82520
Phone Number
(307) 332-5159
Lazy R Campground & Cabins
Lazy R Campground & Cabins packs on the unique perks; our favorite is that they have a coffeehouse and bakery onsite, so you can enjoy a freshly made pastry to start your mornings at the campground. As far as accommodations go, you can choose between a full hookup RV site, tent site, or deluxe cabin rental, which sleeps up to five people. WiFi is included with your stay at no extra charge as well, so you can stay as plugged in as you need to be on your trip.
Address
652 US Highway 14, Ranchester, WY 82839
Phone Number
(888) 655-9284
Western Hills Campground & RV Park
As "I-80's favorite campground and RV park", Western Hills Campground combines a conveniently accessed location right off of the interstate with fun amenities that will fill up your stay. These include an 18-hole mini golf course, a guest loft with cable TV, and a playground and horseshoes to play with.
The rates for various levels of camping hook-up access as well as 6-person cabin rentals are extremely reasonable, making Western Hills an easy choice for your next trip to southern Wyoming.
Address
2500 Wagon Circle Road, Rawlins, WY 82301
Phone Number
(307) 324-2592
Did we miss any of your favorite campgrounds around Wyoming? Let us know! We would love to check them out.
Be sure to check out the rest of our choices for the best campgrounds in the USA:
If you don't have an RV yet but are thinking about renting one, be sure to read our full breakdown of RV rental options.