Hey! This site is reader-supported and we earn commissions if you purchase products from retailers after clicking on a link from our site.
Fiberglass travel trailers come in distinct shapes that look like little eggs or beverage coolers. They are lightweight, and many have several top-notch features – but which ones are the best on the road today? Here are our top picks for the best fiberglass travel trailers and what you should look out for if you're considering one.
These unique fiberglass trailers exemplify the original models that debuted in the 1960s as competition to the iconic aluminum Airstreams. The rounded shapes that manufacturers continue to produce are still popular with vacationers today, especially because you can tow them behind cars, SUVs, and minivans.
Table of Contents
Our Top Picks for Fiberglass Travel Trailers
| | |
| --- | --- |
| Trailer | Category |
| Escape 5.0 | Best for Families |
| Oliver Legacy Elite 2 | Best Overall |
| Airstream Nest | Most Durable |
| Scamp Trailer | Most Affordable |
| Casita Spirit Trailer | Best for Couples |
Our Reviews
Fiberglass trailers have been around for over 50 years, and the manufacturers who design and produce them have outstanding products. These little campers are great for families, couples, and anyone who wants a durable and affordable camper for their expeditions.
Best for Families
Escape 5.0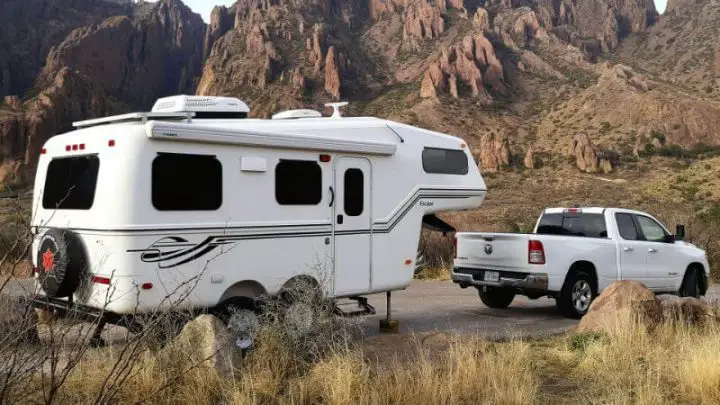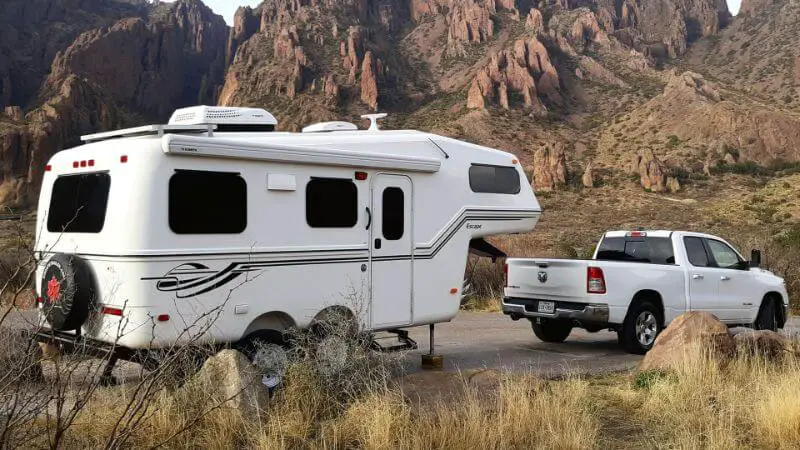 If you are looking for a travel trailer for your family, the Escape 5.0 is an outstanding choice. This is a fifth-wheel trailer, which is unusual in the fiberglass market. Unlike a typical fifth-wheel trailer, this one is lightweight and at 21'2", it's filled with features and accessories.
I took my family camping in this trailer, and the four of us never felt crowded or uncomfortable.
We towed the camper with a mid-size truck. With the camper having 3,910 pounds of dry weight, the truck never felt like it was working too hard. The camper had plenty of storage space so that we could bring our gear like inflatable kayaks, camp chairs, and bikes.
The main bedroom was comfortable, and my teenage brother slept well, sharing the bed that converted from the dinette. The wet bathroom was roomy, and the substantial kitchen gave us plenty of room to eat inside on the one rainy evening. Otherwise, we ate under the exterior awning.
I liked that I could customize the interior countertops, fabric, and flooring. The RV comes with an entertainment system that includes a TV, DVD player, and plenty of electrical outlets and a USB outlet.
Pros
Lightweight
Plenty of storage space
Customizable interior
Large 15" wheels
Cons
No door on the main bedroom
Small bathroom
No bunk beds
Best Overall
Oliver Legacy Elite 2

The Oliver Legacy Elite 2 is a fiberglass trailer with a double-hull for added durability. With 18 feet of living space, this trailer is filled with molded features on the inside and outside. I liked the bathroom space with its molded vanity and toilet, as well as the roomy shower that put other camper bathrooms to shame.
Everything in this camper seemed to be strategically located. The spacious dinette turns into a comfortable queen bed, or you can choose to have the dinette turn into a pair of twin beds. I liked that the TV was placed over the dinette, but it was difficult to watch TV in bed. All of the models have at least one twin along with the dinette-bed configuration of your choice.
While I liked the large bathroom, it did mean that something had to give. That something was the galley. It had a small refrigerator, a two-burner stove, microwave, small sink, and some storage. You can customize the countertops, which all look great over the white molded cabinets.
The dry weight of the Ollie is 4,900 pounds, so I could only tow it with a large vehicle, like a mid-size truck. The 16-foot awning was a favorite feature, and if I were ordering one of my own, I would get the optional solar panel installed on the roof.
Pros
Large bathroom
Sleeps three comfortably
Large 16-foot awning
Durable, double hull
Customizable interior finishes
Cons
Solar panel is optional
Small galley
TV placement
Most Durable
Airstream Nest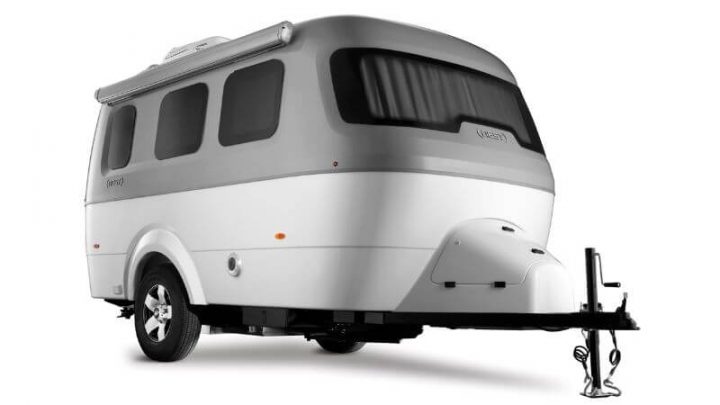 Airstream doesn't just make the iconic bullet campers out of aluminum, they've also got a player in the fiberglass game. They have a retro look, but with a slightly modern twist. The Nest is 16 feet long and has a dry weight of 3,300 pounds. It's a small and lightweight camper but loaded with features.
I loved the interior with the mint green upholstery because it felt like living in an original Airstream. The Nest sleeps two with the bed that switches from a u-shaped dinette into a cushy tufted mattress. The bathroom is compact but functional. Even though the Nest is cozy, the number of windows never made it feel cramped.
The retro styling comes with plenty of high-tech features. I loved running the LED lights from my Bluetooth on my phone. The galley has a two-burner cooktop and a USB and 110 outlets. Unfortunately, it does not have an RV refrigerator or microwave. It does not have a TV or other entertainment features. It does have an exterior awning for added shade on warm days.
Pros
Retro styling
Lightweight dry weight
U-shaped dinette
Tufted cushions become queen bed
Lots of windows
Cons
Limited galley features
No TV
Small bathroom
Most Affordable
Scamp Trailer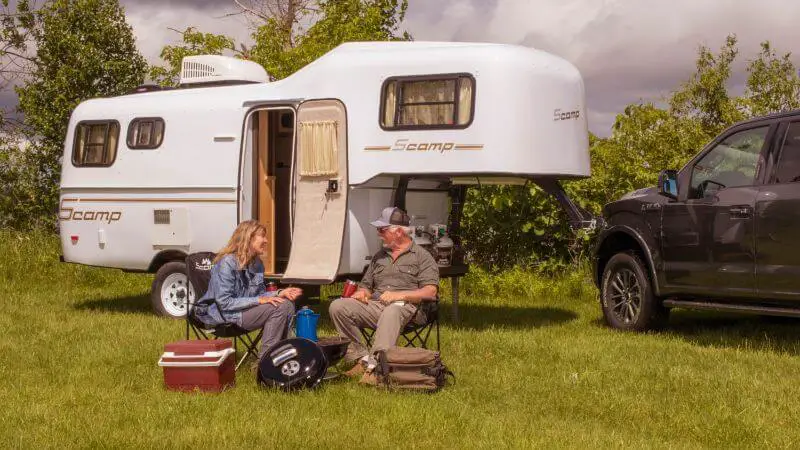 Scamp makes three sizes of fiberglass trailers: 13', 16', and 19'. All three sizes are available in standard and deluxe. They have dry weights between 1,200 pounds and 2,900 pounds, so all can be towed by cars, SUVs, and minivans. The 19-foot models are fifth-wheels with sleeping quarters above the hitch.
I tested the 16' model and towed it behind a mid-size truck. The camper had a bathroom with a shower at the front of the trailer. It also had two sleeping areas, one in the rear and a small one on the side. It was easy to hook the camper to the truck and get it to our campsite.
The Scamp has necessary features, but the interior is not as stylish as the interior of the Airstream. But, remember, the Airstream didn't even have a small refrigerator in it. The Scamp had a 4.6-cubic-foot refrigerator and a gas stove with a pair of burners. This camper is practical, but isn't that what camping is all about?
There are plenty of ways to configure Scamp campers to meet your camping needs. You can get them with or without bathrooms or with more spots that convert to sleeping areas. I highly recommend the rooftop air conditioning, especially if you camp in areas with high humidity.
Pros
Lightweight
Large refrigerator
Plenty of storage space
Lots of sleeping space
Cons
No TV
No microwave
Utilitarian interior design
Best for Couples
Casita Spirit Trailer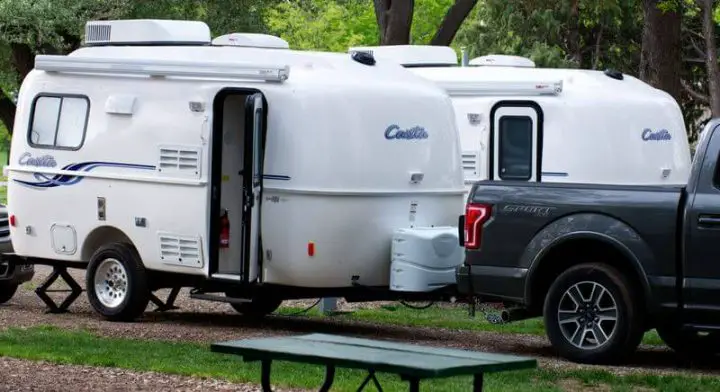 The Casita Spirit Trailer is a great choice for couples, especially if they choose the Deluxe over the Standard model. The Deluxe version has a shower and toilet, while the standard does not. The queen bed was roomy, and there was plenty of room in the galley.
If two people camp in the Casita, you can leave the bed down and use the small side dinette. That's why this is such an excellent choice for couples who love to camp together.
The Casita campers come in 16' and 17' models with dry weights between 1,970 and 2,480 pounds. With these dry weights, you can tow a Casita behind an SUV, minivan, or possibly even a car. I hauled the Deluxe 16' behind a mid-size truck.
The Casita has a practical interior and does not have a TV or other entertainment features. But, it is a camper, not a living room. It has air conditioning and large screened windows to make it comfortable and larger than it seems.
Pros
Lightweight
Galley with necessary appliances
Lots of storage space
Optional full bathroom
Air conditioning
Cons
No TV
Not all models come with bathrooms
Not a good model for families
Factors to Consider When Buying a Fiberglass Travel Trailer
Fiberglass travel trailers are lightweight options for small families or couples who like to camp. These durable campers are less likely to rot and leak. Because they are made of fiberglass, they will not rust, which gives them better resale value over their metal counterparts.
Bed Configuration
All of the fiberglass camper trailers on this list have different interior configurations. If you are looking for a camper trailer for sleeping, then you will want one that has a permanent bed. If you plan to eat and sit in the camper, then you might benefit from a fiberglass travel trailer with a dinette or seating area that converts to a bed.
Consider how often you want to move furniture and make the bed each day. If you do not want to do this work, then an interior with a permanent bed might be your best option.
Galley Appliances
Not every fiberglass camper comes with all of the appliances that you might have in your home. Some fiberglass campers only have a stovetop, while others might have a microwave and small refrigerator. For many campers, the only way to prepare food is over a grill or an open fire.
Bathroom Needs
Fiberglass travel trailers are lightweight and durable. Many can be towed behind cars or SUVs, because they have low dry weights. To keep the dry weights low, many manufacturers do not put full lavatories in them. Before you buy a fiberglass RV, you will want to decide if you need a bathroom or not.
Having your own small shower, flushable RV toilet, and sink is convenient, but you might not be able to tow it with the vehicle in your garage. Many campgrounds have bathrooms with private showers, so not having a bathroom in your fiberglass travel trailers might not be an inconvenience.
Interior Space & Windows
Fiberglass trailers are usually not as large as a traditional travel trailer. When I go camping, I don't spend much time inside, unless it rains. However, I still like to have some space to move when I'm inside. These small campers can feel cramped when two or more people are inside.
To make the fiberglass travel trailers seem roomier, manufacturers add plenty of windows. But, the windows can also reduce privacy, especially if you like to keep them open.
A factor to consider is how large you want the inside to be, and if having open windows is bothersome. Many of the travel trailers with large windows also have black-out curtains to give you nighttime privacy. Check the floor plan and make sure you have enough room for your lifestyle.
Keep the Fiberglass Exterior Clean
Fiberglass is highly durable, and with proper care, a fiberglass RV can last for decades. But, sun, wind, and dirt can break down the fiberglass and its protective coating.
When you aren't using your RV, you should keep it out of the sun, either in a garage or covered. It is also a good idea to wax the RV before you store it. Do not wait too long to wash it, so the exterior stays in top condition for many years to come.
For more on fiberglass care, read Brian's article on how to restore and remove oxidation from your RV fiberglass.
Still searching? Check out our other travel trailer guides:
If you'd rather rent first to see what it's like, read up on the best rental companies.