Hey! This site is reader-supported and we earn commissions if you purchase products from retailers after clicking on a link from our site.
Minnesota is an amazing state to travel through, especially during the summer when you can get around to some of the northern parts of the state in your RV or van. "The Land of 10,000 Lakes" has so many beautiful national forests to explore and towns to admire.
When you head up there, just make sure to plan out your campground stops ahead of time. That's where we can help! After our research and travels, here are our top 10 campgrounds in the great state of Minnesota.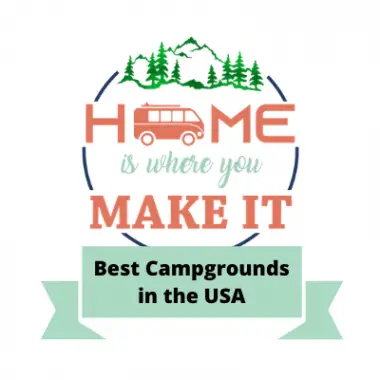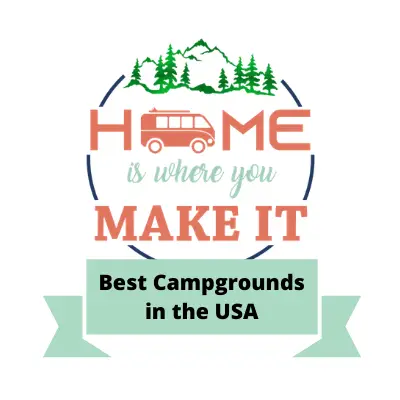 Kiesler's Campground and RV Resort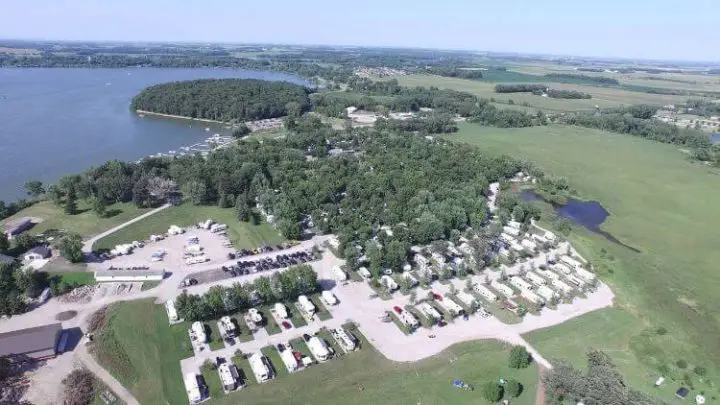 If you're camping in southern Minnesota, Kiesler's is the perfect place to stay. There's always fun around the corner with unique activities that include a remote-controlled car racetrack and even an 18-hole mini golf course. The 2000-square-foot pool, DJ'd dance nights, and watercraft rentals keep the fun going. All of that paired with friendly, family-run service makes for an experience that can't be beat.
Address
14360 Old Highway 14, Waseca, MN 56093
Phone Number
(507) 835-3179
Reservations
Stony Point Resort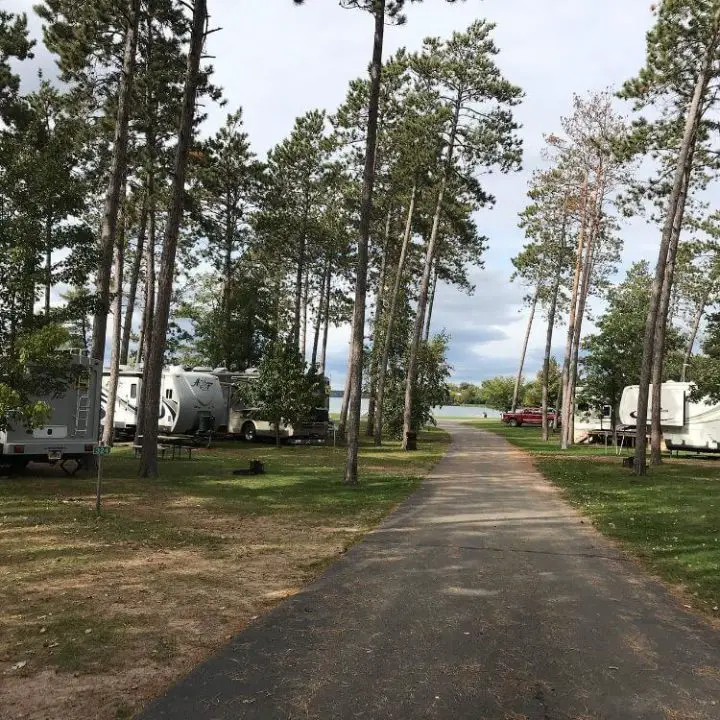 Stony Point is a lake camping resort in northern Minnesota that serves campers of all ages with its accommodations, facilities, and activities. The resort offers comfy cabins that include housekeeping as well as a full-service RV campground and shaded tent sites.
Special perks at Stony Point include the onsite Canal House Restaurant and Lounge, a 650-foot sandy beachfront, and an indoor pool facility for year-round fun!
Address
5510 US Highway 2 NW, Cass Lake, MN 56633
Phone Number
(218) 335-6311
Reservations
Crow Wing Lake Campground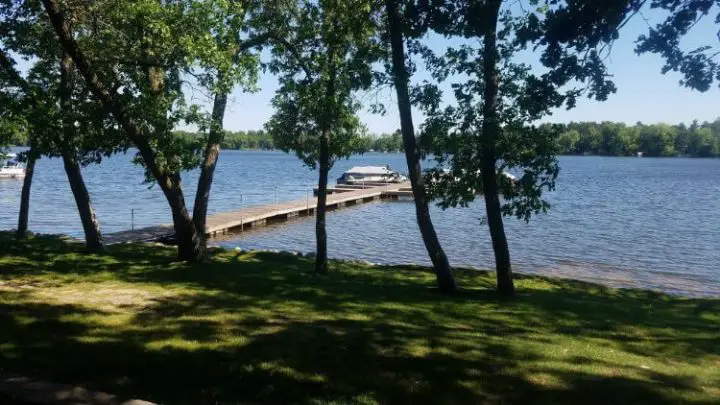 Just two hours from the Twin Cities, Crow Wing Lake Campground lies on 30 wooded acres and offers full hookup RV sites and electric/water RV sites, each coming with its own picnic table and fire ring. This campground checks all of our boxes, with full-service restrooms, a boat launch, an onsite store, and even a fish-cleaning house.
Besides groceries and other camping essentials, the camp store has rentals available if you are looking to kayak, paddleboard, canoe, or pontoon.
Address
2393 Crow Wing Camp Road, Brainerd, MN 56401
Phone Number
(218) 829-6468
Reservations
Kamp Dels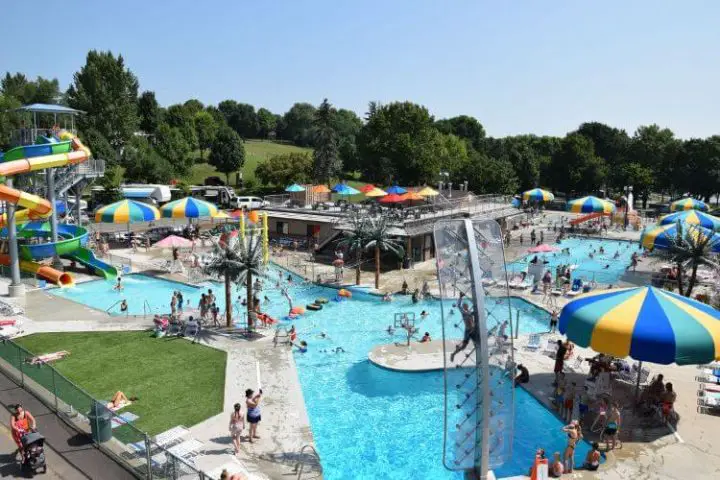 Kamp Dels is all about fun, as it is a half campground and half water park. The huge pool complex, which features 32-foot tall water slides, a climbing wall, diving boards, and more, is free for registered guests, as are the four massive playgrounds, the 16,000 square foot maze and petting zoo, and a long list of other sports and recreational facilities. Accommodations include tent camping, RV camping, seasonal campsites, and cabin rentals.
Address
14842 Sakatah Lake Road, Waterville, MN 56096
Phone Number
(507) 362-8616
Reservations
Oak Park Kampground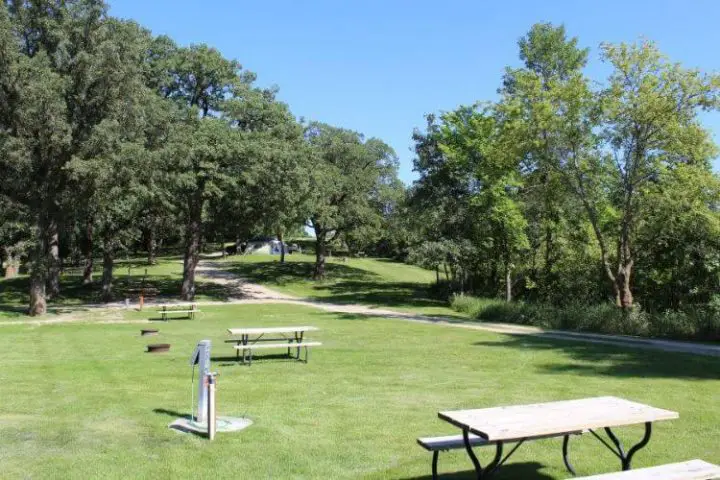 Offering either a comfortable overnight spot to spend the night or a destination for a family camping trip, Oak Park Kampground is a natural 43-acre area complete with three ponds, trees to provide shade, and nearby access to beautiful lakes that give Minnesota its nickname, "The Land of 10,000 Lakes".
The family-friendly offerings include a large playground, a softball field, and a fenced-in outdoor pool on Oak Park's grounds, as well as themed games and crafts every weekend.
Address
9561 County Road 8 NW, Garfield, MN 56332
Phone Number
(320) 834-2345
Reservations
Wildwood RV Park and Campground

By camping at Wildwood RV Park and Campground, you can get discounted unlimited admission to mini golf, Wild Mountain Waterpark, Alpine Slides, and Go-Karts, Taylor Falls Scenic Boat Tours, and Taylor Falls Canoe and Kayak trips, taking advantage of the shared ownership of the campground and all of those attractions. Onsite, you can also enjoy the heated pool, volleyball and basketball courts, and bike trails.
Address
20078 Lake Boulevard, Shafer, MN, 55074
Phone Number
(651) 465-6315
Reservations
Eagle Cliff Campground & Lodging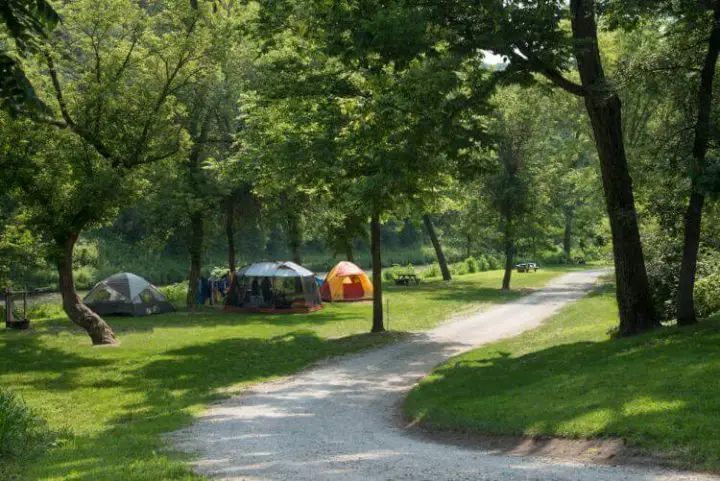 Whether you are looking for motel lodging, RV camping, or a place to pitch your tent, Eagle Cliff Campground will have what you are looking for. The riverfront tent sites, RV site options (electric, electric and water, or full hookup), and comfortable motel rooms exceed visitors' expectations. The campground also offers outfitting rentals to campers and the public.
These include inner tubes, canoe, and kayak rentals, and bike rentals, with shuttles available for the tubes, canoes, and kayaks.
Address
35455 State Highway 16, Lanesboro, MN 55949
Phone Number
(507) 467-2598
Reservations
Oak Lake Campground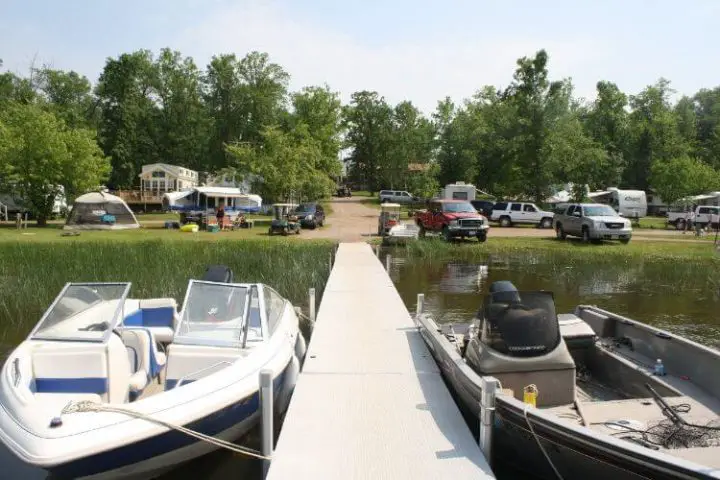 Located between Duluth and the Twin Cities, Oak Lake Campground is a great spot to relax and enjoy summertime activities. The campground offers RV and tent sites both on the lake itself or in the wooded area if you prefer shade. The many lake amenities offered at Oak Lake include pontoon, row boat, pedal boat, and canoe rentals; boat docking and launching; fishing tackle and live bait; and a swimming beach and diving platform on the lake.
Address
52777 Hoffman Drive, Kerrick, MN 55756
Phone Number
(218) 496-5678
Reservations
Pokegama Lake RV Park and Golf Course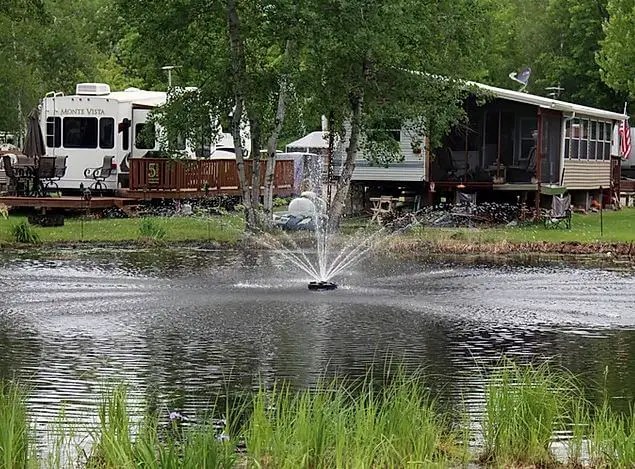 With its own nine-hole golf course onsite and location on Pokegama Lake, Pokegama Campground can virtually guarantee that you won't get bored during your stay there. Besides golf, boating, and fishing, guests can also enjoy the large heated swimming pool, TV lounge, and horseshoe pits. All sites are full hookups with water, electricity, and sewer included.
Address
19193 Island Resort Road, Pine City, Minnesota
Phone Number
(320) 629-6552
Reservations
Lamb's Resort on Lake Superior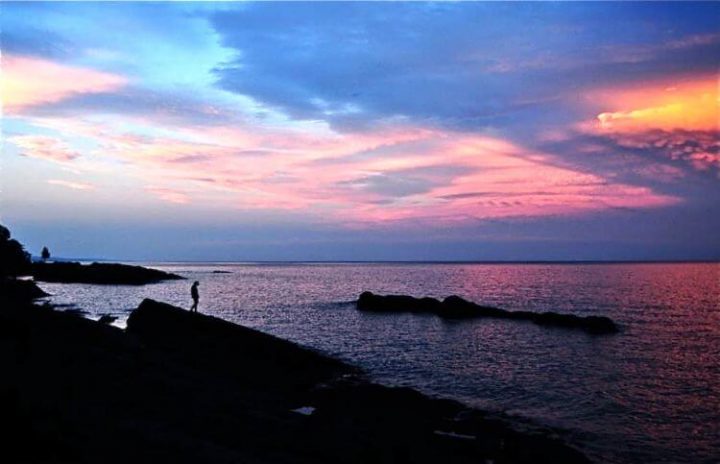 Lamb's Resort, established in 1922, encompasses over 60 acres with half a mile along Lake Superior's lakefront. The campground is ideal for visitors to the North Shore and is the only one with sites right on the lake.
The resort's accommodations options include primitive tent sites, RV sites with full or partial hookups, and fully furnished, full-housekeeping cabin rentals also on the lake or on the Cross River.
Address
4 Lamb's Way, Schroeder, MN, 55613
Phone Number
(218) 663-7292
Reservations
Did we miss any campgrounds in Minnesota that you loved staying at? Let us know and we will check them out.
Be sure to check out the rest of our choices for the best campgrounds in the USA: