Hey! This site is reader-supported and we earn commissions if you purchase products from retailers after clicking on a link from our site.
If you're concerned about the legality of living in an RV on your property then sit tight while we answer your burning questions and eliminate your concerns. Understandably the situation may appear a tad confusing, the land belongs to you, and you want to live on it, but in an RV. The simplicity of the matter is that every location has its own rules under different circumstances.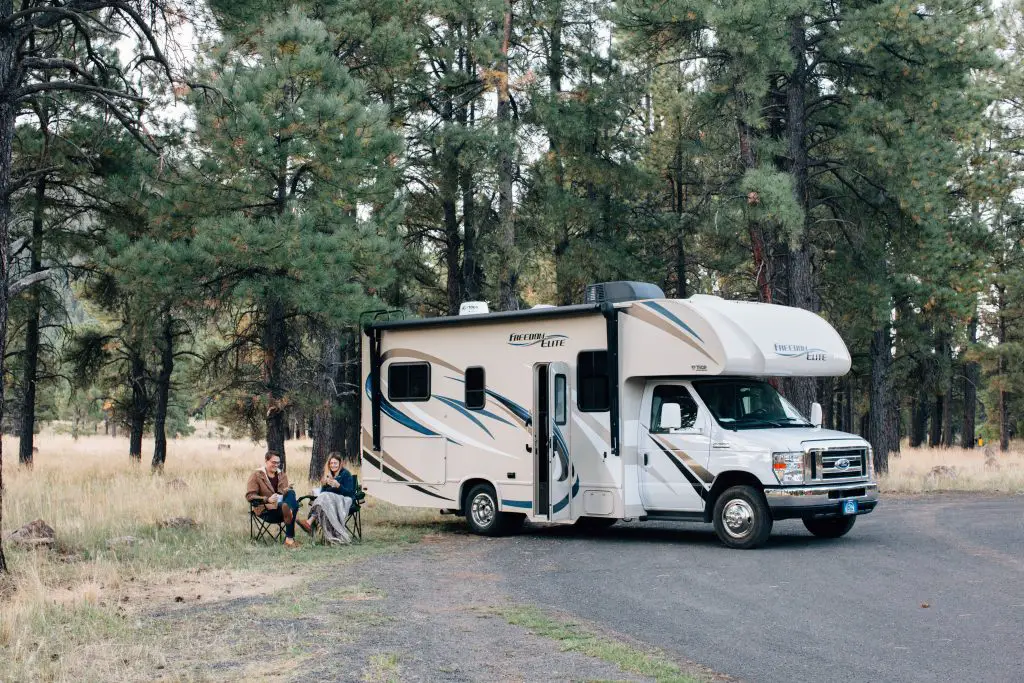 Benefits of Living in an RV on Your Property
Hell bent on making the RV your permanent place of residence? Luckily for you, there are several advantages that might provide you with the extra nudge you need to make this happen. Some of the basic benefits of living in an RV include:
Freedom – Living in an RV allows you to change location whenever you wish. Living full time in an RV also comes with some challenges but you can easily overcome them. You're never forced to stay in one place for longer than you deem necessary. This is great for people who don't see themselves as settlers and prefer a lavish life of exploring and wandering.
Deeper Pockets – You'll find yourself saving lots more money, with no mortgage, no energy bills, and no homeowners insurance, so you can actually do the things you love.
Travel – Travelling is much simpler when living in an RV. Whenever you feel the urge to explore certain destinations or do a light spot of sightseeing, you can take your trusty home on wheels anywhere you like!
No Neighbours – Sometimes feuding neighbours are disrupting to different neighbourhoods, depending on where you're living. Having the luxury of living in an RV will eliminate those pending confrontations, so you'll lead a well-deserved peaceful life.
Selling the RV – If you ever decide that you've had enough of travelling and living in your RV, and would prefer staying in a home that doesn't come with wheels, then selling your RV is fairly easy; with thousands of people looking to buy RV's to travelling destinations, it really is quite a simple task.
Versatility – Living in an RV doesn't mean that you'll be staring at your front yard when gazing out the window. In fact, you can decide what you wish to wake up to every morning!
Can You Live in an RV Legally?
It is legal to live in an RV, but to remain within the law you will need to carefully follow local zoning laws and ordinances that might govern where you can park your RV. You could need access to water and sewer if you plan to linger in one place or on your own land, for more than a short period of time. You can securely stay put, living in an RV for weeks, months or even permanently. However, the local government could demand that you build a permanent place to reside in, like a house on your land. Essentially it's illegal to live full time in an RV, even on land that is yours, because that place is meant for permanent occupancy.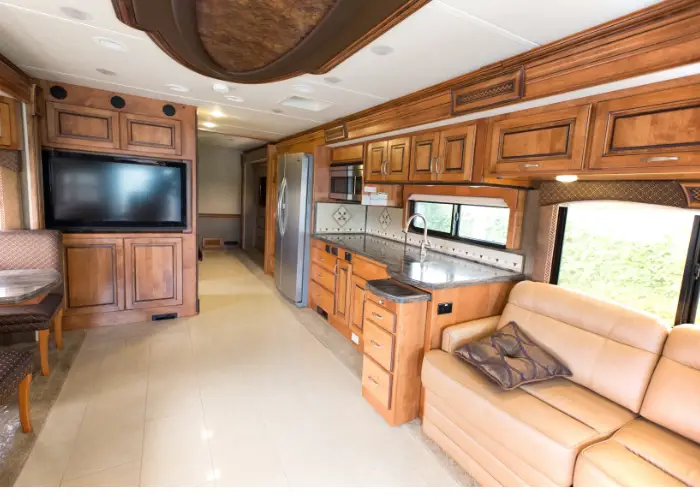 In the USA (some states) it is possible to live full time in an RV as long as you have a postage address. So your next step would be to choose a state to stay in, and this is where you'll pay your taxes, get a driver's licence and a postage address. Wherever you park your RV, make sure you're obeying the local laws, restrictions and zoning laws. If you choose to park the RV on a permanent piece of land, whether it's yours or not, you must have access to sewer and water.
Can You Live in an RV on Private Property?
Rolling up in your massive RV to someone's back or front yard simply won't do, especially if they have no idea of your arrival, who you are as a person, and what you plan to do on their land. You might be harmless but are they? Although it's not something that is completely frowned upon, or illegal rather, there are some common rules that follow with this heavy ask. Firstly you want to make sure that the area you are in actually permits you to live in an RV. You wouldn't want to find yourself in trouble or paying a hefty fine. Some places completely disallow living in an RV on someone else's property.
The best way to figure out whether this could be a possibility is to get hold of your local courthouse, even if they are unable to provide you with complete information and assurance, they will be able to guide you to where you can find that information. Being up to date with the laws, will save you a lot of hassle.
Does Living in an RV Indicate that I am Homeless?
Living in an RV does not mean that you are homeless, as long as your home on wheels has running water – access to the bathroom – cooking facilities, and sleeping space. You can claim your RV as your primary residence in almost any state in the US. A person who is living in an RV is not considered homeless as long as there is a bathroom with running water, cooking facilities i.e. fridge, microwave or oven, and a sleeping spot.
The land that the RV is parked on must be legally owned or leased by the person for 30 days or more. The RV must be connected to mandatory utilities i.e. sewer, trash, electricity, water and internet. Living in an RV in a public parking space is unfortunately not considered as having a house, as you don't own the land nor would there be any basic utilities. Furthermore, people sleeping overnight in their personal cars or vehicles that are no longer on the road, and do not meet the basic criteria, are considered homeless.
Living Expenses for Living in an RV
You might consider getting one of the best RVs for full time living. Once the utilities are in place, you can move your RV to your land and start enjoying the peaceful surroundings. You don't have to pay taxes for your RV, but you will have to pay them for the property. You will also have to pay for electric, telephone and internet services, but there will be no water or sewer bills unless you were able to tie into the closest town's water and sewer systems.
If you are accustomed to city life, you will find that moving an RV onto your own property might not be what you originally hoped it would be. Living on your own land is not the same as being in a campground, and won't have the same level of safety and convenience. So while the monthly bills won't leave your pocket feeling as empty as they once did, you might find that you are missing out on the basics of living in an actual house, or apartment rather than a house on wheels.
Treading Carefully Before Taking That Step
A word of caution for those considering this serious venture. When living in a country on your own land, you'll have to consider your safety as well as the safety of your belongings. You don't have the same security living in the RV as you would have you been living in the city or a town. Thus vigilance is vital in these circumstances. Despite this it is quite possible to successfully live in an RV on your own property, as many have succeeded to tell their tales.
Can You Get an Address for Your RV?
Essentially, it is possible to get an address for your land, even if you only have an RV stood on it without a structure. An application for the address is normally handled as part of the building permit process for traditional construction processes, but is actually provided by your county zoning and planning department. You can most likely apply to that office directly to get an address for your property, even without a planned structure. Persisting measures might be needed as getting an address without a building permit, is quite out of the ordinary. Knowing the law, and being polite might help you in this case.
Living in an RV on Someone Else's Property
When on the hunt for somewhere to permanently park your RV to stay in, be sure to consider these few options, to help ease the awkwardness and intimidation that naturally transpire from the task:
Family
This is always the best and safest option. It can be easier and less awkward when living on your family's property, discuss the options available for you to stay on a relative's property. Let them know that you are willing to pay for living on their property and then you'll have to work out the necessary details, and park up!
Friends
Sometimes family don't always come through, so your next best bet would be to turn to your friends. You might find this a tad awkward depending on the friendly proximity you might share with them. Discuss the necessary details, finalising any agreements outlined which will allow you to permanently reside on their property, without the awkward fuss or hassle, this might bring.
Ads
If the above options happen to be ineffective then you can always turn to ads. Whether you write your own ad or answer someone else's you might want to do a little research on the are you plan to move into. Make sure that the person who is allowing you to move on to their property is both trustworthy and safe. Do not be tempted to move on to the property of the very first person who seems to allow it. Be very picky.
Can You Live in an RV in Texas?
It's perfectly legal to live in your RV in Texas. You just need to register the vehicle when you're in Texas and your driver's licence must be from Texas. To remain within the law, you will need to do a little research on the local zoning laws and ordinances that may govern where you can park your RV. You'll also need to access water and sewer if you plan to park in one place on your own land permanently.
What States Allow You to Live in an RV on Your Property?
Living in an RV is an effective way to reduce your living space, and lower your expenses. Although it's quite a new idea in some parts of the country that could potentially land you into some legal trouble, it might be beneficial if you were to do a thorough research on what states permit you residing in a motor-vehicle. Here are the states that allow you to live in an RV on your own land:
Florida
Massachusetts
Michigan
Texas
Florida
It is legal to live in an RV on your own land in Florida, as long as you aren't violating any local zoning laws, and you have both electricity and water available. Florida might rank as one of the best places to live in an RV year-round. You might even choose to pay to park at an RV or mobile home park, which is completely legal as well. Before planning to reside permanently on land that is owned by you, inside a motor vehicle, you might want to check if the state is safe enough for this. Checking the crime rates might help you decide whether this would be the perfect spot for you to park your RV to permanently stay. If you own some land in Florida or plan to buy some, then make sure it has the basic facilities available, i.e. sewer and water.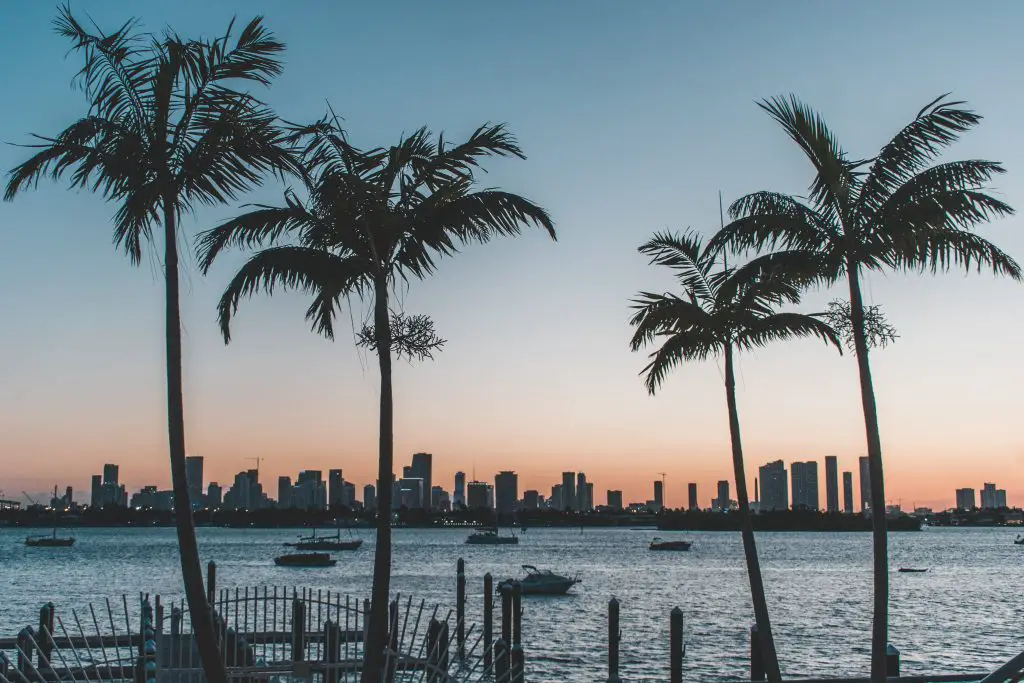 Massachusetts
Living in an RV on your own land in Massachusetts is legal, as long as you to take care to remain within the law. Before you buy any sort of land that you plan to permanently plant your vehicle onto, make sure that you have crystal clear access to electricity, water and sewer. There are some laws that could restrict you from living in an RV even if it is on your own land, but fortunately RV parks are usually exempt. Here are some campgrounds that could pique your interest:
Michigan
You should make sure that you're following any zoning ordinances in place, then you can comfortably live in your RV on your own lands in Michigan, but beware that some towns allow this and not all. You might find yourself feeling more secure with the location you've parked at a mobile home park.
Texas
Although you can park and live in an RV on your own land in Texas, you shouldn't get comfortable just yet, because this cannot be your permanent home on the property. You will have to register the vehicle in Texas and have your driver's licence be from Texas. Most RV dwellers will choose one state to claim as their primary residence. You must have access to sewer, electricity and water to remain parked on your own land in Texas.
Best Places to Live in an RV Year-Round
Whether you want to move to a place for an entire year, or enjoy the sensational freedom obtained from living in your own vehicle, that provides the basic necessities in any environment you desire, there are great places for you to consider travelling to, with your house on wheels:
Florida
Texas
North Dakota
Arizona
California
Virginia
Washington State
Montana
Oregon
Florida
Florida is a great choice for RV living especially if you're a full-time RV domicile. Florida's sunshine makes it a top pick for those who intend to live in their RV full-time. Try to avoid the spring time when the hurricanes are threatening to hit the state, you wouldn't want your comfortable home on wheels to be tumbling across the state. Instead plan your visit to Florida in the late winter, when the temperature and humidity haven't comfortably settled in.
Texas
Looking for a state to establish your domicile? A large state like Texas, with promising weather for most of the year, it's a great place for those with an RV to reside. With Texas' lack of income tax and easy access to mail-forwarding services makes it one of the best choices. Just be aware that the Texas auto insurance rates are a tad on the higher side.
North Dakota
While North Dakota might not be the most pleasant of places to live in an RV during the winter months, it makes up for this in the summer. With temperatures that aren't nearly as scalding as the Southern states, and expanses of wide, open land, it's a place to take a brief hiatus, stepping off the edge and inhaling the scent of naturalness, whilst glimpsing a perfect sunset.
Arizona
It's a little complicated to create a bucket list of things to do on a whim. Regardless when planning trips in your RV Arizona should be at the top of the list, as it's one of the most visited national parks in the country. For full time RVers, its a great place to spend the winter months that are too cold up north, and if the heat is too much up there, then spend the months of spring in Arizona.
California
Since California is so vast and varied, you could plan to spend an entire year here in your RV and not run out of places to visit. Since you're bringing your home to a state that provides impeccable scenery below its peaks, you can live here for a while without having to worry about the sky-high cost of housing in the state.
Virginia
Hot summers are not always a bad thing in Virginia, temperatures being quite liveable in an RV. You'll find yourself immersed in the beauty surrounding your mini home, with expansive beaches blessing your eyes, to lakes surrounded by green peaks, and varieties of impeccable landscapes that make it a great place to call home, for a few months – taking a break from the roads.
Washington State
Washington State has no income tax, which makes it an option for those seeking a domicile state. Washington auto insurance rates are also on the low side, which is great for those planning to use a domicile address for their RV. For full time RV inhabitants, its a great place to spend the mild season before hunting for warmer climates for the winter. Washington State is known for a lot of rain, particularly along the coast. With glorious summers that last into the fall, you'll find yourself gravitating towards the hike on an active volcano! Adventure calling your name.
Montana
From wide-open ranch land in the east to snow-capped peaks in the west, Montana has something to offer everyone. Like North Dakota, the winters are cold, but the summers offer long days of warm temperatures, making it a great place for full-time RVers, who prefer to split their adventures between the northern and southern parts of the country.
Oregon
From jagged coastline to the snow kissed mountains, Oregon has a wide range of natural beauty for RVers to experience. It's also a great place for big purchases, to upgrade your RV since there's no sales tax, and a robust camping culture that'll ensure a warm welcome to those that live on the road.
So What State Allows You To Live in an RV on Your Property?
There are some states that allow you to park your RV to live in permanently on your own lands, as well as on private properties. Depending on how long you plan to stay in some states, as long as you have access to running water, electricity and sewer, living in an RV can be quite a pleasant experience.
None