Hey! This site is reader-supported and we earn commissions if you purchase products from retailers after clicking on a link from our site.
Washington is home to some of the best hikes and camping spots in the USA. From Mount Rainier national park to Olympic national park camping, there is so much to explore. It is an absolute must-see for RVers and van lifers. After looking at over 45 major campgrounds and RV parks around the state, we hand-selected the top 10 RV parks that you should park at while exploring. Here are our picks for the best campgrounds in the great state of Washington.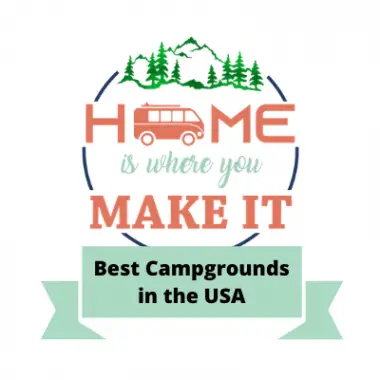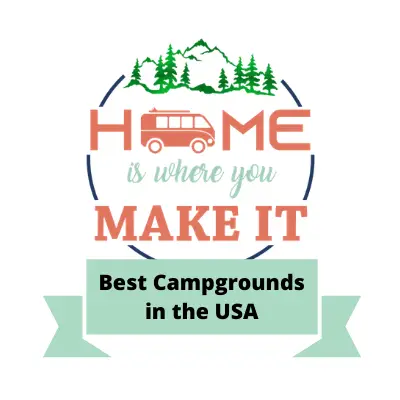 Table of Contents
Riverview RV Park
Riverview RV Park provides the perfect home base from which to explore the natural attractions on the Olympic Peninsula, including La Push Beach, Olympic National Park, and Neah Bay. The RV Park itself offers tent camping sites and cabin rentals as well as RV camping sites. If you're interested in salt or freshwater fishing while staying at Riverview, the Park also offers ice, bait, and fishing gear.
Address
33 Mora Rd, Forks, Washington 98331
Phone Number
(060) 640-4819
Reservations
When Pigs Fly Farm
When Pigs Fly Farm is primarily an organic farm focused on produce and eggs, their farm stay is an opportunity to have a unique camping experience. You can either bring your own tent or stay in the farm's vintage 1965 Avion. Guests can help out with farm chores if they would like to interact with the chickens, alpacas, and cows that live at the Farm.
Address
19997 State Highway 9, Mount Vernon, Washington 98274
Phone Number
(360) 420-0606
Reservations
Eastcreek Campground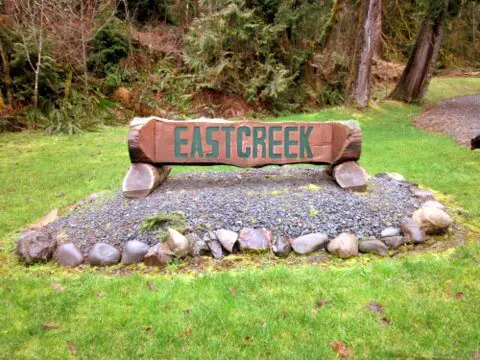 Surrounded by unspoiled nature, Eastcreek Campground is located on 20 acres of wooded land near Mt. Rainier. The campground includes large RV campsites as well as many private tent areas, with a fire pit at each site for visitors to enjoy. Besides Mt. Rainier National Park, other close-by attractions include Mineral Lake, Northwest Trek, and Mt. Rainier Scenic Railroad.
Address
184 Naugle Rd, Mineral, WA 98355
Phone Number
(360) 492-3104
Reservations
Riverbend Campground
Situated on the Nisqually River just between Olympia and Tacoma, Riverbend Campground offers both RV and tent camping sites for guests to enjoy. The Nisqually provides great salmon and rainbow trout fishing for visitors to the campground, and the campground offers two gravel bars along the river to allow for fishing. For anyone looking to host a larger event, the campground also has a large clubhouse and a large picnic area available for reservation.
Address
1040 Clubhouse Ln SE, Olympia, WA 98513
Phone Number
(360) 491-2534
Reservations
Riffe Lake Campground
Featuring waterfalls, miles of hiking trails, swimming holes, and fishing spots, Riffe Lake has natural features for a wide variety of outdoor activities. The lake itself is a man-made reservoir on the Cowlitz River and provides a beautiful backdrop for the campsite. Reservation options include tent sites, RV sites, group sites, and cabin rentals.
Address
241 Osborne Rd, Mossyrock, WA 98564
Phone Number
(360) 983-8122
Reservations
Crescent Bar Recreation Area
The Crescent Bar Recreation Area in central Washington is located at the banks of the Columbia River, making it the ideal campsite to enjoy river-related activities. To that end, the campground is newly remodeled with RV sites that are large enough for a marine vessel as well as two vehicles each and a marina and two-boat ramp access areas. The park also includes a golf course with memberships available.
Address
23618 Road 8.6 Northwest, Quincy, WA 98848
Phone Number
(509) 754-5002
Reservations
Mounthaven RV Resort
For those hoping to explore Mt. Rainier, Mounthaven RV Resort is the perfect home base, located about half a mile from the southwest entrance to the national park. The campground offers RV sites, tent sites, and cabin rentals, all nestled among the cedar trees of the heavily forested area. Beyond the beautiful nature in the area, Mounthaven also provides activities such as games, books, and sports equipment to borrow.
Address
38210 SR 706 East, Ashford, Washington 98304
Phone Number
(360) 569-2594
Reservations
The Driftwood RV Resort and Campground
Originally built for clamming and fishing in the 1930s, the park has since been refurbished and offers RV and tent sites, some of which are in the original sites. Just north of the Ocean Shores and Ocean City beach communities, the campground is in the midst of all of the beaches, cliffs, streams, and rivers that coastal Washington has to offer. Visitors love the convenient location, natural beauty, and perks such as free firewood.
Address
3209 State Route 109 Copalis Beach, WA 98535
Phone Number
(360) 940-7048
Reservations
Lake Pleasant RV Park
Located outside Seattle just northeast of the city, Lake Pleasant is an idyllic country getaway for RV travelers in Washington. The campground is set in beautiful lakeside surroundings. Customer service is a priority here, and amenities are not in short supply! Visitors can enjoy hiking trails, full RV hookups, wi-fi and cable, catch and release fishing in the lake, and more.
Address
24025 Bothell Everett Hwy, Bothell, WA 98021
Phone Number
(425) 487-1785
Reservations
Vasa Park RV Resort
Vasa Park is the perfect lakeside campground situated right by Lake Sammamish. The Resorts provides all the activities and amenities to enjoy summertime at the lake, including lake and beach access, water slides, a diving board, and a boat launch. Other perks include a concession stand, a large field for dogs to play on, fire pits, sports courts, and a playground.
Address
3560 West Lake Sammamish Parkway Southeast, Bellevue, WA 98008
Phone Number
(425) 746-3260
Reservations
Happy exploring! Do you think we missed any great Washington campgrounds? Shoot us a note!
Be sure to check out the rest of our choices for the best campgrounds in the USA: