Hey! This site is reader-supported and we earn commissions if you purchase products from retailers after clicking on a link from our site.
Florida is an awesome state with so much to see, all the way from the panhandle to the beaches of South Florida. There are a lot of options for camping along the way, obviously some better than others. That's why you need to plan where you're stopping ahead of time! After our research and travels, we've compiled the best campgrounds in Florida to mark on your next road trip through the state. Check them out!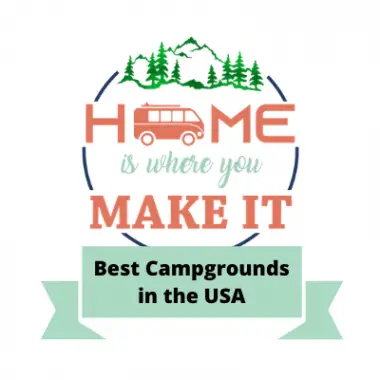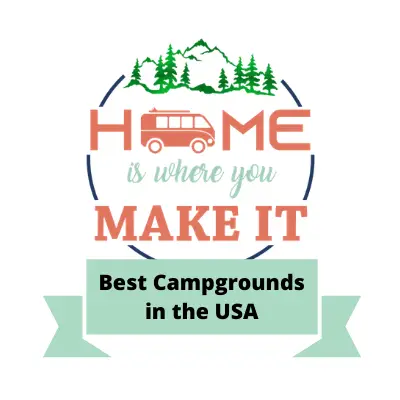 North Beach Camp Resort
Located on a barrier island just outside of historic downtown St. Augustine, North Beach Camp Resort makes for a memorable beach camping stay. The campground offers riverfront full-hookup RV sites, tent sites, and cabin rentals. Visitors to North Beach also get access to discounted tickets for the sightseeing cruise tour on board their own ship, the Victoria III, which explores the Spanish colonial city's historical landmarks and the surrounding nature.
Address
4125 Coastal Highway (A1A), St. Augustine, Florida 32084
Phone Number
(904) 824-1806
Reservations
Southern Comfort RV Resort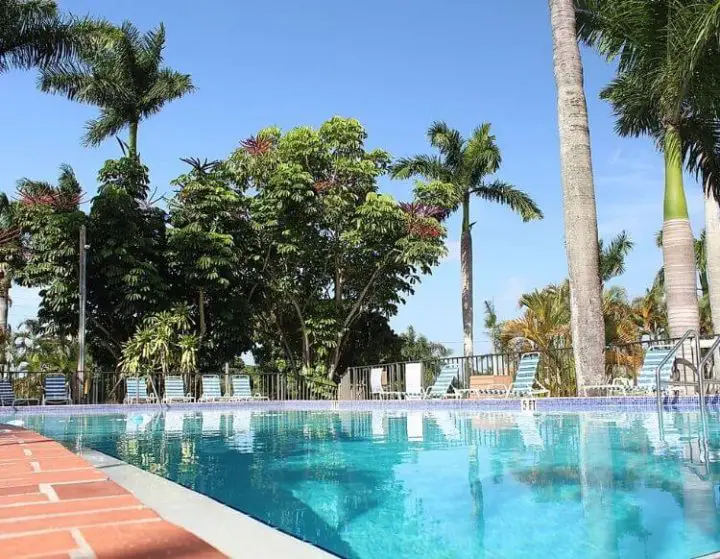 Just minutes from the picturesque Florida Keys, Southern Comfort RV Resort offers RV sites and tent sites as well as RV and fully-furnished cabin rentals for guests. This campground is all about creating a fun vacation, featuring a tiki bar that has daily drink specials and weekly entertainment in the form of DJ sets and karaoke nights. Other onsite activities include aquasize, exercise classes, bingo, and even a mini Mardi Gras parade.
Address
345 East Palm Drive, Florida City, FL 33034
Phone Number
(305) 248-6909
Reservations
Coastline RV Resort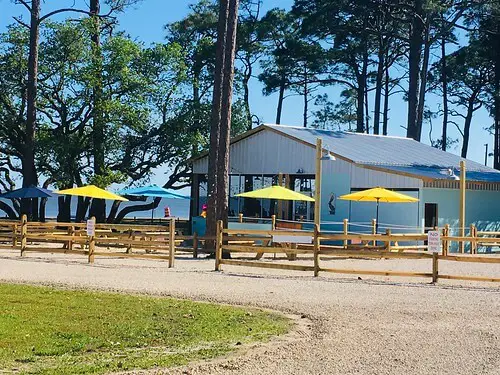 Calling itself "The Pristine RV Resort of Florida's Forgotten Coast," Coastline RV Resort offers a truly luxurious experience for visitors to the Gulf coast that includes St. George Island, Dog Island, and Apalachicola. Each RV site offers a bay view of Apalachicola bay as well as full hookups and a brick-paved patio.
The resort's clubhouse features a fully equipped kitchen, fitness center, and a large screened-in porch to enjoy. For fishing enthusiasts, the resort also has a private 100-foot pier that extends out into the bay.
Address
957 Highway 98, Eastpoint, Florida 32328
Phone Number
(850) 799-1016
Reservations
Bonnet Lake Campgrounds
Less than two miles from the historical city of Sebring in Central Florida, Bonnet Lake Campgrounds is a lakeside community with ample amenities and beautiful landscaping. The campground features a heated swimming pool, shuffleboard court, boat ramp, and recreation hall for guests to enjoy. In addition to the typical daily, weekly, and monthly rates, Bonnet Lake also offers discounts for long-term stays.
Address
2825 State Route 17 S, Avon Park, FL 33825
Phone Number
(863) 385-3700
Reservations
Boyd's Campground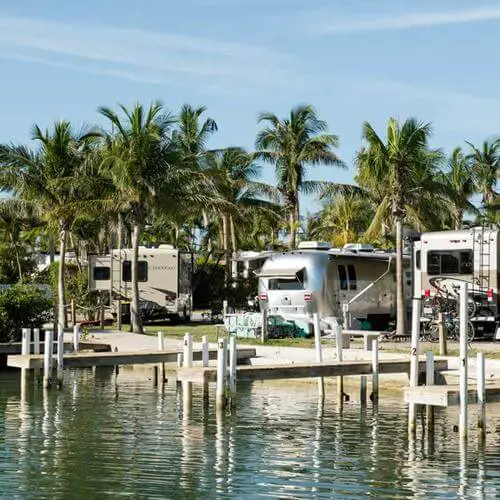 If you're visiting the Conch Kingdom of Key West, Boyd's Campground is the perfect rest spot at the end of the Overseas Highway. The owners pride themselves on their staff's "southernmost hospitality", and it shows in the glowing reviews of past guests.
Boyd's features a pool and tiki hut, boat ramp access, and kayak and paddleboard rentals to give guests the Key West vacation of their dreams. To top it off, the campground offers visitors the choice between inland and oceanfront RV or tent sites.
Address
6401 Maloney Avenue, Key West, FL 33040
Phone Number
(305) 294-1465
Reservations
Flagler by the Sea Campgrounds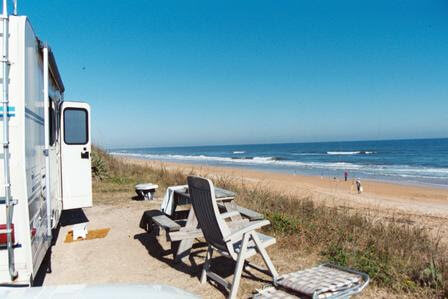 Flagler by the Sea Campgrounds is true to its name with its location right on the ocean in the coastal city of Flagler Beach, Florida. Visitors come from all over the country to enjoy the beachfront views and affordable pricing at this campground. Past guests rave about Flagler by the Sea's family-friendly atmosphere, proximity to attractions like Disney World and historic St. Augustine, and of course, access to the beautiful beaches of the area.
Address
2982 N Ocean Shore Boulevard, Flagler Beach, FL 32136
Phone Number
(386) 439-2124
Reservations
Ramblers Rest RV Campground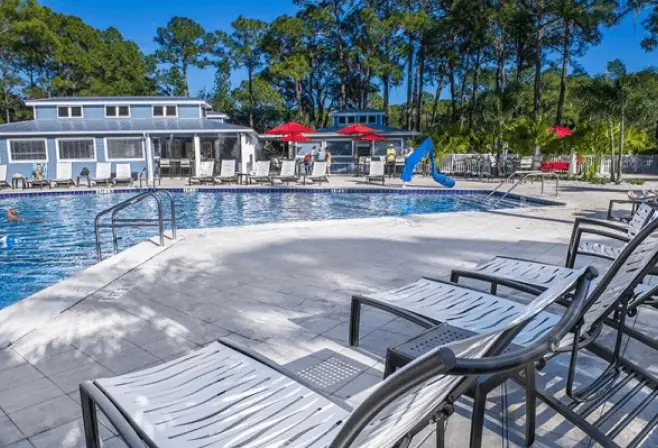 Rambler's Rest's peaceful, wooded setting provides a welcome contrast to the busier areas of nearby Venice and Sarasota along with the local attractions of the area. Visitors to the campground can enjoy the outdoors by swimming in the pool, fishing, and boating onsite. Past guests can't get enough of the "old Florida" style campsites at Ramblers Rest, as well as the beautiful pool facility, ample activities, and consistently friendly staff.
Address
1300 N River Road, Venice, FL 34293
Phone Number
(877) 570-2267
Reservations
Peace River Campground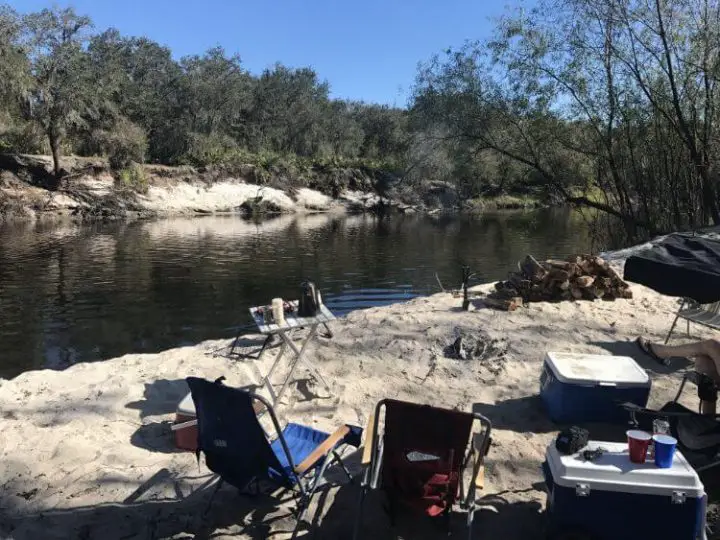 Spanning over 160 acres of land in Central Florida, Peace River Campground has ample space for both RV camping and 100 acres of primitive tent camping as well. The campground is kept as natural as possible with no paved roads, but it does offer full hookups for RV sites. The oak tree-shaded location on half a mile of riverfront adds to the natural ambiance of this campground. Amenities include a heated pool, bike paths, golf cart rentals, and more.
Address
2998 NW Highway 70, Arcadia, Florida 34266
Phone Number
(863) 494-9693
Reservations
Ragans Family Campground
With the tagline of "Family Camping at its Best," Ragans Family Campground lays out exactly the experience it aims to provide for all of its guests. Visitors can enjoy the truly one-of-a-kind combination of amenities and activities which include a water park and gem mining sluice.
Ragans offers RV sites as well as tent sites and even rentals for cabins of various sizes and amenity levels. This place truly has everything you need for a relaxing yet family-friendly camping trip.
Address
1051 SW Old St. Augustine Road, Madison, FL 32340
Phone Number
(850) 973-8269
Reservations
Stagecoach RV Park
With its proximity to historic downtown St. Augustine, Stagecoach RV Park is a great place to stay if you are looking to explore the oldest city in the United States! The campground even offers sightseeing trolley pickups. Amenities include a dog park, outdoor activities, a modern bathhouse and laundry facilities, and full-hookup sites. Past visitors rave about the spacious and private campsites and convenient location on I-95.
Address
2711 County Road 208, St. Augustine, FL 32092
Phone Number
(877) 824-2319
Reservations
Do you have any other favorite spots in Florida that we didn't cover? Let us know and we will check them out!
Be sure to check out the rest of our choices for the best campgrounds in the USA: