Hey! This site is reader-supported and we earn commissions if you purchase products from retailers after clicking on a link from our site.
Oregon is such a beautiful state in our great country, all the way from the coastline to the Snake River. There is a ton of great camping as well. If you're planning a trip through the state, it can be a little tough to determine the best places to park your rig overnight. We did the research to find the best spots for you. Here are the 10 best campgrounds in the state of Oregon.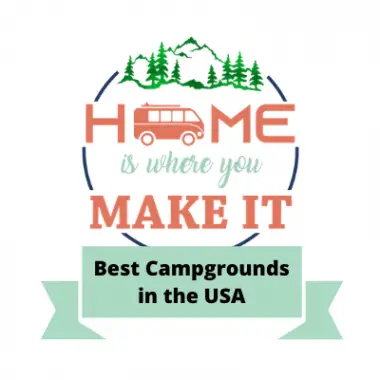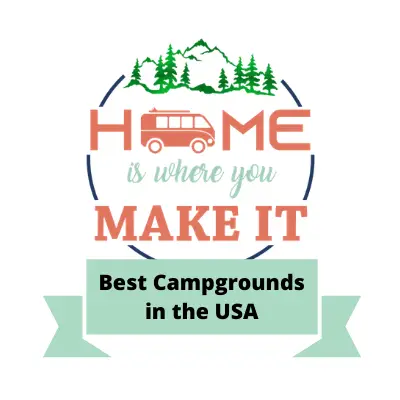 Crater Lake RV Park
Nestled into the forest along Crater Lake Highway, Crater Lake RV Park in Prospect, Oregon is perfectly located for those interested in visiting Crater Lake National Park, Rogue-Umpqua National Scenic Byway, and the Rogue River National Forest. The RV park prides itself on having deep and widely spaced RV sites for big rigs and on catering to small and large groups with amenities like high-speed WiFi and a campfire set up for guests.
Address
46611 Highway 62 (Crater Lake Highway), Prospect, OR 97536
Phone Number
(541) 560-3399
Reservations
Honey Bear by the Sea RV Resort and Campgrounds
Whether you're looking for a beachside stay on the Pacific Coast or close encounters with the flora and fauna of Oregon forests, Honey Bear by the Sea has you covered. The Resort also includes The Bear's Country Store as well as The Bear's Bar and Grill, making it a full-service camping destination.
Address
34161 Ophir Road, Gold Beach, OR 97444
Phone Number
(541) 247-2765
Reservations
Rockhorse Park at Horse Ranch
Shaded by over 400 ponderosa pines, Rockhorse Park is a unique camping spot perfectly situated at the juncture of Oregon forests and the high desert. In addition to the typical amenities of a good campground such as WiFi and clean bathrooms, Rockhorse Park offers a well-stocked grocery store including organic foods and a selection of craft beers.
Address
74543 OR-31, Fort Rock, OR 97735
Phone Number
(541) 576-2488
Reservations
Mtn. View RV Park
Mtn. View RV Park stays true to the rich history of Baker City and the surrounding area with its Oregon Theme, including its General Store main building and covered wagon replica. Even so, the RV Park is updated with modern amenities including WiFi, free cable TV, and a large laundry room. Visitors can enjoy local attractions including ghost towns, Hells Canyon, and the National Historic Oregon Trail Interpretive Center.
Address
2845 Hughes Lane, Baker City, OR 97814
Phone Number
(541) 523-4824
Reservations
Silver Spur RV Park and Resort
Located in the heart of Willamette Valley, Silver Spur RV Park and Resort offers RV sites, cabin rentals, and seasonal teepee rentals. Activities in the surrounding area include breweries, wine tastings, and live music, but visitors can also opt to enjoy the natural attraction such as Silver Falls. The park itself also offers fishing in their stocked pond, a pool and hot tub, and group meeting areas.
Address
12622 Silverton Road NE, Silverton, OR 97381
Phone Number
(503) 873-2020
Reservations
Portland-Woodburn RV Park
Portland-Woodburn RV Park is perfect for those hoping to stay close to the city of Portland without compromising on their RV camping experience. With over 150 sites, this RV park is accommodating and comfortable. Other amenities include free WiFi, a heated swimming pool, and a gazebo and barbeque area.
Address
115 N. Arney Road, Woodburn, OR 97071
Phone Number
(503) 981-0002
Reservations
Circle Creek RV Resort
Open year-round, Circle Creek is the perfect home base to explore the Northern Oregon coastline. Its proximity to the natural attractions of Ecola State Park, Saddle Mountain, and of course the Pacific Ocean make it ideal for nature lovers, but those looking for a cultural experience can also find activities to match their interest with the historic seaport town of Astoria and the artists' haven of Cannon Beach also within easy reach of the campground.
Address
85658 Highway 101, Seaside, OR 97138
Phone Number
(503) 738-6070
Reservations
Ada Fishing Resort
Offering RV and tent camping as well as cabin rentals, Ada Fishing Resort provides an unbeatable lakefront camping experience on Siltcoos Lake. Besides camping, the resort also offers other services including boat launch, boat moorage, and dock fishing for visitors. Past visitors love the quiet seclusion, kind staff, and convenient fishing.
Address
284 Collins Road, Westlake, OR 97493
Phone Number
(541) 997-2342
Reservations
The Narrows RV Park
With its proximity to the Malheur National Wildlife Refuge, Alvord Desert, Hart Mountain Antelope Refuge and the Diamond Loop, the Narrows RV Park is a great home base from which to explore the high desert of Southeast Oregon. The park itself includes a restaurant, convenience store, espresso shop, gift shop, and a saloon, among other amenities and services.
Address
33468 Sod House Lane, Princeton, OR 97721
Phone Number
(541) 495-2006
Reservations
Wright's for Camping
Wright's for Camping uniquely focuses on tent camping (although RV's are accepted in some of the tent sites–without hook-ups) and has been a family-run campground since 1959. Visitors to Wright's love the proximity to Cannon Beach, personal feel of the small campground, and clean facilities.
Address
334 Reservoir Rd, Cannon Beach, OR 97110
Phone Number
(503) 436-2347
Reservations
Did we miss any campgrounds that you've been to and loved your experience? Let us know and we'll be glad to check them out.
Be sure to check out the rest of our choices for the best campgrounds in the USA: