Hey! This site is reader-supported and we earn commissions if you purchase products from retailers after clicking on a link from our site.
From the national forests up north to the bayou and New Orleans, there is so much to see and do in Louisiana. It is super fun to travel through if you're a full-time RVer or van lifer, you just have to do a little planning ahead of time to make sure you're staying at the best RV parks and spots.
Through our travels and extensive research, we've narrowed down what we think are the best campgrounds across the great state of Louisiana. Here are our top picks!
Table of Contents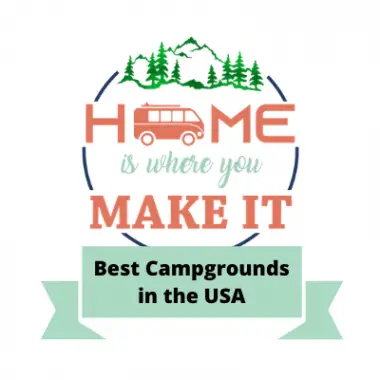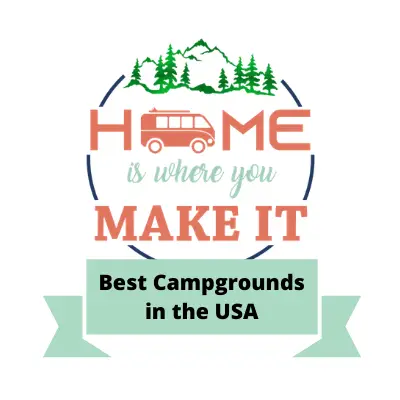 Natalbany Creek Campground and RV Park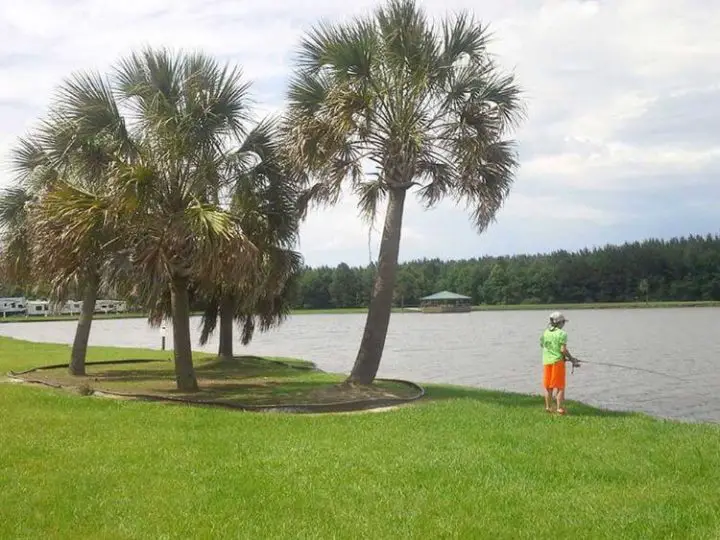 Natalbany Creek Campground and RV Park is a full-service park that includes furnished cabin rentals, well-maintained RV sites, and mobile homes for rent. The campground features a pool that is heated and cooled as necessary, a fully stocked lake, and even an arcade.
Local attractions include the Global Wildlife Center which offers safaris and tours and Cash Magic Casino, which is within short walking distance of the campground.
Address
30218 Highway 16, Amite, LA 70422
Phone Number
(985) 748-4311
Reservations
Indian Creek Campground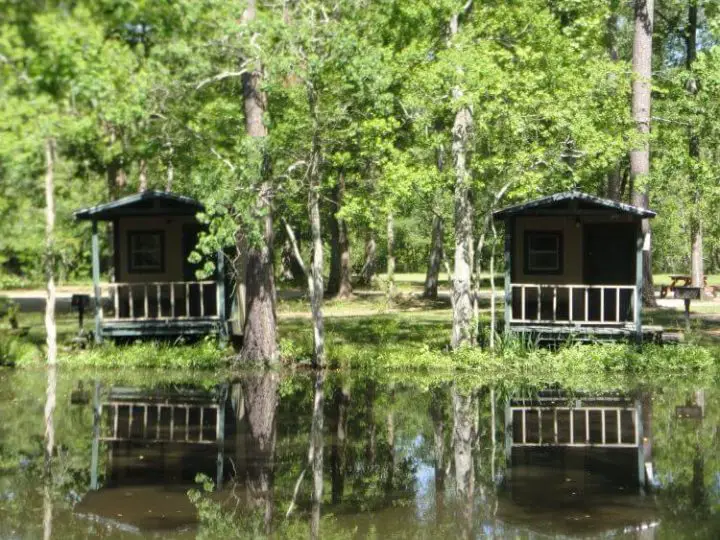 Set in the shade of towering pine trees, Indian Creek Camp ground delivers clean, quiet, and rustic camping with plenty to do. RV sites, primitive tent camping sites, and cabin rentals are available for visitors. The campground also offers paddleboat and canoe rentals for the bayou pond, catch-and-release fishing, a swimming pool and sun deck, and weekend family activities.
These range from different game tournaments to arts and crafts, to karaoke and live music, so there is something for everyone to enjoy!
Address
53013 W. Fontana Road, Independence, LA 70443
Phone Number
(985) 878-6567
Reservations
Cajun Palms RV Resort
Cajun Palms RV Resort provides a true resort experience with amenities galore. This huge campground features over 300 RV sites and 65 cabin rentals. The campground features a convenience store, a stocked pond, and even a clubhouse with an occupancy of 750 people if you're looking to host a large event.
Cajun Palms caters to all members of the family with a resort-style pool, kiddie pool, a pool-view work-out facility, video arcade, and state-of-the-art theatre.
Address
1055 North Barn Road, Henderson, LA 70517
Phone Number
(337) 667-7772
Reservations
Lakeside RV Park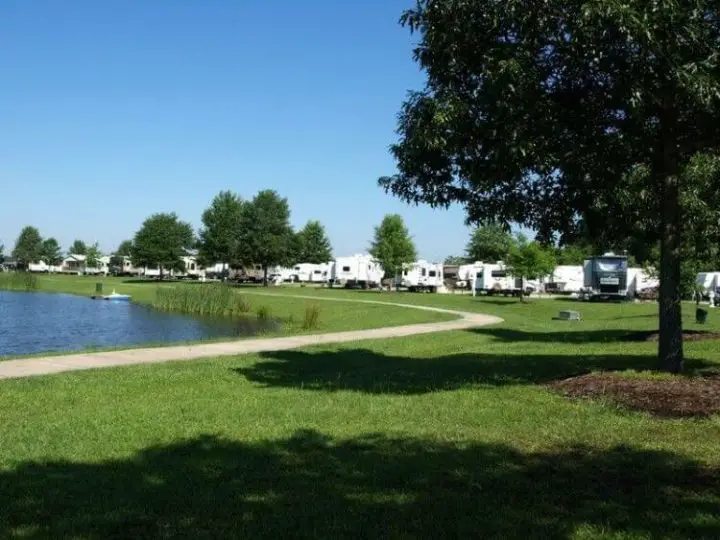 Lakeside RV Park proudly touts the title of "Louisiana's Favorite RV Park," and we can't help but agree that it's one of the best. The facilities are hard to beat and the location in southern Louisiana near both New Orleans and the capital city Baton Rouge is convenient as well.
The campground features a 17-acre fishing lake, an onsite store for groceries and supplies, and a large pool with lounge chairs. Visitors can choose from several RV camping options or furnished cabins for their stays.
Address
28370 South Frost Road, Livingston, LA 70754
Phone Number
(225) 686-7676
Reservations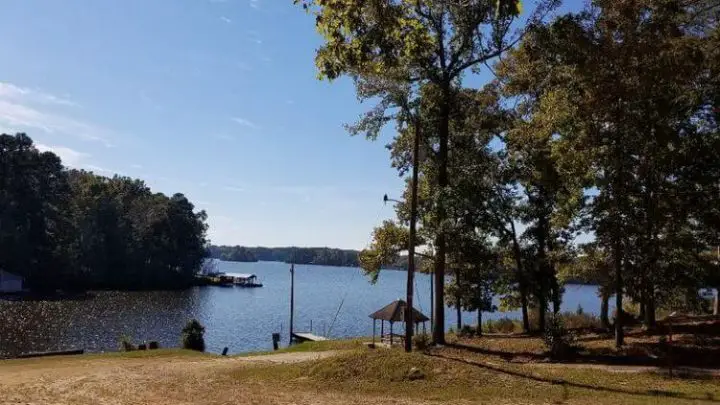 Offering shaded, full hookup sites on Lake Cotile, near Alexandria, Louisiana, Hidden Treasure RV Resort is an island of tranquility and nature. The biggest perk of this campground is the lake access it offers, with a private boat launch and boat docks. Guests can also fish from the banks of the lake or enjoy its views from a gazebo that overlooks the waterfront. Past guests praise Hidden Treasure's friendly and caring owners and quiet ambiance.
Address
8598 Highway 1200, Boyce, LA 71409
Phone Number
(318) 290-3333
Reservations
Frog City RV Park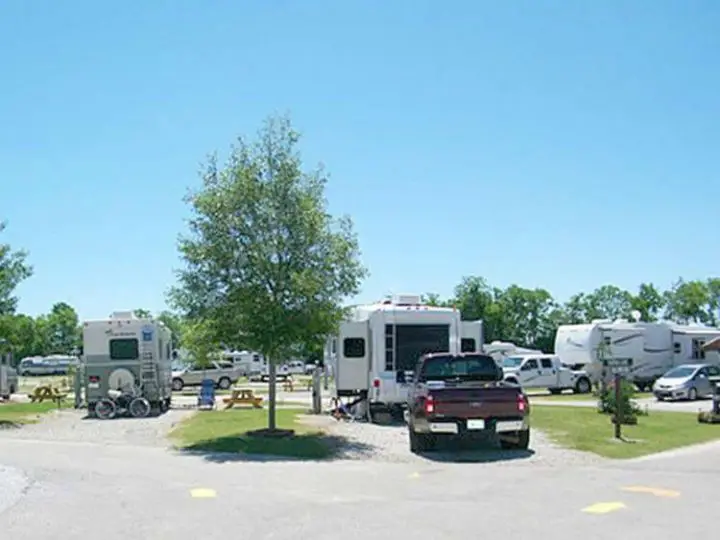 Located in the heart of "Cajun Country", Frog City RV Park offers a top-notch Lafayette experience. From the free cable TV and Wi-Fi to the swimming pool, the park aims to create a comfortable and clean stay for its guests.
The campground is within walking distance of local casino attractions and driving distance of other attractions including the Cajundome (Home of the University of Louisiana at Lafayette athletics), the island that is home to TABASCO Sauce, and local swamp tours.
Address
3003 Daulat Drive, Duson, LA 70529
Phone Number
(337) 873-9085
Reservations
Poche's RV Park & Fish-N-Camp
Poche's RV Park & Fish-N-Camp offers a unique experience with its sites that encircle a lake, bringing the fun right to you! Past visitors cannot get enough of the peaceful atmosphere at the park, the wide variety of fish types available, and clean, spacious sites for RVs. Besides fishing, guests can enjoy swimming in the pool, hanging out in the clubhouse, and walking, hiking, or biking the property.
Address
1080 Sawmill Highway, Breaux Bridge, Louisiana 70517
Phone Number
(337) 332-0326
Reservations
Land-O-Pines Family Campground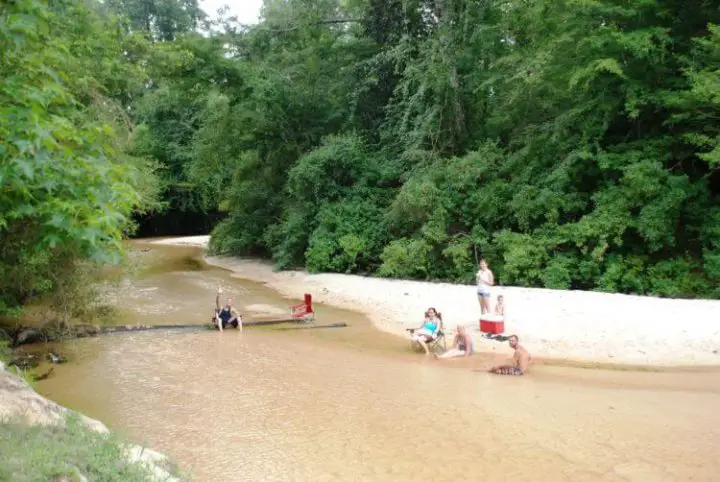 With fun-filled amenities like swimming pools, a waterslide, mini-golf, and a river beach area, Land-O-Pines is a perfect destination for family-friendly camping in Covington, Louisiana. Programming at the campground includes regularly-scheduled musical performances, and options for RV campsites include the usual nightly rates as well as deals on monthly, semi-permanent, and permanent stays at Land-O-Pines.
Address
17145 Million Dollar Road, Covington, LA 70435
Phone Number
(985) 892-6023
Reservations
Riverview RV Park
Riverview RV Park delivers on what its name promises with its location on the banks of the "Mighty Mississippi". The campground is right across from historic Natchez, MS, and close to all of the area's attractions including antebellum homes, hunting and fishing, and watching the boat traffic on the river. There is even a 1.5-mile walking path along the riverfront for guests to enjoy along with Riverview's hot tub, pool, and playground.
Address
100 River View Parkway, Vidalia, LA 71373
Phone Number
(318) 336-1400
Reservations
That's it? Any favorite Louisiana campgrounds that we missed? Shoot us a message and we will check them out! Happy camping and we hope to see you out there someday.
Be sure to check out the rest of our choices for the best campgrounds in the USA: