Hey! This site is reader-supported and we earn commissions if you purchase products from retailers after clicking on a link from our site.
Everyone knows New York for the bright lights and big city, but the rest of the state has so much to offer. Lush green forests, wonderful people, and of course, great camping. If you travel West and North of NYC, you'll find tons of lakes and wilderness to explore. One of my favorite spots is up in the West Canada Lake Wilderness area.
So, if you plan on traveling through New York in your RV or van, make sure to plan out your overnight campsites ahead of time! Through our research and traveling, here are our top picks for the best campgrounds in New York.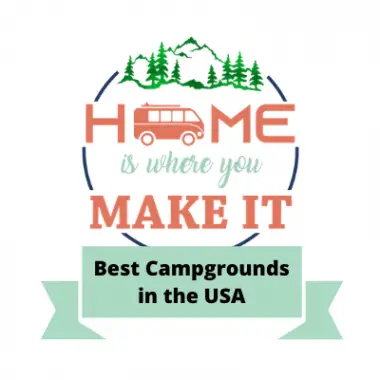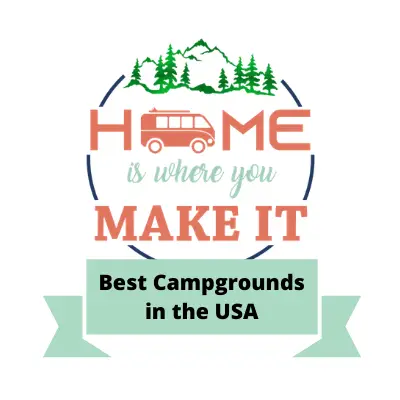 Camp Rockaway
This unique campground is easily accessible from all five boroughs of New York City with its location at Riis Beach. Camp Rockaway is more of a glamping experience, with the accommodations being their furnished safari tents, which are set on wooden platforms on the beach and come with all the most comfortable amenities possible.
Enjoy maximizing your activity-filled days at the beach while having a luxurious home away from home to return to every night. It's no wonder that Rockaway has been featured by publications like the New York Times and Condé Nast Traveler.
Address
157 Rockaway Beach Boulevard, Jacob Riis Park, Rockaway Park, NY 11694
Phone Number
(347) 916-6199
Reservations
Lake George RV Park
Offering over 120 acres of summer activities and entertainment, Lake George combines the best of onsite fun and relaxation in the nature of the surrounding Adirondacks. From Cascade Cover (the aquatic park) to multiple pools to the fishing ponds, to the hiking and biking trails, you and your family get to enjoy the outdoors to the fullest. Not to be outdone, the indoor amenities include a fitness center, Camper Café, and even two mini movie theaters.
If you're looking to get in and around the park, the campground also has a trolley service that provides free transportation for guests!
Address
74 State Route 149, Lake George, NY 12845
Phone Number
(518) 792-3775
Reservations
River Road Campground
With a family-friendly atmosphere, River Road Campground's 82 beautiful acres of wooded land on the Upper Hudson River. The campground offers tent and RV camping sites as well as cabin rentals to meet various accommodation needs that guests may have.
The area is perfect for watersport enthusiasts, as well as anyone who just wants to enjoy a getaway in the pristine nature of the Adirondacks. You and your family can spend the day participating in the planned family-friendly activities or relaxing at the campground's beach or pool.
Address
5254 Route 9N, Corinth, NY 12822
Phone Number
(518) 654-6630
Reservations
Royal Mountain Campground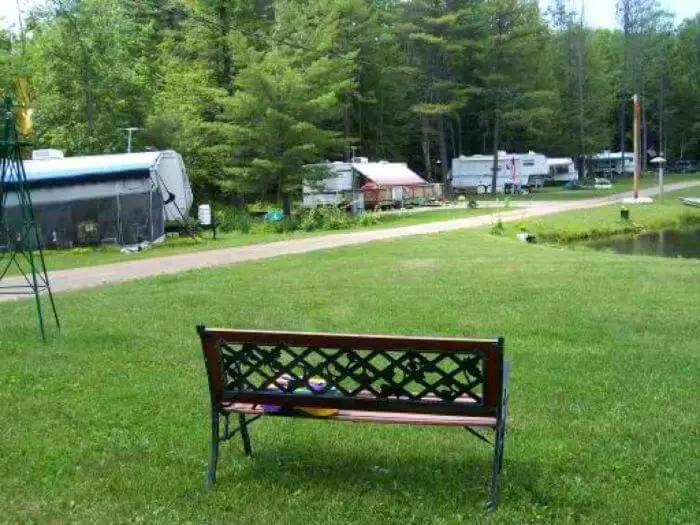 Royal Mountain's prime location in the foothills of the Adirondacks and family-operated charm make for a memorable and homey camping experience that can't be beaten. The extensive list of amenities at this campground includes WiFi, a propane station, and various games and sports facilities, including a stocked fishing pond.
The best perk of this campground, however, is by far Granny's, the onsite eatery. Granny's offers snacks and food like hot dogs and sausages, but the shop is known for its delicious assortment of soft serve ice creams.
Address
4948 State Highway 29, Johnstown, NY 12095
Phone Number
(518) 762-1946
Reservations
Rustic Barn Campground
Just minutes from Saratoga Springs and Lake George, New York, Rustic Barn Campground offers wooded tent camping sites, spacious RV sites, and luxury cabin rentals. Attractions in the surrounding area include the natural springs around Saratoga Springs, the Saratoga Racetrack, and Lake George's shops, restaurants, theme parks, boating, and swimming. The rustic barn that the campground is named for is a large pavilion that can be booked for weddings and other events.
Address
4748 Route 9N, Corinth, NY 12822
Phone Number
(518) 893-9177
Reservations
Camp Bell Campground

Set against the scenic background of the Finger Lakes region of New York State, Camp Bell Campground is close to local attractions such as the Corning Glass Museum, several wineries and microbreweries, and the natural wonders of the Finger Lakes State Parks, including miles of hiking trails and waterfalls.
At the campground itself, there's never a dull moment, as the entire summertime camping season is packed with weekly events that include candy bar bingo, cornhole tournaments, and wagon rides.
Address
8700 State Route 415, Campbell, NY 14821
Phone Number
(607) 527-3301
Reservations
Cheerful Valley Campground
Cheerful Valley Campground is another great option if you're looking to explore the Finger Lakes region. You can spend your days at Cheerful Valley fishing in the Canandaigua Outlet, playing volleyball and other lawn games on the grassy meadows, or cooling down in the extra large swimming pool. Each Saturday, the campground even offers kids a ride on a real vintage fire truck! In case you need to restock on supplies, there is also a well-outfitted camp store on site.
Address
1412 Route 14, Phelps, NY 14532
Phone Number
(315) 781-1222
Reservations
Pine Crest Campground
Pine Crest Campground encompasses over 20 acres of scenic woodland and fields, but the highlight of the campground's setting is definitely the half mile of frontage on the Susquehanna River. The boat dock allows easy access for boating, water sports, and fishing; visitors frequently catch good-sized muskies, bass, and pike in the river.
The campground's location near the Pennsylvania border gives it access to attractions in both states, particularly in nearby Binghamton.
Address
280 NY-79, Windsor, NY 13865
Phone Number
(607) 655-1515
Reservations
West Canada Creek Campsites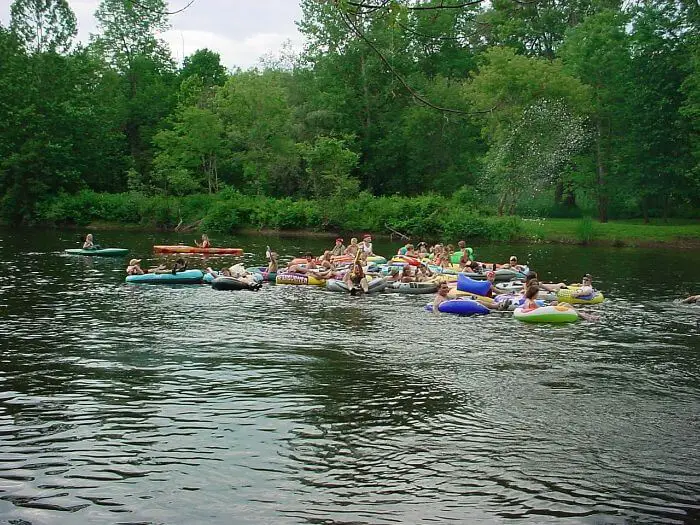 Despite the name, West Canada Creek Campsites is a campground located in the Adirondacks of New York. The river access that the campground has can't be beaten, as it features riverfront cabins and campsites that give their occupants easy access to fishing in the creek.
West Canada also offers kayak and canoe rentals, tubing trips, and swimming in a large heated pool. If you've got a sweet tooth or if you're just after some delicious camp food, the Lil' Red Caboose and Campsite have you covered with ice cream, milkshakes, hot dogs, and more.
Address
12275 State Route 28, Poland, NY 13431
Phone Number
(315) 826-7390
Reservations
Lakeside Campground
If you're looking for excellent camping in the Binghamton area, look no further than Lakeside Campground in Windsor, New York. Guests can choose between large pull through sites or wooded sites on the campground's private lake for their RV or tent. The campground also has fully equipped cabins and trailers available for rent for any visitors who don't have their own tent or RV or who just want a more luxurious stay.
Address
336 Hargrave Road, Windsor, NY 13865
Phone Number
(607) 655-2694
Reservations
That's it! Have any other favorite New York state campgrounds that you've stayed at? Let us know and we will check them out!
Be sure to check out the rest of our choices for the best campgrounds in the USA: