Hey! This site is reader-supported and we earn commissions if you purchase products from retailers after clicking on a link from our site.
Ah yes, the beautiful state of California. I have absolutely loved camping and exploring this state through the years. From Big Sur to the Six Rivers National Forest up north, there are so many amazing places to see and people to meet. Their campground scene ain't too bad either.
If you're planning a trip through California, make sure you're stopping at the best places! After our research and some of our own traveling, here are the top 10 campgrounds in the great state of California.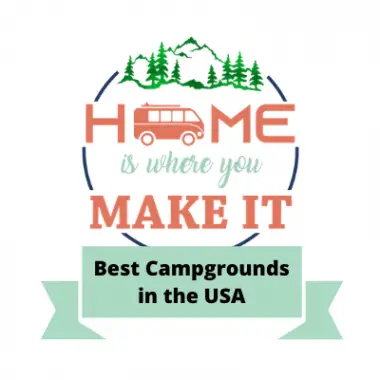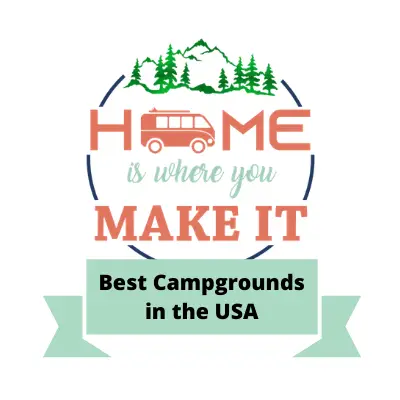 Ventana Campground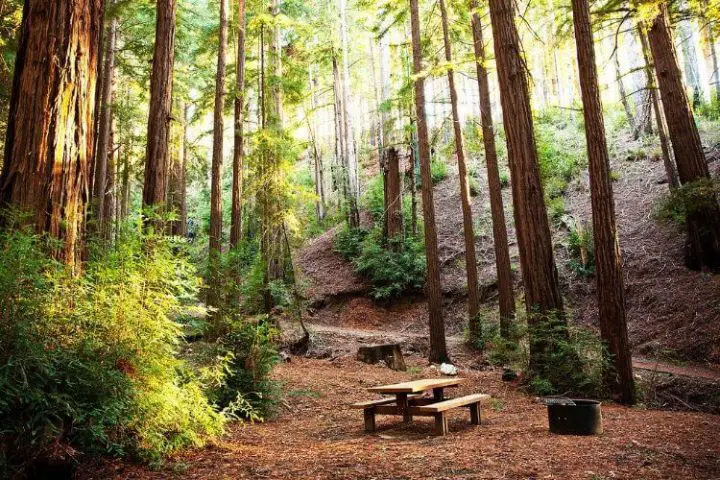 Nestled in a 40-acre redwood canyon, Ventana Campground is all about blending into the natural surroundings. To this end, the campground unfortunately only offers tent camping (as well as camper vans and trucks with roof tents). Each site comes equipped with a fire ring and picnic table, and two modern bathhouses are also available to guests. If you're looking for a more luxurious experience, Ventana also has a glamping campground in the same area!
Address
48123 CA-1, Big Sur, CA 93920
Phone Number
(831) 667-2712
Reservations
Riverside Campground and Cabins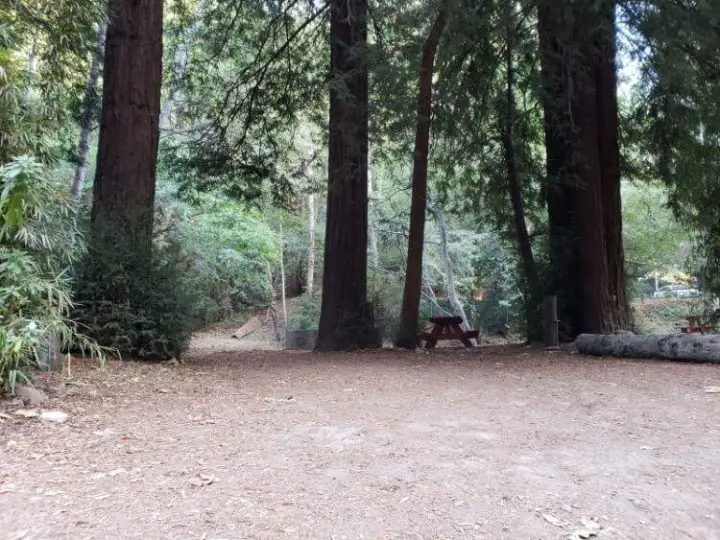 Riverside Campground and Cabin's location in Big Sur makes it a magical place where you can camp alongside Big Sur River, surrounded by towering Redwood trees, and still be within minutes of the beach and hiking access. The cozy cabins have natural wood interiors that complement the peaceful forest setting. For visitors who want to camp, the RV and tent sites are located along the river itself, creating a tranquil and natural atmosphere.
Address
47020 Highway 1, Big Sur, CA 93920
Phone Number
(831) 667-2414
Reservations
Ocean Mesa RV Park and Campground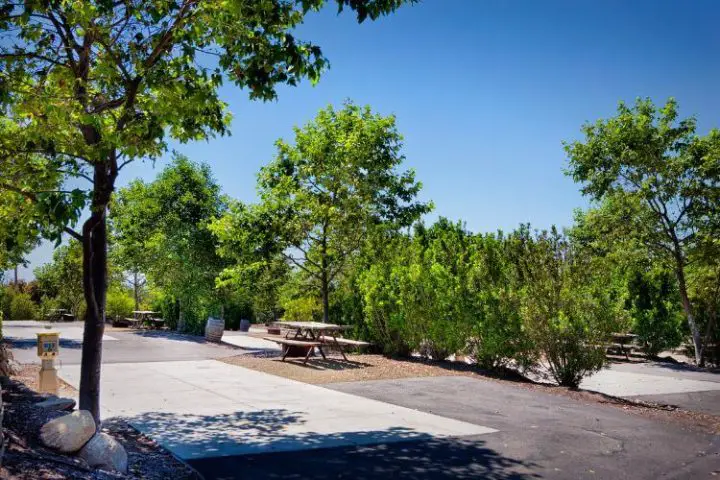 Ocean Mesa RV Park and Campground sits in a panoramic location along the Santa Barbara coast and right next to El Capitan Canyon. The beautifully maintained sites and grounds are complemented by the ample amenities which include a heated pool and spa, convenience store, over 15 miles of hiking trails, and even massage services.
The tent camping is also excellent, with each site coming complete with a leveled circular pad to pitch your tent, as well as a half-moon grill fire pit and picnic table.
Address
100 El Capitan Terrace Lane, Santa Barbara, CA 93117
Phone Number
(805) 879-5751
Reservations
High Sierra RV and Mobile Park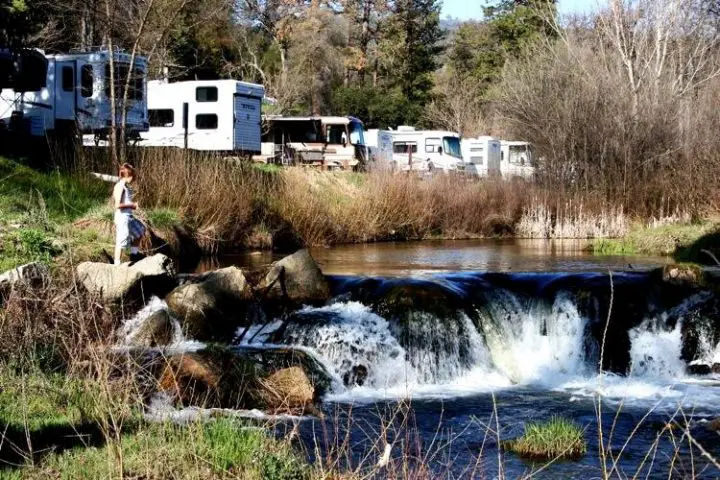 Consistently rated as one of the best campgrounds in the Yosemite area, High Sierra RV and Mobile Park come with a mountain setting of its own that includes a swimming hole and two waterfalls. If you want to explore Yosemite with the convenience of a full RV hook-up and easy access to the nearby town of Oakhurst, go no further! If you don't have an RV, High Sierra also offers Cedar Cabins, rentals that sleep up to four.
Address
40389 Highway 41, Oakhurst, CA 93644
Phone Number
(559) 683-7662
Reservations
Camp Richardson Historic Resort and Marina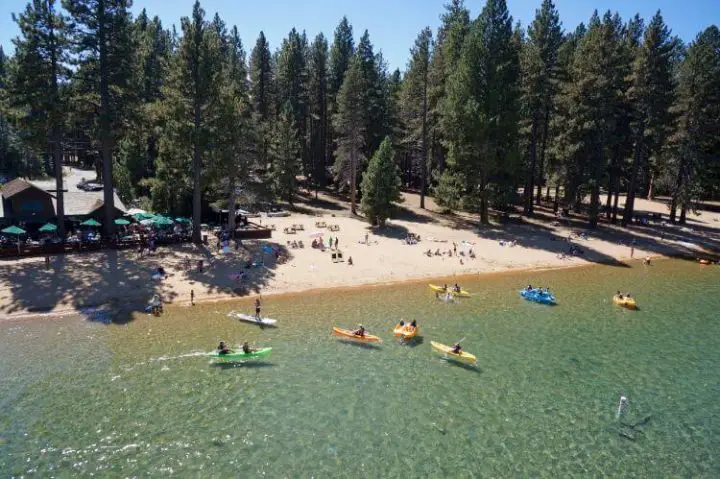 Camp Richardson is more than just a campground, offering luxury experiences ranging from cruises to local Lake Tahoe sites of interest such as Vikingsholm Castle to a full-service marina to an award-winning restaurant, Beacon Bar and Grill. The campground includes both RV and tent camping, both of which are offered at sites within walking close distance of the resort's other amenities.
Address
1900 Jameson Beach Road, South Lake Tahoe, CA 96150
Phone Number
(800) 544-1801
Reservations
Joshua Tree Lake RV and Campground
Situated on the southern edge of the Mojave Desert, Joshua Tree Lake RV and Campground offers breathtaking views of its namesake, Joshua Tree National Park, including dramatic desert landscapes and spectacular night skies. The campground also includes a lake with a lakeside pavilion for guests' fishing use and a picnic area for daytime use. Twice a year, the campground also hosts Joshua Tree Music Festival, which draws concertgoers from all over!
Address
2601 Sunfair Road, Joshua Tree, CA 92252
Phone Number
(760) 366-1213
Reservations
Malibu Beach RV Park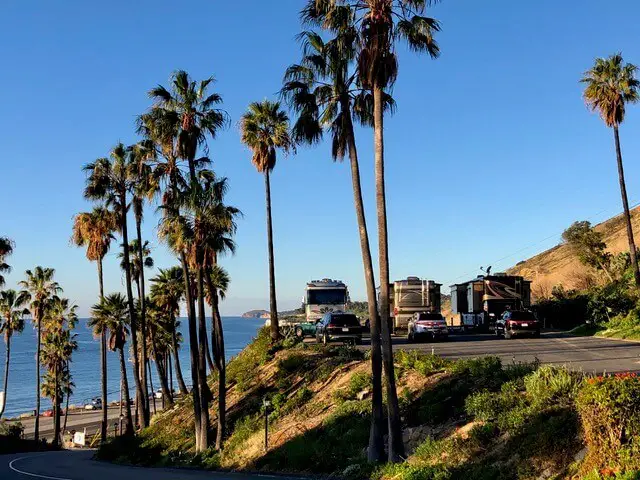 Set along the famously scenic Pacific Coast Highway, Malibu Beach RV Park is exactly the coastal getaway you think of when you picture Southern California. As the only RV park in Malibu, this one definitely offers a more premium experience at a corresponding price, but the beautiful ocean views, clean facilities, and close access to local activities make this place worth it.
Tent sites with ocean or mountain views as well as a cottage rental also being available for visitors.
Address
25801 Pacific Coast Highway, Malibu, CA 90265
Phone Number
(800) 622-6052
Reservations
Mountain Lakes Resort
Mountain Lakes Resort is located in the midst of San Bernardino National Forest, providing the backdrop for the excellent camping and fishing that draws so many to this campground every year. Accommodation options include full hook up RV sites, tent sites, and Resort Park Models available for rent. Past guests love the resort's natural beauty, clean pool and jacuzzi, and the calm environment that makes Mountain Lakes feel like an escape from everyday life.
Address
277 North Lytle Creek, Lytle Creek, CA 92358
Phone Number
(800) 624-7738
Reservations
Lemon Cove Village RV Park
Just 25 miles from the entrance to Sequoia National Park and Kings Canyon National Park, Lemon Cove Village RV Park is ideal for visitors who want to enjoy the natural activities of the area while staying in comfortable and family-friendly surroundings. Lemon Cove makes it easy with a Sequoia Shuttle Stop that allows guests to take the shuttle to the park all summer. This campground is friendly to RVers and tent campers alike.
Address
32075 Sierra Drive, Lemon Cove, CA 93244
Phone Number
(559) 370-4152
Reservations
Casini Ranch Family Campground
Located in a small town in Sonoma Valley, Casini Ranch Family Campground provides the perfect combination of fun-filled family activities and a beautiful natural environment. Activities of plentiful at Casini Ranch, ranging from weekly beach bonfires to fishing along the campground's mile of riverfront property. The campground also offers multiple fenced-in dog parks, pedal carts, golf carts, kayaks, and paddleboards, as well as a general store to fuel up.
Address
22855 Moscow Road, Duncans Mills, CA 95430
Phone Number
(800) 451-8400
Reservations
There you have it! Did we miss any of your favorite campgrounds across the vast state of California? Shoot us a message and we will check them out. Happy camping!
Be sure to check out the rest of our choices for the best campgrounds in the USA: