Hey! This site is reader-supported and we earn commissions if you purchase products from retailers after clicking on a link from our site.
From the shores of Lake Michigan to the Shawnee National Forest, Illinois has so many amazing spots to travel through. If you're in an RV or van, there are a ton of great campgrounds as well. Make sure to plan ahead of time so you know where to park! We've done our fair share of traveling and lots of research on camping in the state – here is our list of the best campgrounds in Illinois.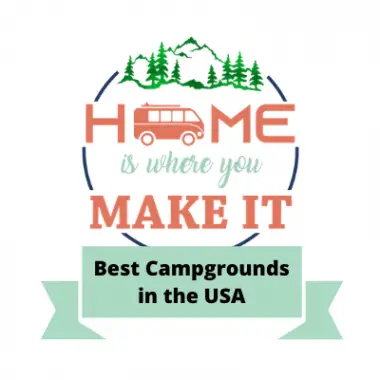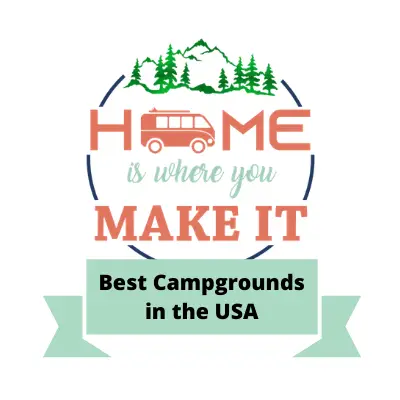 Fish Lake Beach Camping Resort
Fish Lake Beach, or FLB as some return guests fondly call it, provides a full resort experience with endless lakeside activities, family events, and comfortable camping options. Fish Lake offers opportunities for fishing, swimming, and boating in non-motorized boats.
The lakeshore area also features a beach where guests can enjoy the picnic areas, swings, and grills. Themed weekend events at the park include hayrides, movie nights, and dances, so there is always something to do.
Address
32223 N US Highway 12, Volo, IL 60073
Phone Number
(847) 546-2228
Reservations
Double J Campground
Perfect for those looking to stay in the Springfield area, the Double J Campground offers spacious pull-through sites with free cable and Wi-Fi. Guests can enjoy the Route 66 Goofy-Golf mini golf course, volleyball, basketball, pool, and game room.
Other amenities at the Double J include a convenience store, propane fill station, and RV replacement parts for minor repairs. Primitive tent sites are also available for those traveling without an RV.
Address
9683 Palm Road, Chatham, IL 62629
Phone Number
(217) 483-9998
Reservations
Galesburg East Campground
Open in the summer months starting in April through October, Galesburg East Campground boasts well maintained facilities and generous amenities. The amenities include a propane filling station, groomed walking trails, heated swimming pool, stocked fishing pond, playground, and pedal cars and bikes. The campground also recently added a mini golf course for a little something extra.
Address
1081 E US Highway 150, Knoxville, IL 61448
Phone Number
(309) 289-2267
Reservations
Camp Lakewood Campground
Located on the northern shores of Lake Pauline in Southern/Central Illinois, Camp Lakewood Campground has you covered if you want a serene and relaxing place to stop and spend a few nights. The lake allows for fishing, canoeing, and kayaking, while the camp store can outfit you with canoe and kayak rentals as well as the fishing supplies you might need. Camp Lakewood can be enjoyed year round!
Address
1217 W Rickelman Ave, Effingham, IL 62401
Phone Number
(217) 342-6233
Reservations
Geneseo Campground
Geneseo Campground understands that camping can mean many different things to different people, and they offer several accommodation options with that in mind. You can choose to come with an RV or tent, or you can choose to rent a cabin or yurt from the campground. The rustic log cabins sleep four, and the spacious yurts sleep up to eight! Other perks of staying at Geneseo are the Saturday acoustic music nights and canoe and kayak rentals available.
Address
22978 Illinois Highway 82, Geneseo, IL 61254
Phone Number
(309) 944-6465
Reservations
Robin Hood Woods Campground
With multiple different cabin rental options and 250 tent and RV campsites, Robin Hood Woods Campground and Cottage Resort is a large park with lots to offer. Lake Shelbyville, famed for its excellent fishing, which hosts 37 fishing tournaments, is only a couple of miles away for the more serious sportsmen, or guests can also opt to stay at the park and fish in the stocked onsite pond.
Additionally, the park features an outdoor pavilion, store, laundry room, swimming pool, and paths for hiking and biking.
Address
2151 IL-16, Shelbyville, IL 62565
Phone Number
(217) 774-4222
Reservations
Crazy Horse Campground
The family-oriented Crazy Horse Campground has everything you need for a stay that is relaxing without getting boring. Fish in the stocked pond, play disc golf, or enjoy the planned activities and live music at Crazy Horse while you are there. The top-notch camp store has you covered for all of the usual essentials, but also offers hot food! Both full RV hookups and primitive tent sites are available.
Address
2117 Crazy Horse Road, Ashland, IL 62612
Phone Number
(217) 886-2089
Reservations
Hickory Hill Campgrounds
Hickory Hill Campground has been showing its guests the beauty of nature and good, old-fashioned fun for the better part of seven decades, and it shows no signs of stopping. The seemingly endless list of amenities includes a basketball court, pavilion, lake, mini golf, creek fishing, and more. Camping options include primitive tent sites, RV sites, and semi-permanent or permanent rate offerings.
Address
973 County Road, 2250 E, Secor, IL 61771
Phone number
(309) 744-2407
Reservations
Kamp Komfort RV Park
Calling itself "a camping experience much better than normal," Kamp Komfort aims to provide unique and memorable stays to its guests. The campground is located conveniently for access to the interstate and to nearby Bloomington/Normal. Past guests love the clean, level sites as well as the pool and playground for children. The tree-shaded country setting and helpful staff also receive high marks!
Address
21408 N 600 East Road, Carlock, IL 61725
Phone Number
(309) 376-4411
Reservations
D&W Lake Camping and RV Park
D&W Lake Camping and RV Park can satisfy even the most adventurous and active campers with the many activities both at the campground and in the surrounding area of Champaign. Onsite, you can find a lake with fishing, playground, and boat rentals.
Nearby, there are several mini golf and golf courses, swimming pools, tennis courts, and walking paths, so it's impossible to get bored here! The otherwise peaceful campground atmosphere makes it easy to relax and wind down at the end of the day.
Address
411 W Hensley Rd, Champaign, IL 61822
Phone Number
(217) 356-3732
Reservations
There you have it! Did we miss any of your favorite Illinois campgrounds? Let us know and we will check them out.
Be sure to check out the rest of our choices for the best campgrounds in the USA: