Hey! This site is reader-supported and we earn commissions if you purchase products from retailers after clicking on a link from our site.
There is so much good camping and amazing sites to see in the state of Michigan. Our RV expert Brian can attest! If you're planning a trip through the state, there are a lot of options for campgrounds to stay at. We did the research to find the top places to park for the night. Here are the 10 best campgrounds in Michigan.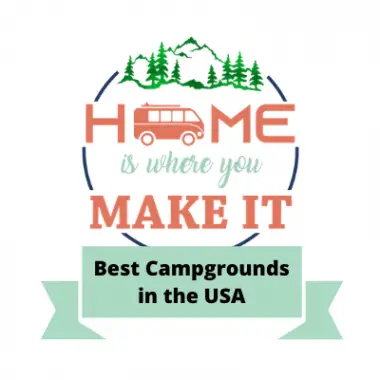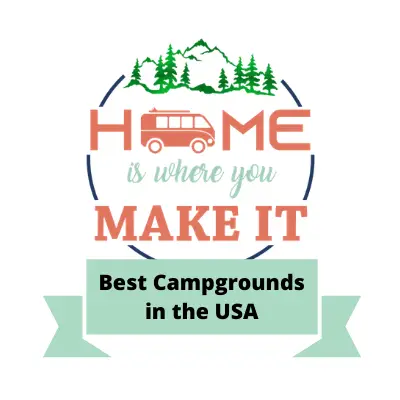 White River Campground
Located in scenic western Michigan, White River Campground offers vacation rentals, cabin rentals, RV sites, and primitive campsites. Onsite activities include a wading creek, heated swimming pool, playground areas, and volleyball and basketball courts. For visitors venturing off the site, White River is minutes away from Michigan's Adventure Amusement Park, Lake Michigan beaches, Silver Lake dune rides, and more.
Address
945 W. Fruitvale Road, Montague, MI 49437
Phone Number
(231) 894-4708
Reservations
Birchwood Resort and Campground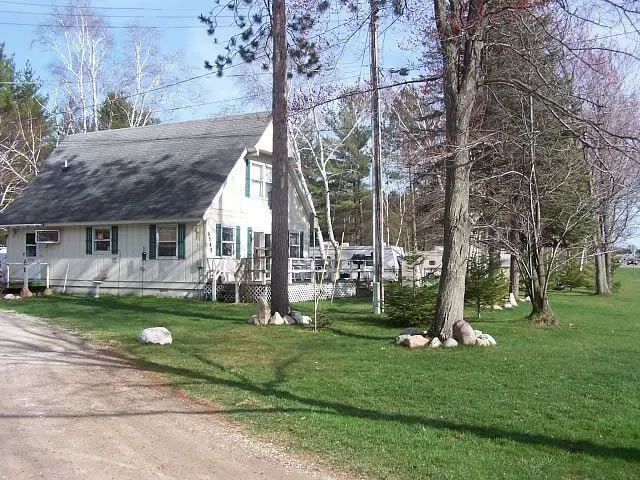 The Birchwood Resort and Campground sits at the banks of scenic Lake Cadillac. The area is a destination in the summer for water sports on the lake and in the winter for the miles and miles of snowmobiling trails. The campground even offers snowmobile season and hunting season packages, in addition to the usual offerings of RV camping sites, motel rooms, and cabin rentals.
Address
6545 E M 115, Cadillac, MI 49601
Phone Number
(231) 775-9101
Reservations
Mackinaw Mill Creek Camping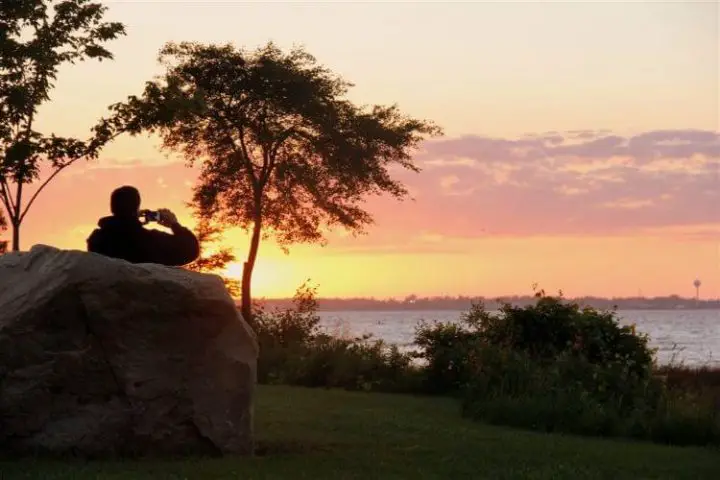 Award-winning Mackinaw Mill Creek Campground has been praised not only by Michigan newspapers and TV channels, but also scores high points with former visitors who love the natural setting on the lakefront of Great Lake Huron and discounted tickets to local attractions such as the Mackinac Island Ferry. The fast service, well-tended facilities, and friendly staff don't hurt either!
Address
9730 US Highway 23, Mackinaw City, MI 49701
Phone Number
(231) 436-5584
Reservations
Kalkaska RV Park and Campground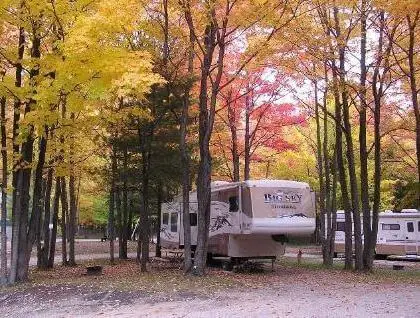 Kalkaska RV Park & Campground is a scenic wooded campground located near Traverse City and many local attractions. Amenities include a camp store, clean restrooms with hot showers, and almost 40 acres of nature trails for hiking, biking, and walking. Overall, Kalaska is a great family-friendly option for visitors to Northern Michigan.
Address
580 M72 SE, Kalkaska, MI 49646
Phone Number
(231) 258-9863
Reservations
Kritter's Northcountry Campground and Cabins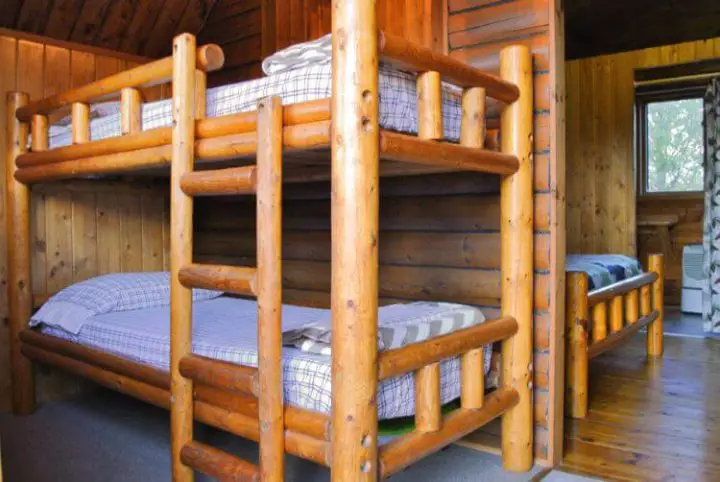 For visitors venturing to the Upper Peninsula of Michigan, Northcountry Campground is a great home base to explore attractions such as Upper and Lower Tahquemenon Falls and the largest bear ranch in the United States. Offering both modern and rustic sites as well as cabin and lodge rentals, Northcountry truly caters to any camping experience.
Address
13209 State Highway M-123, Newberry, MI 49868
Phone Number
(906) 293-8562
Reservations
Hungry Horse Campground
Just 15 minutes south of Grand Rapids, Hungry Horse Campground is a spacious and well-kept campground offering cabin rentals as well as several different camping package options. The campground has activities and amenities for everyone in the family, including a basketball court, a swimming pool, and hay rides.
Address
2016 142nd Avenue, Dorr, MI, 49323
Phone Number
(616) 681-9843
Reservations
Gateway Park Campground
Surrounded by 135 wooded acres, Gateway Park is located on South Sands Lake, an all-sports lake in Hillsdale, Michigan. Events and activities at the campground are all included in the price. The amenities include sports and games like Gaga ball, carpetball, basketball, and horseshoes, as well as a saltwater pool and rental options for kayaks, canoes, paddle boats, and banana bikes.
Address
4111 West Hallett Road, Hillsdale, MI 49242
Phone Number
(517) 437-7005
Reservations
Waffle Farm Campground
Established in 1935, Waffle Farm's unique features only start with the campground's name. Visitors flock to this site to fish in the campground's chain of seven lakes and enjoy the beautiful natural scenery. Past guests also praise the campground staff and family-oriented activities.
Address
790 N. Union City Rd, Coldwater, Michigan 49036
Phone Number
(517) 278-4315
Reservations
Detroit Greenfield RV Park
Offering trailer and cabin rentals as well as RV and tent sites, Detroit Greenfield RV Park is well outside of the city at about a 40-minute drive away. Activities at the lakefront park include a 90-foot water slide, a beach area, rental boats, and a mini-golf course. The park is pet-friendly, so you can bring along the whole family!
Address
6680 Bunton Road, Ypsilanti, MI 48197
Phone Number
(734) 482-7722
Reservations
Fieldguide Farmhouse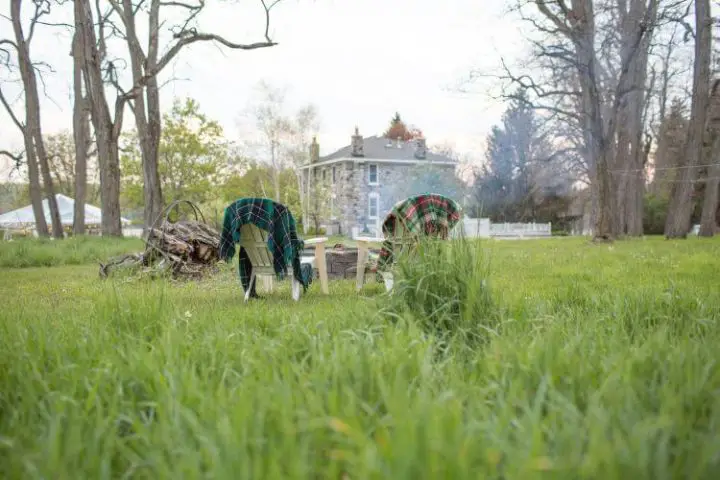 For those seeking a more upscale experience, Fieldguide Farmhouse is a stylish yet cozy accommodation that offers both an in-house suite to rent and tent camping sites. Campers still have access to house amenities including the restrooms, deck, and wifi. Field guide's serenely scenic atmosphere also plays host to weddings and other events, and the interior decor features in-house artists that celebrate the nature of northern Michigan.
Address
382 North Intermediate Lake Road, Central Lake, MI, 49622
Phone Number
(231) 676-9344
Reservations
And that's it! Did we miss any campgrounds that you've visited and absolutely love? Let us know and we'll check them out.
Be sure to check out the rest of our choices for the best campgrounds in the USA: