Hey! This site is reader-supported and we earn commissions if you purchase products from retailers after clicking on a link from our site.
Dry camping (often called boondocking) is the perfect activity to unwind and become one with nature. You can spend time with family, reconnect with yourself, and remove yourself from any daily stress you might be feeling. Some people choose to take their vehicles with them, but a quality dry camping travel trailer will make this trip the ultimate experience.
When we compiled the list of top dry camping travel trailers, we chose the products that we thought were the best for a variety of travelers, contain the most amenities, and are built for the long term. Here are our favorites.
Our Top Dry Camping Travel Trailers
| | |
| --- | --- |
| Trailer | Category |
| Northwood Arctic Fox | Best for Cold Weather |
| Eclipse Attitude Toy Hauler | Most Versatile |
| Forest River Rockwood Folding Trailer | Best for Families |
| Jayco Baja Toy Toting Camper | Best for Couples |
Diving Into Our Favorites for Boondocking
Alrighty, let's dive into the details for each one of our top picks!
Best for Cold Weather
Northwood Arctic Fox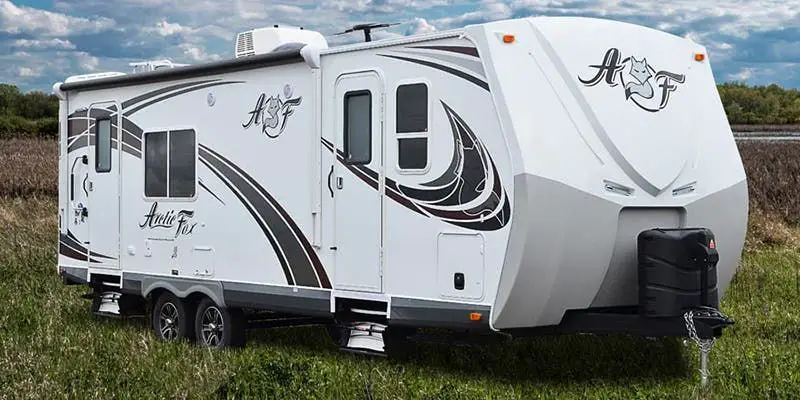 The Northwood Arctic Fox travel trailer comes from a long line of Northwood products built for strength, quality, and durability. The company's products have a longstanding reputation of longevity and durability, and they are a high-demand travel trailer on the market. You can choose up to five different floor plans with the Arctic Fox North Fork, and each provides a large, spacious area to relax and enjoy.
The Arctic Fox travel trailer lives up to its name because of its structural steel, off-road chassis that is independently certified. Northwood is one of the only manufacturers that builds its chassis. This travel trailer is made for the long run because of the thick aluminum frame construction, which supports the fully welded wall.
The full walk-on roof is supported by a roof truss system that is bonded and reliable. The cathedral arched ceiling delivers up to four inches of additional headroom, making the interior living room feel that much more spacious for you and your family. This roofing system aims to combine the trusses, ceiling, and plywood, which offers a premium load distribution and bearing capacity.
The interior cabinetry also provides an aesthetic finish. The cabinets are all finished with solid wood doors, created from residential face frame construction processes. The solid wood lets the interior retain its beauty for a long time, and the face frame construction emits a luxurious feeling of residential quality. Each cabinet is integrated nicely with both the wall and ceiling, which adds to the cabinetry's durability.
One of the main reasons we rate this trailer best for cold weather is its high-density block foam insulation materials. The all-conditions unit is also equipped for all four seasons. Because of the heat enclosed dump valves and holding tanks, the travel trailer can effectively travel in hot and cold climates. The holding tank circulates warm air in the suspended containers to keep them at optimal temperature.
Storage space is also a vital component of the Arctic Fox. The travel trailer contains a more massive slam-latch door on both sides of the storage compartment under the anterior bedroom. There is also a chute for dirty laundry on the street-side pass-through. Underneath the street-side dinette, there is a slide-out section with two exterior compartments for additional storage.
Why We Love It
Custom-crafted frame cabinets
Full walk-on roof
Heavy-duty steel off-road chassis
Thick aluminum frame walls that are fully welded
Shocks on all wheels
Most Versatile
Eclipse Attitude Toy Hauler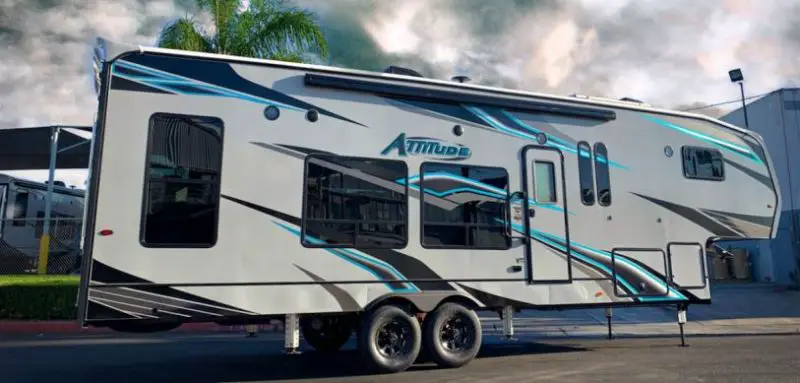 The Eclipse Attitude Toy Hauler is a versatile option that accommodates all activities that UTV and ATV riders would enjoy. This travel trailer offers four different floor plans within the Wide Lite Series. The Attitude 3016SS is one of the choices that include a standard living room slide out. Measuring 35′ long and 13′ high, the Eclipse Attitude provides a healthy freshwater capacity at 150 gallons.
The Attitude 3016SS is constructed on a wide-track chassis. The sidewalls also provide reliable stability with the laminated fiberglass material and aluminum-framed structure. Space is also not an issue with the Eclipse Attitude, because you get 16′ of cargo space on the driver's side and 19′ of space on the passenger side. The exterior shower also helps you and your family keep the dirt separate from the living space.
Another excellent feature of the Eclipse travel trailer is the outdoor entertainment capabilities. You can hook up your music device to Bluetooth and play them on the exterior speakers. The activation of the outdoor LED lighting and 19'8″ electric patio will make for the perfect dinner and movie with the family.
When you relax inside, a comfortable feel will resemble your home living room. You can layout the electric bunks at the back of the trailer, and the kitchen area provides an authentic residential feel. There is ample food preparation space with the peninsula countertop, water filter and pull-out faucet, and stainless-steel sink. In addition to the microwave, you can also make dinner on the mount glass cooktop.
Why We Love It
Above-average freshwater capacity (150 gallons)
Ample black and gray water capacity (50 gallons each)
Laminated fiberglass walls with rear stabilizer and power tongue jacks
Bluetooth-supported speakers on the exterior
Sizeable electric awning and patio, including LED lighting, makes for perfect outdoor entertainment
Peninsula-style countertop makes the kitchen feel like you are in a residential home
Best for Families
Forest River Rockwood Folding Trailer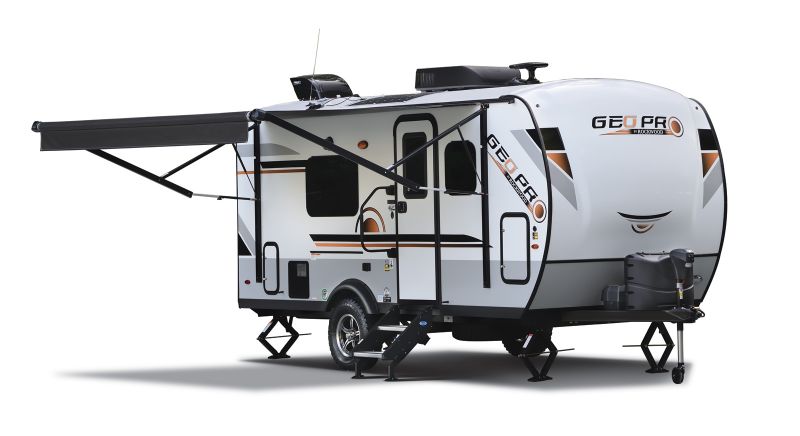 The Forest River Rockwood Folding Trailer (Hard Side Series) is a satisfying combination of a tent camper and a travel trailer. It provides stability and durability for long road trips, but it also delivers comfort for larger families because of the tent style. It is a fully equipped trailer for the ultimate camping trip, but it is also efficient to store in your garage and tow when you need to.
The Hard Side High Wall series has five floor plans to choose from. Measuring 20'10" long and 84″ full is a cozy option that gives you the most bang for your book. The travel trailer also includes a city water hook-up and a freshwater tank that holds 20 gallons.
The Forest River Rockwood Folding Trailer keeps the family in mind with the four extra storage compartments on the outside. Two of these compartments contain large bins that easily side and lock while you drive. The third one can be accessed from under the bed, while the fourth occupies a more extended space that runs the trailer's width.
An excellent feature of Forest River's trailer is the use of natural light and windows. Near the back of the trailer, there is a more massive tinted skylight, which regulates shade and sunshine for your family. There are two stained roof windows at the front, but there is also a massive picture window that opens. If you are looking for a comforting breeze, the power roof can be lifted without much strength required.
Although the travel trailer itself is not the most substantial option on the list, you and your family can make the most out of the outdoor camping setup. The travel trailer comes with an outdoor shower and heater, gas grill with a quick propane connection, exterior speaker, optional awning, and patio light.
Within Forest River's trailer interior, there are residential panel doors and floor lights that make it feel like home. The kitchen and food preparation are not the most spacious, but they have what you need with the residential faucet and sink, cooktop, and nearby window to illuminate the area.
Why We Love It
Shower includes handheld showerhead, cassette-style toilet, and curtain rail for extra grip
Dinette booth table and seating can double as a sleeping space
Queen bed in the back contains memory foam
Ideal temperature control with the Air Maxx fan and 20K BTU electric heater and furnace
Built for entertainment with the digital media receiver, MP3 player, Bluetooth, USB ports, and more
Best for Couples
Jayco Baja Toy Toting Camper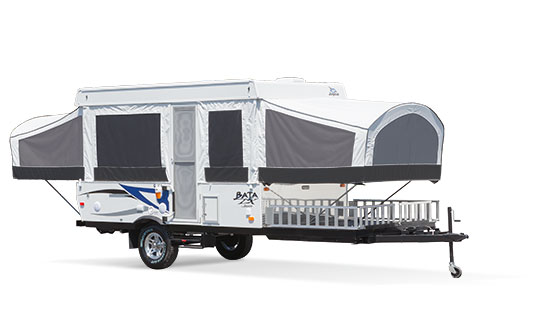 The Jayco Baja Toy Toting Camper makes camping with your loved one beautiful and straightforward. For the couples that enjoy the simple things in life, this travel trailer gives you everything you need to enjoy the camping experience, including all-inclusive amenities, comfort, and stability. If you have extra toys to bring, the trailer comes with a hard-core deck with 1500 pounds in excess weight.
The Jayco Baja comes in three different floor plans, but we will focus on the mid-sized option in the line. It measures 22'6″ in length and 27'6″ in width, with a height of 69′.
A unique feature about this travel trailer is that it is "green-certified" by the TRA Certification Inc, a 3rd party, independent certification organization. Jayco Baja earns this certification because it utilizes friendly and honest production methods, reduction of waste, sustainable materials, and components that are energy efficient. Because of all these conditions met, the trailer earned a "gold" certification.
The travel trailer is also included with an advanced lifter system that simplifies the setup process. You can maneuver and store it while you travel, and it is resistant against road debris and rust. Because of the flexible pushrods, you can easily guide the roof while you crank it.
Another accommodating feature of the Jayco Baja is the durability of the folding mechanism. The frame of the travel trailer is corrosion-resistant with an A-frame, heavy-duty construction. The sectioned tent is also built for all weather conditions because of the water repellant DuraTek cover. The laminate floors and fiberglass sidewalls also keep you and your loved one comfortable and safe.
So, what about the exterior? The Jayco Baja camper features an outdoor shower, two exterior speakers of marine-grade, ramps and deck railing, a screen door that is self-storing, patio light, and prep wirings for batteries.
Why We Love It
30-gallon freshwater tank with a 12V pump
12V high-power lighting
Vinyl windows that are tented and screened with fine mesh
Mildew and mold resistant aluminum ceilings
Comfortable kitchen and living area, including a sofa and 4″ cushions
---
Recap: The Best Dry Camping Travel Trailers
Northwood Arctic Fox – Best for Cold Weather
Eclipse Attitude Toy Hauler – Most Versatile
Forest River Rockwood Folding Trailer – Best for Families
Jayco Baja Toy Toting Camper – Best for Couples
---
Essential Things to Consider Before Buying a Dry Camping Travel Trailer
So, what are the crucial features that make a dry camper a worthwhile investment? A dry camper purchase decision is vital because you are purchasing in the long run. You also want your family to be safe and comfortable for long trips. Below are some of the critical factors to consider before deciding on the right dry camping travel trailer for you.
Living Room Space
Depending on your travel party's size, you want to make sure they are comfortable while in transit or parking. You should investigate the comfort of the seating, the spaciousness of the food prep area, and the useful amenities like cooktop, microwave, and extra storage space for pots and pans.
Freshwater and Sewage Tanks
When you go dry camping, you will not have unlimited access to freshwater like you would at a normal campsite with full hookups. That is why you should invest in a dry camping travel trailer with high capacity water tanks. The size of your family or travel part will play a role in what size you should look for, but the typical range is between 30-150 gallons. A quality sewage tank is also critical in separating your black and grey water so that you can dispose of properly later.
Ideal Outdoor Features
You will be spending a lot of time on the road, but it is crucial to have an excellent exterior setup with your dry camping travel trailer. Look for product options with electric awnings, high-power lighting, and other outdoor-friendly features for you and your family. Campers with exterior showers are crucial to keeping your dirt and debris separate from the living space.
Strength and Stability
Dry camping travel trailers with a robust off-road chassis will be the difference-maker in your camper's longevity. You should prioritize the manufacturers who make their own because it will be much more durable. Also, look for campers that have robust fiberglass walls and sturdy insulation for all climates.
Size and Towing Capacity
Before you make a decision, you need to make sure that the travel trailer you choose is the right size and weight that is compatible with the towing capacity of your vehicle. Especially when you are going off-grid, you can't afford to strain your vehicle more than normal because it could introduce some safety concerns. Generally, I would recommend a travel trailer for boondocking under 5,000 lbs., so the Arctic Fox above is really the only one of our top picks that exceeds that weight (good for longer trips and more people).
Still not sure which one you want? We have other travel trailer recommendations too:
If you want to rent an RV first to try one out, rent from the best rental companies.