Hey! This site is reader-supported and we earn commissions if you purchase products from retailers after clicking on a link from our site.
Looking for a fun and easy recreational activity to do during your winter travels? Adults and children alike adore snow tubing, and it turns out Wisconsin has some of the best snow tubing around. One of the snowiest and coldest states in the US, Wisconsin has dozens of options for wintry fun. That raises one question: Which mountains and resorts offer the best snow tubing in Wisconsin?
As you can imagine, the opportunities are endless. Some tubing hills are absolutely free while others are part of massive mountain resorts. Fortunately, we have recommendations to suit every person in your group!
What Is Snow Tubing?
First off, if you have never zipped down the mountainside in an inflatable inner tube, you have been missing out. Snow tubing is an excellent winter activity that requires little to no effort to do. Simply grab a tube, much like the ones from a water park, go to a slope, and ride that tube back to the bottom.
You can liken snow tubing to sledding, but the difference is the seating arrangements. Snow tubing provides you a much more cushioned seat for the way down.
Unlike skiing and snowboarding, you don't need any prior training to hit the slopes. You also don't need to practice or gain a considerable amount of skill to have fun. Plus, you don't even have to steer the tube. To stop people from losing control of the tube or crossing into other lanes, the snow banks on either side are built up. At the bottom, the tube eventually comes to a safe stop on its own.
How Much Snow Does Wisconsin Get?
You may be wondering why you should go snow tubing in Wisconsin of all places. Why not other mountains in other states? Well, that's because Wisconsin is a budget-friendly destination. Secondly, the state gets a lot of snow.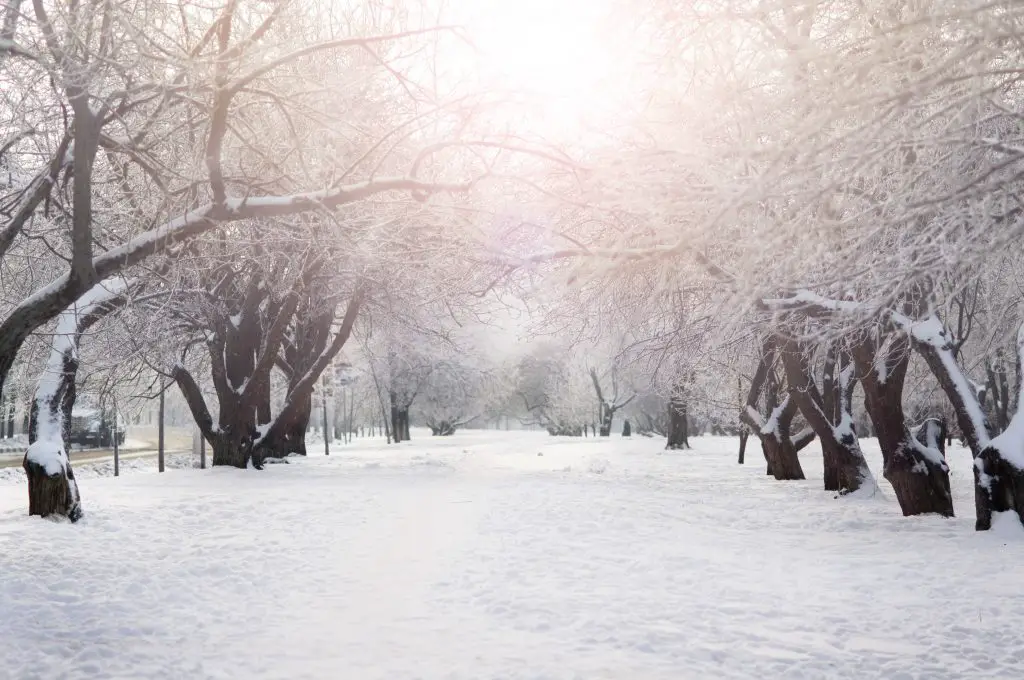 On average, Wisconsin gets between 40-50 inches (1-1.3 meters) in the northeast and central regions. The northernmost reaches, however, can see 100 inches (2.54 meters) easy. For instance, Rhinelander received 115.6 inches of snow in 2021.
Think of all the fresh powder waiting for you! How can you say no to that?
When Is the Best Time to Go Snow Tubing in Wisconsin?
The temperatures in Wisconsin become cold enough for snow in November and continue on through to April. February is routinely the snowiest month of the year, sometimes getting most of its yearly average during this time.
Therefore, if you are looking to go snow tubing in Wisconsin, there is no bad time to visit. As soon as the temperatures dip below freezing, the mountain resorts will begin churning out snow. All you have to do is visit.
Where to go Snow Tubing in Northern Wisconsin
You have already read how much snow northern Wisconsin receives. Top that off with dozens of snow tubing hills, and there is no denying this place is a winter wonderland. Here are some of the best tubing in Northern Wisconsin:
1. Christie Mountain
Location: Bruce, WI
Christie Mountain is known for its high-quality ski and snowboarding trails. But if you are looking for snow tubing in Wisconsin, this is also an excellent location to start. Interestingly, the chutes at Christie are varied, meaning that some are easier to navigate than others. You can try slow and gentle chutes or go hurtling breakneck down one with jumps and bumps.
It's a great way to try all kinds of tubing and test how well you can stay glued to your seat.
From Friday to Sunday at Christie Mountain, you can get 2 hours of snow tubing for $25 per rider. Every additional hour after that is $10. If you opt to go skiing or snowboarding, you can get snow tubing added on to your lift ticket at half price. Be sure to check the official website for other specials, like two-for-one deals.
2. Mont Du Lac
Location: Superior, WI
Seeking a true adrenaline rush? Few places offering snow tubing in Wisconsin have what Mont Du Lac offers: a chance to make your tubing descent your own. Beginner-friendly gentle slopes do exist, but you can challenge yourself on two black diamond tubing lanes that careen through wooded areas, too. Think you are up for that kind of thrill?
Since the tubing at Mont Du Lac is a little more chaotic, children younger than 7 years old are not allowed to join in the fun. For children between the ages of 7-9, there are child-friendly lanes and a music and light show to enjoy.
The Outta Bounds tubing park all-day pass is $30 per person, but you might be able to save money by purchasing a season pass for $99.99.
3. Badlands Sno-Park
Location: Hudson, WI
Sometimes going down the same kind of slope over and over again can get a little boring. That's why Badlands Sno-Park is great for people looking for a refreshing take on snow tubing. Here, you can go down the snow tubing bunny slope to get warmed up then try a more thrilling ride. Take for instance the funnest attraction at the park: Turbo Tubing.
Your tube is loaded up and shot down a 1,300-foot long slope at high speed. Who knew snow tubing could make you scream? Not only that, but Badlands Sno-Park has night tubing!
4. Minocqua Winter Park
Location: Minocqua, WI
Do you want to ski, ice skate, snowshoe, and snow tube all on the same day? Then head to the Squirrel snow tubing hill at Minocqua Winter Park. The 600-foot-long chutes are ideal for children and adults. For adults, the ticket price is $14, but for kids ranges between $5-$11, depending on their age. Do keep in mind that children have to be at least 42-inches tall to join in the fun.
5. Triangle Sports Area
Location: Green Bay, WI
Another well-known tubing hill in Wisconsin is Triangle Sports Area. One of the reasons is the affordable rate. Pay $5 and you can tube for the entire day at no extra cost. The hill rises about 80 feet, making it slightly less daunting than some of the ones you would see on a mountain. At the bottom, you can use the hands-free conveyor belt lift to return you to the top.
Triangle Sports Area also has snowboarding and skiing available. You can spend the day on the slopes and then finish up with snow tubing or vice versa. Once you have had enough, head to the warm chalet for some hot chocolate.
6. Winter Park Recreation Area
Location: Kewaunee, WI
Are you currently on a budget? Winter Park Recreation Area is a great place to snow tube without burning a hole in your wallet. At a mere $8 for two hours, you can spend four or eight hours here for the same price some parks charge for two. Of course, that also means this place is very popular with locals and travelers alike. You can expect crowds.
Still, with 5 lanes about 450 feet long, there is plenty of room to keep people moving so you're never waiting too long to go sliding. There is also a lift to make getting to the top of the slope easy.
More good news: Young children can use this tubing hill! If your child is under 42-inches tall, they can ride in your lap down the slope.
7. Sylvan Hill Park
Location: Wausau, WI
If you happen to find yourself near Wausau, check out Sylvan Hill Park. The price for passes is a steal at $7.50 for anyone 13 years or younger. Over 14 years? Pay only $10. The park has six lanes for snow tubing on two slopes that rise to about 133 feet. Two tow lifts are also available for you to use. There is also a spacious chalet with a fireplace to warm up.
8. Trollhaugen Outdoor Recreation Area
Location: Dresser, WI
The Trollhaugen Outdoor Recreation Area offers more than just tubing. You can spend several hours here enjoying everything you can do. Not only is the resort itself unique in its setup—think Midwestern vibes—you also get an expansive mountain full of trails, events (like ski races), live music, dining, and more.
The 10 snow tubing lanes are open for children older than 3 years old. The size of the chutes is impressive, to say the least. You'll have a blast whizzing down the mountainside over and over again. The price for a 2-hour window is $25, but you can add another hour for only $5.
9. Titletown Ariens Hill & Skate Rink
Location: Green Bay, WI
In the warmer months, Ariens Hill is a green slope where community members and visitors alike enjoy events. Come winter, the drifts of snow make Ariens Hill a low-key place to try snow tubing in Green Bay. Since it's only 46 feet high, Ariens Hill is also ideal for first-timers who aren't sure if they're going to like tubing.
Titletown rental tubes are provided to you at no cost once you purchase a ticket. There are only two tubing lanes, but it is a worthwhile adventure.
Titletown is also a great place to spend the rest of your day. There are events, like the Titletown Night Market, as well as dining and shopping. If you want to continue on with the wintry fun, why not hop into the Titletown Ice Rink too?
Where to Go Snow Tubing in Southern Wisconsin
The southern part of Wisconsin might not get as much snow as the northern half, but there are tons of snow tubing opportunities to be had. Here are some of the best snow tubing hills in Wisconsin:
1. Christmas Mountain Village
Location: Wisconsin Dells, WI
With a name like Christmas Mountain, you just know that it has to be amazing. Christmas Mountain Village is a popular destination for all kinds of winter lovers. You can book a cottage, cabin, or villa on the mountainside and then explore all the activities available. Naturally, one of those is snow tubing.
The snow tube hill at Christmas Mountain is 900 feet long and open throughout the week. If you were looking to go snow tubing throughout the week, this is the place for you. Plus, Monday through Thursday is cheaper–$15 for two hours instead of $25 on the weekends.
2. Cascade Mountain
Location: Portage, WI
If you want a truly memorable experience of snow tubing in Wisconsin, head to Cascade Mountain. This is one place that makes winter recreation a true delight, starting with the budget-friendly price of $35 per adult and $19 for children 6 and under for snow tubing. Optionally, you can buy a Tubing Season Pass for $84.
You also don't have to worry about tackling a huge crowd, because Cascade Mountain requires you to book your snow tubing adventure in advance.
You will need to select either a two-hour slot or a full day. After that, there is little separating you from speeding down the 900-foot mountainside chutes.
3. The Rock Sports Complex
Location: Franklin, WI
Visiting Milwaukee sometime soon? They get a lot of snow there, so it's the perfect opportunity to try some Wisconsin snow tubing! The Rock Sports Complex is also conveniently located a mere 15-minute drive from downtown Milwaukee. You can also try skiing and snowboarding.
The tubing hills are open to anyone over 36-inches tall. There are 19 lanes in total, and you can reach them easily via surface lift.
While tubing is available throughout the week, the recommended time to go is during the weekend, when they introduce glow tubing. It's a glow-in-the-dark experience that makes snow tubing even more exhilarating. If you pay a little extra when buying your ticket, you can also get a free tube necklace as a souvenir.
4. Tyrol Basin
Location: Mt. Horeb, WI
One of the newer snow tubing hills available, Tyrol Basin has endeavored to do something unique. First, let's talk about the price. Rather than only receiving a two-hour window for your fun, Tyrol Basin gives you 4 hours for $25. That is a steal compared to some other mountains. Plus, you get opportunities to go snow tubing throughout the week, up to January 2nd.
There are 12 chutes in total, each one about 700 feet long. Additionally, the tubing lodge features a warming house, where you can freshen up while enjoying sweeping mountain views. There is also a bar, lockers, and concessions close by.
5. Sunburst Winter Sports Park
Location: Kewaskum, WI
The tubing hill at Sunburst has some impressive numbers. There are more than 40 tubing chutes, each one about ¼ mile long and featuring a 90-foot drop to pick up speed. And yes, you get a lot of speed—about 30 mph worth. Then, once you reach the bottom, you can easily access the magic carpet lift to bring you back up to the top for another round.
Did we mention the Sunburst Winter Sports Park is the largest tubing facility in the US? Yeah, it's immense.
The best part is that it is $20 for 2 hours, and if you have a group of more than 15 people, you get a discounted rate. The downside? All riders must be more than 42-inches tall (106.7 cm).
6. Justin Trails Resort
Location: Sparta, WI
Kids 5 and younger get to ride free and everyone else is $10. Sounds like a steal, yes? Well, it's true. At Justin Trails, you can also choose between two snow tubing hills, which is rare. Usually, mountains only have one designated area for snow tubing. If you're just starting out, head to the smaller slope, which is only 600 feet long. The taller slope is a whopping 1,200 feet long.
The downside? No lifts or conveyor belts, meaning you have to walk back to the top. However, if you don't mind the exercise or the low entrance fee, Justin Trails Resort has enough thrills and snow for everyone to enjoy.
Time to Slide The Slopes
Snow tubing in Wisconsin is perfect for family fun. Many mountains allow you to have birthday parties on the slopes or host events during the snow tubing season. Since there are so many locations to choose from. Hopefully, this list gave you some ideas about where to go for snow tubing, as well as some inspiration for wintry fun. Which place are you going to visit first?
Maybe thinking about lining up some summer trips in the area? Visit our The Best Campgrounds in Wisconsin, USA guide!