Hey! This site is reader-supported and we earn commissions if you purchase products from retailers after clicking on a link from our site.
Are you an avid camper looking to do some trailer or RV camping all year round? Perhaps you do not want to limit your list of destinations to those that only have warm weather, or you just want the flexibility to travel anywhere regardless of the local weather conditions there.
A four-season travel trailer gives you this level of flexibility when it comes to choosing your destination.
These travel trailers have been weather-proofed to survive and provide comfort regardless of temperature or conditions.
In this article, I will look at the top four-season travel trailers currently on the market. I'll also dive deeper to show you what makes a good four seasons travel trailer and what factors to consider when purchasing this type of trailer.
Our Top Picks for Four Season Travel Trailers
| | |
| --- | --- |
| Trailer | Category |
| Lance Travel Trailer | Most Customizable |
| Dutchmen Aspen Trail | Most Affordable |
| Keystone Montana | Best for Cold Weather |
| Heartland Bighorn | Best for Families |
| Livin Lite Camplite | Best for Couples |
In-Depth Reviews of the Best Four Season Travel Trailers
Here is a closer look at what makes these trailers the best options on the market when it comes to all-season traveling.
Most Customizable
Lance Travel Trailer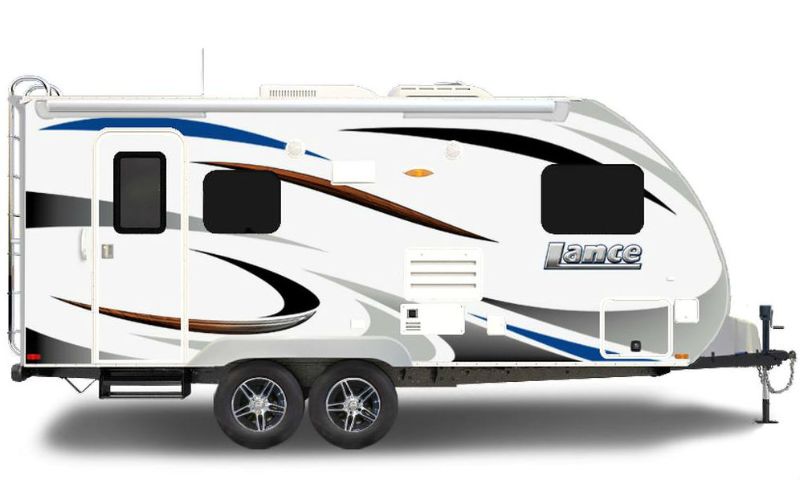 The Lance Travel Trailer has plenty of features and is highly customizable, so you can add more features if you want. With a wide variety of floor plans, you're sure to find something perfectly suited to your needs.
Dual-pane windows ensure that you get protected from the elements, and the Azedel interior walls keep you well insulated even in frigid weather.
An exterior TV mounting makes it easy to tailgate when the weather allows for it while a propane connection and a fully decked out kitchen make it easy to prepare home-cooked meals.
The aluminum framing on the ceiling, floor, and walls, meanwhile, ensures durability even when you use the trailer repeatedly in harsh conditions.
Pros
Good insulation
Double-pane windows
Highly customizable
Full kitchen
Cons
Some customers complain about the performance of the air conditioner
Most Affordable
Dutchmen Aspen Trail
The Aspen Trail is one of the best travel trailers on the market in two areas. It has a vast variety of floor plans (36), and it is also affordable.
Most of the floorplans are lightweight, coming in at under 6,000 lbs. Something I like about many of the floorplans is that they take a lot of different needs into account. This trailer can sleep up to five people, for example, despite its modest 21-foot length.
The underbelly is well-insulated, and a furnace ensures enough heat keeps the trailer warm. The Dutchmen Aspen Trail is particularly well-suited for journeys to cold places, or during the cold winter season.
It also has a bathroom skylight, an evergreen mattress (although you may want to upgrade), and lots of other luxury features to ensure you have a comfortable journey. All these features come at a reasonable price, making this trailer one of the best values on the market.
Pros
Very well insulated
High-performance furnace provides warmth in all conditions
Wide variety of floor plans
Very affordable considering the features available
Cons
Build quality is not top-notch in all areas, such as the water pump and refrigerator cooling unit
Best for Cold Weather
Keystone Montana
The Keystone Montana is one of the best travel trailers for cold weather camping. I was a little tempted not to include it on this list because it seems specifically designed to handle the winter, while we're looking for four-season travel trailers.
However, given how well it handles the winter, it should be able to brave the other extreme season, summer, since many features can also protect against heat as well as cold.
Which features offer this level of protection? The floor and walls are insulated with foam to keep the internal temperature well maintained. The water lines are well protected too. In case you want to pump up the heat on the inside, a 35,000 BTU furnace helps you heat the interior in a matter of minutes.
On the other hand, the air conditioner provides good airflow when you want to cool things down in the summer.
Pros
Good insulation
Protected water pipes
High-output furnace
Good build quality to handle the elements
Cons
The air conditioners perform best in the bedroom and living room, but other areas are not well covered
You need to use this trailer in winter to get the most value out of it
Best for Families
Heartland Bighorn
The Bighorn is a large travel trailer, making it an excellent choice if you're traveling with your family or a large group of friends. All the floor plans have weights over 12,000 lbs and spare no expense in terms of luxury or number of accommodations.
The large frames use aluminum and the sidings of laminated high gloss material, which not only ensures that the inside is well-insulated, but also that the overall structure is stable. The 36-inch fireplace keeps the interior warm while a 55-inch television keeps everyone entertained.
Pros
Great for large families
Well insulated
Durable exterior
Lots of luxury features, including a fireplace
Cons
Quite pricey
You need a large truck to tow this heavy trailer
Best for Couples
Livin Lite Camplite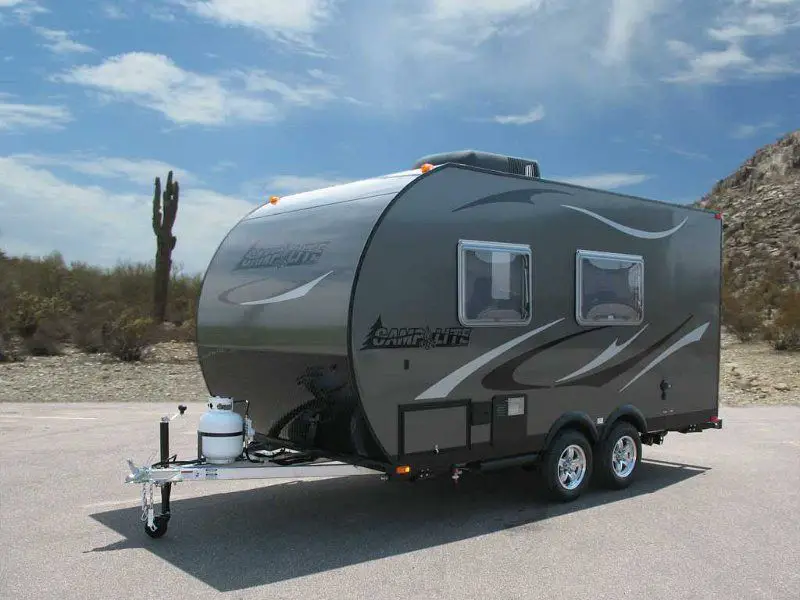 The Camplite models bring lightweight design and quality to smaller four-season trailers.
The Camplite has lots of floorplans. The great thing about the floorplans is that there are some for up to six people and some made to suit couples who want extra space. The Camplite is also pretty lightweight; it comes in at under 6,000 lbs.
The windows are all dual pane to keep the warmth in and the cold out. In case you want to pump up the heat on the inside during the winter, you can do that with a powerful and efficient furnace. The construction itself is aluminum, which makes it durable and easy to work with when you want to upgrade.
Pros
Durable construction
Very lightweight
Well insulated
A diverse range of easily customizable layouts
Cons
Not suitable for family camping as it most floorplans don't take lots of people
---
Recap: The Best Four Season Travel Trailers
Lance Travel Trailer – Most Customizable
Dutchmen Aspen Trail – Most Affordable
Keystone Montana – Best for Cold Weather
Heartland Bighorn – Best for Families
Livin Lite Camplite – Best for Couples
---
A Buyer's Guide for Four Season Travel Trailers
What exactly makes a trailer a "four-season trailer?" You will see this term thrown around by manufacturers and salespeople. However, the truth is that there isn't a standard for four-season trailers.
Instead, different manufacturers create their own conventions and standards for what constitutes a four-season trailer or RV.
Though it's mostly a marketing term, that doesn't mean that there aren't things that you should consider when shopping for a four-season trailer.
A four-season trailer's main traits are the wall structure, insulation, heating and cooling systems, venting, and window size.
Essential Four-Season Trailer Questions
There are some critical questions you should ask yourself before investing in a four-season trailer.
How many people will be traveling in the trailer at a time?
Are you going to camp with hookups?
Are you ever planning to live in our trailer, or just vacation in it?
Are you going to stay at a campsite or some off-road area?
Is your trip long-term or short-term?
What Else to Consider
If you're planning to make a long-term trip, consider the temperature rating of the trailer. If you're only making a simple trip over the weekend, then a temperature range of 40 and 80 degrees should be sufficient.
On the other hand, if you're going for a more extended trip, you'll want something with a bit of a broader range that can handle sub-freezing temperatures and extreme weather.
Meanwhile, don't forget to check ratings on the wall structure, insulation, heating and cooling systems, and venting and window size. These elements should work in cold and hot weather if you want a real "four-season trailer."
Make sure to check the weight of the travel trailer as well, you need to be able to tow the thing after all. Check the max towing capacity of your vehicle and match that up to the travel trailer. Generally, we mostly considered four season travel trailers that are under 6,000 lbs.
It would help if you considered any other non-standard needs you might have unique to your circumstances. The beauty of travel trailers is that they are so diverse that they get equipped to handle any situation. Make sure that the trailer that you use can handle any customizations you need to make.
What Goes Into a Four Season Trailer?
Whether you're planning to upgrade an existing travel trailer or buy a new one, there are some general things that you should look out for if you want to travel in very cold or very hot conditions.
The tanks should be enclosed
If you can see the tanks, they don't have enough protection from the weather. Good insulation on the underside of the trailer keeps the tanks from getting too hot or cold.
Some four-season trailers have a wholly-enclosed underside, while others have extra insulation around the tanks. Another design option is to have as little piping and plumbing as possible on the bottom of the trailer.
You also need to be sure that there are heating elements to keep the plumbing and tanks from freezing.
A protected sewer hookup
A four-season sewer hookup should include hoses and pipes that aren't exposed to the elements. The connection should be closed to avoid having to heat tape it. Frozen pipes could burst, creating a terrible mess that can end a trip early and create problems for the trailer owner.
Dual-pane windows
Dual pane windows offer extra insulation both in your own home and on a travel trailer. These double windows do a fantastic job of protecting you from the elements and minimizing heat loss.
This is assuming your trailer has windows, of course. Some trailers keep the glass to a minimum. If this is the case for your trailer, you still need to ensure insulation. A true four-season trailer should also have window tinting or shades to avoid solar heat gain during the summertime.
A ducted heating system
Efficient ducting is right for your trailer as it prevents the emergence of hot and cold regions within the interior.
Proper ducting ensures an even temperature throughout the trailer, which could protect you from having to raise and lower the furnace temperature depending on where you are within the trailer.
The water heater should have a bypass
If you have a water heater in the trailer, then you should ensure it has a winterizing valve and a bypass. These features make it easier to store the trailer and keep the heater in good condition when it is in use.
Insulated hatch coverings
If you're going traveling or camping during the cold winter, then you should make sure your hatch covers have insulation. This protection will make all the difference in ensuring the heat generated on the inside stays on the inside. Heat loss can increase the amount of electricity or gas that you use for heating.
Conclusion
If you have a trailer with these traits and features, it will be able to handle harsh elements and give you the option to travel regardless of the temperature outside. There are enough options on the market that you can get a trailer with the features and floorplan that you need to meet your travel needs.
Still deciding? Read our other travel trailer guides:
If you want to rent first before commiting, make sure you rent from the best rental companies for RVs.