Hey! This site is reader-supported and we earn commissions if you purchase products from retailers after clicking on a link from our site.
When we say that home is where you make it, it doesn't mean you need to give up the conveniences and luxuries of living in a house. Living in any kind of RV is different than a "sticks-and-bricks" house, but don't assume that means you're roughing it or worse–camping. Today's luxury travel trailers allow you to have the comforts of home, wherever you decide to park it.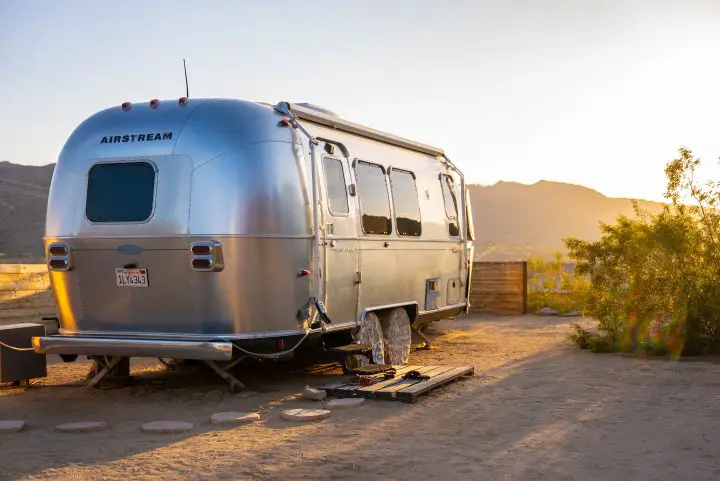 What Is a Luxury Travel Trailer?
A luxury travel trailer is a high-class mobile home with all the comforts of a penthouse condo. It isn't a 1960s pop-up with no amenities. Living in these modern high end travel trailers looks nothing like camping. It can't even be considered glamping.
Instead, these best luxury travel trailers feature artisan styling and top-notch appliances with every convenience of home. Luxury travel trailers have LED lights, roomy bathrooms with separate showers and spacious medicine cabinets, and beautiful hardwood cabinetry. Of course, they are more expensive than your 1960s pop-up, but having a hot shower while enjoying million-dollar national park views is priceless!
What to Expect from High End Campers
A luxury travel trailer should meet your every need and want. A luxury travel trailer offers premium build quality, up-market materials, and the latest technology.
Luxury features include that set these trailers apart from other campers include:
Customizable floorplans
More living space–extra slides, better traffic flow
High-quality materials
Craftsman styling and cabinetry
Exceptional comfort
Solid construction
Extra insulation
Latest technology
Most high end appliances come standard
What to Consider When Shopping for the Best Luxurious Travel Trailers
First of all, decide on the size and configuration of your RV. For example, do you want a luxury hotel suite for occasional use? Or do you want to live in a full-time mobile home? Next, consider how often you'll go off-roading and boondocking and look for an RV that suits your lifestyle. Finally, read through reviews and chat with current owners to see how the RV meets expectations and what after-sales warranty and service support is like.
Travel Trailer Use
When shopping for a new RV, consider what you'll use the RV for. Will you be living in it full-time? Will you just use it for long weekends? Will you be taking it on vacation? If you're looking for a full-time residence, you'll need more living and storage space. If your vacations include grandkids or friends, you'll want to make sure you can accommodate everyone. You can get a smaller model if it's just the two of you using the RV for an occasional weekend away.
How you plan on using the RV will affect the features you need and want. For example, if you plan on using the travel trailer lightly and prefer eating out at restaurants, you might not need a full-size kitchen. You may not need a washer/dryer combo if you just use the RV on weekends. The more time you plan on spending in your RV, the more features and upgrades you might need.
Boondocking Potential
Boondocking, or camping in remote places away from campgrounds, is a popular way to really enjoy the RV lifestyle. Boondocking allows you to enjoy pristine locations and connect with nature without distractions.
If you plan on boondocking, look for an RV that you can easily add solar power to. Most stock luxury travel trailers systems If you want to head off-road, look for an RV with high clearance and beefy tires.
Family Size
Like home shopping, one of the first considerations is overall size and accommodations. When home shopping, is a three-bedroom, two-bath necessary for your family, or could a one-bedroom condo suffice? When shopping for a luxury RV, consider how many people you need to accommodate. Is it just the two of you, with an occasional overnight guest? Are you traveling as a family? Do your kids need their own space, or can they share?
Some RVs are completely customizable. For example, you might be able to change a room that usually has a full-sized bed to a space with bunk beds. Or, you can add a sleeping loft to the living space or get a pull-out couch for extra sleeping accommodations.
Rig Capability
Another consideration when shopping for a luxury trailer is the rig's overall set-up and capability. If you plan on driving highways and plugging into shore power, good gas mileage and ample accommodations might be at the top of your list. However, high road clearance and solar options might be of vital interest if you plan on off-roading or boondocking.
Overall Floor Plan and Luxury Features
The overall floor plan will be essential to your family's enjoyment of the travel trailer. If you have mobility issues, look for a floor plan that doesn't have levels or stairs. Some floor plans have minimal privacy and are more suited to a couple rather than a family. On the other hand, some floor plans feature more privacy with separate sleeping spaces.
Bedroom Design and Amenities
Many travel trailers are designed for a couple who occasionally host overnight guests. If you travel as a family, you might want an RV with separate bedrooms. If you travel full-time, privacy and convenience become more of a necessity. You don't want to have to convert your dinette into a sleeping area 365 days a year. 
The primary bedroom on luxury models will usually be a comfortable queen-size bed or even a king-size bed. This provides enough space to make you feel like you're at home.
Bathroom Design
If you travel alone or with just one or two family members, a bathroom set-up should suffice. However, if you are traveling as a larger family, you might consider shopping for an RV with two bathrooms.
Some luxury RV models feature a master bedroom suite with en-suite bathrooms for extra privacy. The best luxury travel trailers have dry baths, which means the shower facilities are separate from the toilet area. Luxury features include skylights, vessel sinks, high-end flooring, and heated towel racks.
Luxury Kitchens
Luxury kitchens, also called galleys, try to recreate the space and convenience found in residential kitchens. For example, the nicest travel trailers often feature a full-sized residential refrigerator and freezer. These fridges have the option for luxury wood paneling to match the rest of the cabinetry. Cabinets are made from real wood, such as hand-rubbed maple.
Luxury RV galleys have microwaves, stoves, and ovens. Many galleys have kitchen islands. These offer excellent galley prep space but take away space from the dinette or lounge area. Countertops and sinks are made with high-end materials.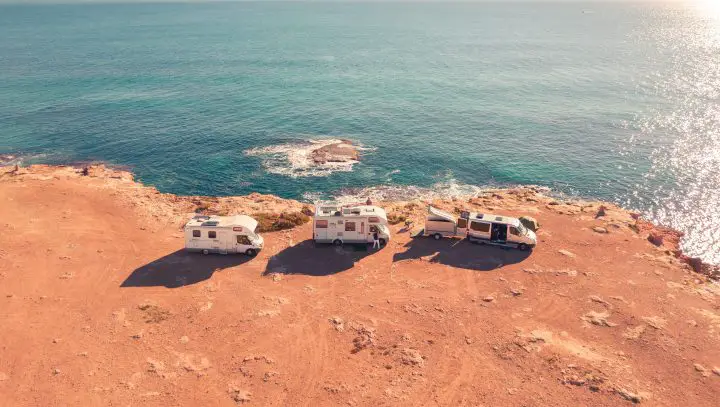 High End Travel Trailer Options
While luxury RV models feature upgraded flooring, hardwood cabinets, and LED lighting, there are usually many add-ons to choose from. For example, you can often customize the type of wood used in your kitchen cabinets, and choose the exact type of flooring.
Other luxury options include adding Bluetooth technology to appliances, washing machines, and kitchen upgrades. In addition, many luxury travel trailers help owners enjoy outdoor time with grills, one-touch electric awnings, outdoor tables, LED lighting, showers, and TV hookups.
Building Materials Found in Nice Travel Trailers
Luxury RV manufacturers use lightweight, strong materials with a focus on aerodynamics, insulation, and keeping climate control costs manageable. Manufacturers such as Airstream and Bowlus use lightweight, strong aluminum. Grand Design offers an Arctic Package with additional insulation.
Luxury RV manufacturers use premium materials in their interiors. Cabinets are made with real wood. Showers often feature teak seating and accents. Kitchens have stainless steel appliances and high-quality sinks.
Luxury Package Flooring Options
Many RVs feature hard floors, which are easy to clean. Carpet can feel great under bare feet, but it's harder to keep clean, especially with kids and pets.
Plumbing
RV plumbing is a necessary but complicated system. If your trailer is intended for boondocking, it will often have bigger fresh water and wastewater holding tanks. Most luxury travel trailers incorporate on-demand hot water systems, so you'll always have hot water available. In addition, luxury travel trailers often have outdoor showers.
Tow Vehicle Capacity
If you already own your tow vehicle or have the perfect one picked out, consider your vehicle's tow capacity. Many luxury RVs are heavier than comparably sized budget RVs. Don't just focus on the empty tow weight. Consider how much the RV will weigh when loaded with belongings and groceries.
Luxury Trailer Gas Mileage
How much gas you'll use depends on your tow vehicle's efficiency, your RV's weight, and how aerodynamic your rig is. A large, heavy, 41-foot travel trailer will significantly reduce your tow vehicle's gas mileage. A small, light, aerodynamic trailer will do better. If you choose a small, light trailer that you can tow it with a more efficient SUV, you'll save a lot of gas money.
Figuring out your gas mileage and how much extra weight in your rig is worth extra consideration. There's a definite give and take; you can find efficient SUVs that get good gas mileage, but once you attach a tow rig to them their mileage tanks considerably. In actuality, the most efficient and safest option for towing may be a large truck or even a semi for some of the biggest luxury travel trailers.
On the same token, you will sometimes find that Class A motor coaches come with more options and features than luxury towables. If you don't already have a tow vehicle that you need to use, a Class A might provide more high-end options without having to worry about towing and gas mileage.
Travel Trailer Length
The longer your travel trailer, the harder it is to manage on the road. Parking a smaller rig is much easier than parking a massive trailer. In addition, a smaller rig is easier to find campsites for and easier to back up.
Of course, there is a linear relationship between the length of the trailer and how luxurious it really is. Luxury campers are usually longer than average. But there are plenty of smaller trailers and ultralight campers on the market now that are adding more luxury features.
Budget
Luxury travel trailers are more expensive than standard trailers. And, after adding in options and additional features, the costs can add up quickly. Once the purchase is finalized, you'll still have a bevy of things to get to make your RV feel like home, like luxury bedding, kayaks, and RV grills.
Warranty Options
RV warranties can quickly get confusing. Some manufacturers offer a "stem to stern" warranty covering everything in the RV. Others offer separate warranties for the structure, chassis, tires, and electrical items. Some warranties cover structural faults but won't cover appliances. Warranties usually have a fixed time frame and often have different time frames for different items.
Some warranties will transfer to second owners, and some won't. Warranty administrators often request proof that you've followed recommended maintenance schedules to qualify for a warranty claim. Make sure you review warranty paperwork and know exactly what your warranty covers.
Another level of confusion is that luxury RVs roll off the factory with a ton of appliances and add-ons, and each one comes from a separate manufacturer. For example, your Dometic furnace is covered by Dometic's warranty–not the RV company's. While your RV manufacturer may help you navigate this, chances are you'll wind up working directly with the appliance manufacturer for service or repairs.
Maintenance on High-End Travel Trailers
All trailers will need RV maintenance. After all, being on the road can cause additional wear and tear. Luxury RVs use higher-quality materials that should cause fewer issues. In addition, new luxury RVs often have lithium batteries that require less maintenance and have higher capabilities. However, you'll still need to change your oil, check your tires, do brake maintenance, check your brake lights, and clean the slide-out seals.
Using a High-End Camper in All Weather Conditions
Like when driving a regular vehicle, you don't want to drive in hazardous conditions. If there's a thunderstorm that will cause limited visibility or slick roads, rearrange your planned trip to avoid the bad weather. Driving a car in dangerous conditions is risky, but driving a travel trailer in bad conditions has added problems. You are towing significant weight, so its harder to stop immediately if the car in front of you brakes suddenly.
Traveling during freezing temperatures requires additional thought. You don't want to leave your trailer unheated as freezing temperatures could damage your plumbing. If you want a four-season trailer, look for a package with additional insulation and good heating options.
Many luxury trailers offer heated floors, radiators, reverse cycle A/C, heating pads on holding tanks, and heated underbellies. These additional features will make sure your trailer, plumbing, and appliances stay warm and operational even in the coldest temperatures. 
Additional insulation with also help if you plan on using your trailer in very hot conditions. Most luxury trailers come with A/C to provide climate control. 
Check out our article on the best four season travel trailers if your plans include over-wintering.
Pros and Cons of Owning Luxury Pull Behind Campers
There are countless benefits of owning a luxury travel trailer. When you own a home on wheels, you can explore the country at your own pace. This isn't camping, so there's no stress over constantly finding hotel rooms and accommodations. A luxury camper makes you feel as comfortable as when you are at home, so there's never any benefit to staying anywhere else.
In addition, you can bring your home to remote areas such as national parks and pristine beaches where there aren't any hotels. You can visit busy locations and festivals without worrying about not finding a hotel room. Plus, when you bring your entire home, you don't have to worry about forgetting that sweater or your laptop's power cord.
Traveling in a travel trailer allows you to spend quality time with your family and travel at your own pace. Owning a luxury travel trailer means you don't have to leave the comforts of home behind. Luxury travel trailers have all the features of a high-end hotel. In addition, they offer a high standard of cleanliness.
Built with high-quality materials, a luxury travel trailer travels well and doesn't need constant maintenance due to cheap parts or poor construction. As a result, you can spend more time enjoying your travels and less time fixing things and paying for broken equipment.
Luxury travel trailers make life on the road comfortable. You can lounge and watch TV, enjoy outdoor meals, and relax under a one-touch electric awning. You can live and work in a beautiful home with solid, high-quality furnishings and enjoy continuous hot water and spa showers.
Luxury travel trailers are in high demand and retain a high resell value. In addition, they tend to sell quickly and don't stay on the market long.
One of the main disadvantages is the higher initial price tag. With the added expense of stainless steel appliances, energy-efficient settings, and additional insulation, luxury travel trailers are more expensive than standard trailers. However, the added energy efficiency and resell value offer added value.
Best Luxury Travel Trailer Brands
Several travel trailer brands are well known for their high-quality standard RVs, so you know their luxury models will be incredible. Some brands, such as Living Vehicle, focus on producing just one luxury trailer with different options.
Airstream
Airstream has been making high-quality travel trailers for decades. Airstreams feature a distinctive silver-bullet style. Airstream brings its brand name and long experience to offer modern luxury in a classic package.
Grand Design
Grand Design makes luxury travel trailers. Grand Design was founded to focus on customer satisfaction. The company was founded in 2012 and offers trailers built with exceptional quality by experienced artisans. These trailers are large, have slide-outs, and are packed with amenities.
Grand Design is known for its after-sale care and support, and the trailers come with a class-leading warranty.
Keystone
Keystone offers luxury rigs with many customization options. Keystone RV was founded in 1996 to offer customers top-quality RVs loaded with amenities. Keystone is one of America's largest RV and trailer manufacturers with over a million square feet of manufacturing space and 5,000 team members. The Keystone Premier model offers a large living space, slide-outs, and premium features.
Jayco
Jayco is a well-known and popular RV brand. The company was founded over 50 years ago, in 1968. Their first designs were simple pop-up camping trailers, and their focus has always been on providing family fun. Jayco offers buyers choices from the smallest camping trailer to large, luxury RVs. Their luxury RVs are made to feel like home with custom woodwork and tiling.
Living Vehicle
Living Vehicle is a newer brand that was founded in 2017. Living Vehicle makes an off-the-grid luxury travel trailer in four different setups, depending on your energy needs. The levels are Core, Max, Pro, and Pro-EV. An architect started the company and now makes about 25 RVs a year. Each RV is custom-made and has a lead time of up to a year.
Prime Time
Prime Time was founded in 2009 and aims to exceed customers' expectations. Prime Time is a division of the well-known and respected Forest River company. Prime Time manufactures the luxury LaCrosse model that provides luxury to the max.
Palomino
Palomino was founded in 1968 to create lightweight, affordable travel trailers. In 2002, Forest River bought the Palomino brand. Palomino focuses on building high-quality trailers with quality materials and expert craftsmanship. Palomino offers its customers 24/7 service with knowledgeable and quick service.
Best Luxury Travel Trailers 2022
Today's luxury trailers are constantly evolving. Timeless classics like the Airstream brand are adding modern amenities like LED lighting and energy-efficient appliances. New manufacturers like Living Vehicle are redesigning the travel trailer to suit modern digital nomads who want to experience off-grid zero-waste living.
Grand Design Reflection Travel Trailer
Grand Design packs massive amounts of living space, amenities, and features into its Reflection models. The Reflection comes in several different floorplans that feature a residential kitchen, a washer dryer, and plenty of storage. Storage options include overhead compartments, under-bed storage, and a large king-sized closet.
The Reflection travel trailer has a premium gel-coated fiberglass exterior, residential maple cabinet doors, double-paned windows, and residential window treatments.
The Arctic 4-Seasons Protection Package features laminated walls, a double-insulated floor and roof, and insulated baggage doors. The Reflection models have large slide-room windows and hardwood refrigerator paneling. The outdoor area has an electric awning with LED lights, speakers, and an outdoor shower.
One of the largest Reflection models is the 41′ Reflection 367BHS which has more amenities than many homes. This model features a queen or king-sized bed, a king-size closet, and the option of a separate washing machine and dryer.
The bathroom has a large fiberglass shower, linen closet, sink, and toilet. The second bedroom has a slide-out with a tri-fold sofa with a comfortable queen-sized bed area above. It also has a desk so you can use this room as a lounge, bedroom, or office.
The galley has residential appliances with a full-sized 16-cubic-foot refrigerator and freezer. There's a large kitchen island for easy meal prep. The Reflection has a large pantry and optional free-standing dinette.
The lounge has a tri-fold sofa that converts to extra sleeping space and theater seating. The living area features a 40-inch TV and a beautiful fireplace. Outside, you'll find a mini-fridge, a large one-button awning, and a TV hookup.
Grand Design offers several optional packages so that owners can completely customize their RV. For example, owners can add a free-standing table with a storage ottoman, a second air conditioning unit, a king-sized bed, and a second awning.
In addition, Grand Design offers several optional packages. For example, the Ultimate Power Package includes a 50 amp service, a larger microwave, an A/C unit, an LED TV, an automatic leveling system,  and additional LED lighting.
Grand Design also offers a Peace of Mind package, an Artic Four-Seasons Protection Package, and a Solar Package. The Grand Design Reflection models are the ultimate luxury RV for those traveling full-time, traveling with a family, or wanting lots of private space.
Features
Many sleeping areas
Large living areas
Residential size and style of kitchen
Plenty of storage
Several custom package upgrades
Stats
Length: 41′
GVWR: 14,995 pounds
Axels: 2
Sleeps: 7
Bathrooms: 1
Slide Outs: 5
Average Price: $70,000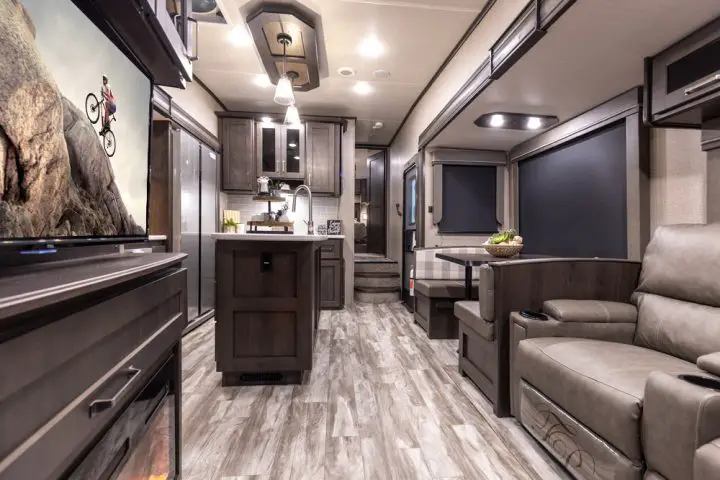 Jayco Eagle
The Jayco Eagle model has been made for many years, and each model year offers up-to-date luxury features. The Eagle model is 40 feet long and comes in three different floorplans. The trailer has a redesigned bathroom, a smart TV, and solar power options.
The Eagle features an exterior mounted 15,000 BTU Helix Cooling System with Dual Whisper Quiet A/Cs. It has Goodyear tires, Dexter axels, and MORryde suspension. The Magnum Truss Roof System has a 20-year warranty. It also has Climate Shield weather protection with a heated underbelly.
The interior features solid hardwood details and handcrafted doors, drawers, and trim. It has residential vinyl flooring, LED dimmer switches, USB charging ports, and extra power outlets. In addition, the trailer has a 12V audio-visual system with Bluetooth and HDMI.
The bedroom has a queen bed with the option to upgrade to a king-sized bed. In addition, the bedroom has a dresser and an option for an LED TV.
The bathroom has a large shower, toilet, sink, and linen closet. The lounge has an LED fireplace with a space heater and theater seating.
The galley has a black faucet with a pull-out sprayer, a stainless steel sink, and a bamboo sink cover. The galley features a large 21 cubic-foot residential fridge. One floor plan has an island with a sink, and another floor plan has a bar island with stools.
The Eagle is plumbed for the washer and dryer of your choice. Owners can add options like the Extreme Weather Package, wireless camera, solar panels, and auto-leveling system.
The 332CBOK model has two awnings. The smaller awning covers an outside kitchen with a fridge.
Features
Three floorplans
Extreme Weather option
LED Fireplace
Stats
Length: 40'1″
GVWR: 10,885 pounds
Axels: 2
Sleeps: Up to 6 
Bathrooms: 1 
Slide Outs: 4
Average Price: $75,000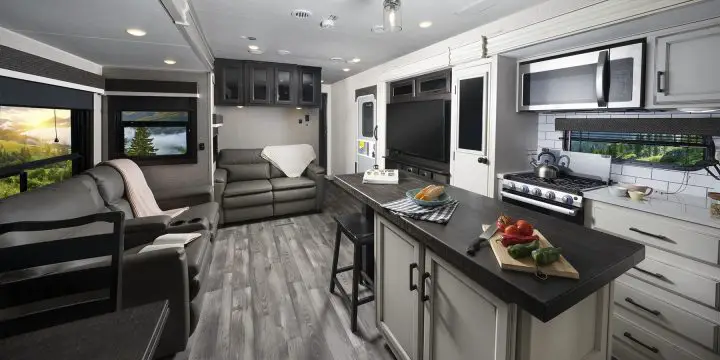 Prime Time LaCrosse Luxury Lite
The LaCrosse offers high-end residential appeal. It's been designed to be a convenient home away from home with thoughtful details and extra storage. The LaCrosse comes in two floorplans. Each floorplan has solid surface countertops, a residential cooktop, 50-inch TV, and a king-size bed.
The LaCrosse features a fiberglass exterior, extra insulation, a heated underbelly, and heated holding tanks. It has an outside cooking center with a TV bracket and hookup. The outside space also has a bottle opener and a doggy "D' ring for pet securement. The outdoor area is covered with a one-touch awning.
The LaCrosse has Shaker Style Cabinetry and panoramic slide room windows. In addition, it has an LED-lit electric awning. The 3375FE model has a king-sized master bedroom suite with two wardrobes and a dresser. It has a large bathroom with a separate shower, double vanity, and space for a washer/dryer or linen closet.
The galley features a large 12V fridge, electric wall oven, three-burner stove, and overhead cabinets. The sink is in the center island. The living area features a dinette, hide-a-bed sofa, and a theater sofa with an entertainment center and fireplace.
The 3375FE exterior has two separate awnings. 
Features
Residents feel with high-end cabinets and furniture
King-sized bed
Fireplace
Lots of storage
Stats
Length: 38'2″
GVWR: 8,839 pounds
Axels: 2
Sleeps: 4
Bathrooms: 1 
Slide Outs: 3
Average Price: $75,000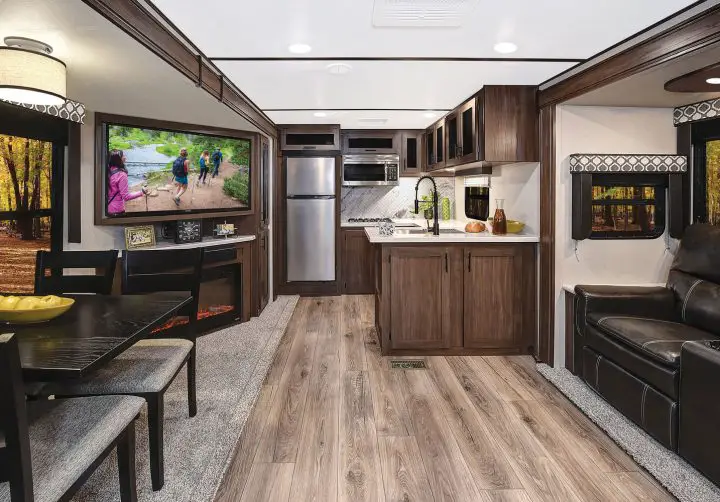 Palomino Puma Destination
The Puma Destination line offers luxury features in several floorplans. If you are traveling as a family, you'll love the two-bedroom, two-bath floorplans. The second bedroom can feature a queen-size bed or bunk beds.
The Puma Destination models pack in luxury features and residential styling. The exterior has a powder-coated frame and large pass-through storage compartments.
The interior carpet gives the Destination a comfortable and homey feel. The interior has a large master bedroom with a king-size bed and lots of storage. Owners will have lots of USB charging options and a Bluetooth stereo system. Galleys feature a residential-size fridge/freezer, a spacious pantry, and a sink. Galleys are fully equipped with a stovetop, oven, and microwave. Each trailer has a comfortable dinette. Some floorplans feature kitchen islands.
Floorplans have comfortable living areas with the option for theater seating or large recliners. Some floorplans have the option to include a large outdoor kitchen with a griddle, microwave, and mini-fridge. Additional options include a power awning with LED light strip.
Features
Large floorplans
Options for two-bedroom, two-bath floorplan
Residential styling
King-sized bed
Stats
Length: 39'9″ to 42'3″
GVWR: 11,500 to 12,000 pounds
Axels: 2
Sleeps: 4 to 6
Bathrooms: 1 or 2
Slide Outs: 3 or 4 
Average Price: $55,000 and up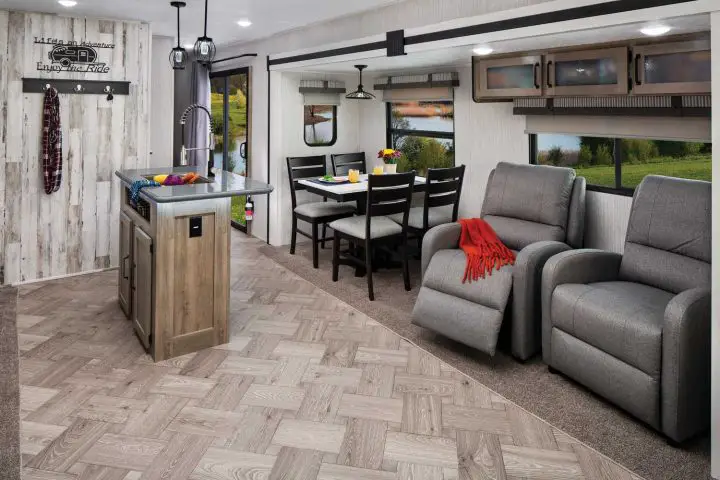 Keystone Premier
The Keystone Premier line features large floorplans and luxury amenities. Owners will enjoy a painted fiberglass front cap, walkable roof, electric stabilizer jacks, sliding windows, and solid surface countertops.
The interior features 6'11" vaulted ceilings and woven flooring in the slide-outs. Premier floorplans have Midnight Monterey stained hardwood cabinet doors. Some models feature a tri-fold sofa or theater seating with cupholders and storage. Other options include an electric fireplace and a pass-through laundry chute.
The galley has a stainless steel sink and a stainless steel faucet with a pull-out sprayer. Owners will find a well-equipped galley with a large refrigerator, microwave, three-burner stove, and oven. Some floorplans have an optional outdoor kitchen.
The bedroom has a queen bed, 110-volt, and USB outlets, LED lighting, and a TV hookup. Some floorplans feature a king-sized bed, kitchen island, and outdoor entertainment. The wide range of floorplans will appeal to every plan and budget. Couples can choose a smaller floor plan and enjoy the same luxurious features as larger models. Larger families can choose a model that sleeps up to 11 with a master bedroom, bunkroom, and tri-fold sofa.
Features
Eleven floorplans 
Lightweight designs
Luxury design
Stats
Length: 24'3" to 38"3"
GVWR: 4,713 to 7,765 pounds
Axels: 2
Sleeps: 4 to 11
Bathrooms: 1
Slide Outs: 1-3 
Average Price: $42,000- $62,000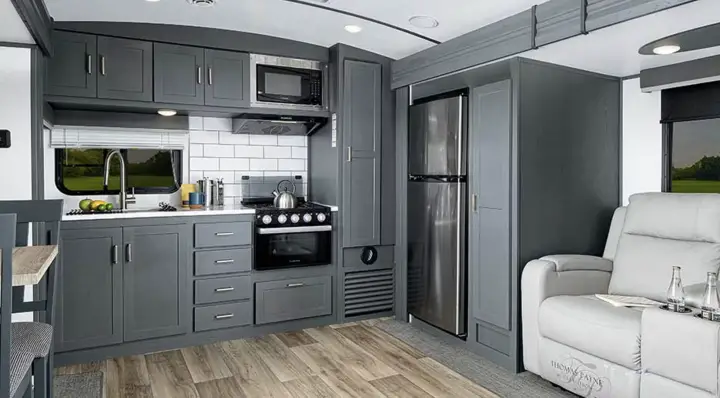 Living Vehicle
Living Vehicle makes one RV shell with four different energy packages. Each package is customizable, and each RV is custom-built when ordered and can take up to a year to be completed.
The entire Living Vehicle structure is an ultra-modern trailer designed for off-the-grid living. It's meant to be energy-independent, and each model has large amounts of solar, battery power, and inverters.
The Living Vehicle features an eight-foot slide-out deck that can automatically deploy. The slide-out deck is a great place to relax, grill, and enjoy the outdoors without trampling the grass or sitting on uneven ground. You can also roll the kitchen island outdoors for easy outdoor meal prep.
The bedroom has a queen-sized memory foam bed with under-bed storage. The bedroom features a skylight, two nightstands, a closet, and a three-drawer dresser. You can add a 70-inch screen and premium speakers to make the bedroom into an impressive home theater. Buyers have the option to add a washer/dryer.
You can also add the option to tuck the pull-down bed into the wall and convert the bedroom into a two-person office. The bathroom emulates a luxury spa with bamboo accents, a skylight, a large rainfall shower, a toilet, a vessel sink, a vanity, and a medicine cabinet. The toilet can be upgraded to come with a bidet.
The lounge area offers a comfortable spot for relaxing, watching TV, and eating indoors. The 42-inch TV is perfect for movies. The lounge was also converted to a queen bed for guests. If you often host guests, you can add a loft to the lounge for extra sleeping space.
The kitchen has an island that can be rolled outside to the deck through the beautiful sliding glass doors. The kitchen has a fridge, a three-burner stove, and a microwave. Kitchen storage includes a pull-out pantry,  a shoe locker underneath the fridge, and overhead storage cabinets.
Additional options include a built-in litter box for the kitty and an outdoor shower. The Living Vehicle has a 15,000 BTU Air Conditioner and floor-supplied propane heat.
The Core model features 1,320 watts of solar, ample batteries, and a five-kilowatt inverter. The most expensive Pro-EV version has 3,520 watts of solar and a 20-kilowatt inverter.
Features
Off-the-grid ready
Ample solar
Energy-efficient appliances
Office option for remote workers
Comfortable living areas
Unique convertible layout
Great deck area
Electric vehicle charging capability
Stats
Length: 29'
GVWR: 13,500 pounds
Axels: 3
Sleeps: 2-6
Bathrooms: 1 
Slide Outs: No
Average Price: $250,000 to $430,000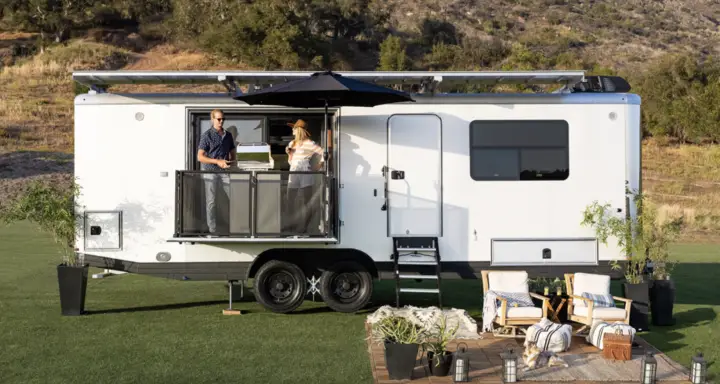 Airstream Pottery Barn Special Edition
This 28-foot travel trailer blends Airstream's timeless silver bullet exterior with an upscale Pottery Barn interior. Airstream has always been known for its high-quality build and style, but this new model is a match made in heaven.
The interior furnishing is inspired by Pottery Barn's iconic Big Sur collection. The window shades have a cozy, homey look instead of a practical RV look. Overhead lockers feature beadboard paneling inspired by the Aubrey collection. The Pottery Barn edition also features wall scones for another upscale residential feature.
The bed can be twin or queen-sized and features Pottery Barn flax linen bedding. The bed offers under-bed storage. The bathroom is luxurious and features a shower, toilet, and bowl sink. The lounge area has a custom sofa with plush cushions and performance fabric. There's a handy hidden airline-style table.
In the dining area, owners will find a gorgeous solid oak table. The table can be lowered to convert the dinette into a sleeping area. The kitchen has a pull-down faucet and a stainless steel flat apron sink. The walnut cutting board can also be used as a sink cover.
The Airstream features a small outdoor hanging table for convenient drink service. There's an optional awning kit that includes a shade awning, a Pottery Barn dinnerware set, and an Indio table and armchair set. The awning is powered and extends at the push of a button.
The Airstream has QuietStream A/C and a heat pump for climate control.
Features
Classic Airstream exterior
Pottery Barn interior
Craftsman styling
Stats
Length: 28'
GVWR: 7,600 pounds
Axels: 2
Sleeps: Up to 5 
Bathrooms: 1 
Slide Outs: 0 
Average Price: $157,000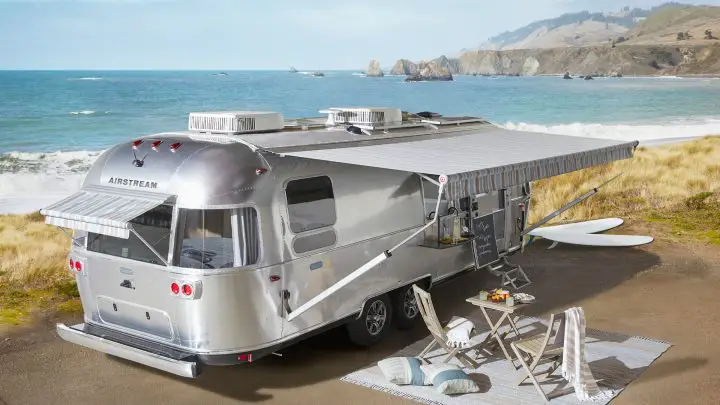 Bowlus Endless Highways
The Bowlus Endless Highways has a unique exterior and upscale interior. The exterior is reminiscent of an Airstream, with shiny aluminum skin. This travel trailer is designed to be aerodynamic and has a unique shape. The Endless Highways trailer has a low center of gravity for easy handling. Its lightweight means it can be towed by SUVs or Electric Vehicles.
The trailer features additional insulation, A/C, heated floors, a cell booster and router, and ample battery power. It also has continuous hot water. The heating system runs on 120V or propane and has eight silent radiators. The Endless Highways model features a real wood ceiling and walls.
The trailer can spend a full week off-grid in your favorite boondocking location. The A/C will run for up to four hours without shore power. The trailer has a 2000-watt inverter, 4kWh Lithium Iron Phosphate Batteries, and a battery management system. 
The trailer has a unique door system that allows the bedroom, bathroom, and lounge to become their own private space.
The bedroom is comfortable and features a king-sized bed for two twins. The bathroom is divided. There's a separate hotel-style shower with teak seating and continuous hot water. The shower can extend outside for outdoor use. On the other side of the trailer, there's a toilet with a cassette system. 
The lounge sofa and dinette converted into two twins for extra sleeping space. The dinette has under-table charging stations. The galley has a two-burner stove, stainless steel sink and countertop, and three large cupboards. The fridge/freezer is 12V, and the microwave can run off-grid.
The outdoor cafe table can be stored in a closet when not in use. The trailer also has an awning that can be attached on either side.
Features
Energy-efficient
Ready for off-the-grid use
Unique exterior and interior design
Lightweight
Stats
Length: 27′
GVWR: 4000 pounds
Axels: 1
Sleeps: 4
Bathrooms: 1
Slide Outs: 0
Average Price: $235,000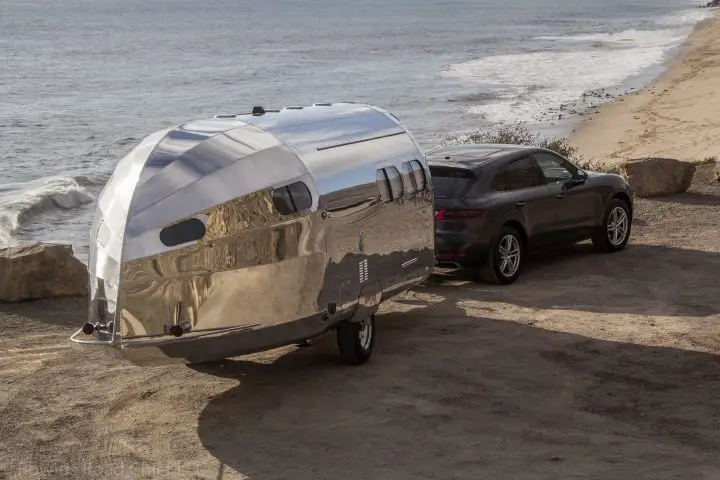 ERV
The Electric Recreational Vehicle, or ERV, is an all-electric RV ready to boondock in the most remote locations. The ERV comes in five different layouts. The different floorplans allow you to choose bunk beds or a larger seating area.
The ERV is designed to run on solar power and lithium-ion batteries. It has 15 rooftop solar panels that can produce over 2,000 watts, a 14.3 kWh lithium battery bank, and a 5,000-watt inverter. The ERV runs completely on rechargeable electricity, so there's no propane to worry about or refill.
The ERV is ready for off-roading with 16-inch wheels and all-terrain tires. Its composite construction features exceptional insulating properties to help save on climate control. The interiors are classy in timeless black and white. The ERV has LED lighting and a Bluetooth-enabled Fusion sound system.
Each layout has a full bathroom with a shower, ceramic cassette toilet, a vessel sink, and a washing machine. The bathroom has plenty of storage. The galley has a 12V induction cooktop, a slide-out range hood, a convection oven, and a microwave. The galley also has an electric full-sized fridge and freezer.
Outside, the ERV is set up for outdoor dining and relaxing. It has a powered awning, outdoor shower, a slide-out electric Weber BBQ, a sound system, a fold-down picnic table, and an outdoor TV.
Features
Five different layouts
All-electric
Full-size fridge and freezer
Off-road tires and suspension
Stats
Length: 20′
GVWR: 7,700 pounds
Axels: 2
Sleeps: 4
Bathrooms: 1
Slide Outs: 0
Average Price: Starts at $67,500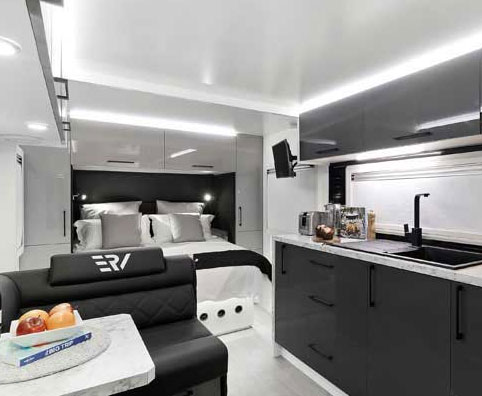 Live it Up – Luxurious Luxury Travel Trailers Are The Way to Go
Exploring a luxury high-end camper is a delight. You can experience pristine spots, busy cities, festivals, and remote sites while enjoying home comforts. Luxury trailers offer top-of-the-line amenities, residential appliances, and the option to boondock while having a hot shower. So, where will your trailer take you?
Other travel trailer-related pages:
FAQs (Frequently Asked Questions)
What is the most luxurious travel trailer made?
Many manufacturers produce high-quality luxury travel trailers. The Grand Design Reflection and Puma Destination offer residential features and large floorplans. The Airstream Pottery Barn edition combines classic exterior and interior styling. Boondocking digital nomads will love the thoughtfully designed, zero-waste entire living vehicle structure. 
What is the highest rated camper trailer? 
Airstream has consistently ranked as one of the highest-rated camper trailers. Grand Design is another well-known brand that consistently receives high customer ratings. Jayco has manufactured trailers for decades, and the Jayco Eagle is a top-rated luxury travel trailer. Modern designs like Bowlus and Living Vehicle have been surprising owners with their high quality and luxury features.