Hey! This site is reader-supported and we earn commissions if you purchase products from retailers after clicking on a link from our site.
Camping has gone to the luxury level, and travel trailers now have all of the amenities that create comfortable homes on the road. The best luxury travel trailers have interior features like large HD televisions, LED lights, and spacious bathrooms. Manufacturers appoint them with high-end stone countertops, hardwood cabinets, leather upholstery, and tile flooring.
Even on the outside, luxury travel trailers separate themselves from the rest. Some have outdoor grilling stations that rival those in professional kitchens. Many have bump-outs that add significant interior space, too. We've reviewed luxury travel trailers – here are our top picks for the best on the market today.
Our Top Picks for Luxury Travel Trailers
| | |
| --- | --- |
| Trailer | Category |
| Grand Design Reflection | Best for Families |
| Heartland North Travel Trailer | Most Customizable |
| Jayco Eagle | Most Standard Features |
| Airstream Land Yacht | Best Classic Trailer |
| LaCrosse Luxury Lite | Most Affordable |
| Bullet Premier Ultra Lite | Most Luxurious |
Reviews and Deeper Details
Several manufacturers take pride in designing and building travel trailers with high-end finishes, private bedrooms, and spacious bathrooms. Let's dive into each one of our top picks.
Best for Families
Grand Design Reflection
The Grand Design Reflection is a travel trailer designed for families who need plenty of space. You can order this trailer in lengths from 30 feet and 41 feet. Each model has a private bedroom with a queen-size bed and a roomy bathroom, and some have showers that are separate from the toilet and sink.
You can choose your Grand Designs Reflection travel trailer with several different layouts and bump-out spaces, too. Along with the permanent queen bed, the trailers have several options for bed configurations, including bump-outs with bunk beds and dinettes that change to full size or twin beds.
The exterior features include LED lights under the bump-outs, pass-through storage, and an outdoor shower. The grand interior includes finishes that look like a high-end home. The galley has a deep under-mount sink, a large refrigerator, an oven, stovetop, and some have islands, too. The auto-leveling feature made it easy to park and prep the camper for a long weekend.
I loved the big TV and the recliners in the living area. The black-out shades provided plenty of privacy at night. And, the plethora of windows made the trailer seem larger than it already is.  Even with four fully-grown people in the trailer, it never seemed crowded. This trailer is a top choice for families or couples who like to travel together.
Pros
Several bump-out design options
Luxury finishes
Spacious bathroom options
Large galley for gourmet cooking
Cons
Not many choices for finishes
No exterior kitchen option
Most Customizable
Heartland North Travel Trailer
If you want control over the design of your trailer, then Heartland North Travel Trailer lets you customize to your heart's desire. Heartland offers 12 floor plans that begin at 22-feet and reach almost 40 feet. I spent a weekend in the 24 BHS Trailer that measured 27'11" long and had a dry weight of 5,400 pounds.
The trailer had a large bump-out with a U-shaped dinette. It also had a private king bed at the front end and private queen bed in the rear. The roomy bathroom had a shower and a flush toilet. The U-shaped dinette converted to a bed, but with four in the trailer, we didn't need to use it.
My favorite part of the Heartland was the outside cooking area. We enjoyed using the slide-out cooktop because cooking in an RV can make the inside a bit toasty sometimes. I liked that the interior TV flipped around so we could watch it from the living area and the bedroom, too.
Pros
Several floor plans available
Separate private bedrooms
Large bathroom
Outdoor cooktop
Cons
Limited bump-outs on smaller floor plans
Not many options for interior finishes
Most Standard Features
Jayco Eagle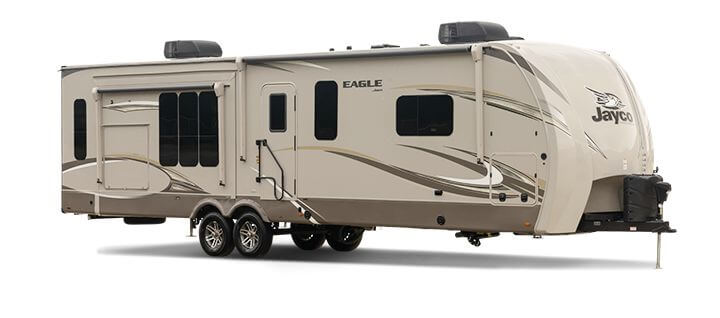 Like other luxury trailers, the Jayco Eagle comes with different floor plan choices. The manufacturer offers four plans with the same number of bump-outs in the 39-foot trailer. All have a king bed that bumps out in the private bathroom. The other bump-out options include extending the kitchen dinette or adding theater seating to watch a 50-inch HD television.
The Jayco Eagle comes with several outstanding standard features in their luxury package, including the JAYCOMMAND Smart RV system, two power awnings, a washer and a dryer, and a 13.5 cu. Ft refrigerator, a solid-surface countertop, and an LED fireplace.
My family loved all of the entertainment features inside of the Eagle. We paired our phones to the JAYCOMMAND system to control the interior lights and the air conditioning. They also loved the massive 50" TV, especially rainy days when they hooked it up to their gaming system.
The bedrooms were spacious and comfortable, and my teens appreciated that they could stretch out in the bathroom, too. I liked the island in the galley and the large refrigerator that held all of our food for the long weekend.
Pros
Large bathroom
Smart system
Large 50" TV
Two awnings
Cons
No outdoor cooking options
Only one private bedroom
Best Classic Trailer
Airstream Land Yacht
The Airstream Land Yacht is one gorgeous trailer, both inside and out. It looks like the original bullet-design Airstream from days gone by, but the interior looks like a high-end loft space. Along with the typical brown interior, the Land Yacht has an option for interior finishes in cool grays, stainless steel, and bright white.
The biggest difference between an Airstream trailer and other luxury trailers is the slide-out. Airstream trailers do not have any slide-outs as options. So, what you see on an Airstream is what you get. You can buy the Land Yacht in 30' and 33' choices, and they all sleep five comfortably.
The luxurious Airstream has a private bathroom with either one queen bed or a pair of twins. The dinette can turn into a twin bed, and the sofa converts into a double bed, too. The galley has high-end appliances and a substantial refrigerator.
One of the best spaces in the Airstream is the bathroom. With the panoramic window over the sink, you get a great view while cleaning up. The big TV was a nice addition, but without a bump-out, the recliners seemed too close to it.
Pros
Large bathroom
Comfortable beds
Updated finishes
Classic Airstream bullet exterior
Cons
No outdoor cooking options
No bump outs
Limited interior space
Most Affordable
LaCrosse Luxury Lite
The LaCrosse Luxury Lite gives you all of the options in a high-end trailer, but at a lower price than other options on this list. With a handful of floor plans and bump-outs, you can choose from four LaCross trailers that are all 37'7" in length.
All of the LaCross Luxury Lite trailers have private master bedrooms with queen beds. They offer different configurations for bunk beds, sofa beds, and dinette beds, too. Most have a second private bedroom to give families the privacy they need.
I liked the large galley. The trailer we had for the weekend had a sizeable wet island, with a large 11-cu. Ft. refrigerator, and free-standing dinette. It was nice to be able to move the dinette and the
We also liked the theater seating and large TV. The unit also had leather furniture and interior design with carpet and washable floors. I also liked how the TV was over a faux fireplace. My friends were not crazy about the bunk beds, as they felt a little cramped in the enclosed space.
Pros
Movable interior furniture
Large galley
Large bathroom
Small second bedroom
Cons
No outdoor cooking options
Not many interior design choices
Most Luxurious
Bullet Premier Ultra Lite
The exterior of the Premier Ultra Lite might not scream luxury, but the inside sure does. You can order your luxury trailer in floor plans that begin at 24 feet and stretch out to 38 feet. These trailers all have a queen bed and various other bed configurations. The 24' model does not have a separate master bedroom, but all other lengths do.
The luxury features begin on the outside, as the trailers have at least one awning, and many come with camping features like exterior cooking options. On the inside, the galleys are appointed with necessary appliances, subway tile, large refrigerators, and kitchen islands. The bathrooms are also more spacious than in the typical trailer.
The interior finishes include leather upholstery, plush carpet, and modern-styled easy-to-clean flooring. The LED lights look great, and the upgraded entertainment features were popular with my friends. The theater seats provided comfort for my kids when they played video games on rainy days. I appreciated the ample storage space both inside and out.
Pros
Large galley with subway tile
Two private bedrooms on large models
Spacious bathroom
Outside cooking option
Cons
Smallest camper without private bathroom
Awning needed manual adjustments
Small windows
---
Recap: The Best Luxury Travel Trailers
Grand Design Reflection – Best for Families
Heartland North Travel Trailer – Most Customizable
Jayco Eagle – Most Standard Features
Airstream Land Yacht – Best Classic Trailer
LaCrosse Luxury Lite – Most Affordable
Bullet Premier Ultra Lite – Most Luxurious
---
What to Look For in Luxury Travel Trailers
When shopping for a luxury travel trailer, there are several factors to consider, so you get exactly what you want.
Interior Floor Care
All of the interior floors will get dirty, especially if you have children or pets camping with you. While it's nice to have some carpeted areas in the camper, carpet needs to be vacuumed, so you have to pack one. If the camper only has vinyl, wood, or tile floors, a broom and mop suffice.
Galley Space
It's nice to have a large kitchen in a luxurious trailer. These high-end trailers usually have refrigerators that are smaller than residential choices, but most are around 13 cu. Ft. This takes away the need to bring a cooler, so you have more space for other things.
Another galley item to consider is whether or not you want a center island. Luxury trailers often have unattached dinettes, so you have flexibility in your kitchen space, but the island fills some of that space. Having a kitchen island in the middle of your camper takes away floor space, and they do not have room for stools. So, consider the island carefully.
Private Bedrooms and Bathrooms
Most luxury trailers have private master bedrooms, and some have a shower or bathroom in the master suite. Since trailers only have one bath, having your family come in and out of the master bedroom can be an issue. It can be an issue if one person uses the shower, and another person needs to use the toilet.
Having separate rooms from the shower and toilet work, but pay attention to where they are placed in the trailer. The private bedroom is nice for an afternoon nap, and no one wants their dreams interrupted so someone can use the bathroom.
Outdoor Features
Having several awnings is nice, but having a built-in cooktop or grill on the outside is a feature most luxury trailer owners love. The slide-out exterior kitchen is only topped by having a slide-out exterior entertainment center, too. The most features on the outside of the trailer, the better, as it keeps everyone outside which is the real reason for camping.
Want more travel trailer recommendations? Check out our other guides:
If you're not quite ready and want to rent first, be sure you rent from the best RV rental companies.