Hey! This site is reader-supported and we earn commissions if you purchase products from retailers after clicking on a link from our site.
Thinking about downsizing and living out of an RV? Finding the best RV for full-time living is a big decision, so you need to do plenty of research before making a big purchase.
In this article, we'll walk you through our picks for the top RVs for full-time living and the most important things to consider when you're looking at a bunch of options.
Below is the list of our favorite rigs, so let's dive right in!
Table of Contents
Our Top Picks For the Best RV For Full-Time Living
| | |
| --- | --- |
| RV | Category |
| Newmar Dutch Star | Best for Big Budget |
| Airstream Classic | Best for Towing |
| Coachmen Ultra Lite | Best Budget Friendly |
| Forest River Flagstaff Super Lite | Best Fifth Wheel |
| Winnebago Revel | Best Converted RV |
| Casita Spirit | Best for Couples |
Reviews of the Best Motorhomes for Full-Time RV Living
Alright, let's dive into each of our top picks for living the RV lifestyle and what we liked and didn't like about each one.
Best RV for Big Budgets: Newmar Dutch Star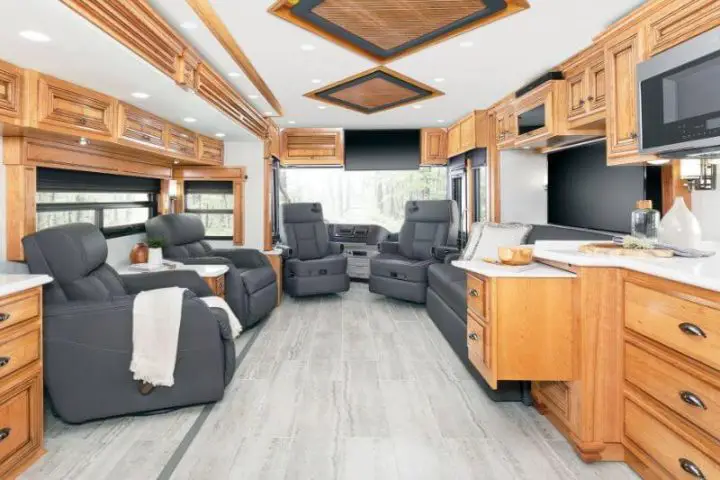 The Newmar Dutch Star offers many luxurious features for people with a big budget. Not only can you enjoy all the appointments and amenities in the living space, but there are many options for entertainment on the outside. You and your family can relax under the power side awning on those hot days while grilling. There is also an outdoor entertainment center, which will be excellent for movie nights.
The Newmar Dutch star ceiling is a newer feature, which also offers your family a Samsung 50-inch LED TV with a Blu-ray player and Bose soundbar. This RV also provides a wide range of furniture configuration, backed by Flexsteel, a reliable RV furniture company.
The Newmar Dutch Star wants to make sure you are comfortable during all times of the year full-time RV living. During the colder months, you can heat your feet with radiant tile. And for extra breathing room in the rear bathrooms, the RV comes with an additional 6 inches of height because of the cathedral-style ceilings.
Pros
Heated tile floors and extra room in the bathrooms offer extended comfort
Optional outdoor entertainment center adds to the outdoor RV experience
Cons
More expensive for people who are on a budget
The dining area table could be a little bigger
Best for Towing: Airstream Classic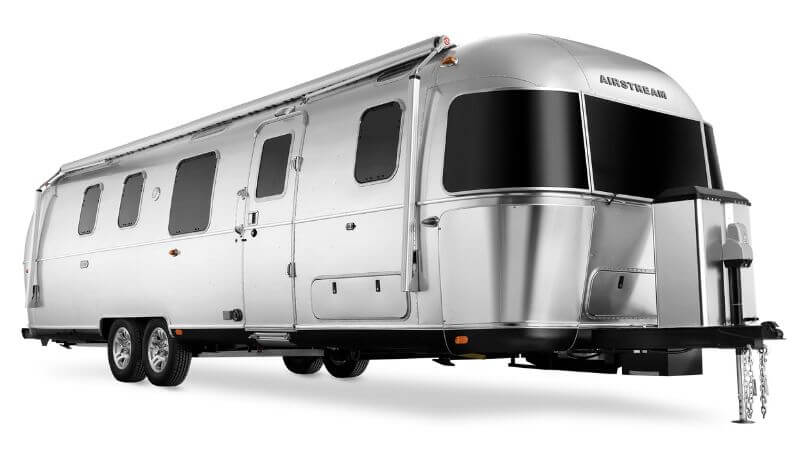 C'mon, we definitely had to include an Airstream on the list! These trailers are absolutely classic and a wonderful option for full-time living. The Airstream Classic RV was built for the long-distance traveler because of its reliable comfort and unexpected amenities. You know you are getting a spacious camper because the floor plans range from 30 to 33 feet, and you will receive distinct living space for dining, cooking, lounging, bedroom, and bathroom. The Airstream classic also boasts the most storage space out of the entire product line.
A unique feature about this RV is the smart control technology, which allows you to oversee and manage your RV from anywhere. This function enables you to turn the lights off or on, extend or retract your awning, or adjust the heat pump and air conditioning. If you are concerned about getting lost, you can utilize the GPS tracking feature to find your way back home.
The residential-style kitchen offers your family a convenient stove, oven, hood, convection microwave, freezer, and refrigerator. Some other features include a 65-inch television, Ultraleather seating, heated bathroom capabilities, and custom-crafted cabinetry.
Pros
Smart control technology adds safety and convenience for the owner
Extra storage space allows you to store your belongings to free up space for your family
Cons
The exterior does not have the most attractive appearance
The climate control is lacking because the RV could use more insulation
Best Budget-Friendly RV for Full-Time Living: Coachmen Ultra Lite

Coachmen's Ultra Lite RV offers a lot of cost-friendly options for people who are unsure about which type of floor plan they want. You can browse up to 18 different options and choose your vehicle of luxury for full-time RV travel. These RVs are manufactured to value pack all your belongings and tow the most durable half-ton vehicles and midsize SUVs.
The Coachmen Ultra-Lite is also super durable because of its Lami-Lux 1000 fiberglass and vacuum-bonded laminated sidewalls. The interior designs are highlighted by LED lighting, satellite-ready television, and four speakers. The hidden hinge cabinets also offer a functional, but aesthetic look to your RV experience.
On the outside, one of our favorite features is the walk-on roof so you can view the beautiful stars at night. Your family can also enjoy outdoor meals with the resin outdoor table, 24″ x 48″.
Pros
There are a variety of unique floor plans to suit your needs
Fiberglass exteriors offer extra strength and durability for extreme weather travel
Cons
The interiors are not as spacious as some other's travel trailers on the market
Weight distribution issues on individual floor plans
Best Fifth Wheel RV: Forest River Flagstaff Super Lite

The Forest River Flagstaff Super Lite is an excellent fifth-wheel option for full-time RV travelers. You can choose from over 30 different floor plans, which offer beautiful layouts, relaxing sofas, and spacious dining tables with adjustable legs. While serving as a travel trailer that can tow, there are many functional amenities and rooms that you and your family can enjoy.
The interior of the Forest River Flagstaff Super Lite comes with an American maple finish, hardwood cabinets, and floor covering that is mildew and mold resistant. Equipped with a fireplace and day and nightshades, you can enjoy your RV late into the night, stress-free.
On the exterior, your family can enjoy an electric slide-out, aesthetic frame skirting, and an outside shower. If your family enjoys biking, there is a tongue bike rack mounted on the side. Thanks to the 30-inch screen door, people can enter and exit the vehicle with ease.
Pros
Up to 30 different floor plans to choose from
Strength on the exterior with laminated fiberglass sidewalls
Cons
The aerodynamics of the vehicle are not conducive to towing the largest of vehicles
Best Converted RV: Winnebago Revel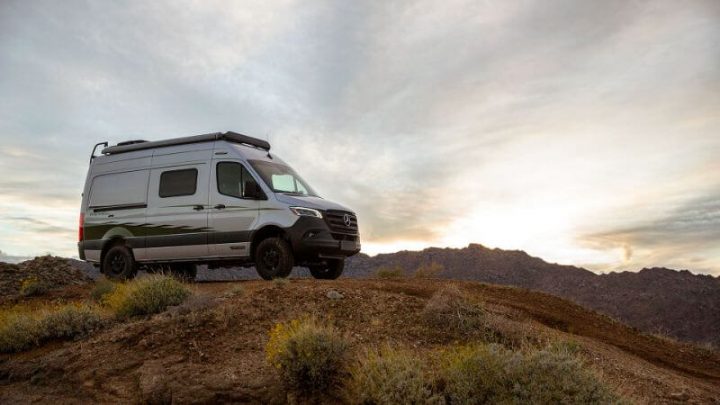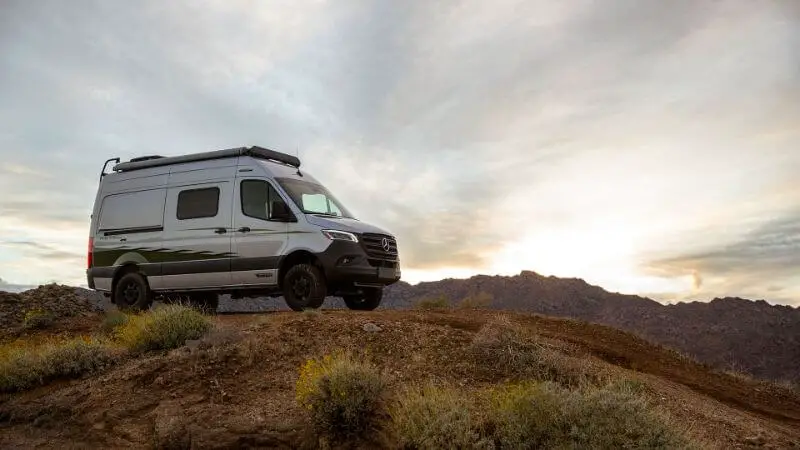 The Winnebago Revel, manufactured by Mercedes-Benz Sprinter, is an ideal option for people who want a smaller, more compact RV for full-time living. This RV enables people to drive off-road because of its function-fueled structure and a turbo diesel engine that is 3-liter. Because of the 4-wheel drive capabilities, you can take the Winnebago anywhere and everywhere with ease, which is a must-have for a full-time living.
The exterior of the Winnebago Revel comes with a powered awning for the patio, included with Bluetooth control and LED lighting. There are also multiple access points with the rear and side screen doors, including a porch light with a switch on the inside. For late-night dinners with the family, there is also a convenient fold-down table.
The interior of the Winnebago Revel includes multiple USB charging points and a vent fan with rain cover, which is deluxe powered. Lighting will also not be an issue because of the LED fixtures with a switch for dimming for your preference.
Pros
4WD offers versatile off-road capabilities
Keyless entry makes for easy in-and-out process
Includes a touchscreen entertainment center with Wi-Fi hotspot, rear camera, and voice control
Cons
Not as spacious as other RVs on the market
Pricier option for people who are on a budget
Best for Couples: Casita Spirit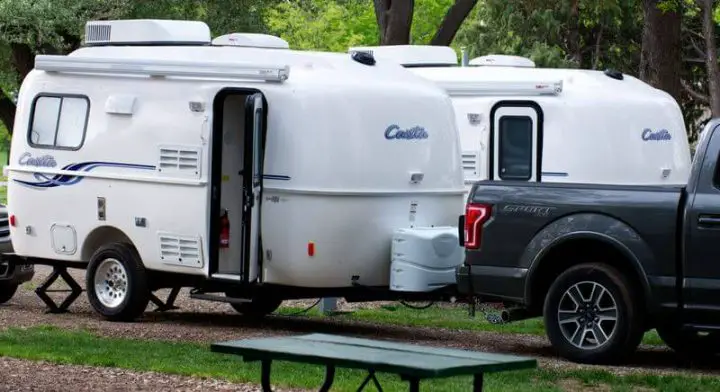 The Casita Spirit is an excellent option for couples looking to explore the world together through full-time RV travel. There are two different sleeping rooms, which can get transformed into dining tables. This RV fuel-efficient is not only because of its lightweight design but the interior is insulated strategically to make sure you are comfortable throughout the day and night.
Some popular features for the Casita Spirit include a patio awning that is aluminum-cased, roller shades, and a package for video entertainment. There is also a "no sway" hitch for weight distribution, so you and your loved ones can travel in comfort and style.
Pros
Distribution hitch optimizes weight
Spacious seating arrangements make for comfortable travel and relaxation
Low-maintenance design
Cons
Not as spacious as some other products on the list
---
Things to Consider When Buying an RV for Full-Time Living
Many factors go into purchasing an RV if you're considering full-time RV living, and you must evaluate all of them. Below are some of the essential things to ask yourself before you decide to buy an RV.
Matching Your Lifestyle
The first thing to decide is what your intended use will be with your RV. You want to ensure that you match the design of your RV with your travel. If you are using the trailer to travel long distances instead of short trips between campsites, you will want a more fuel-efficient option. For full-time living, you'll want to check out features like the kitchen, bathroom, and storage space to find the best Rv for your needs.
Number of People Living in the Travel Trailer
Since an RV is a purchase for the long term, you also want to evaluate who will be riding in it or how many people will be joining you. Depending on your family's size, you want to make sure you buy an RV with a spacious floor plan to accommodate everybody. You should also investigate RV options with additional options for outdoor living space to help any extra people.
Financing Plan
Since a travel trailer is a massive investment, it is essential to explore the many financing options available to you and your family. Many RV dealers will provide you financing choices through a long list of potential lenders. There is a small chance that you will need to extract a vehicle loan from a third party or your bank.
The important thing here is to define how much you want to spend on the down payment. Depending on a healthy down payment and your current credit score, financing may be a simple and straightforward process. Another critical factor to remember is that you will likely receive higher interest rates from a third-party lender than you would through your bank or RV dealer.
Full Interior Inspection
No matter who you buy your RV from, you should always conduct an in-depth physical inspection. When you perform the proper due diligence, you ensure that you are getting the best detail and sniffing out any small details that may be left out on the listing. This inspection is especially important if you are buying from an online retailer.
When you go over every inch of the RV, make sure you look out for things such as:
Mold
Floor damage
Exterior issues
Window damage or wear and tear
Tires
An interview about the RV's history
Wrap Up
As you can see, different RVs satisfy specific needs. The important thing for you and your family is to define what is important to you because there is always a floor plan that will make you and your family comfortable. Full-time RV life will take you to beautiful, exciting places – make sure you choose the camper that will get you there comfortably!
For more recommendations, check out our other RV guides:
Don't know if you want to buy for full time RV living yet? Renting is a great option to get a feel for RVing. Read my guide on the best RV rental companies to start.