Hey! This site is reader-supported and we earn commissions if you purchase products from retailers after clicking on a link from our site.
When it comes to full-time RV living, details matter, however, with so many different models to choose from, finding the RV that's perfect for you can be challenging. With this in mind, I've put together a few of my favorites. Depending on what you're looking for, I think the following are some of the best travel trailers on the market. I'd be happy with any of them!
Table of Contents
My Top Picks for Travel Trailers
| | |
| --- | --- |
| Trailer | Category |
| Airstream Classic | Best Overall Trailer |
| Grand Design Imagine | Most Options |
| Happier Camper HC1 | Best Small Trailer |
| KZ Sportsmen SE | Best Lightweight Trailer |
| Shasta Revere | Most Affordable |
Diving Into the Best Travel Trailers
Below, I walk through why I think these are the best travel trailers on the market today and what I liked and didn't like about each one.
Best Overall Trailer
Airstream Classic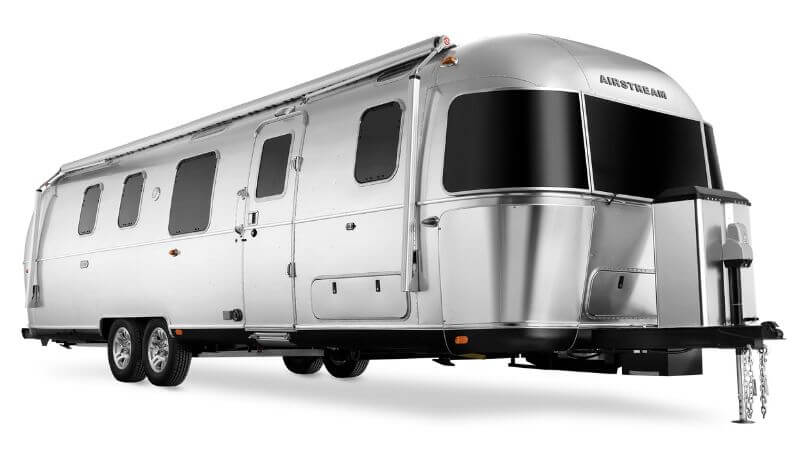 First up, we have the Airstream Classic, and it's one of the best. It has everything from a fully-loaded kitchen, to a 65″ projection TV screen that lowers via remote control. Floor plans range from 30 to 33 feet and provide dedicated space for the bedroom, bathroom, kitchen, and living room. So, it's spacious and makes for some comfortable living. For serious RV enthusiasts, the Airstream Classic is sure to make the shortlist.
On top of that, the Airstream Classic's amenities are top-notch. It has plenty of cabinets and wardrobes for storage and Smart Control Technology that enables you to control and monitor all of its electronic features from your phone, including turning the lights on and off and adjusting the air conditioner and heat pump. Plus, you can even track your RV with GPS.
What I like about the Airstream Classic, however, is how nice it is inside. It really feels like home. The seats are leather, the oven and microwave are high-end, and the bathroom has heated floors and towel bars. Most homes don't have this level of luxury, so it's like living in a fancy hotel. What's more, the exterior is that familiar silver shape that has become an icon on roads across North America.
With all of that in mind, it is a bit expensive. It starts at $157,400 and goes up from there, depending on the configuration you choose. Although you can mitigate the cost a little by buying used, it's still a substantial commitment. You can't access the trailer from the road, so if you've left something inside, you'll have to pull over and open it up to get it. Also, the trailer's shiny and rounded exterior is nice but wears over time, and it is challenging to keep up. Maintenance is labor-intensive, and having the exterior maintained professionally is costly.
Pros
Spacious floor plan (30-33 feet) with a separate bedroom, bathroom, kitchen, and living space
Smart Control Technology
State-of-the-art kitchen appliances
Top-notch amenities and comfort features
Luxurious feel
Cons
Expensive
No road access
Costly restoration
Most Options
Grand Design Imagine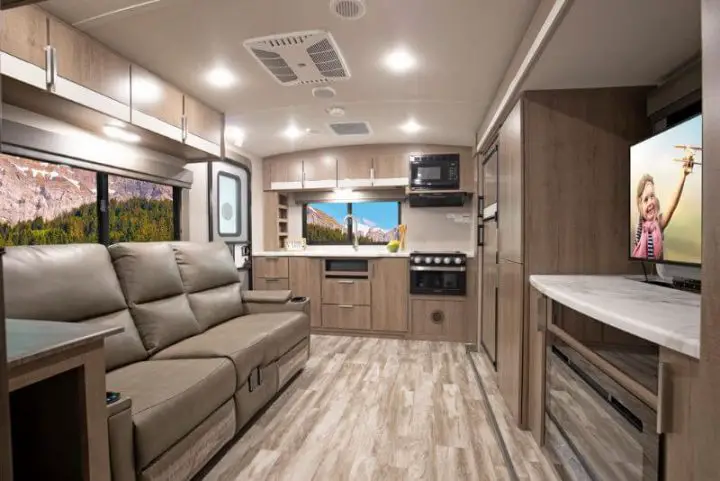 Although the Grand Design company is not very old, they have a rabid fanbase, and people love their RVs. I have to agree. They do produce some excellent models. My favorite is the Imagine, simply because of the many options you get that enable you to customize your RV exactly how you want it. Plus, it's designed to be lightweight without compromising quality or features.
The Grand Design Imagine has no less than 11 different floor plans. Each one comes with a lovely master suite with a queen-size bed, a decent-sized shower with a skylight, and a 32″ LED TV entertainment center. A couple of the floor plans also have built-in bunk beds and storage for your mountain bikes. Also, many floor plans come in at under 6000 pounds so that the Imagine can be towed with a medium-duty truck or a standard SUV.
It's well-constructed and comes with a slew of standard features. On the outside, you have a solar power inlet, a place for a backup camera, 2 20 pound propane bottles, and a 28″ radius entry door. You can also get exterior speakers if you want. On the inside, the cabinetry is top-notch, the windows are large and panoramic, and it has a radius ceiling that is 81 inches high for plenty of headroom.
All in all, it's nice. If I were looking to get a new trailer, I'd seriously consider the Grand Design Imagine. The biggest downside is that a lot of the small things seem to be cheaply constructed. For instance, there are reports of the latch on the screen door needing to be fixed, and the awning leaking. There are also reports of the vent covers popping off too easily and the bedroom door falling off. So, while the more significant things on the Imagine are reliable and well-built, some of the smaller ones may need repairs from time to time, which, although not expensive, can still be annoying.
Pros
Excellent floor plans and the choice between 11 of them
Comfortable living area with lots of storage
Good sized bathroom with a large shower and a real toilet
Ample outdoor space and 21-foot awning
Grand Design has outstanding customer service
Cons
Cheaply made details, such as vent covers and the screen door latch
The awning may need replacing after a while
Best Small Trailer
Happier Camper HC1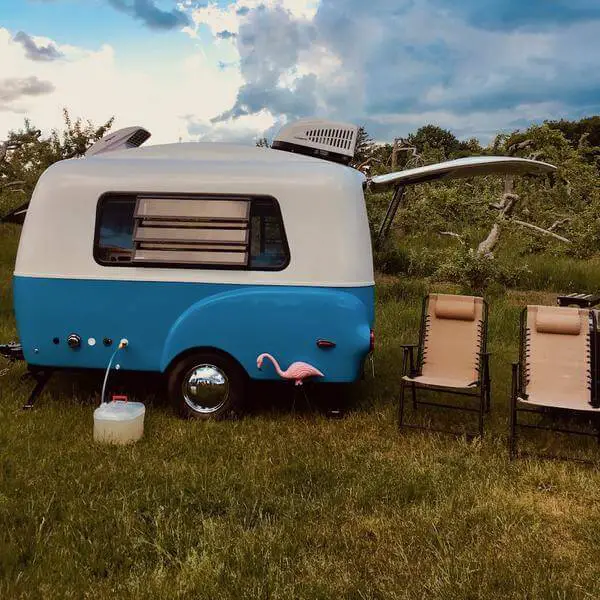 The above campers are great, but what if you're not looking for all of that? Some of us don't need all of that luxury. Plus, it's expensive to maintain and a lot to think about. If you prefer the minimalist lifestyle (like me), you should definitely check out the Happier Camper HC1.
I love this thing! It's small, but it can be towed by just about any standard car, so you don't need a truck or powerful, gas-guzzling SUV. Plus, it's completely modular inside. Its floor is made of grooved squares that enable you to fit different furniture pieces in whatever configuration works best for you. And you can even change them around. So, if it's dinner time, you can put a table in the middle and plenty of seating around it, and then convert the entire thing into beds when it's time for sleep.
It's well constructed and sleeps up to five, even though it fits in a standard parking spot. What's more, it has options for water tanks, a road shower, and a dry flush toilet. It has plenty of ventilation and is solar-ready. You'd be hard-pressed to find a trailer that is this small and this versatile at the same time. What can I say? It's cool!
Of course, the obvious downside is that it's small. If you're planning to live in it, you're going to have to be dedicated to the minimalist lifestyle. On the other hand, if you're using it for camping and road trips, it might be perfect for you. In other words, if you don't care about luxury amenities like a 50″ TV, then the HC1 is an excellent choice.
Pros
Small, lightweight (1100 pounds), and easy to tow
Completely modular interior
Simplistic and easy to clean
Cons
Happier Camper hasn't been around for very long and is still perfecting the design
Small (only comfortable for two people)
The Happier Camper community is thriving and supportive
No flushing toilet
Best Lightweight Trailer
KZ Sportsmen SE
The KZ Sportsmen SE is a traditional travel trailer, but it's lightweight and budget-friendly. It has a beautiful and open floor plan that includes a small dinette, a 40″ shower, and a queen-size bed, although it is offered in many different configurations. The interior layout is open and roomy, and the front bedroom setup is cozy.
It has a functional kitchen, with all standard features, like a three-burner cooktop, microwave, and a ten cubic foot refrigerator. The dinette has a window view and can be converted into more sleep space. The bathroom features a full vanity, plenty of towel hooks, and a foot flush toilet.
Some KZ Sportsmen SE models come with comfortable couches and bunk beds, while others forego these options for larger living areas and increased storage space. Either way, there's a lot to like here. I'd say that if you're looking for a classic RV experience, the KZ Sportsmen SE is the way to go. It's lightweight and has everything you need.
The real downside to this one is that it looks like an older-style trailer. Even the newer models come in only two different decor styles that they call hazelnut and burnished wood. The shower space is also minimal, and few floor plans offer much privacy for large groups living together. Overall, the KZ Sportsmen SE's most significant issue is that there's no wow factor in making it stand out from the crowd.
Pros
Open floor plan with all of the standard amenities
Lightweight
Plenty of storage space
Reliable and well-built
Cons
Outdated style and decor
Limited shower space
Lack of privacy
No wow factor
Most Affordable
Shasta Revere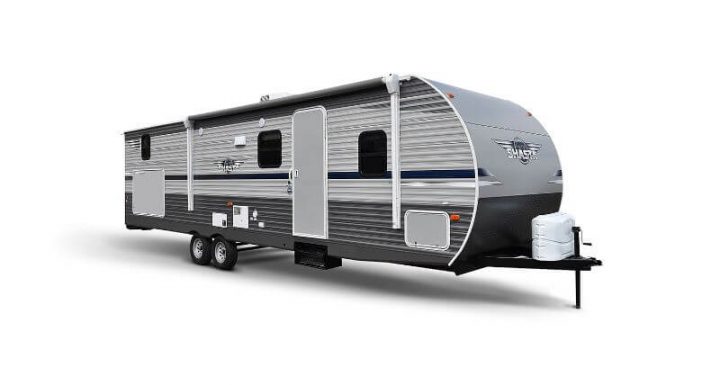 Lastly, we have the Shasta Revere, a lightweight, compact, and affordable option. It has a spacious interior and large windows that let in a lot of light. It also has lovely high ceilings and lots of storage space, both inside and outside. Plus, if you're a tall person, the doorways reach the ceiling, so you won't have to duck your head.
Shasta has been around for a long time (since 1941), and they are known for quality construction. The Revere is a reliable RV built to last and has good resale value. It has a residential appearance, and it feels like home inside. It's built from high-quality materials on the interior and exterior.
As for appliances, they are very nice. It has an oversized and deep residential sink, and you can get rounded walls, under-mounted sinks, and a recessed cooktop. The bathroom has a powered roof vent and a decent shower. Overall, it's roomy and comfortable, with a seven-foot ceiling and extra deep slides.
Nevertheless, at the end of the day, the big selling point is the affordable price of the Shasta Revere. You definitely get your money's worth. On the other hand, a company like Shasta that has been making trailers since the 1940s is pretty set in their ways. While they offer a lot of great amenities, there's nothing original here. Still, they've come a long way from when people used to call them a "toaster on wheels."
Pros
Get a lot of trailer for your money
Reliable and built to last
High-quality materials
Fully stocked with amenities and features
Cons
Rocks and moves even on a solid base
Nothing original that stands out
---
Recap: The Best Travel Trailers
Airstream Classic – Best Overall Trailer
Grand Design Imagine – Most Options
Happier Camper HC1 – Best Small Trailer
KZ Sportsmen SE – Best Lightweight Trailer
Shasta Revere – Most Affordable
---
Tips for Buying a Travel Trailer
Once you start looking for the perfect fifth wheel travel trailer for you, it's easy to get overwhelmed. Even if you're only trying to decide between the best travel trailers I've recommended, there's still a lot to consider.
Choose a Size That's Right for You
Think about how you're planning to use your trailer. Are you going to live in the RV full time or only some of the time? Does it have enough storage for everything you want to bring? Make sure the shower and bathroom are large enough for you and that the overall floor plan is right for you. How much space does the slide-out add? Whatever decision you make, you should get a travel trailer that fits your lifestyle.
Inspect for Damage Before Buying
Before buying, inspect the trailer both on the outside and inside. Walks around inside, looking at corners and opening cabinets. However, don't forget about the vehicle components, like the axles, breaks, tires, and rear bumper. Be sure to read Brian's guide on finding an RV inspector.
Make Sure You Have the Proper Towing Vehicle
The last thing you want to do is buy a trailer that is too heavy and not towable. Ensure that you have a vehicle that is rated to tow the weight of your trailer plus the weight of everything that will be inside it. A good rule of thumb is to add 1000 pounds to the total weight to account for the items inside it.
Set Aside a Budget for Repairs
Another thing to consider is your overall budget. Don't spend everything you have on the trailer without putting some funds aside for repairs, cleaning, and supplies. It's difficult to predict what you're going to need, and you'll have a lot more peace of mind knowing you can handle any issues you might have should it come to that.
If you're looking for additional specific recommendations, check out our other travel trailer guides:
Don't think you're ready to buy a new rig yet? Read our guide on the best RV rental companies.