Hey! This site is reader-supported and we earn commissions if you purchase products from retailers after clicking on a link from our site.
Adjacent to the majestic Joshua Tree National Park is a small town also known as Joshua Tree. What does that mean for you? Quirky activities for anyone looking for a fun desert getaway. If you are looking for recommendations about what to do in Joshua Tree National Park that go beyond the usual itinerary of hiking, you have come to the right place.
Hiking is still a wonderful activity, but here are some of the best things to do in Joshua Tree throughout the year. Some of them may surprise you! Let's get started.
Introducing Joshua Tree & Joshua Tree National Park
There are over 800,000 acres in Joshua Tree National Park, and many of those acres can be explored on foot, horseback, or by a 4WD vehicle. Because of this, there are many things to do in Joshua Tree that go beyond camping and hiking. You will see a land that has been chiseled and crafted by extreme weather, including snow, rain, wind, flooding, and scorching heat.
Yet, despite this climate, Joshua Tree National Park teems with animal and plant life. Throughout the year, you can spot herds of bighorn sheep, migratory birds, reptiles, and much more.
The surrounding towns include Twentynine Palms, Desert Hot Springs, Yucca Valley, and Pioneertown. During the hottest days or the rainiest ones, you can leave the park campground and find some things to do in Joshua Tree that go beyond outdoor activities. That includes fine dining, shopping, gallery-browsing, and much more.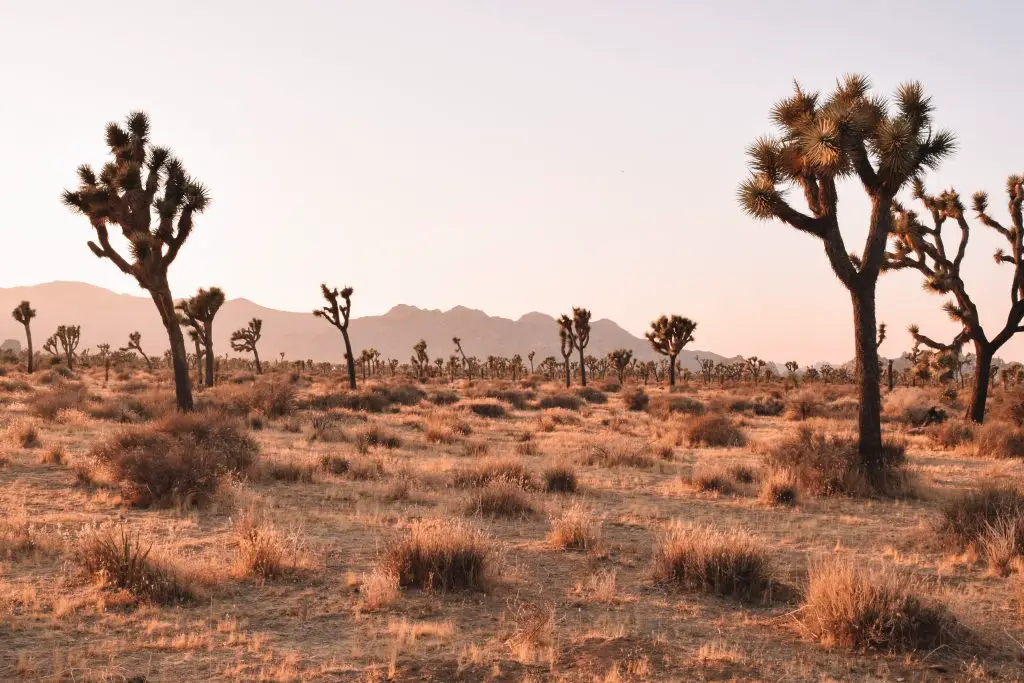 Where is Joshua Tree National Park?
Joshua Tree, California is more than just a place where you find a lovely national park of the same name. It is a region of southern California filled with mystery, fun, and outdoorsy things to do. Joshua Tree National Park is also located about 2 hours east of Los Angeles, is a short drive from Palm Springs, and is encircled by Interstate 10, Route 177, and Route 62.
You could potentially drive the entire loop in a day, making several pit stops while exploring the area.
When is the Best Time to Visit Joshua Tree?
If you are looking to visit Joshua Tree National Park, then you may want to consider visiting between March to May or October to November. The park is about 365 days of the year, so you can visit whenever you want, but the temperatures are most comfortable in the spring and fall.
In the wintertime, you can expect around 60 degree F days; at nighttime, the temperature drops 30 degrees. At higher elevations, Joshua Tree National Park also receives snow.
During the summer, the temperatures soar past 100 degrees F. Nighttime averages around 75 degrees F.
Joshua Tree Spring Activities
Springtime in Joshua Tree runs between March to May, which is also one of the best times to visit. For those who want to see the wildflowers, you can come as early as February to see them blooming at lower elevations. March through April, the flowers burgeon at higher altitudes. However, the number and quality of the wildflowers is highly unpredictable, so be sure to check the wildflower report that the rangers routinely update.
Here are all the things to do in Joshua Tree in the spring:
Visit Joshua Tree During National Park Week
On the first day of National Park Week, entrance fees are waived. Plus, there are usually a selection of events, interactive exhibits, and special programs planned in many of the national parks throughout the US, Joshua Tree included! Ranger Chats happen in the morning, as well as some exploration programs, such as Geology Rocks, an informational seminar about Joshua Trees, and more. Be sure to stop by a Visitor Center during this time to see what is happening at the park.
If you want to learn more about Joshua Tree National Park, consider visiting during this time!
Lay Yourself to Rest at a Fantastic Campground
Getting the most out of your trip to Joshua Tree means spending a few nights at one of the campgrounds. The campsites at Joshua Tree are some of the best you can experience, because they have amenities, as well as direct routes to some of the best scenery, hikes, and activities.
Take advantage of a campground in the spring. Not only will the areas be traversed with other campers and hikers, but you will be closer than ever to the wildflowers. Plus, the temperatures won't be so outrageous that your days and nights will be uncomfortable. Who knows, you might get the best sleep ever!
Here are some of the recommended campgrounds at Joshua Tree:
Hidden Valley Campground. If you want to do day hiking or rock climbing, choose this campground. It is first come, first serve. Joshua trees dot the campgrounds, as do rock formations. Both tents and RVs are allowed.
Ryan Campground. Sometimes called the Overflow of Hidden Valley, this is by no means a sparse campsite. The sites are spacious and positioned near many attractions.
Belle Campground. Close to Twentynine Palms, Belle Campground is popular for its tranquility, as well as its proximity to Skull Rock.
White Tank Campground. Located amid a landscape covered with boulders, this is the campground you visit for scrambling and privacy. There are no generators, and you cannot park an RV that is longer than 25 feet.
Want a campground that isn't first come, first serve? Try Indian Cove, Jumbo Rocks, Black Rock, and Cottonwood. They are farther removed from everything, but they do fill up less quickly. The only dumpsites in Joshua Tree can be found at Cottonwood and Black Rock campgrounds.
Go On a Tour of Keys Ranch
Once, a man tried to brave the less hospitable elevations of Joshua Tree National Park and built a ranch. You can visit the remains of William F. Keys' ranch—Keys Ranch—that was built in the early 1900s. The property can be toured between October and May then closes in the summer.
You can visit the house, store, schoolhouse, and workshop of this National Historic Register Site. However, you cannot get here alone. Only park rangers can show you the way.
This is fortunate, because the rangers know a lot about the ranch and surroundings. They can tell you a lot about William F. Keys, the struggles that the ranch faced, and the ingenuity that the Keys family employed to survive.
Try Out Your Rock Climbing Skills
Whether you have been rock climbing all your life or have never attempted scaling a rock wall, Joshua Tree has something for you. There are over 9,000 climbing routes scattered throughout the park. Some have been given truly memorable names, too, including Possessed By Elvis, Room to Shroom, Yabba Dabba Don't, Dangling Woo Li Master, and Breakfast of Champions.
If you are a beginner or have a bit of experience, the best places for you are around Quail Springs. Trashcan Rock is a mildly challenging beginner trek that gives you a taste for what Joshua Tree has to offer. Quail Springs also has plenty of shade to protect you (and your hands) from the sun. The only downside is that everyone heads to Quail Springs, so you may have to wait in line to climb the rocks.
Other beginner-friendly locations include Intersection Rock and The Eye. The latter has a tunnel that you climb out of, giving you incredible views of the sprawling desert.
For those looking for a challenge that gets the sweat pouring off your back, there are three amazing options: Saddle Rock, Lost Horse Wall, and Big Moe.
Saddle Rock features a 1,500 feet scramble that requires you to multi-pitch. Lost Horse Wall is one of the longest rock climbing routes, so be prepared. Lastly, Big Moe is the classic challenge that only the most experienced climbers should attempt.
See The Flourish of Color
As mentioned earlier, spring is when Joshua Tree is full of every color of the rainbow. The Joshua trees even bloom! Wildflowers, shrubs, and cacti all show off their finest blossoms during the spring. Although it is hard to say where you should go to see the flowers, the point is that you simply need to go. Generally, the region of the park along Cottonwood Spring and Interstate 10 are covered in massive swaths of wildflowers.
Expectt blues, purples, yellow, orange, red, and pink wildflowers scattered throughout the area. Some of the species of wildflowers include:
Desert Indian Paintbrush
Mojave Aster
Datura
Canterbury Bells
Birdcage Evening Primrose
Mariposa Lily
Chia
Ocotillo
Globemallow
Sand Verbena
The following film "Desert Wildflowers," shows off some of the best blooms of Joshua Tree National Park:
You can also check out the land around Cottonwood Visitor Center. There are thousands of Joshua trees throughout the area, and since they are smaller than others in the park, you can see the blossoms up close.
Sadly, the wildflowers only bloom in the right conditions. This requires lower temperatures throughout winter and plenty of rainfall. There have been years when there were hardly any flowers to be seen.
Summer in Joshua Tree National Park
The hottest time of the year is between June and September. Since the temperatures can soar above 103 degrees F, there are fewer visitors. This may be great for those who want the park to themselves, but you will need to take extra precautions when wandering around throughout the day. Ensure you have plenty of water with you. Avoid the more strenuous activities, especially during the hottest parts of the day.
Here are the best summertime activities in Joshua Tree:
Take Advantage of Free Entrance Day
There are several free entrance days for national parks throughout the year, Joshua Tree included. Those days include:
Martin Luther King, Jr. (MLK) Day
National Park Week (usually the third Saturday in April)
August 4th, commemorating the Great American Outdoors Act Signing
National Public Lands Day, on the final Saturday of September
November 11th, Veterans Day
Although the entrance fee to Joshua Tree is reasonable, getting in for free will make the experience a whole lot sweeter!
Check Out The Night Sky Festival
In September each year, Joshua Tree National Park holds a Night Sky Festival. The event is ticketed and takes place at the Sky's the Limit Nature Center and Observatory. There are activities for visitors of all ages. Even if you decide not to attend the festival, you can enjoy the beautiful night skies whenever you want.
Joshua Tree National Park is a Silver Tier International Dark Sky Park, according to the International Dark Sky Association (IDA). This means that you can visit Joshua Tree and not have to worry about light pollution while seeking out constellations.
Visit The Noah Purifoy Desert Art Museum
Does the artwork called 66 Signs of Neon ring a bell? Noah Purifoy built his masterpiece out of the rubble left behind by the Watts Rebellion. Purifoy continued to live around Los Angeles and Joshua Tree National Park. In order to honor his creativity and life endeavors, the Noah Purify Desert Art Museum opened up. The gallery is completely outdoors and free to visit (though donations are appreciated). There are dozens of stunning artworks to explore.
This is an excellent place to polish your photography skills, especially with Joshua trees in the backdrop. Plus, if you love art and are looking for something to do that doesn't involve a lot of physical activity, this is the perfect pit stop.
Drive to the Giant Rock
While the Giant Rock is located a short ways from the national park, it is a fun attraction to see. While the Giant Rock is just a rock geologically speaking, this massive freestanding boulder happens to be at the heart of many UFO stories. In the 1950s, people gathered around Giant Rock to await contact from extraterrestrials.
Besides, you can't help but be amazed by how colossal this boulder truly is. 7 stories tall and covering 5,800 square feet, the Giant Rock is, well, giant.
In 2000, there was a conspicuously loud BOOM and then a sliver of the Giant Rock came off. How and why this happened continues to be a mystery!
Visit the Integratron
Remember that story about the people who gathered around the Giant Rock in the 50s? George Van Tassel led them. Tassel was an ufologist and believed that aliens from Venus had contacted him, telling him to build a structure on a power spot in the desert. The result was the Integratron, a wooden dome that is purported to reverse aging and assist with time travel.
Unfortunately, Tassel never saw his work completed, as he died before the construction was finished. In 2000, some sisters purchased the Integratron and opened it to the public. While they don't believe the Integratron is capable of sending people through time, they do feel that there is something special about the acoustics of the place. For that reason, they use it for sound baths.
Yes, tucked away in the dome is an area for unrolling a yoga mat and listening to the vibrations of crystals, bells, and chimes. You'll be sent to another dimension…or fall asleep!
What to Do in Joshua Tree in the Fall
Another excellent time to visit Joshua Tree National Park is during the short autumnal season. The weather between October and November is the most pleasant (averaging mid-80s throughout the day); this also means the most people arrive during this time.
Here is what to do in Joshua Tree in fall:
Go Horseback Riding in Joshua Tree
As you may already know, there are over 250 miles of trails for horseback riding in Joshua Tree. This includes open desert, dry washes, and canyons. Many of the established trails are well marked, and they bring you through some of the most beautiful regions of the park. The most popular trails for horseback riding include Black Rock Horse Trails and West Entrance Horse Trails.
Fall happens to be the best time for horseback riding, because the temperatures are neither too hot nor too cold. You can enjoy perfect weather, less unpredictable weather, and long rides mainly to yourself and your trail guides.
One of the recommended ranches with Joshua Tree National Park excursions is Knob Hill Ranch. The horses and guides are friendly, knowledgeable, and make the day trip worth your while.
October Joshua Tree Musical Festival
There are two chances to enjoy the Joshua Tree Music Festival: May and October. However, the October festival is always the more popular of the two. The JTMF was founded by Barnett English and has been going on since 2003. There are dozens of bands joining in, but it's not just about the music. Expect nonstop coffee, yoga classes, a Zen atmosphere, and all kinds of activities throughout the day. You can order your tickets in advance from the official website.
Additionally, you don't have to worry about bringing the kids along. The festival is designed to be family-friendly. There is a complete schedule just for youngsters, so everyone can have a great time.
Go Bird-Watching
Due to the location of Joshua Tree National Park, there is wildlife from both the Colorado and Mojave deserts. The watering holes found in Joshua Tree tend to draw all kinds of birds throughout the year, but the best time to see the most variety is in the fall and winter.
Many birds migrate to Joshua Tree for the winter, including cedar waxwings, white-crowned sparrows, and juncos. Throughout the year, you can also spot red-tailed hawks, cactus wrens, the greater roadrunner, and a plethora of hummingbirds.
If you plan on bird-watching in Joshua Tree, the best spots include Cottonwood Spring, Oasis of Mara, Barker Dam, and Lost Palm Oasis.
Spend Some Time at the Institute of Mentalphysics
There are plenty of outlandish things to see and do in Joshua Tree, including the Institute of Mentalphysics, also known as the Joshua Retreat Center. If your chakras are feeling a bit misaligned or you need some serious "om" before your next big Joshua Tree hike, this is the place to go.
Located a short distance from the Black Rock Campground, this is a place where those interested in the new age and relaxation can gather. Despite the yoga-centered theme, the building itself is an architectural marvel created by Frank Lloyd Wright.
Best Things to Do in Joshua Tree in the Winter
The coolest days happen between December and February, when Joshua Tree National Park experiences winter. Daytime temperatures reach 60 degrees F on a sunny day, while nighttime temperatures plummet to freezing. The plus side to this is fewer people and loads of sunshine all to yourself.
Go On Great Winter Hikes
Looking for a fun winter activity in Joshua Tree? Try hiking! Sure, hiking is available in Joshua Tree whenever you want, but there is something different about a wintertime hike.
The highly recommended winter hike is the Hidden Valley Nature Trail. While the hike is short, you get to enjoy a loving picnic spot near the trailhead. The scenery unfurls before your eyes while munching on the granola bar or sandwich. It will be the most epic picnic you have ever had (or at least a close second)!
You can also visit the Barker Dam in the winter. The loop around the reservoir is marked clearly and connects to another path leading to the Wall Street Mill. One of the reasons this trail is popular in the winter is for the bighorn sheep. These majestic animals gather along the water's edge.
Enjoy a Glistening Winter Wonderland
Does it snow in Joshua Tree National Park? You bet! Though it can be rare. That means that snow is one of the best things to see in Joshua Tree, too. Imagine those whimsical Joshua trees covered in fresh powder! If you visit between December and late February, snow is always a possibility, especially at the higher altitudes.
Snow is common around Joshua Mountain, Pinto Mountain, Monument Mountain, and the Cottonwood Mountains. Generally, elevations between 1,500-2,000 feet receive snow, but the Wonderland of Rocks has been dusted with snow before, too.
This video shows you the wintry wonderland that Joshua Tree becomes whenever snow falls:
Become a Photographer
Winter is one of the best times of the year to take photos of Joshua Tree National Park. Since there are only 10 hours of daylight (and softer rays), the park is cast in a glow around the clock. You see some of the most breathtaking sunrises and sunsets in the winter.
The best places to take wintry photos in Joshua Tree include:
Keys View to Inspiration Peak
Skull Rock
Cholla Cactus Garden
Hidden Valley Campground
Wonderland of Rocks and Willow Hole
Arch Rock
Did you know that you can see the Milky Way in Joshua Tree? You can! The best place for that is Arch Rock, which is located near White Tank Campground. Follow the Arch Rock Trailhead for about 10 minutes then set up your place around the base of the rock formations.
Other Joshua Tree Activities That Can't Be Beat
When it comes to doing things in and around Joshua Tree, you will not be bored. Yes, exploring the park is extremely important, but there are other attractions to discover (as you have seen). Some of the attractions are available throughout the year and can be visited whenever you have the time.
Visit the Crochet Museum of Joshua Tree
Yes, it is a bit weird to find a crochet museum in the middle of a desert, but it is no mirage. The Crochet Museum of Joshua Tree is one of a kind and doesn't cost you anything to see their exhibition. Keep in mind that the museum is very tiny, but there are thousands of crocheted figurines and pieces of art that will blow your mind. Besides, you might feel inspired and decide to take up crocheting as a hobby!
Since the World Famous Crochet Museum is located on the main road and alongside other attractions, it is easy to stop in and enjoy the cuteness overload.
Head to Pioneertown
Back in the days of old Western films, Pioneertown was constructed to be a set for many movies. Today, some people call this quirky location their home. While on your way to or from Joshua Tree National Park, head on over to Pioneertown for some entertainment. The town is smack in the middle of a desert landscape (aside from the parking lot), so you won't miss it.
The best time to visit Pioneertown is during the peak season and on the weekend. During this time, the restaurants, artisanal shops, exhibits, and hotel are open for business. You can find all kinds of knickknacks to bring home as souvenirs. Sometimes there are gun shows, cowboys, and other Wild West themed events going on.
One of the highly recommended stops at Pioneertown is called Pappy and Harriet's, a music venue and barbecue restaurant. Many musical stars have found themselves on the stage at Pappy and Harriet's, such as the Arctic Monkeys and Paul McCartney. Keep in mind that this place is very popular. You will need to make a reservation for dining about 3 weeks in advance!
Spend an Evening at Smith's Ranch
Want something to do with the kids after a long day of exploring the desert? Located in Twentynine Palms, Smith's Ranch is a retro drive-in movie theater (one of the few remaining in existence). The whole ranch is full of nostalgia, including the murals. You can spend an evening watching two movies for $5, as well as snacking on a fine assortment of hot dogs, soda, and buttered popcorn.
The lot is relatively spacious and spread out, so the angle of the screen doesn't detract from your viewing pleasure. Plus, you can tune into the audio with your car radio!
The drive-in operates throughout the year, Thursday and Sunday. The new movie lineup begins every Friday.
Grab a Drink a Joshua Tree Saloon
A short walk away from the Crochet Museum is the brightly-colored Joshua Tree Saloon. You can't miss it with its chaotic arrangement of outdoor seating and quirky construction. The bar is one of the go-to places for a drink and pub food in the town of Joshua Tree, providing you an opportunity to meet some of the locals. When the weather is nice, the outdoor patio is the recommended place to take a seat, since you get to enjoy the view of the town and the park.
The Joshua Tree Saloon also has live entertainment on Wednesday, Friday, and Saturday evenings, as well as Sunday afternoon. Karaoke is held on Thursdays. Looking for comedy? Try open mic night night on Tuesday.
Go Off-Roading in Joshua Tree National Park
Driving around the desert is an attraction of its own. The vast emptiness of the desert, mixed with the plant life, sporadic art installations (like metal dinosaurs on Highway 62), and thriving towns makes for a fascinating and memorable drive. While you can enjoy a scenic cruise down the main roads encircling Joshua Tree National Park, there is another way to see the desert.

As long as you have a high clearance vehicle with 4WD and a great suspension, you are ready to go off the beaten path. There are a number of trails for off-roading throughout Joshua Tree National Park, such as Berdoo Canyon, Black Eagle Mine Road, Geology Tour Road, and Old Dale Road.
The Geology Tour Road is a combination of paved and dirt roads that takes you past Jumbo Rocks Campground and down in Pleasant Valley. You can pick up a printed guide at the beginning of the Geology Tour Road that tells you which places to stop.
Learn About "Hairstory"
It has already been established that the town of Joshua Tree is just as bizarre as the Joshua trees it was named after. That said, this unique establishment has to be one of the top contenders for strangest: The Beauty Bubble Salon and Museum.
Owned and operated by the self-proclaimed "hairstorian," Jeff Hafler, the museum is an eclectic assortment of beauty tools from throughout the years. You will see the wacky perm machines of the 1940s, old curling irons from the 1800s, and other treasures that you won't find anywhere else. Don't forget to grab one of Hafler's business cards—they are in the shape of a comb.
You can pop in whenever the salon is open and peruse the exhibition that Hafler has put together. If you are so inclined, you can also get a haircut. This is definitely a gem hidden in the desert, one that is sure to become a highlight of the journey.
Ready to Visit Joshua Tree?
Many people visit Joshua Tree assuming there is only Joshua Tree National Park awaiting them. That is not the case. Having seen some of the best things to do in Joshua Tree throughout the year, you can tell there is much more to the area than what meets the eye. In fact, you may find more attractions than what was listed in this article. Looks like it's time to plan a trip to Joshua Tree!
FAQs
1. Is there anything in Joshua Tree?
There is much more to Joshua Tree than one might assume. Joshua Tree and the surrounding areas are filled with hiking trails, campgrounds, museums, art installations and galleries, yoga retreats, an old Western film set, off-roading trails, horseback riding, bird-watching, and stargazing. Whether you are looking to learn about Joshua trees, catch a glimpse of a bighorn sheep, or drink beer at a Western-themed saloon, there are plenty of Joshua Tree activities to choose from.
2. What else is near Joshua Tree?
Joshua Tree is situated near the town of Twentynine Palms, Pioneertown, Yucca Valley, and several parks, including Joshua Tree National Park. Once you have completed your list of things to do in Joshua Tree National Park, expand your horizons by seeking out Giant Rock, the Integratron, Smith's Ranch, the Crochet Museum, and Pappy and Harriet's.