Hey! This site is reader-supported and we earn commissions if you purchase products from retailers after clicking on a link from our site.
RVshare is a company that allows RV owners to make income by renting out to customers who are not sure if they want to own one. You can travel the world with your loved ones by logging on to RVshare's website and choosing a vehicle that is perfect for you.
In this article, we give you a full rundown of the RVshare company (one of our picks for the best RV rental services), the rental pricing, the positives and negatives, and all the tiny details you might be curious about.
About the Company
Mark and his wife Rachel founded RVshare. Soon after they got married, they purchased an RV to celebrate their honeymoon and navigate through the country's most picturesque landscapes. They fell in love with it because it allowed them to enjoy the world at their own pace.
After they returned home, they figured out the downside of owning an RV, which was the mounting costs to maintain it. They felt like they were not getting the most out of their RV because it sat in their driveaway for a large part of the year. They then thought of an idea to rent out their RV to others to offset the expenses of it, and the concept of RVshare was born.
Today, the company is considered one of the world's largest peer-to-peer marketplaces for RV rental (similar to Outdoorsy), and it delivers solutions for over 60,000 RV owners across the United States. The mission of the company is to bring RV renters and owners together. They want the owners to be able to reduce expenses on their assets, and they hope that the renters can share the benefits without substantial upfront costs.
Pros and Cons of RVshare
Although RVshare is a big company, it creates a welcoming environment for both the renters and owners of RVs. Anyone who owns an RV can make extra money and list their RVs on the marketplace. The company gives the freedom of the owner to set their prices, parameters, and other policies.
It also enables the renter to choose from a variety of different options with a somewhat user-friendly interface. Once the renter is on the road, there are systems in place to make sure all their needs are taken care of. In the event of a vehicle malfunction or issue, there is a reliable 24/7 assistance phone line that is there for you when you need it.
RVshare Benefits
Here are the main points that we like about RVshare as a company:
All customers receive 5% cashback when they book future trips with RVshare
The owners who use RVshare get up to $1 million in protection for insurance reasons
RVshare offers renters the option for delivery and extra setup for a manageable fee
There is free roadside assistance that is 24/7
For the owners, there is no membership fee, and it is free to join the marketplace
RVshare Complaints
There is always room for improvement, so here are a couple of aspects of the company that could be better:
The user profiles are not complete and straightforward as what you would think, which makes communicating difficult at times
In less populated areas, there are not that many options
RVshare does not require renters to endure an annual DMV inspection for their RV
RVshare is not transparent about the insurance company that they partnered with
The RV Rental Process
For the most part, the RV rental process is simple and straightforward. When a prospective renter is searching for an RV, they start with a set of detailed search settings. There are options to filter based on location, features, and the type of RV.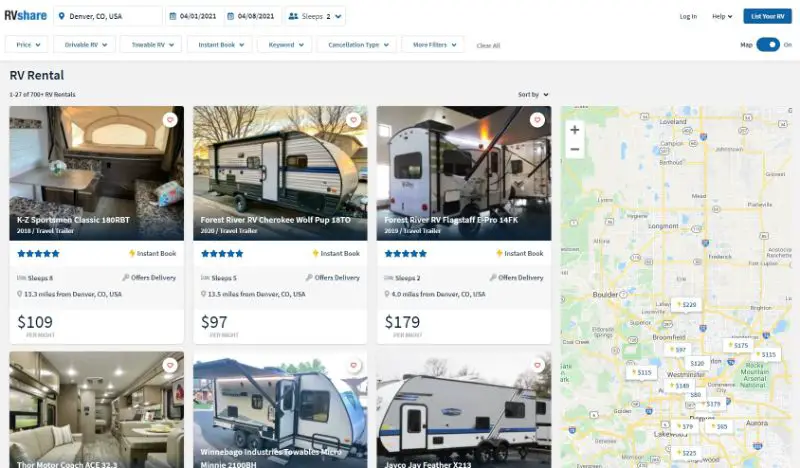 When the search results appear, you will see an organized list of cities and states, but not street addresses. You can browse the RV listings by the date available, and once you zero in on the location, you can choose your option.
You can contact the owner through an embedded messaging system and gain more clarification on the listing. Once you are all approved and good to go, you can click the "request to book option" and then anticipate the owner to either reject or accept. The chat forum is private, and the payment system is secure as well.
Once you pick up or have the RV delivered, the owner will give you a quick tutorial and demonstration on how to operate the vehicle safely. You are then free to hit the road and enjoy your experience. When you return the RV, you must ensure that you dump the different tanks, replenish the gas tank, and then return it to the owner on time.
We like the rental process because it is personable, safe, and honest. But the company does not require the users to fill out robust profile information, which could make it tough for prospective renters. Overall, most people have a positive first-time experience when navigating through the site.
RVshare's Available Rental Inventory
RVshare offers a wide selection of rental inventory. The renter can choose and filter your search results between Class A, B, and C RV rentals. The collection also includes toy haulers, pop-up campers, fifth wheels, travel trailers, and other diverse options for your choosing. Depending on the timing and part of the country you live in, there are usually thousands of listings that you can browse through.
Because you are going to operate expensive equipment in an RV, there are a few requirements before you can rent. You must be at least 25 years of age, own a valid drivers' license, contain at least three years of driving experience, and successfully pass a DMV check.
RVshare Pricing
Many factors go into the pricing of renting an RV through RVshare. Components like the make, model, and year will influence the price. How long you rent for determines the pricing structure too. There is also an extra fee built-in if you bring your pet.
The prices range on the website, but the average rate for the different RVs is as follows:
Class A: averages between $150 and $250 per night for older models and between $350 and $450 for newer models
Class B: averages between $100 and $200 per night for older models and between $200 and $350 for newer models
Class C: averages between $100 and $200 per night for older models and between $225 and $400 for newer models
Travel Trailer: averages between $50 and $125 per night for older models and between $125 and $200 for newer models
Fifth Wheel: averages between $60 and $150 per night for older models and between $150 and $300 for newer models
The RVshare company does not determine these rates, but they are under the discretion of the owners who list the RV on the site. Other types of pop-up cameras and toy haulers are more challenging to find, but they run slightly less than the fifth Wheel.
A great thing about RVshare pricing is that it is incredibly competitive with other services because the owners are not required to pay extra fees. While there are no hidden fees through RVshare, owners have the freedom to put in additional charges.
RVshare Insurance Coverage
The RVshare insurance coverage is impressive because it covers almost everything you could imagine. Here are the following events and issues that are covered under the renter's insurance policy:
A tree or limb falls on the RV
Animal collisions
A wind or hailstorm
Flood
Stolen RV
Vandalism
Fire
Lightning
The RVshare prices are published without the sales tax figured in, but here is a quick breakdown of rental insurance, depending on the value of the RV trailer:
RVs worth between $0 and $9,999: $9.95/day
RVs worth between $10,000 and $34,999: $17.95/day
RVs worth more than $35,000: $22.95 per day
Here is another quick snapshot of the renter's insurance rates for motorhomes:
RVs worth between $0 and $24,999: $19.95 per day
RVs worth between $25,000 and $99,999: $29.95 per day
RVs worth more than $100,000: $39.95 per day
Any RV that measures more than 36 feet in length is also subject to a $5.99 upcharge.
We believe that although the company does not tell you who they insure through, it protects both the renter and owner honestly. It covers a wide range of events, and the company is transparent about most aspects of the policy.
RVshare Roadside Assistance
The roadside assistance function of RVshare gives the renter another peace of mind. Unexpected things will happen, and it is always good to have a reliable helpline to call, which RV share provides.
Depending on what your issue is, there is a lot of helping hands that go into the roadside assistance. A quick list of services includes:
Towing service
Tire service
Battery service
Lockout service
Emergency supply delivery (wow!)
Extraction and winching service
The part that put this roadside assistance over the top was the emergency supply delivery. You never know when these things will happen, but it is good to know that the company could supply the necessities like gas, oil, water, and others.
RVshare Cancellation Policy
When it comes to the cancellation policy, the owners have complete control over the terms. The standard cancellation policy usually provides the option for a 100% refund if you cancel more than 30 days in advance. If you cancel within 14-30 days, there will be a 50% refund. If you decide to cancel within the last two weeks before the travel date, there will be no refund.
RVshare Customer Service
Apart from their fantastic roadside assistance customer service, RVshare provides many ways for you to get in touch with the help team. You can communicate with customer service via phone, online chat, or email. The company is also very diligent in responding to reviews, offer solutions if a question arises, and provide extra safety tips. Their response times are fairly quick too, unlike Cruise America.
Renting Your RV Through RVshare
The listing process for RV owners is laid out, and it makes it easy to get your rental noticed. You can list your RV by uploaded photos and a descriptive summary. The owner has the authority to decide on the security deposit, which shields for damages that are not included in the insurance.
As the requests come flooding in, the owner can communicate directly with the renters to agree on terms. After a quick in-person demo, the owner can then experience the benefits of making money while they sleep.
RVshare also offers to coach for the people who list RVs, backed by a squad of rental experts who help you optimize your listing, answer questions, and provide guidance to help you get the most out of the platform.
Conclusion
As you can see, the positives certainly outweigh the negatives when it comes to RVshare. The company was founded by people who wanted to see others experience the beauty of the outdoors. Backed by a marketplace of honest RV renters and owners, you are guaranteed to receive excellent value on a model that fits all your needs and desires. Like I said earlier, RVshare is very similar to Outdoorsy, so for more on the two, head over to my comparison: Outdoorsy vs. RVshare.
There is an RV out there waiting for you to drive it, and you can experience the fun by booking your rental today.