Hey! This site is reader-supported and we earn commissions if you purchase products from retailers after clicking on a link from our site.
If you're looking for an RV with room for the entire family, campers with bunk rooms are worth a look. The best bunkhouse travel trailers are space for four or six people to live full time while adventuring on the road. This generally means saying no to the pull-out sofa or the convertible dinette; these trailers have dedicated space for the kids to sleep and enough room that everyone has a little slice of privacy.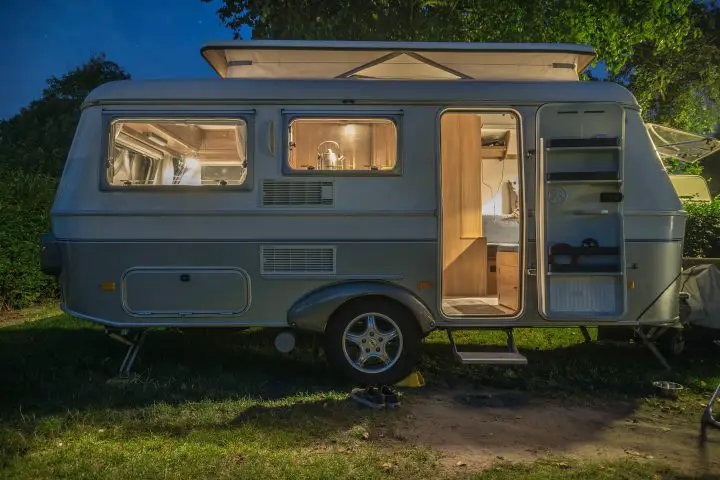 Table of Contents
What Is a Bunkhouse?
Simply put, a bunkhouse travel trailer has extra bunks. It's an important distinction, especially when looking at smaller, lightweight trailers. Many of these smaller towable RV models are made to be comfortable for a couple but not so much for large families. A bunkhouse travel trailer fixes this by adding a separate space with dedicated beds for the little ones.
Finding the best bunk room travel trailer for your family starts with striking a balance between the overall size of the trailer you can deal with and the amenities you need. Many of us would like to tow a fifth-wheel trailer or get a Class A, but it's not feasible a lot of the time. A bunkhouse travel trailer layout is a good place to start since it maximizes floor space and provides a little more privacy.
Advantages of Top Rated Bunkhouse Travel Trailers
Smaller, Lighter, Cheaper than Other Options
First off, most bunkhouse travel trailer layouts tend to be travel trailers. By adding more bunks and more rooms, a travel trailer can fit the bill for some campers. They provide enough amenities to keep a family of four (or maybe six) comfortable on long trips. But at the same time, they're easier to tow, small, and more affordable than a comparable fifth wheel or Class A coach.
Affordability gets better and better the smaller the trailer. If you can tow your travel trailer with the full-size SUV that you already own, you'll save money in the long run. Remember, you must tow fifth wheels with customized pickups, and Class A's are much more expensive altogether. So a bunkhouse travel trailer might allow you to skip all of these extra costs if you can tow it with the vehicle you already own.
Dedicated Bunks
Many trailer makers squeeze in an impressive number of bunks, but they have often shared surfaces. So, for example, a dinette might convert into a double, or a jack-knife sofa might pull out and make a large bunk.
In any case, all of these solutions are a pain. It means you've got to give up your sitting and dining area to get ready for bed. Furthermore, a daily set-up and break-down phase will become a time-consuming chore. These shared-use spaces are great solutions if you have occasional overnight guests, like an annual trip with the grandkids. But if you are looking for a daily solution, everyone getting their own bed is the key to family happiness.
More Privacy
Mid and larger-sized bunkhouse travel trailers will have the ability to close a door and shut off the bunkhouse travel trailer from the rest of the camper. For parents with small children, this gives the kids their own quiet space to rest, all while freeing up the rest of the camper and leaving the dinette and kitchen intact.
So how does it work in your family? Do the kids go to bed early, or do you rise and shine with the sun while the kids sleep in? These things are much easier if you've got a little more privacy.
In smaller RVs, bunks might not have their own doors or be in enclosed rooms. But just having a dedicated place where you can put your stuff makes a world of difference in terms of organization and planning.
Flexibility
Finally, the bunkhouse travel trailer layout provides many options for even those who aren't traveling with families. It might be handy if you travel with friends or guests one day. For day-to-day living, the bunk space is a welcome addition for storage. It's invaluable to have the option to put random stuff in a place that is out of the way and not taking up other living spaces.
Disadvantages of Campers with Bunk Rooms
Travel Trailer and Towing Woes
If you're comparing a towable to a Class A coach or even to a larger fifth wheel, keep in mind that towing a large travel trailer is still no trivial task. While these trailers are lighter and can be towed by some SUVs, they are by no means ultralights. If your vehicle's towing capacity isn't at least 5,000 pounds, you're probably out of luck unless you're looking for the smallest bunkhouse travel trailer out there.
And even though they can be pretty luxurious, you won't find as many amenities in these campers as you would in fifth wheels or coaches. These are budget-conscious starter RVs, and you aren't likely to find them decked out with washers and dryers, fireplaces, or even very large tanks.
Extra Size, Complexity, and Gross Vehicle Weight Rating
On the flip side, these trailers aren't small and simple, either. While some bunkhouse travel trailers are pretty small and light, there is no getting around the fact that it is an upgrade from the basic camper design.
If your second and third bunks are shared spaces, like sofas or dinettes, the total camper length can be much smaller. Unfortunately, you won't find bunkhouse travel trailer layouts available in the smallest travel trailers, and when you do find one, it comes at the cost of removing something else entirely.
True Overall Capacity
The next problem with these designs is that they can squeeze many people into a very small camper. The more people you carry, the more space you need for tankage, groceries, clothing, and supplies. So while you might be able to find campers that measure less than 20 feet with multiple bunks, will they provide enough space for everyone to camp comfortably?
It's much easier for families with small kids to use ultralight bunkhouse travel trailers. Older kids and teens are more likely to want their own space and greater privacy, requiring more space.
Another factor that makes a big difference is the lengths of trips involved. For example, does your group head out for a single overnight? Or are you hoping to spend weeks at a time on the road?
None of these things is a disadvantage, per se. But they do require looking at the camper as a whole package and objectively thinking about how it will suit your mission.
What Is the Best Bunkhouse Travel Trailer?
The good news is that quite a few manufacturers are offering a bunkhouse travel trailer model. These floorplans are popular–they are an inexpensive way to get the whole family on board. That makes them perfect starters and entry-level RVs.
It's difficult to say which is the best because every camper's needs are slightly different. Some are looking for an ultralight and minimalist camping experience. Others might be looking for some luxuries and a bigger rig.
Picking the Best Bunkhouse Travel Trailer
Once you know what a bunkhouse travel trailer is, you'll probably pin down exactly why you do or don't want one quickly. And in doing that, you'll likely know exactly what you need. How many bunks, what sort of space, and what does your budget look like for cost and overall size? Layouts vary considerably between model lines, even from the same RV manufacturer. The only way to find one that suits you is to go out and walk through some in the real world!
Amenities of the Best Travel Trailers with Bunkhouse Rooms
Number of Beds
Probably the first criterion will be figuring out exactly how many bunks you need. The fewer bunks you can get away with, the more spacious the camper will feel. After that, just make sure all of your family members, or whoever is traveling with you regularly, have their own private space.
Bunk Sizes
Of course, not all bunks are created equally. Many campers have smaller single bunks that are built for kids. Older children and teens might feel quite cramped and uncomfortable, so you'll want to be sure to spend some time in each layout and see how your family fits, literally!
Bathroom
Most trailers have just one bathroom to optimize space. Some models have stand-up showers only, but some have tub/shower combinations. If you are traveling with younger kids, you might prefer a bathroom with a tub for easy bathtime.
Bathroom location can be important to families. Some models have a bathroom close to the master suite, which is great for the parents but might be inconvenient for the kids. Others place the bathroom next to the bunk room, which is easier for the kids but might be harder for the parents. A centralized bathroom works well for all.
Kitchen
Most bunkhouse travel trailer kitchens feature a fridge, microwave, storage, prep space, and sink. However, you might prefer a kitchen with additional prep space and a large pantry if you are traveling long-term. In addition, some larger rigs have a kitchen island which gives more counter space.
Outdoor Kitchen
Most modern models feature outdoor kitchens. This is a great way to enjoy outdoor time as a family and keep the heat and mess of meal prep outside the RV. In addition, outdoor kitchens usually have an extra fridge, which is great for extending the time between grocery runs. Outdoor kitchens also have a sink and griddle or stovetop.
Dinette Seating
Small trailers usually have small dinettes, and this is one of the easiest ways you can gauge just how comfortable your family will be. Is there enough room for the family to eat around the table comfortably? While at the table, can the chef get to and from the kitchen easily?
These might sound like minor things, but you have to remember that it's easy for RV makers to add more bunks. It's much harder for them to create layouts that work for that many people. Can you realistically use the layout and be comfortable? That's the question you need to continually ask yourself as you compare layouts.
Dinette seating usually converts into extra own sleeping space, adding to the number of guests you can host.
Number of Slide-Outs
Slide-outs are an easy way to get more real estate inside the RV. It's especially useful with a dinette, but it's also handy in some bunkhouse travel trailer layouts where the bunkroom slides out for more floor space.
Slides add cost and complexity to a rig, however. As with all decisions when planning such a big purchase, you'll have to find the right balance. Make sure the expense of a slide-out is gaining you something. It should make a useable space that makes the camper feel more comfortable.
Bunkhouse Length
Most bunkhouse travel trailers are less than 40 feet long. The smaller and lighter the RV, the easier it is to tow. Shorter trailers are easier to store and find campground spaces for. Bunkhouse travel trailers on our list range from a tiny 13-foot trailers to a 39-foot trailers. The best shopping technique is to buy the smallest bunkhouse travel trailer that will meet your needs for the kind of traveling you enjoy.
National parks can easily accommodate RVs under 25 feet. An RV under 37 feet can access about 60% of parks, while only a small percentage of National Parks can accommodate trailers over 40 feet. If traveling to National Parks is on your bucket list, aim for a smaller rig.
Weight and Tow Capacity
If you already have a tow vehicle and don't want to trade up, pick an RV that matches your current vehicle. Most RVs advertise their empty weight. This weight doesn't include water or fuel in the tanks and personal gear. After you've loaded up the trailer, it will weigh more. Make sure you know how much weight your SUV can tow and calculate the actual weight of the trailer plus any liquids, RV accessories, and gear.
Tank Sizes
RVs come with several tanks. You'll have fresh water tanks, propane tanks, grey water tanks, and black water tanks. The bigger your tanks, the longer you can go without topping off and dumping out. However, bigger tanks also take up more storage space and add to your total towing weight.
If you plan on boondocking for weeks, look for a trailer with large tanks. On the other hand, if you plan on simple weekends at an RV park, you can get away with smaller tanks.
Separate Bunk Rooms
The bigger the trailer, the more space, and privacy bunk rooms will have. While you can find some very small campers that squeeze many bunks into short tow packages, the amenities are generally limited.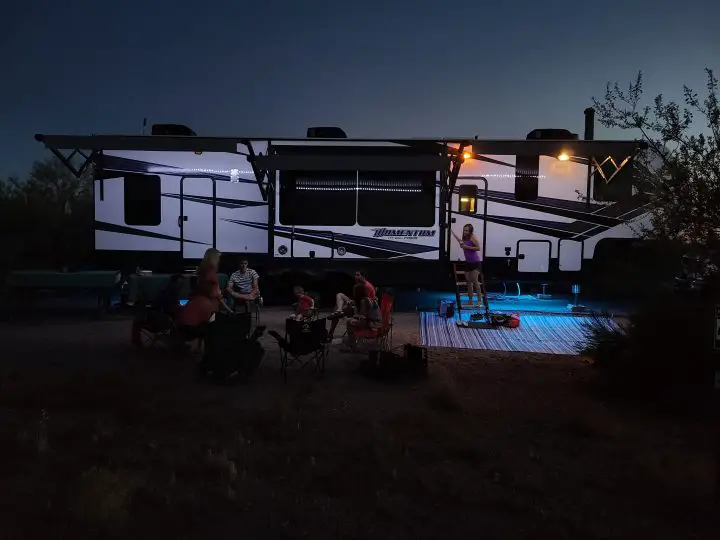 Bunkhouse Brands
Coachmen RV is a division of Forest River. Coachmen have been making RVs for over 58 years and is focused on enriching owners' lives. Coachmen RVs offer value with quality service and support.
Three brothers in Indiana founded Coachmen RV. Since then, Coachmen has sold over 600,000 RVs. They focus on delivering reliable RVs with great designs and features. Their RVs are simple and functional and have practical innovations that improve owners' lives.
Coachmen RV has a dedicated customer support center and provides 24/7 Roadside Assistance during the first year of ownership. In addition, TRA Certification awarded Coachmen RV a Green Certification to recognize their commitment to recycling, effective production techniques, and efficient materials.
A wonderful owner's association also offers resources, discounts, campground directories, and fun meet-ups.
You may recognize the Scamp name from our article on the best fiberglass travel trailers. Scamp Trailers manufactures adorable mini-trailers that are perfect for weekend travelers, couples, and small families. These trailers are truly lightweight, with the 13-foot trailer weighing in at 1,300 pounds. Scamp makes a 13-foot, 16-foot, and 19-foot trailer.
Scamp trailers are designed to be pulled with a regular family SUV. Scamp trailers are economical to buy, store, and drive. And thanks to their aerodynamic shapes, they are durable and adaptable. You can add a bathroom, A/C, awning, or upgrade to hardwood flooring.
Keystone makes quality trailers with great features. Keystone was founded in 1996 to build great RVs and provide unbeatable value. Keystone is America's number one manufacturer of towable RVs. Over a million Americans proudly own a Keystone RV. Keystone RV owners are supported by 5,000 team members.
Keystone uses Key Connect to support new purchasers in making their RV decisions. Their RVs feature quality features such as color-coded wiring, a Blade airflow system, and HyperDeck flooring. Keystone follows high manufacturing standards to ensure your trailer is built to last.
Keystone RVs come with a one-year limited base warranty and a three-year limited structural warranty. Keystone is dedicated to providing exceptional customer support. They have a large library focused on how-to and DIY videos to help owners stay on the road.
Jayco was founded in 1968 when Lloyd and Bertha Bontrager started building innovative camping trailers. The company kept growing and now owns several brands, including Highland Ridge, Entegra Coach, and Starcraft. Each brand has a unique line of models, but all are focused on high-quality, feature-packed designs.
Jayco has been awarded 77 Quality Circle Awards for reaching the highest Dealer Satisfaction Index ratings.
The Jay Flight has been America's number one RV seller for fifteen years in a row.
Jayco offers one of the best warranties in the business. Jayco offers a two-year limited warranty and a three-year structural warranty. Jayco's suppliers offer generous warranties, too. For example, Goodyear Endurance Tires have a six-year warranty.
Highland Ridge RV is part of the Jayco family. Highland Ridge focuses on creative solutions to make life on the road easier and more comfortable. Highland Ridge wants to ensure RV owners have a trouble-free experience. They focus on lightweight designs that are usually 10-15% lighter than the competition.
Highland Ridge RVs come with PVC roofing that is strong, flexible, puncture-resistant, recyclable, and reflects UV rays and solar heat. The roof has a lifetime limited warranty. In addition, Highland Ridge RVs have a three-year limited structural warranty and a one-year limited manufacturer's warranty.
Highland Ridge RVs have TravelLINK, a Bluetooth system that allows owners to control A/C, heat, awnings, slides, and lighting from their phones.
Forest River was founded in 1996 and manufactures a full range of motorhomes, travel trailers, fifth wheels, and more. Forest River is now one of America's largest RV manufacturers.
Forest River has production facilities throughout the West and Midwest. They can manufacture RVs according to customer specifications without rushing or cutting corners. Each RV undergoes a thorough inspection to ensure quality standards are met.
Each model is rigorously tested in a pre-delivery inspection building to ensure quality.
Forest River owners can join the Forest River Owner Group – FROG. This large group shares advice, tips, and memories to support and uplift new and experienced owners.
Prime Time RV is one of America's newer RV brands. Prime Time RV was founded in 2009 and aims to build RVs that exceed customers' expectations. Prime Time RV is part of the Forest River family.
Every Prime Time RV must clear a 125-point inspection before leaving the factory. Prime Time RV has won several "Best of Show" awards and DSI Quality Circle Awards.
Lance Camper was founded in 1965 and originally focused on truck campers. Today, Lance makes truck campers and ultra-light travel trailers. Lance is based in California and has a State-of-the-Art production facility. Lance makes eco-friendly, toxic-free RVs. Lance has won the Dealer Satisfaction Index nearly every year in the last decade.
Winnebago was founded in 1958 and is one of America's oldest RV brands. Winnebago is one of the field's most recognizable names and is known for producing high-quality RVs and offering great value.
Winnebago RVs feature quality craftsmanship, industry-first technology, an advanced parts supply system, and excellent customer support.
13 Best Bunkhouse Travel Trailers
The Tiniest, Lightest Best Bunkhouse Travel Trailer – Scamp 13 Small Trailer
The Scamp 13 is the smallest trailer you can get that also has a bunkhouse. The Scamp 13 is perfect for long weekends and adventurous families that want to get out, enjoy the road, and tow a light trailer with the SUV they already own.
The Scamp 13 has several layouts to choose from. Both the standard and deluxe versions have a bunkhouse travel trailer option. The Scamp 13 has a dinette that converts to a double bed. The forward wall can have a sofa that flips up into a bunk bed. The small kitchen has a sink, a two-burner stove, and a small refrigerator. You can add an optional dry flush toilet. The Scamp has a 12-volt water pump and a USB charging station.
Optional upgrades include a rooftop air conditioner, generator, solar panel kit, and outdoor shower.
If you want to have it all, upgrade to the 16-foot version and have both a bunkhouse and a private bathroom with a shower. The Scamp 16 weighs 1,750 pounds.
Features
Sleeps 4
1,300 pounds
13-feet
Truly towable with most SUVs
Economical
Easy to Store
The Swiss Army Knife RV – Keystone Passport Travel Trailer
The company calls its Keystone Passport travel trailer line the "swiss army knife" of RVs. This lightweight trailer series offers great functionality, features, and storage capacity. Keystone has made the Passport line for 15 years, and it keeps getting better.
The Passport is known as "the lightest of lightweights ."One model only weighs 4,307 pounds and has 20 cubic feet of storage space so that you can bring all your gear. In addition, the trailer has Pivot furniture that allows owners to easily switch between a booth dinette and a comfortable, sectional sofa.
Passport models have 80% tinted safety glass windows, a fully walkable roof, and Dexter E-Z Lube axles with electric brakes. Passports have large baggage doors with pass-throughs. Several models have outdoor kitchens with a 2-burner range and a mini-refrigerator. In addition, Passport models have power awnings and an outdoor shower with hot and cold water. Interiors have 110-volt outlets and are prepped for solar power and inverter use.
Interiors have durable vinyl flooring, night shades, residential window treatments, and Artic Teak woodgrain cabinetry. Other features include color-coded wiring, in-floor heating ducts, and 4G LTE and Wi-Fi prep.
Galleys have three burner glass-top stoves and a microwave. Passport models have A/C, heat, and a water heater.
The Passport is available in a few different bunk house layouts.
The 219BH is one of the smaller, lighter models. It is 25'6″ long and weighs 4,672 pounds. It has a bunkhouse, a murphy bed, and an outdoor kitchen. The 219BH sleeps seven.
Features
Sleeps seven
Outdoor kitchen
Three-year limited warranty
4,672 pounds
The 2951BH model features a super slide and an outside kitchen. This model weighs 6,430 pounds and is 33-feet 8-inches long. Impressively, it can sleep up to ten. This is the perfect model for traveling with your extended family. The 2951 model has a queen bed, a sofa sleeper, a convertible dinette, and bunk bed accommodations.
Features
Sleeps 10
Outdoor Kitchen
Three-year limited warranty
6,430 pounds
Lightest Weight Single Axle Bunkhouse Travel Trailer – Jayco SLX 7
The Jayco SLX 7 is one of the lightest bunkhouse travel trailers on the market. This 21'8″ trailer weighs just 3,135 pounds empty and has a single axle. It's easy and light to tow and is perfect for a small family looking to hit the road.
It features DiFlex II exterior material, a Magnum Truss Roof System, and Goodyear Endurance tires. The interior has solid wood cabinetry and brushed nickel faucets.
The SLX7 has a queen bed, a convertible dinette, and double bunk beds and can sleep up to five people. The kitchen has a fridge and microwave.
The Jayco SLX7 is perfect for long weekends or adventurous getaways.
Features
Sleeps 5
21'8″ size is easy to tow
3,135 pounds
Best Lightweight Bunkhouse Travel Trailer – Jayco Jay Feather Micro
The Jayco Jay Feather Micro is a fantastic lightweight trailer. There are a dozen models with different sizes and layouts.
The 171BH model fits a lot of options into a small, lightweight, easily towable trailer. The 171BH model weighs just 3,930 pounds, is 20'2″ long, and sleeps up to five. It has a queen bed, convertible dinette, and double bunk beds. The bathroom is surprisingly roomy.
The 171BH model has a great kitchen with a refrigerator and microwave and other features usually reserved for larger campers. For example, it comes pre-wired for solar panels and has a power awning. It also has exterior speakers and gorgeous outdoor accent lighting. In addition, the exterior has a rounded, aerodynamic profile to improve towing ease and efficiency.
This model is perfect for small families who are excited to travel together and enjoy the great outdoors.
Features
3,930 pounds
20'2″ long
Sleeps five
Power awning
All-Around Best Bunk Travel Trailer – Forest River Flagstaff Micro Lite 25BRDS
This trailer is under 26 feet long, weighs just 5,499 pounds, and is packed with features. This is the perfect bunkhouse travel trailer for families looking to hit the road in comfort while towing a manageable trailer.
The double 48″ x 72″ bunkhouse travel trailer is perfect as a kid's room, and there's plenty of room to store their toys and gadgets. The large 60″ x 74″ murphy bed folds into a sofa to make the best use of space.
The Micro Lite 25BRDS has a power awning, tinted windows, and magnetic compartment door catches. In addition, it has an outdoor griddle, outdoor speakers, and an outdoor hot and cold shower.
The interior has custom cabinetry, night roller shades, AC and heat, and a quick recovery water heater. The kitchen has a 12-volt refrigerator, microwave, and a three-burner range with a glass top cover.
Features
Sleeps Five
Comfortable, spacious floorplan
25-feet
5,999 pounds
Outside kitchen
Best Multi-Function Space – Lance 2185
This small trailer has a lot of options and features. It can be configured and re-configured to provide sleeping, living, and storage space. It's great for families or fishing buddies who are ready to hit the road searching for adventure.
The Lance 2185 has a walk-around queen-size bed. However, you can order a convertible sofa bed instead if you want to maximize utility. With the sofa bed, this space can be used as an additional living area during the day and turned into a comfortable bedroom at night.
The dinette is a slide-out that seats five and can be converted to sleep two. Impressively, the aft wall has triple bunk beds, so you don't have to leave your kids or friends behind. Each sleeping area has its own wardrobe, so everyone has private storage. In addition, the bunks can be reorganized so this space can store bikes or toys while underway.
The kitchen has a three-burner stove, oven, stainless steel microwave, fridge, and large sink.
Features
Sleeps seven
5,345 pounds
26'1″
Best 28-Foot Bunkhouse – Prime Time Avenger 24BHS
The Prime Time Avenger 24BHS has a great layout that perfectly suits many traveling families. The Avenger line features premium flooring, fabrics, and luxury details. In addition, it has a large U-shaped dinette that will comfortably seat the whole family for meals, movie time, or arts and crafts.
The queen-sized master bedroom has a walk-around bed and two wardrobes with plenty of storage. The rear bunkroom has large double bunks. The kitchen is well laid out with a large fridge, three-burner stove, microwave, and oversized stainless steel farmhouse sink. The Avenger 24BHS also features glass-fronted cabinets and a large pantry.
The Avenger 24BHS has a great outdoor area with a large awning and outdoor kitchen.
Features
One slide-out
28'2″
5,481 pounds
Outdoor kitchen
Best Lightweight 30-Foot Bunkhouse – Starcraft Super Lite 261BH
This 30-foot Bunkhouse has a great floorplan with a lot of space and features. The Starcraft Super Lite 261BH can sleep up to ten while still weighing less than 6,000 pounds. In addition, the 261BH is kid and pet-friendly, with easy-to-clean and maintain residential vinyl flooring and vinyl furniture.
The main bedroom has a queen-sized bed with under-bed storage drawers and two wardrobes. The main living area has a slide-out with a sofa and dinette. The large tri-fold sofa can sleep two, and the comfortable U-shaped dinette also converts to a double bed. The bunkroom has a double-sized bunk bed.
The large kitchen has a sizable fridge, microwave, stove top, oven, and large sink with prep space. In addition, there is a pantry for kitchen storage.
Families who love to entertain and enjoy outdoor living will love the outdoor kitchen with an additional fridge and stovetop. There's also a large power awning and an outdoor shower in addition to outdoor speakers.
Features
Sleeps up to 10
5,805 pounds
30'10"
Outdoor kitchen
One slide-out
Best 32-foot Bunkhouse – Winnebago Minnie 2801BHS
The Winnebago Minnie 2801BHS has a queen-sized master bedroom and offers many seating and dinette options. This spacious model sleeps up to 8.
The primary bedroom has two wardrobes, and the bunkroom has double-size bunk beds. A slide-out has a standard tri-fold sofa and dinette. You can exchange the sofa for either theater seating or a sofa with a chaise. The dinette can be exchanged for a table with chairs.
The spacious kitchen has a fantastic walk-in pantry with shelves. In addition, it has a large refrigerator, three-burner stove, microwave, large sink, and ample prep space.
The outdoor kitchen has a mini-refrigerator, cooktop, and sink. The Winnebago Minnie is a small, lightweight trailer with many features that is comfortable and easy to tow.
Features
Sleeps 8
32'5″
6770 pounds
One-year limited base warranty
Three-year limited structural warranty
Best Bunkhouse Travel Trailer Under 35 Feet – Coachmen Apex Ultra-Lite 300BHS
The Coachmen Apex Ultra-Lite 300BHS is perfect for families that want to travel together while still getting some privacy. The bunkroom sleeps four between one full bunkbed and one futon with an overhead bunk. The futon part is in a slide-out, which gives this room extra floor space. The bunkroom has a door and a wardrobe, making it a great kid's room with enough space for games and play.
The master bedroom is also private, with a walk-around queen-sized bed and two wardrobes. The main living area has a large convertible dinette, a sizable kitchen, and additional seating. The kitchen has a fridge, three-burner stove and oven, microwave, sink, prep counter, and plenty of storage in overhead cabinets.
Families will like the tub and shower combination in the well-placed bathroom.
The Coachmen 300BHS has a full outdoor kitchen with a fridge, storage, sink, drawers, and a stovetop. In addition, the exterior has a power awning and a hot/cold outdoor shower.
Features
Sleeps 10
34'5″
5,975 pounds
Best Half-Ton Bunkhouse Travel Trailer – Keystone 34TSB
The Keystone 34TSB is perfect for families planning to embark on an indefinite adventure. It has a king-sized master bed, a bunk bedroom, an additional bunk above the sofa, and a sleeper sofa. In addition, it has three slide-outs which add to the spacious feel of this bunkhouse travel trailer.
The primary bedroom has a comfortable king-sized bed and two wardrobes. It's immediately next to the large, shared restroom.
The main living space is large with two slide-outs. The kitchen has a large refrigerator, microwave, and massive amounts of counter space for prep work. The bunk bedroom has a slide-out that gives this room extra space for playing.
The Keystone 34TSB has a built-in bike rack and electric four-point leveling system.
The exterior has an outdoor kitchen with an extra refrigerator and a grill. To complete the outdoor area, owners will enjoy two electric awnings and an outdoor shower.
Features
Sleeps 11
8,547 pounds
37'5″ long
Three-year warranty
Outdoor kitchen
Three slide-outs
Spacious design
Large Bunkhouse with Deluxe Features – Highland Open Range 338 BHS
The Highland Open Range series is known for its high-quality design and luxurious features. These trailers are made for big families who don't want to compromise. The Highland Open Range series has TuffShell walls, strong roofs, and features like keyed-alike doors, TravelLINK Smart RV app, and Wi-Fi prep. There's no need to leave the comforts of home behind when you can take these comforts with you!
The Highland Open Range 338 BHS has the option of a king-sized master bed. It's prepped for a washer/dryer, an option that full-time traveling families will love. In addition, it has massive amounts of storage so you can take toys for young and old.
The bathroom is large with a roomy shower, sink, and toilet. The kitchen rivals a residential kitchen with a large fridge, three-burner stove, and attractive center island. You can even upgrade to a 21-cubic-foot fridge for additional cold storage.
The comfortable, U-shaped lounge area has two tables and is great for working or relaxing. Families will love the cozy fireplace and large TV.
The bunk room is a great place for kids to hang out and has plenty of floor space for games.
The exterior has two power awnings and an outside TV hookup. Families will love the outdoor kitchen with a fridge, sink, griddle, and a BBQ hookup.
Features
Sleeps 9
39'10"
10,415 pounds
Fireplace
Outdoor kitchen
Top Bunkhouse Travel Trailers Make Family Outing Easy
Bunkhouse travel trailers are the perfect starting place for families. Trailers allow an inexpensive way to get a taste of life on the road, and you can go as simple or as luxurious as you like. And even if you don't have a big group for traveling now, bunk rooms can provide extra privacy and more gear or workspace options.
FAQs (Frequently Asked Questions)
What are the worst travel trailers?
The worst travel trailers are the ones that aren't suited for your current lifestyle. For example, if you buy a trailer that is too big for the weekend getaways you have planned, it might seem overwhelming. But it might seem cramped if you have a trailer that's just too small for a growing family.
What is the shortest travel trailer with a bunkhouse?
The Jayco Jay Feather Micro 171BH is 20'2″ long and is the shortest travel trailer with a bunkhouse. There is also the Scamp 13, a 13-foot fiberglass camper, available with a convertible sofa bunk on the forward end.
What are the Top 5 RV trailers?
There are countless RV manufacturers, and they all excel at different things. Unlike cars, which all more or less do the same thing, it isn't easy to rank RVs in a meaningful way when they are designed so differently. One of the most meaningful ways to rank any consumer item is with customer satisfaction. Some RV makers renowned for their customer satisfaction are Oliver Trailers, Airstream Trailers, Grand Design RV, Winnebago, and Casita.
If you want to rent first, make sure you rent from the best RV rental companies.