Hey! This site is reader-supported and we earn commissions if you purchase products from retailers after clicking on a link from our site.
In some cases, the best solution for camping and RVing is getting a travel camper and linking it to your truck or mini-RV instead of getting a full-size RV.
Bunkhouse travel trailers are an excellent way to ensure that your family and friends have plenty of sleeping space when you hit the road. The "bunkhouse" literally means bunk beds – these are travel trailers that have a room with two or more bunk beds.
The sheer variety of manufacturers and models can be overwhelming to someone making a travel trailer purchase for the first time. It helps to be able to narrow your list down to a few suitable models.
That's what I intend to help you do with this article. I compiled a list of the five best bunkhouse travel trailers, each representing a different category. There's also a buyer's guide with the main factors to consider when buying travel trailers.
Hopefully, by the end, you'll be confident that you have the information to choose the right bunkhouse travel trailer for your needs.
Our Top Picks for Bunkhouse Travel Trailers
| | |
| --- | --- |
| Trailer | Category |
| Keystone Passport Travel Trailer | Most Features |
| Forest River Micro Lite | Most Floorplans |
| Jayco Jay Feather | Highest Rated |
| Starcraft Mossy Oak | Most Spacious |
| Jayco Jay Flight SLX 7 | Best Small Trailer |
In-Depth Reviews of the Five Best Bunkhouse Travel Trailers
Here is a deeper look at the five best bunkhouse travel trailers and what traits make them the best in their category.
Most Features
Keystone Passport Travel Trailer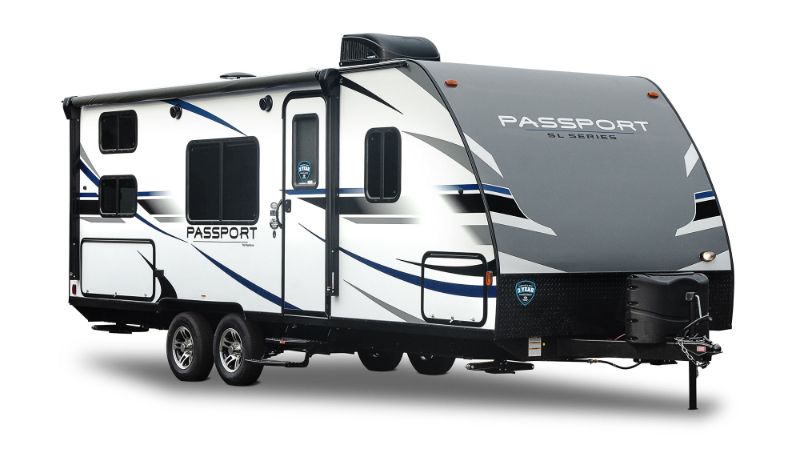 Keystone RV is well-known for making reliable trailers with plenty of features, and the Passport Travel Trailer lives up to that reputation. The exterior features welded aluminum-framed sidewalls coated with laminated gel. The floor also has aluminum framing. It is a full two inches thick, making it very sturdy compared to the competition.
The Passport's interior has many attractive features, including a spacious dining area, a large rear window, and a U-shaped dinette. There's a space for a flat-screen TV next to the kitchen, a queen-sized bed, dual wardrobes, and a full bathroom.
There are also some practical traits to love. For example, the insulated undercarriage is solid, and the design includes dual propane tanks for your fuel needs. There are also tanks for fresh, grey, and black water, and the insulation means nothing will freeze in colder temperatures.
Pros
Contains a queen-size bed
An attractive layout
Well-placed propane tanks and multiple water tanks
Sturdy flooring
Cons
The over-stove fan doesn't vent outside
Not good value if you do not need all the features
Most Floorplans
Forest River Micro Lite
Forest River Micro Lite travel trailers are easy to tow for most pickup trucks due to their use of lightweight materials. These trailers are also attractive because they come with many different design options.
The list of features is also impressive. You get a slate wood interior, a power awning, LED TV with a multidirectional antenna, an outside speaker Wi-Fi ranger, and even a skylight in the bathroom.
But my favorite thing about this particular model has to be the sheer variety of floorplans it provides. You can choose from 11 different floor plans of different sizes, some of them as large as 26 feet. Some of the designs have unique features, such as an outdoor kitchen.
Pros
Includes high-end features in a lightweight package
Many different floorplan options, including some very unique designs
Made from ultra-light materials
Cons
Some options, such as the outdoor kitchen, may be impractical for some users
The placement of some elements, such as the water heater, which is near the exhaust system, can cause issues
Highest Rated
Jayco Jay Feather
The Jayco Jay Feather is the best option for people seeking ultralight RVs. It has Tuff Shell vacuum-bonded laminated walls on the front and sides. The slideout walls and floor also feature the same quality materials.
The Jay Feather comes in a variety of body styles and floorplans, each suited for different needs. These include slideout, expandable, and bunkhouse models. One of the most popular models is the Jay Feather 27BH, which has family-friendly floorplans, sleeping space for six, a jack-knife sofa, and an outside kitchen.
This particular RV rates very highly on most RV ratings sites, with many consumers praising it for its mix of affordability, lightness, and features. That said, the construction quality may not be the most resistant to environmental conditions. So if you need something that can stand up to harsh weather conditions, you may want to look elsewhere.
Pros
A lightweight that is easy to pull
Lots of high-end features
A variety of floorplans, including some that can sleep up to six people
Cons
Durability is questionable in harsh conditions
Most Spacious
Starcraft Mossy Oak
Starcraft's Mossy Oak RVs are more than a century in the making. The company has been around since 1903 and has garnered a reputation for quality over its lifetime.
The craftsmanship of Starcraft is unmatched. One of the essential aspects of the company's image is how well they manage to make their trailers seem spacious, no matter the exterior size.
Starcrafts also stand out when it comes to quality. The appliances are stainless steel, there's solar compatibility, and you also get classic touches like pleated shades.
The flexible LP lines and the Magnum roof system also ensure reliability and durability for years.
Pros
Mossy Oaks are very spacious
Extremely durable exterior
Quality interior appliances and fixtures
Cons
On the pricey side
There are lighter options on the market
Best Small Trailer
Jay Flight SLX 7
The SXL in this trailer's name stands for 'single axle', and the 7 is a reference to its seven-foot width.
This Jay Flight model is pretty spacious for an adventure trailer, and it's exceptionally durable too. It has a Magnum Truss Roof System, Goodyear Endurance tires, and DiFlex II material for the exterior.
Despite its small stature, this trailer brings quality features. Cabinet doors are solid wood, and the faucets are brushed nickel. There's a multimedia sound system with input jacks and Bluetooth connectivity for your tablet or mobile device. There's also a digital TV and a microwave oven for space-saving cooking.
Pros
High-quality accents
Easy to control because of small size
Well planned despite the size
Durable exterior
Cons
Some aspects of the build quality, such as the bed frame, do not match the quality of the rest of the trailer
---
Recap: The Best Bunkhouse Travel Trailers
Keystone Passport Travel Trailer – Most Features
Forest River Micro Lite – Most Floorplans
Jayco Jay Feather – Highest Rated
Starcraft Mossy Oak – Most Spacious
Jayco Jay Flight SLX 7 – Best Small Trailer
---
A Buyer's Guide for Bunkhouse Travel Trailers
Travel trailers are RVs that you can tow instead of drive. They combine the best of RVs, which are luxurious and spacious, with the flexibility of a trailer.
Travel trailers are popular because of their versatility. By most measures, they are the most popular type of towable RV.
One of the side effects of this popularity is that there are many styles from teardrop campers to toy haulers to popup campers.
I will focus, however, on the simplest option: the bunkhouse travel trailer.
These travel trailers have strong, solid walls, lots of space, and numerous features. Bunkhouse RVs have dedicated rooms or slide-outs that pull out to expand or enhance the living area.
Bunkhouse travel trailers fall into one of three categories.
Lightweight Travel Trailers
These trailers are the smallest option. They range between 10 feet and 30 feet in length and are about seven feet wide. They also weigh less than 3,000 lbs. Lots of them have slideout and popup features to expand on the living space when set up. They typically cost between $11,000 and $30,000.
Small Travel Trailers
These trailers range between eight feet and 20 feet in length by about seven feet wide. They typically weigh less than 5,000 lbs. Lots of them expand on that living space via popup and slideout features. They cost about $30,000 on average.
Luxury Travel Trailers
Luxury travel trailers are by far the largest of the bunch, ranging between 25 feet and 40 feet in length and 5000 lbs to 8000 lbs. These trailers never spare any expenses or features, so you can expect them to have a ton of amenities.
Their price also matches their label; the vast majority of them cost $50,000+.
Factors to Consider When Purchasing a Travel Trailer with a Bunkhouse
So what factors should you look for when purchasing a bunkhouse travel trailer?
Weight Capacity of Your Vehicle
A major factor to consider is your truck's towing capacity. That will be a limiting factor in how large your travel trailer can be. Limit your search to options with a gross vehicle weight rating below your truck's maximum towing capacity, just to be safe.
An interesting thing to note here is that so-called light travel trailers, or even 'ultralight' travel trailers, are named like that due to the materials used, not necessarily their total weight. A lightweight travel trailer might still be too heavy for your truck.
In case you haven't bought a truck yet, and are making the truck and trailer purchases simultaneously, then it's a good idea to pick your dream trailer and then purchase a vehicle capable of towing it.
The Number of People Sleeping in the Trailer
One of your biggest priorities should be the number of dedicated beds you need to have in your bunkhouse travel trailer. You don't want to go through the hassle of converting some area, such as the dinette, into a bed, or having to pull out the sofa at night so someone can sleep on it.
A quality bunkhouse travel trailer should comfortably accommodate everyone in a dedicated sleeping space.
A particular thing to take note of is your future family needs. Maybe your little child fits on the sofa right now. However, kids grow fast, and you do not want to purchase another trailer in the future. It's best to plan so you can grow into your trailer rather than growing out of it.
The Amount of Gear You Plan to Bring
You want a travel trailer that can accommodate all the gear that you want to bring. Make sure whatever trailer you purchase can hold cooking gear, kayaks, bikes, sports utility vehicles (think ATR's and the like), and lots of other stuff you might want to bring with you on your trip.
Your Budget
While this comes last on my list, it should be your very first consideration. A new trailer costs between $11,000 and $35,000 on average, depending on factors like the materials used, floorplan, size, amenities, and features. Some of them can cost up to $150,000.
Used ones might cost less, but you will have to factor in the condition of the used trailer.
Final Words
Bunkhouse travel trailers are a flexible option for people who want the comfort of an RV without purchasing a full RV. These options come in various shapes and sizes and have a ton of different features. Bunkhouse travel trailers are ideal for families or people who want the freedom to customize their trailer layout.
Hopefully you have a good understanding now of some of the top options out there and what to consider. Don't hesitate to shoot us a message if you have any questions.
Looking for more travel trailer recommendations? Check out our other top picks:
If you want to rent first, make sure you rent from the best RV rental companies.