Hey! This site is reader-supported and we earn commissions if you purchase products from retailers after clicking on a link from our site.
There is nothing better than cruising on the open road in your RV. You get to experience unique areas of the country, take in picturesque views, and spend quality time with the ones you love. A successful road trip is one without worry or inconvenience. You should be able to go at your own pace and experience life the way it should be.
Table of Contents
Half the battle is booking your trip and interacting with the company that rents out the RV. In this article, we provide insights into the quality, operations, customer care, and rental experience with Cruise America. There are both good and bad things about the company, but ultimately, you're better off going with a company like RVshare or Outdoorsy – two of our favorite RV rental companies.


About the Company
Cruise America was founded in 1972 by a Florida native by the name of Robert Smalley Sr. He wanted customers to reap the benefits of an RV without experiencing the hefty price of purchasing one outright.
Cruise America is the country's biggest RV rental companies with over 132 locations and 300 employees combined in the United States and Canada. The company is still family-owned because Smalley's sons are fulfilling the positions of both the CEO and President.
While the sons lacked experience coming straight out of college, they learned from their father and have grown the company into what it is today. Their strategy is categorized as aggressive and proactive. The leadership tries its best to anticipate what the market says and then correct small issues before they become disastrous problems in the future.
Pros and Cons of Cruise America
While the Cruise America RV brand is well-known throughout the country, a big knock is that the company is growing faster than it can handle.
The shortened staff has weaknesses in the areas of maintenance and customer service. The maintenance team needs to work extra hard to have the vehicles ready for the next reservation, which can sometimes backfire. When it comes to customer service, an overwhelming amount of cause can sacrifice the joyous interaction that customers seek when renting an RV.
Because the company has a significant market share and presence, it can offer a better price than most of its competitors upfront. There are also promotions that customers can enjoy at certain times of the year, along with individual insurance advantages.
Here are some more benefits when renting from Cruise America RV:
Competitive prices on the market due to a massive inventory and presence across the nation
Special offers for early bookings for customers
There are both 1- and 2-way travel options
There is a $0 deductible option if the vehicle gets damaged
Wide range of availability because of the massive fleet
Here are the drawbacks of the customer experience with Cruise America RV:
If there are a lot of people renting at once, customer service can be extremely lacking during peak times
There are limited models of RV (only three compared to 5-10 options with competitors)
There are few unique options at the counter
No airport or extra transportation options are available
The company is closed on Sundays
The RV Rental Process at Cruise America
The RV rental process with Cruise America contains a simple and straightforward interface. When you are on the rental page for the website, you can check the potential pricing by merely typing your city, state, departure, and arrival dates.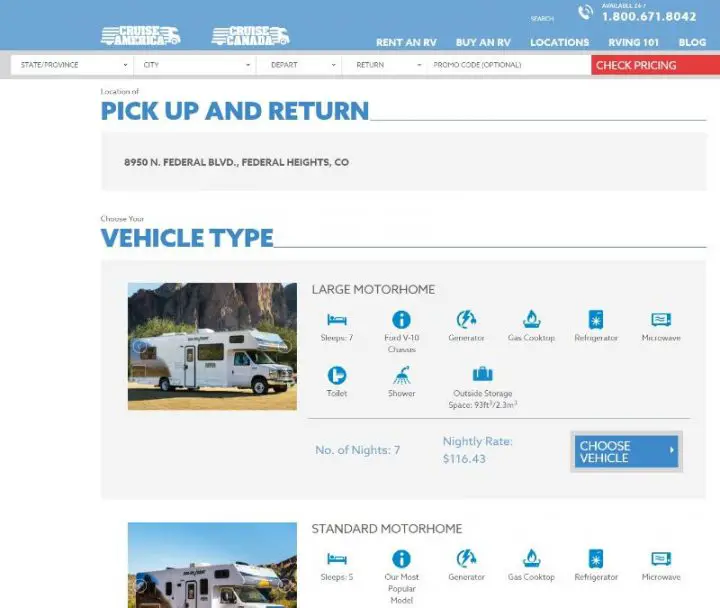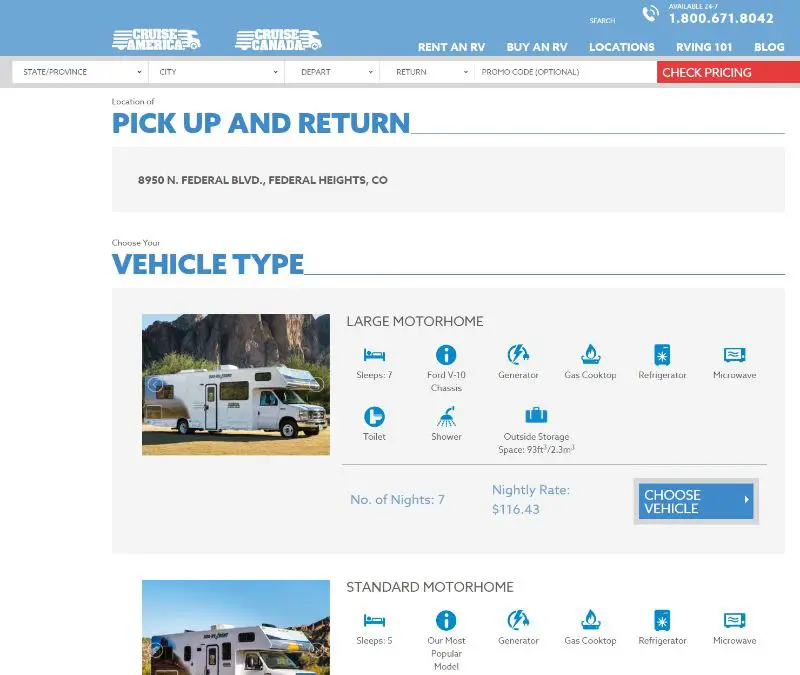 There are sections to browse the different types of RVs, and it lists what is included with each. You can also browse from a list of rental locations, which notify you of the inventory selection. The downside is that the choice is somewhat limited in most parts of the country. You are not guaranteed to always find the model you want because of your location.
The rental page also gives you a quick snapshot of the different rental deals, including half-price miles, 20% off in Canada, enjoying a free night on the company, and other one- and two-way specials. The company also offers you free insurance, a 110-point inspection, and 24-hour emergency services.
Once you fill out your information, select the RV you want, and pass a background check, the company gives you a pickup delivery time and location. This time does not always get honored, however. There have been multiple cases of people who did not receive the RV on time and were heavily delayed for their trip.
The pickup and drop-off time windows are also very narrow. You can only drop off the vehicle between 9 and 11 am, and there is a late fee of $25 per hour if you do not return the RV during this time window. Customers are also held liable for any mechanical damage because of "negligence" during operation, which ends up turning into a "he said, she said" battle if it comes down to it.
The main thing that Cruise America needs to fix here is to budget more time in between rental centre appointments. That way, people are guaranteed to leave when they plan to. An increase in maintenance and customer service staff can also help keep customers satisfied during peak times of the year.
Cruise America Available Rental Inventory
The rental inventory with Cruise America is somewhat limited. Many customers also complain that the RVs are never stocked with any necessities, even toilet paper, and coffee pots. Below are the following options for RV rentals with Cruise America:
Large RV: holds a maximum of 7 people and is a traditional motorhome with self-sustaining features for a family-sized unit
Standard RV: holds a maximum of 5 people
Compact RV: allows for a maximum of 3 people, with a rear kitchen and all amenities featured in a larger unit
Truck Camper: this rental option is connected to an F-150 truck, which makes it easy to transport for beginner-level renters
Cruise America Pricing
While Cruise America's prices are manageable because of the size of the fleet, some extra fees are not included in the rent price. There is a generator fee of $3.50 per hour that is collected at the end of the trip, which can add up and bill you twice. If the interior of the vehicle is still dirty, the company has the right to assess a charge of $250.
The renter is also required to empty the holding tank before returning the RV, which could mean an extra charge of $50 if this is not done. An environmental fee is also tacked on at the end. Overall, there are a lot of backend charges that cause headaches later, but here is a list of prices for the different models:
Large RV: approximately $90 per night
Standard RV: between $80 and $165 per night
Compact RV: between $65 and $150 per night
Truck Camper: between $55 and $140 per night
Cruise America Insurance Coverage
The insurance coverage for renters might be one of the high points of the company. The company provides coverage policies in the three different sections, which are over the smallest amount of automobile coverage against a 3rd party.
The details in the rental agreement are highlighted by Supplemental Liability Insurance, which provides liability insurance under $1,000,000 for rentals in the United States. There is also a maximum responsibility of up to $1,500 in the event of vehicle loss or damage. Lastly, there is a plan for expense reimbursement of up to $3,000 if there is a breakdown mechanically.
Cruise America Roadside Assistance
Cruise America offers a 24/7 roadside travelers assistance number that all people can call. While they can be timely and responsive to your needs during the slower seasons, the busy times are a different story. There are unfortunate stories about people who had to wait up to 5-6 hours for a tire repair because the company did not want to replace it right away with a higher-priced tire.
Cruise America Cancellation Policy
The cancellation policy is consistent and fair for customers with Cruise America, compared to its competitors. You can cancel and receive a full refund if you cancel at least a week before the start date. Any less notice than seven days will result in the forfeit of the initial reservation payment. There is also no refund on any one-way RV rental cancellations.
Cruise America Customer Service
During the busy seasons, the customer service teams are often overwhelmed with a massive influx of bookings, which takes away from meaningful interactions. The staff is trained to be polite and courteous, but that is not always the case. They are sometimes inconsistent with delivering your RV on time, which limits your enjoyment.
Conclusion
As you can see, Cruise America has the infrastructure and fleet to deliver competitive prices with its listings. But turnover and staff support inconsistency hurt the company from a service standpoint. There are insurance coverages that help protect the renters, but there are many other hidden fees that can raise the cost of your trip, which gives you an unexpected financial surprise at the end. If you want to opt for a more traditional RV rental company, I think El Monte is a better deal than Cruise America.
If you want a more personable and smooth booking process with actual RV owners instead of a corporate company, check out RVshare or Outdoorsy. Because an individual owner backs each RV listing, you are more likely to find better quality in the experience. The customer service team is also very competent and offers you unique solutions. You deserve to rent stress-free – good luck on your adventure!