Hey! This site is reader-supported and we earn commissions if you purchase products from retailers after clicking on a link from our site.
Pop up campers are fantastic for quick camping trips, especially as the weather is warming up.  They offer a great middle-ground between full-on RVing and tent camping. However, with numerous options to choose from, finding the best pop-up campers can be challenging. Fortunately, we've done all the homework for you. Read on to learn more about what to look for in a pop-up camper and explore some of our top picks in the best pop-up campers section.
Table of Contents
Top Picks for the Best Pop-Up Campers
| | |
| --- | --- |
| RV | Category |
| Quicksilver 8.0 Camper | Best Lightweight Camper |
| Jayco Jay Sport Pop Up Camping Trailer | Most Luxurious Camper |
| Forest River Flagstaff | Most Options |
| Coachmen Clipper | Best Small Pop Up |
| Starcraft Comet | Best for Families |
| Air Opus 4-Sleeper Camper | Easiest Setup |
Deeper Details on Our Recommendations
Below, we dive into all the nitty-gritty details for each of our top picks.
Best Lightweight Camper
Quicksilver 8.0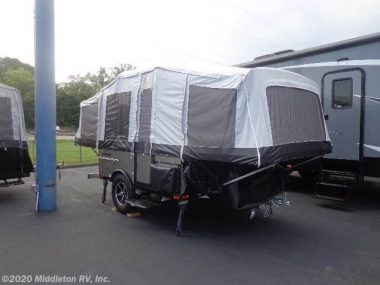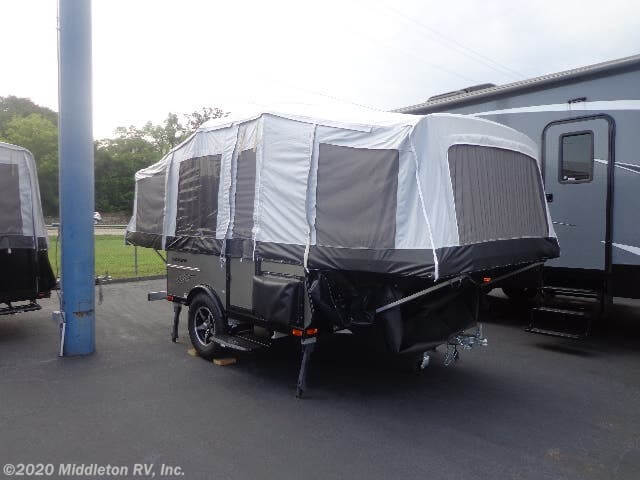 The Quicksilver Tent Pop-Up Camper is an excellent choice for a group of friends or a family looking to get away. It's available in six colors and features a fiberglass exterior. You also get to choose from four-floor plans depending on your preferences.
Apart from being affordable, the camper comes with a sleeping capacity for three to six people.  It weighs about 92-186 pounds with the dry hitch and an unloaded weight of 694-1106 pounds The 12-inch tires ensure its stability.
One outstanding aspect is the aluminum construction that makes the Quicksilver pop-up camper lightweight. That makes handling and maneuverability easier. You won't have to struggle with setting up the pop-up camper as it comes equipped with pre-wires for solar, a swivel jack on the tongue, and stabilizer jacks to make setup simpler.
Inside are lightweight countertops, crack-proof linoleum, aluminum cabinetry, and under-seat storage for extra comfort and usability. The exterior has a tubular aluminum frame with vacuum-bonded walls. These walls are laminated with composite for longevity and weather protection.
On the downside, the towing feature requires an improvement. It also lacks a screen room option, but this is available to buy separately.
Pros
Lightweight and durable design
Has laminated floor and storage compartments under the seats
Fitted with alumni cabinetry
Comes with aluminum rims, nitro-filled radial tires, and diamond plate exterior trim
Cons
First-timers may find the setup time consuming
Lacks a screen room option
Most Luxurious
Jayco Jay Sport Pop Up Trailer
The Jayco Jay Sport Pop Up Trailer redefines luxury with its high-end quality features and fantastic interior. Inside is wall-to-wall vinyl flooring and sinks made of acrylic. The stove is stainless steel, and you can use it both indoors or outdoors.
If you're planning to spend more time at your campsite, you'll love the residential cabinetry that allows you to stash more items to ensure you are comfortable. The dinette with reversible cushions is an added advantage.
Another area where this pop-up trailer excels is the user-friendly setup, It comes with extra-wide lifter posts that have pushrods. The tongue jack makes leveling easier. You can go cruising in any type of campsite condition and road thanks to the aluminum embossed super lube finishing. The Norco A-frame is scratch and corrosion-resistant. What's more, the DuraTek tent camper is water-repellent, something that comes in handy during rainstorms.
Unfortunately, this pop-up camper isn't ideal for a group of people or large families. The towing feature may also mean a rough ride on bumpy roads.
Pros
Comes with an impressive range of features for a comfortable experience
High ground clearance for rough terrain
User-friendly setup
Durable
Is a waterproof Duratek tent camper
Cons
Not durable in extreme weather conditions
Not suitable for groups of people or families
Towing won't work well on bumpy roads
Most Options
Forest River Flagstaff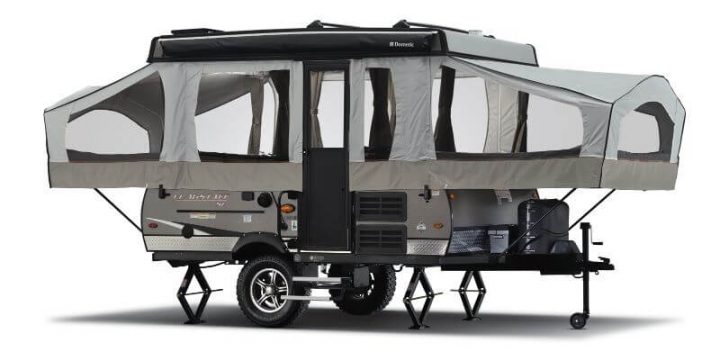 The Forest River Flagstaff can accommodate two to eight people comfortably. With eight floor plans to choose from, you get to have multiple choices. In the kitchen are a high-rise faucet, a three-burner stove, a double-pan sink, and a microwave. You also get USB ports, a Wi-Fi booster, a TV outlet, a safety breaker, and more.
Setting up the pop-up camper is simple thanks to the four EZ crank-down stabilizer jacks with sand pads, a powder-coated steel frame, and the fiberglass vacuum exterior. The pop-up camper boasts high-grade material that guarantees longevity.
One fantastic feature that previous buyers loved is the thermostatically controlled heated mattress that comes in handy during those chilly nights. The reasonably-priced pop-up camper provides optional appliances like a three-burner gas stove with an oven and a three-way fridge.
What we didn't like about this pop-up camper is that it doesn't come with high-ground clearance or mud tires. The hard sidewalls limit your options, too.
 Pros
Comes with a 20-gallon under-floor freshwater tanks
Boasts of features of a camper and a trailer
Fitted with all the appliances
Maple interior and two-toned seating
Has a robust wall exterior
Eight floor plans to choose from
Cons
Doesn't have a screen room
Lacks mud tires as a standard feature
Best Small Pop Up
Coachmen Clipper
If you're looking for uniquely-designed pop-up campers, the Coachmen Clipper camper is an excellent choice. It's designed to make your work easy thanks to its convenient setup. Its aerodynamic profiling provides easy towing.
You also get the Glide-N-Lock bedding system. Users get 16 different floor plans to choose from. Furthermore, there are two different hitch weight options-73 pounds with an exterior open length of 9ft and 105 pounds with an open length of 14.5 feet.
The interior boasts residential cabinet doors, laminated countertops, four-inch heated mattresses, walnut cabinetry, and more. On the exterior are LED exterior lamps, laminated fiberglass, zero exposure bunk technology, and more to ensure your safety with changing road and weather conditions.
However, we didn't like the fact that the Coachmen Clipper camper is a bit expensive and isn't available in different exterior colors.
Pros
Has an impressive array of features
Comes with 16 different floor plans
Durable and lightweight construction
Cons
Lacks different color options
Not ideal for extreme weather
May be expensive for those on a budget
Some users found that the generator compartment may flood with rain
Best for Families
Starcraft Comet
Featuring a lightweight design the Starcraft Comet is ranked as one of the best pop-up campers for families. The interior has a kitchen section, a bed section, and amenities like a toilet, shower, and sink.
It boasts of quality build and its heavy-duty frame allows you to bring along loads. While at first, you may find pop-up campers a bit challenging to set up, with time, the process will be easier and quicker. Its quality tires keep you safe when you're hauling the camper.
On the downside, the Starcraft Comet only has space for three people, which makes it limiting for big families.
Pros
Has plenty of amenities
Sturdy construction
Simple to set up
Cons
Not ideal for big families
Easiest Setup
Air Opus 4-Sleeper Camper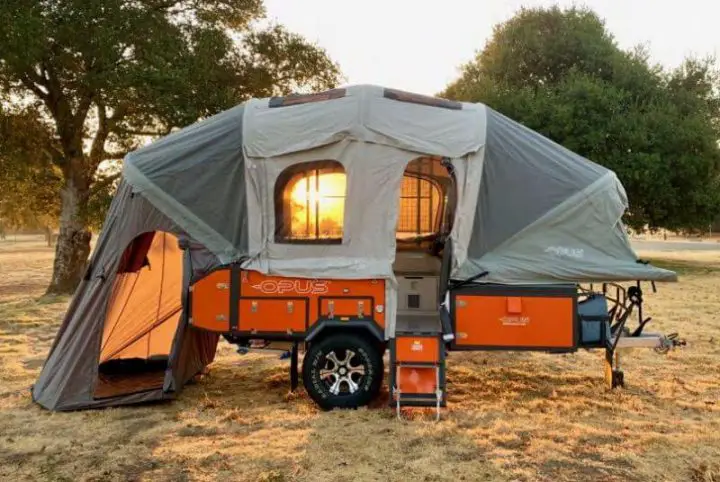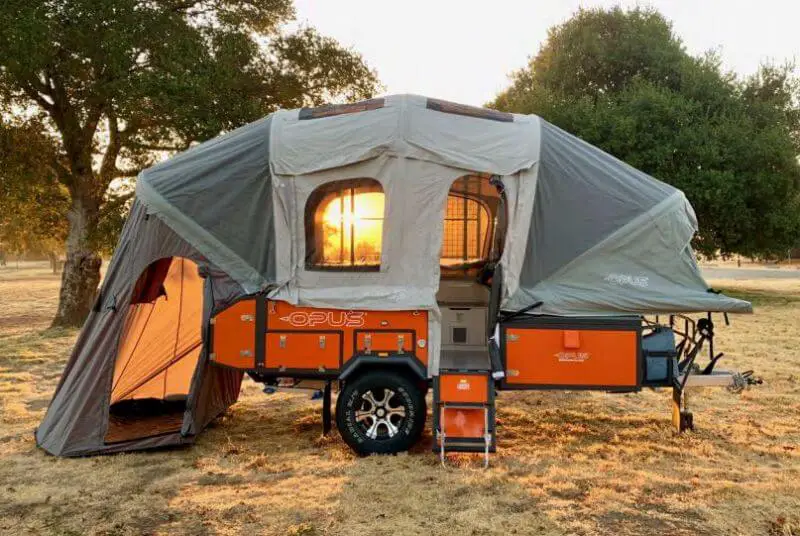 Having pop-up campers that can handle both on and off-road performance is something you won't find in most trailers. Nonetheless, the Air Opus 4-Sleeper Camper gives you this and more.
Pop-up campers get to enjoy extra space that can be used for storing sporting equipment and cargo. Its body is made from aluminum and the chassis features galvanized steel. You'll love how this pop-up camper handles rocky areas and dirt roads thanks to its brake system and suspension.
The setup process takes five minutes, which includes setting up the interior equipment. Another unique aspect is the high ceiling that offers natural light and views. I actually rented one of these last years and loved it, it really only took me a few minutes to set up and get going.
The trailer also has independent coil spring suspension and a 12-inch electric brake for added off-roading experience. Moreover, the fabric is water and wind-resistant. Other extra features include a pressurized water dispenser, a four-burner gas stove, two water tanks, and a space for 2-9kgs gas cylinders.
Pros
Perfect for dirt roads and rocky areas
Ideal for family gatherings
Rain-proof and tough tent fabric
Spacious cargo storage
Inflates and deflates easily and quickly
Cons
The batteries are not durable
Lacks ample cargo space
Expensive
---
Recap: The Best Pop-Up Campers
Quicksilver 8.0 Camper – Best Lightweight Camper
Jayco Jay Sport Pop Up Trailer – Most Luxurious Camper
Forest River Flagstaff – Most Options
Coachmen Clipper – Best Small Pop Up
Starcraft Comet – Best for Families
Air Opus 4-Sleeper Camper – Easiest Setup
---
Factors to Consider When Choosing a Pop-up Camper
A pop-up camper is an excellent alternative to a travel trailer for folks who are packing light for shorter trips.  Apart from being affordable,  they are lightweight, user-friendly, simple to clean, and easier to store. However, given the various brands available in the market, you may find it daunting to settle on one.
Of course, the budget may also be a consideration, and you may look for the cheapest pop-up camper. This may not always be a good idea as you may sacrifice quality.
Here are some factors to consider when selecting a pop-up camper. These tips will help you find a pop-up camper trailer that fits your needs and budget.
Durability and Construction
Pop-up camper's construction dictates their durability. The pop-up camper should have a sturdy structure and include quality materials like aluminum and steel. When checking the construction, don't forget to consider the floor plans.
Many pop-up campers for sale will usually have 8-foot, 10-foot, 12-foot, and 14-foot. floor variants. These are numbers representing the ample sleeping space of the area of the camper. You'll find pop-up campers with high exterior walls, a dedicated shower, and kitchenette space.
Another essential consideration when checking a camper's durability is its heater resistance features. It should protect you in case of rain or sun.
Easy Setup
The best pop-up camper should be simple to set up and shouldn't take a lot of time to assemble. With the majority of small pop-up campers for sale, all you need is to slide the sleeping compartment out and roll up the roof. Furthermore, it should be easily foldable when you are not using it. Don't forget that your truck camper should be simple to tow with your car.
Features and Amenities
Pop-up campers are meant to make your experience outdoors comfortable. The best camper should have the right amenities and features for your convenience. Even small pop-up campers tend to have a sitting area, toilet/shower facilities, a heating/cooling system, and storage space for their items.
Some other added amenities include a refrigerator, USB ports, Wi-Fi routers, and other luxurious components. Check to see if the camper has space to accommodate a heater and an AC as the temperatures outside can interfere with your camper experience.
Accessories
Although most pop-up campers come with everything you need to set up, you should pay attention to leveling blocks and stabilizer jacks.
Wheel chocks or leveling blocks help to level the camper as they slip under or next to the wheel to keep the trailer flat and prevent any rolling.
Stabilizer jacks prevent the trailer from tipping side to side as you are walking around the interior. Most pop-up campers have two stabilizers that are built into the frame, but small truck campers lack this essential accessory.
Ease of Maintenance
Maintenance and care are crucial for worry-free camper usage. You need to check for wear and tear, holes, and anything that may interfere with the camper's waterproofing capabilities.  The best camper should be simple to maintain and care for throughout.
Final Thoughts
Choosing the right pop-up camper or A-frame rig is crucial for enjoying your camping trip and any adventures this spring and summer. Starting with our list of the top six options, this should get you off to a good start. In no time, you'll be out adventuring and enjoying the best pop-up camper for your family's needs.
Want something a little more significant? Check out our guide on the best RVs for full-time living.