Hey! This site is reader-supported and we earn commissions if you purchase products from retailers after clicking on a link from our site.
When it gets hot outside, your RV can start feeling more like a sauna than a camper. An RV rooftop air conditioner is one of the most common ways that RV owners cool down their vehicle on hot and humid days, keeping everything comfortable.
If you're looking to outfit your RV with a rooftop air conditioner, we're here to help. I'll go over our favorite air conditioner models available on the market today, and how you can choose the best rooftop RV air conditioner to suit your needs.
Stay Cool with These RV Air Conditioners
---
A Deeper Look at Our (Roof) Top Air Conditioner Picks
Let's take a look at each of our top picks in a little more depth.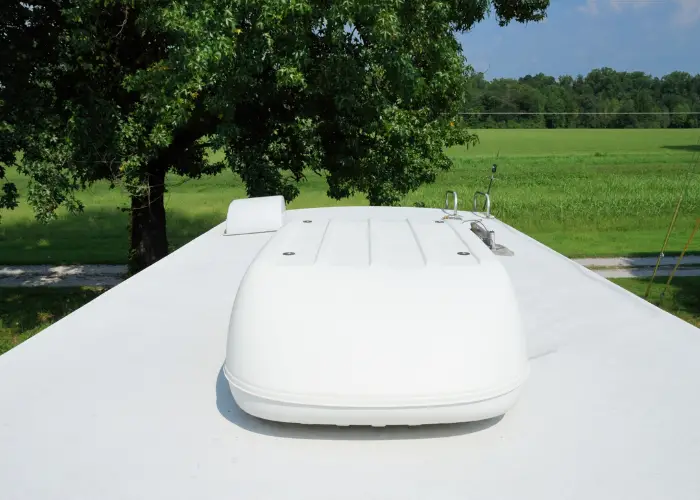 Best RV Air Conditioner
Airxcel 08-0080 Mach 15
The Airxcel Mach 15 is one of the most powerful RV air conditioners available on the market, with a cooling capacity of 15,000 BTU. This unit also uses a ⅓ HP fan motor, which is the largest used in any RV AC system. It's able to deliver an impressive cooling output of 320 cubic feet per minute. However, I'm not necessarily a fan of the high noise levels.
The strong airflow makes the Airxcel ideal for ducted systems. Even in large RVs, you can evenly cool multiple rooms at once. Just be careful, as the compressor can give out with heavy use.
The Mach 15 boasts a carefully engineered streamlined shape to help reduce drag. The shape is also designed to maximize cooling efficiency and prevent overheating with side ventilation. Copper tubing, along with gas-flux brazed joints, helps to keep the unit safe from the elements.
If you plan to travel in warm weather, you can add an optional heating system to the Airxcel. This gives you 5600 BTU of heat in cold weather conditions, keeping you and your camping companions safe and cozy.
Pros:
Powerful ⅓ HP fan motor
15,000 BTU cooling capacity and optional 5600 BTU heating capacity
Able to heat multiple rooms at once
Durable and streamlined design
Ventilation to prevent overheating
Cons:
Best Low-Profile
Dometic Penguin II
The Dometic Penguin II is set apart from other AC units in its class by its impressively low profile. The entire unit measures under just ten inches high, which is one of the lowest clearances available on the market. Along with its low profile, a sleek, aerodynamic design helps to cut back on wind resistance and save you on fuel costs.
This fully automated rooftop air conditioner takes the guesswork out of keeping your RV cool. You can hook it up to manual, electronic, and wall thermostat controls. There are also user-friendly controls for the three-speed blower. It's important to note, however, that the control box does not come included with the AC unit.
Be careful when installing this unit. The cover is prone to denting and cracking on impact, and so it's best to avoid dropping or banging the unit when moving it. You can attach it to either a ducted or a ductless system, making it a versatile choice of air conditioner.
Pros:
Lowest profile available
Aerodynamic shape
Three-speed blower
User-friendly controls
Hooks up to either a ducted or a ductless system
Cons:
Casing dents easily
The control box is not included
Most Affordable
Furrion Chill White FACR14SA-PS
This air conditioner boasts an affordable price tag without sacrificing quality. It's compatible with both ducted and ductless cooling systems, making it ideal for most RVs. The unit offers a 14,500 BTU cooling capacity and is designed to condition your RV quickly.
An aerodynamic design ensures that this AC unit won't slow your RV down on the road. A durable UV protectant coating helps the unit to withstand wear and tear from sun exposure, helping you to avoid costly repairs and replacements.
The Furrion Chill also comes with a protective shroud cover to help keep your unit safe when it's not in use. While I love that I can keep my unit safe against the elements, the shroud is somewhat prone to ripping.
Some customers have complained about damage to the unit during shipping. It's important that you inspect and test your air conditioner as soon as possible so that you can fix any underlying issues before heading out on your next camping trip.
Pros:
Affordable compared to competitors
Works with both ducted and ductless cooling systems
Conditions quickly with 14,500 BTU capacity
Aerodynamic design
UV protective coating and shroud included
Cons:
Shroud gets damaged easily
Best 2-in-1
Dometic Brisk Air II
This two-in-one air conditioner is designed to keep you comfortable year-round with both heating and cooling capacities and automatic controls. In addition to a 15,000 BTU cooling capacity, the Brisk Air II also boasts a 15,000 BTU heat pump. I especially like that there's a multi-speed blower built in so that I can adjust the heating or cooling system inside my RV as needed.
This AC unit uses advanced composite materials to help make it both durable and efficient. A carbon steel base helps to protect the unit against bangs and bumps, while EPP foam housing helps to cushion and insulate the air conditioner.
A powerful fan helps to pump air efficiently into either ducted or ductless AC systems. The motor, compressor, and evaporator are all connected to help reduce vibrations, and as a result, noise. However, at high speeds, the fan can be too loud for the comfort of some people.
While the Dometic Brisk is made to be easy to install, it's heavier than other similar units. It can be a challenge to get on top of your RV, especially if you're working alone. You may need to enlist help or hire a professional for assistance.
Pros:
Offers both heating and cooling
Adjustable multi-speed blower
Compatible with a ducted or ductless system
Built with robust composite materials
Boasts a powerful fan
Cons:
Heavier than other units
The fan is noisy at high speeds
Best Lightweight AC Unit
Dometic Polar White 13,500 BTU
If you're looking for an air conditioning unit that's lightweight and easy to install, you may want to consider the Dometic Polar. It's designed to be smaller and lighter than the average air conditioner while still delivering plenty of cooling power. It has a cooling capacity of 13,500 BTU.
While I love the elegance and power of the Dometic Polar, the unit doesn't cool very evenly. The unit only blows in certain directions, which means that it takes a longer time and more energy to cool down an entire space.
Even though it's small, the Dometic Polar is still robust. It has a durable, aerodynamic shell along with a base pan for added protection. However, the base pan should be handled with care, as it can be prone to denting.
Pros:
Lightweight design
Easy to install
Durable design
A cooling capacity of 13,500 BTU
Aerodynamic shape
Cons:
Metal bottom pan is prone to denting
Doesn't blow air in all directions
Bonus: Best In-Window System
MIDEA MAW10R1BWT
If you have a window near your RV's rooftop, you may want to forego a traditional rooftop RV air conditioner and instead opt for an in-window system. This unit is more powerful than many rooftop models, offering a capacity of 10,000 BTU for fast and efficient cooling, even in large spaces. However, the airflow isn't very strong.
Instead of just boasting cooling capabilities, the MIDEA offers three-in-one functionality. In addition to air conditioning, dehumidify the room or switch to fan-only mode. Some users may find the fan too noisy for comfort, though.
A user-friendly control panel allows you to program your AC unit for maximum energy efficiency. You can set it on a timer, turn on an energy saver mode, or switch to sleep mode, keeping you at a comfortable temperature even at night.
Pros:
Powerful cooling capacity of 10,000 BTU
Offers fan-only mode
Can dehumidify rooms
Programmable through a control panel
Energy efficient
Cons:
Noisier than rooftop units
Not a very strong airflow
---
Recap: Best RV Rooftop Air Conditioners
---
What to Look for in an A/C Unit for Your RV
It's never easy to find the perfect piece of equipment for your RV, especially when it's a hefty investment, such as an air conditioner. There are a few features to consider when choosing which type of unit will work best for you.
Ducted vs. Ductless
There are two main design styles when it comes to RV air conditioners. For large campers with multiple rooms, a ducted unit is usually the way to go. This type of system passes cold air through a system of ducts in your RV's floor, walls, or ceiling so that multiple rooms can be cooled at once.
Ductless air conditioners, on the other hand, simply blow cool air through the unit to heat a single space at a time. If you have multiple rooms, you'll most likely have to install multiple units. However, ductless units are ideal for smaller campers, and often significantly cheaper than their ducted counterparts.
Cooling Capacity
The ability to cool down a space, or the cooling capacity, of an air conditioning unit, is measured in British Thermal Units or BTUs. This tells you how much energy an air conditioner uses per hour. As a rule of thumb, most RV's need a unit boasting at least 13,500 BTUs, though larger campers may need as much as 18,000 BTUs.
It's a good idea to pay important to BTU when looking at an air conditioner for your RV. If you buy the wrong unit, you can end up costing yourself more in both the short and long-term. With too many BTUs, you end up paying more upfront and more in wasted energy costs. With too few BTUs, however, you have to run the unit for longer to work, thus using more energy than necessary.
Not only should you consider cooling ability, but your RV A/C unit can also help with moisture control in your RV, an important consideration for maintaining your camper for the long run.
Size of the Unit
Rooftop RV air conditioners come in all sorts of shapes and sizes to fit just about any RV. Most are designed to install easily into the skylight section of a camper trailer. However, if you buy one that's too big or too small, you may find yourself having to make complicated and pricey modifications to your vehicle.
Since you're working with limited space, it's always a good idea to measure your RV before deciding on an air conditioner. Fortunately, rooftop units are primarily housed outside of the vehicle, so they don't take up precious living and storage space.
It's best to look for a rooftop air conditioner with a low profile and an aerodynamic design. This way, you help to reduce drag when driving and improve your fuel efficiency during your next trip. A slim design also allows you to park more easily in lots with low roofs.
Power Consumption
Make sure you look for an energy efficient and environmentally friendly air conditioning unit! If you're planning on traveling in more extreme weather conditions, the demand on your AC unit when it's turned on will be a lot greater. Make sure you're accounting for that and calculating the average electricity watt consumption for your unit. Heftier units can consume as much as 4,000 watts at initial startup and 1,500 watts when running.
Two-in-One Options
If you have plans to travel in both warm and cold weather, you may be able to save space and money by opting for an AC/heater combo. These units are able to switch back and forth between heating and cooling as needed, keeping you comfortable year-round.
While two-in-one units are convenient for both warm and cold weather travel, they can cost significantly more than simple air conditioning units. For those who plan to stick to warm areas or who only travel in the summer, a traditional rooftop AC unit may be more cost-effective.
Noise Considerations
As anyone who's ever used an air conditioner knows, they can be noisy when operating. This is especially true in a small, enclosed space such as an RV. If you're a light sleeper, you may want to take noise levels into consideration when choosing an air conditioner.
Many units tell you how much sound they typically make in decibels (dB). You can decide what's too loud for you by considering the decibel level of other common sounds in your life. For example, an average conversation typically hits around 60 dB, while a lawnmower ranges around 90 dB.
The sound of an air conditioner can get worse over time as parts of the machine wear down and become loose. You can reduce noise by choosing an air conditioner that contains sound-absorbing materials such as rubber. However, often the best way to reduce both noise and energy consumption is to replace your air conditioner with a quality rooftop RV unit.
Trying to find a replacement air conditioner? Read our guide on how to troubleshoot and maintain your RV A/C unit first. Check out these related guides too:
---
Frequently Asked Questions
What Size Air Conditioner Do I Need For My RV?
The size of your air conditioner mostly depends on the size of your RV. When looking to buy an air conditioner for your RV, check to see how many square feet the unit is capable of cooling and also the BTU. You can also talk to your dealer or mechanic to get a better estimate of what size are conditioner will work best for your RV.
How Much Does It Cost To Replace An RV Air Conditioner?
The cost of a new unit can be anywhere between $200-$1000. This varies based on the size of the unit you have, and whether it is a dual function (heat pump) unit. Generally expect to spend in that range for most RVs and trailers, and know that if you are going to have it professionally installed, it will cost extra, but this is something that you can factor into your operating costs when you budget for your RV.
How Long Do RV Air Conditioners Last?
Most RV units generally last between 3-5 years. This can be significantly longer or shorter depending on the conditions you operate in and how well you care for your unit. When operating in very hot or very wet environments, expect to see a shorter life span because the unit will have to work much harder and is exposed to more damaging elements. Protecting your unit is not difficult and can be achieved with a cover and routine maintenance.