Hey! This site is reader-supported and we earn commissions if you purchase products from retailers after clicking on a link from our site.
Class B RVs are often referred to as campervans. They are essentially a van that already comes with all of the amenities of a class B RV without you having to convert it, like Lindsey did with her van. They can be great for both weekend trips and full-time living, but it can be tough to choose the right one.
That's why we're here! We'll walk through our top picks for the best class B RVs on the market today, what we liked and didn't like about each one, and what to consider when you're buying a class B motorhome. Let's dive in!
Our Top Picks: The Best B's of the Bunch
| | |
| --- | --- |
| RV | Category |
| Winnebago Revel RV | Most Durable |
| Hymer Aktiv | Best Small Class B |
| Pleasure Way Tofino | Most Affordable |
| 5Mars Imagine | Best Pop Up RV |
| Midwest Automotive Designs Passage 144 | Best Luxury RV |
A Closer Look at the Best Class B RVs
Below, we dive into all the nitty gritty details for each of our top picks, including what we liked and didn't like about each one.
Most Durable
Winnebago Revel RV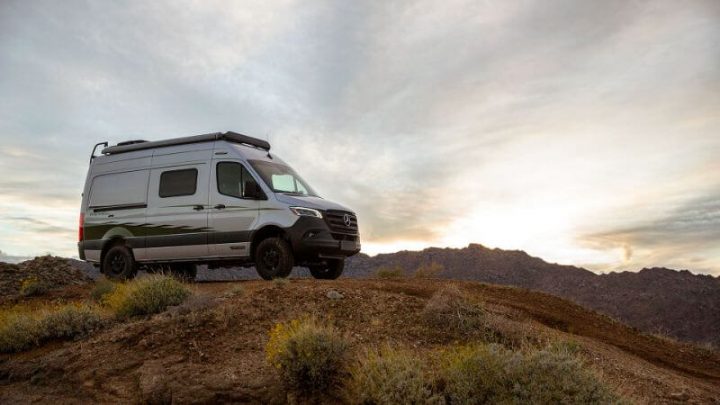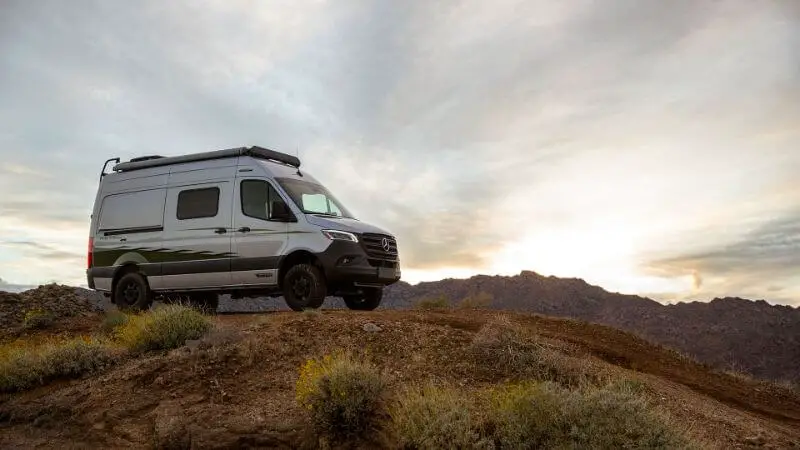 The Winnebago Revel RV is a reliable class B motorhome, backed by the chassis of the Mercedes-Benz Sprinter. For the people who like to take the class B RV off-road, Winnebago's function-fueled framework will take you to where you need to go. You also receive extra durability with the diesel engine, which is a 3-liter turbo. The 4-wheel-drive capabilities make your all-terrain drives consistent too.
The smaller 19-foot, 7-inch vehicle makes the most out of its compact shape. This class B motorhome sleeps two people, and it contains a 49″ x 79″ power lift bed in the back, connected by a bi-fold door. In the middle section, you have a 31″ x 26″ all-in-one closet and bath, pantry, cooktop, bench site, and removable pedestal table. There are also ceiling lights that are LED, included with a dimmer so that you can set the mood right.
You also have access to a multimedia touchscreen, which helps control Wi-Fi, navigation, rear camera, and voice control. When it comes to comfort when driving these camper vans, you can ride stress-free, thanks to the armrests in the cab seat, adjustable headrests, interchangeable lumbar support, and recline/swivel capabilities.
Pros
Mercedes-Benz chassis and 4WD make for a reliable off-road adventure
Multimedia touch screen and customizable seating chairs make for a customer-friendly RV
Cons
There is not as much extra space because of the compact floor plan
Not an ideal option if you are taking the whole family on the trip
Best Small Class B Motorhome
Hymer Aktiv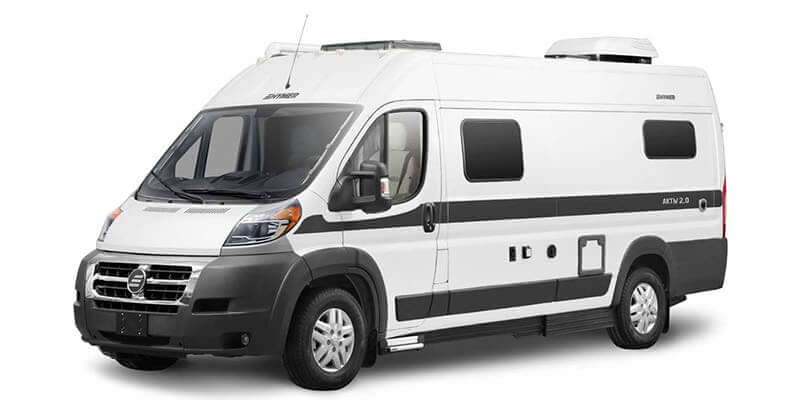 The Hymer Aktiv is a sleek, European class B motorhome option that packs a lot of amenities and features into a smaller space. Much like the Winnebago, this vehicle is manufactured on a Mercedes-Benz Sprinter Chassis. The Hymer provides bench seating for the second row to create extra space for passengers or extra belongings. There is also a full galley located on the passenger side for extra comfort.
Another impressive feature of the compact class B motorhome is the full bathroom and shower, which includes a cassette toilet. The class B RV is also easily convertible to the ideal sleeping arrangements, travel accommodations, or pure relaxation. The flip-up mattress allows you to adjust your interior floor plan for a perfect setup.
You will also enjoy the more modern gray fabrics and lighter buttercream cabinetry, which mixes in more European flavor to the vehicle. Another key feature about the Hymer Aktiv is the roof vent, which creates a comfortable ventilation level throughout the RV. It is also included with a nightshade and bug screen to open it up at night without letting the annoying critters inside.
The Hymer Aktiv also contains a unique VoltStart system, which enables you to turn up your AC whenever you need it and run it for the desired duration. Not only does VoltStart optimize the AC levels in the class B RV, but it also monitors your lithium batteries to make sure it is all the way charged.
Pros
VoltStart capabilities ensure optimal airflow in the RV, no matter if you are driving or parked
Mercedes-Benz Sprinter chassis makes this an ideal off-road vehicle
Cons
Not a spacious option if you enjoy extra storage or a lounging room
Not many outdoor lounging capabilities
Most Affordable
Pleasure Way Tofino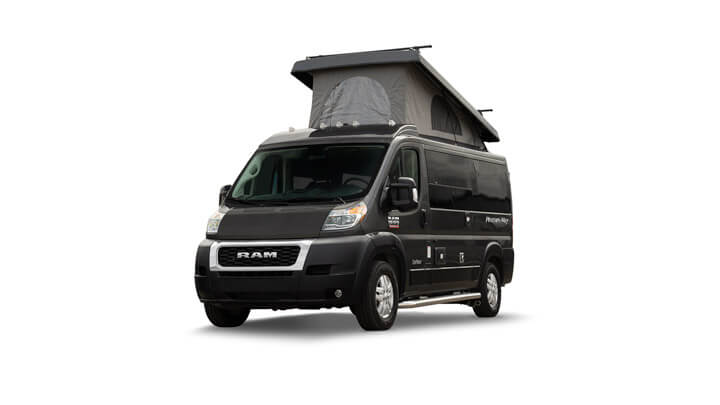 The Pleasure Way Tofino is a sporty style class B RV option, a bold, adventurous choice for cross-country travelers. If you lift the manual pop-up at the top, there is a 49″ x 72″ bunk, which is overhead and serves as a valuable secondary sleeping space.
You cannot only reap the minimalist benefits with the compact design, but you can also enjoy the enhanced technology with the 2000-watt inverter, touchscreen control mechanism, and coach lithium batteries.
The floor plan itself is remarkable because of how many amenities fit into such a tight space. Class B motorhome owners can enjoy a manual folding sofa, which can convert into a 54″ x 72″ bed with the help of the cushion that supports it. The versatile swivel seats also enable the driver to flip towards the main lounge area, which helps with extra seating capacity.
 Pros
Over 70 cubic feet of storage in the rear allows you to store all your valuables
The pop-up top sleeping area helps make the most out of the space for the ultimate camping experience
Cons
The unit does not provide a wet bath.
Best Pop Up Class B RV
5Mars Imagine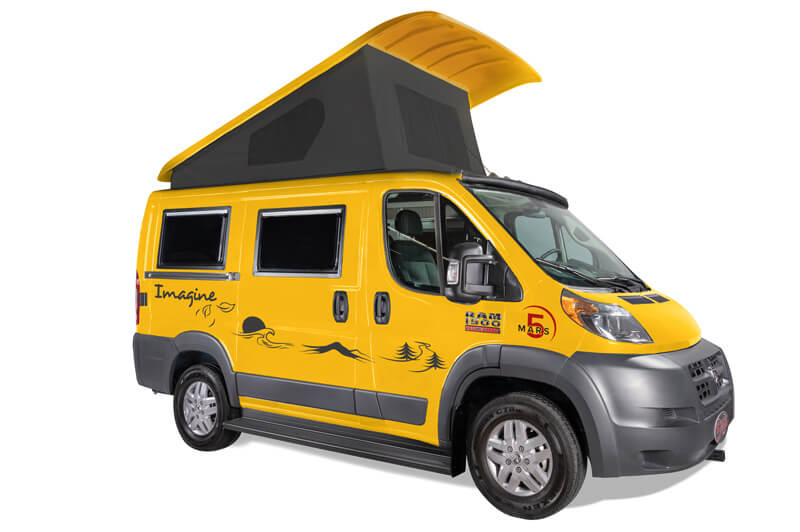 The 5Mars Imagine, which measures 195″ in length and 82″ in width, provides you with a whole list of amenities for such a small, class-B motorhome. Both seats in the front swivel to add seating capacity for the living room area. The electric pop-up top also provides ample protection because of the netted mosquito windows.
You also get premium comfort with the furniture in the 5Mars Imagine too. The electric sofa, which is 54″ x 74″, also converts into an extensive bed. There is also a slightly smaller 2nd bed for extra sleeping space. Accompanied by the minimalist design, the RV also supplies a 6-gallon water heater and two separate 6-volt batteries with deep cycle capabilities.
The European design of the RV is highlighted by the six windows with integrated curtains and mosquito nets. Although there is no wet bath inside the floor plan, a convenient outdoor rear shower is attached.
Pros
Mosquito net windows and curtains are integrated nicely to provide extra protection against pests and unwanted sunlight
Two different convertible beds make the most comfort out of the small space
Cons
No wet bath on the interior of the unit
Best Luxury Class B RV
Midwest Automotive Designs Passage 144
The Midwest Automotive Designs Passage 144 RV provides a feeling of luxury that you don't often get with smaller Class B RVs. The wood-polished veneers and leather-lined upholstery throughout the inside make it a staple product for Midwest Automotive Designs. This class B motorhome combines functional and aesthetic appliances with user-friendly electronics to deliver the ultimate class B RV experience.
Passage 144's lithium-ion battery system provides a safe, trustworthy source of power that is also environmentally friendly. The class B RV also contains a suburban water heater that is tankless, as well as solid-surface countertops. All these luxurious amenities are packed into a Mercedes-Benz pedigree for smooth cross-country travel.
Although you can only choose from two different floor plans, there are many high-quality amenities that you and your loved one can enjoy on your trip. Some of the top interior standard features include an Espar Coach furnace, a flooring system of composite 1-piece, a rear sofa that is power-folding, and a roof fan equipped with a remote.
Pros
Lithium-ion battery system optimizes the power output for the RV
Wood veneers and leather upholstery give a functional but aesthetic design
Cons
There are only two-floor plans to choose from
---
Recap: The Best Class B RVs
Winnebago Revel RV – Most Durable
Hymer Aktiv – Best Small Class B
Pleasure Way Tofino – Most Affordable
5Mars Imagine – Best Pop Up RV
Midwest Automotive Designs Passage 144 – Best Luxury RV
---
Things to Consider When Buying Class B RVs
Your investment in most class B motorhomes is an important decision that takes careful thought and research. Before you purchase your RV, you must define your financial and travel goals. If you want to get the most out of your money spent, you need to make sure you do your due diligence. Below are the key factors to consider before buying most class B motorhomes.
How Often Do You Travel
Where will you take your class B motorhome, and how will you use it? The type of RV that you purchase will depend on how far you travel, where you visit, and how often you use it. If you utilize your class B camper van at least twice per month for long road trips, you will want to focus on camper vans with excellent gas mileage. On the other hand, an occasional short weekend trip to the state park will not necessarily require a fuel-efficient vehicle.
A useful exercise to do here is to create a checklist of your ideal features for the class B motorhome. Will you require a shower within the unit, or will an outdoor option be useful for you? How much kitchen space will you need? Many of the items that go into an RV are luxuries, so you should define your must-haves before deciding on a specific RV model.
RV Capacity and Floorplan
You need to define how much space you want in your Class B RV. If you are already looking at a smaller Class B RV, you will most likely use it for yourself and one other person. But some camper vans contain extra sleeping arrangements and can hold three people.
You should also visualize how you will utilize the space. Many online class B camper van listings showcase floor plans for you to study to plan out how many people you need, how much cargo you will bring, and what activities you will want to do in the class B RV.
Financing Strategy
Once you successfully define what type of RV you want, you will need to confirm that it fits within your budget. The next step is working through an effective financing plan for your class B camper van. Make sure you research the best RV dealers in your area because many of them have an extensive network of lenders that can get you quality rates.
You also have the option to obtain a vehicle loan from your bank or a third-party lender. It is important to note that the rates you get from a third party will not be as advantageous as getting through your RV lender or bank. Financing is the most crucial part of the process, so you should ensure that you are doing the proper due diligence with lenders.
Inspection and Test Drive
Besides the financing process, the inspection and test drive is a critical part of the RV buying process. You need to know precisely what you are investing in, so make sure you inspect every inch of the RV inside and out. The first things to focus on are the cabinets, bathroom fixtures, and plumbing. This process is extra essential if you are buying an RV off an online website.
You should also double-check that the RV drives smoothly. You do not want to put a sizable down payment on the RV just to realize that it does not operate the way you expect. Perform due diligence to make sure you can ask the necessary questions and find the best deal.
Wrapping Up
Depending on your ideal RV experience, you can choose from a variety of Class B RVs that meet your specific needs. Do you still have questions? Shoot us a message and we'll be happy to help.
Thinking about a different size? Read our other guides on the best RVs of every class:
Want to rent first? Read my article on the top RV rental companies to get started.