Hey! This site is reader-supported and we earn commissions if you purchase products from retailers after clicking on a link from our site.
It is so much fun meeting and talking with families who live on the road together. I had the pleasure of talking with Meg Harrell (@meg.for.it) a couple of months ago who renovated a Wolf Pack RV and turned it into a full-time home with her husband and two children. They have traveled all over the place in the last few years, having a ton of fun along the way. I asked Meg to share her story with y'all, so I hope you enjoy it as much as I did speaking with her.
Downsizing
I am Meg Harrell. I am 33, married with two kiddos. I was born to Cuban immigrants in Miami, FL. I became a nurse, but after 10 years it left me burned out and I missed being creative. I started a travel blog, megforit.com, and now that's how I provide for my family now. In 2019, we sold almost all of our possessions and moved into a 360 sq ft RV.
We have gone "tiny" before. In 2015, we sold our house and belongings and moved into a 500 sq foot apartment on Miami Beach. We started a journey of minimalism. We have tried to maintain a minimalist lifestyle to teach our children the importance and value of people and experiences over things.
We chose the RV life because we wanted to build a tiny house but they aren't as portable as RVs are. So we decided to design a gorgeous modern tiny house INSIDE an RV. We weren't ready to settle down in a house or anywhere permanent. We loved the idea of staying in different places all over the great smoky mountains, all the way down to Florida.
The RV Reno
The RV renovation took about 3 months to finish. We worked on it every weekend. We painted every wall, changed light fixtures, counter tops and window treatments. We removed some doors for a more open concept and chose a modern boho decor for the details.
The biggest reno project was converting the toy hauler garage area into a master bedroom. We put a rug down the size of the garage floor, put a couch with storage on the back wall and put the king size bed on a lift system.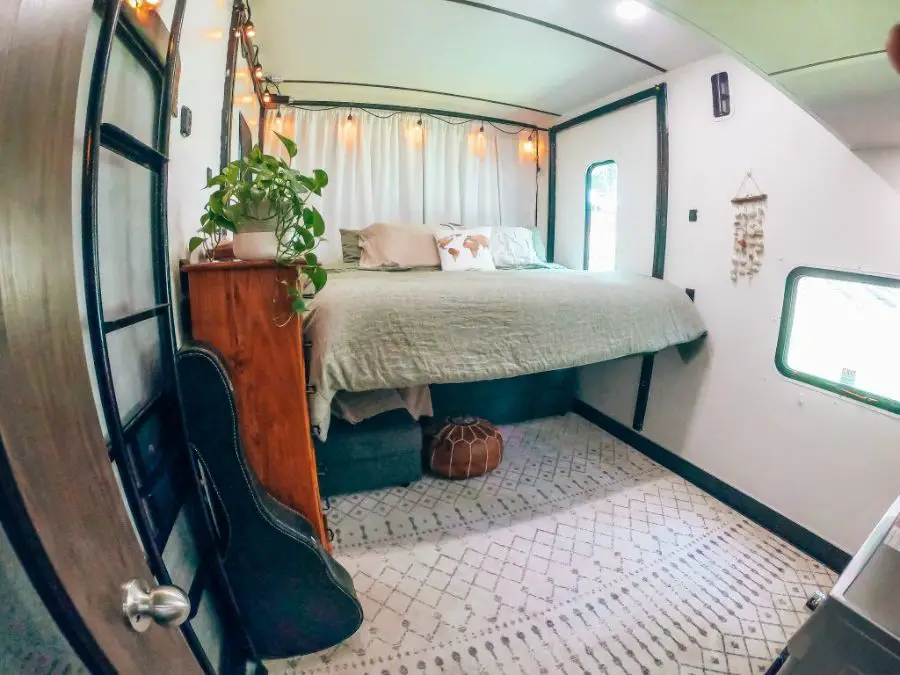 We also painted the walls, added a washer / dryer unit and hung strong lights for a more homey feel. The goal of the renovation was to make the RV feel like a home!
Here's the grand tour!
---
Oh, The Places They've Been
We have traveled all over North Carolina, South Carolina, Georgia and Florida. But because of the blog and the financial freedom of not having a mortgage – we have traveled ALL over in the last couple years! Boston, Chicago, New Orleans, California, Hollywood Red Carpets, Colorado, Disney World, Disneyland, Disney Cruises, New York, Philadelphia, Richmond, Washington DC, Houston, Jamaica, Bahamas, Paris, Rome, and London.
It's hard to choose a favorite moment when traveling and living in the RV. I think I will always treasure the hard weekends of the renovation, the milestones of my kids (learning to ride a bike or losing her first tooth), and learning together as a family to live more with less.
What's Next?
On a spontaneous trip to Orlando (to visit a new brewery), we stumbled upon an open house. The home was a 100 year old restored home and I was curious to see the inside. So we stopped with the intentions of just peeking inside for a few minutes and then heading to dinner. But as fate would have it, I fell instantly in love with this unique historic home. We put in an offer and moved in a couple weeks later. A buyer approached us and we sold the RV a week after moving into the home. This is such a testament to being open to anything. Life is wonderful. You never know what doors will open and what new adventurous paths lie ahead!
---
Thanks so much for sharing your story, Meg and family! If y'all want to follow along with their adventures, you can find them below: