Hey! This site is reader-supported and we earn commissions if you purchase products from retailers after clicking on a link from our site.
Class C RVs are a popular choice for both full-time travelers and weekend road trippers. They are slightly bigger than a class B motorhome but smaller than the fully-featured class A rigs.
Finding the right one for you can be a tough process though! Don't worry, we're here to help. Read on for the five best Class C RVs on the market and our recommendations on how to choose the best one for your needs.
Table of Contents
Top Picks for the Best Class C RV Motorhomes
| | |
| --- | --- |
| RV | Category |
| Winnebago Aspect | Best for Couples |
| Coachmen Freelander | Best for Families |
| Tiffin Wayfarer | Best Diesel RV |
| Thor Four Winds Sprinter | Most Affordable |
| Coach House Platinum III | Best for Large Budgets |
5 Best Class C RVs
Here are more details on our top picks for the best Class C RVs on the market.
Best for Couples
Winnebago Aspect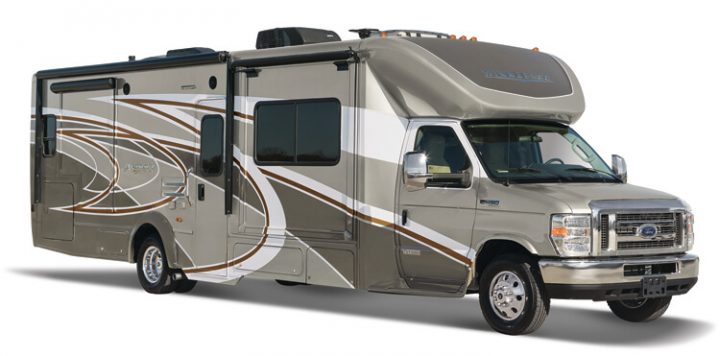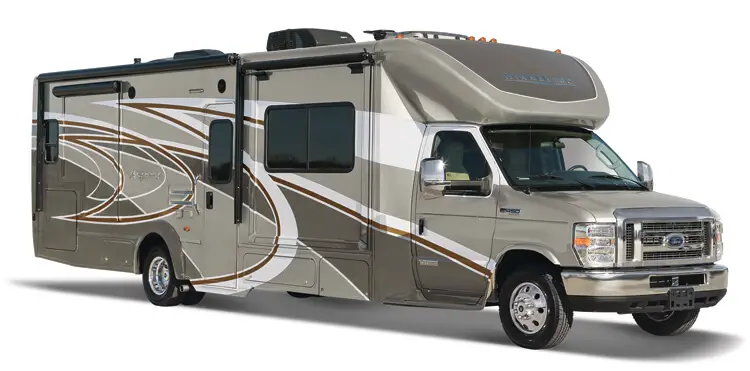 For a pair of travelers who want comfort yet don't need a ton of extra space for tagalongs, the Winnebago Aspect might be the best class C RV. Winnebago has a long list of Class C RV offerings, but we like the Aspect because it feels more upscale than alternative models.
This Class C has elements like solar and blackout roller shades to ensure your privacy, while the walkaround bed means ample room for everyone. A built-in GPS cuts down on navigation troubles, and with interior and exterior storage, you won't need pit stops to stock up on necessities.
The basic built-in features of the Class C RV are handy, but with the Aspect, you can also customize your rig in both the interior and exterior. Four exterior color options plus a range of fabric and cabinet finishes let you personalize every square foot of this Class C RV Winnebago.
You can even select from one of two floorplans—either a 27-foot or 30-foot rig. The only drawback with this Class C RV is that depending on the floor plan you choose, you'll find either less storage (the 27K) or lower holding tank capacities (the 30J).
Pros
Tons of storage, including exterior access
Swivel front seats add versatility
Comes with Rand McNally GPS
High-end finishes and luxury appeal
Cons
The two floor plans offer contrasting features
Best for Families
Coachmen Freelander

Getting the whole family on the road is doable with the Coachmen Freelander Class C motorhome. This is the best Class C RV for families. No matter how big (or small) your family is, there's a floor plan to suit: Freelander models range from 21 to 31 feet. Chassis come in both Chevy and Ford options, and a long list of floor plans, plus they're certified green construction—something families can feel good about.
And when we say families—we mean you can invite everyone in and still have plenty of space to stretch out. All the beds are residential-size, and an ample cabover sleep area (families can also add a child safety net and ladder) adds even more space. Depending on the floor plan you choose, you'll have either a J-lounge or U-shape dinette, and both convert into spacious sleeping quarters.
Plus, the dinette also features a child safety tether in a forward-facing seat. This Class C RV has considered every element families need for a safe and comfortable trip. USB charging stations by the entrance and sleep areas, a built-in living room TV in the living space and a 24-inch bunk TV are all standard features (Value Leader packages).
Additional upgrades are available on Premier models, too. But even with the basic package, you can tow up to 5,000 pounds via the 7 Way Plug.
Pros
Full-length patio awnings come on each model
Bed sizes are true residential
The dinette and cabover bunk beds are spacious
Entertainment and charging solutions are built-in
Cons
It can be tough to narrow down floor plan choices
Some features are extra—or only available on Premier
Best Diesel Class C RV
Tiffin Wayfarer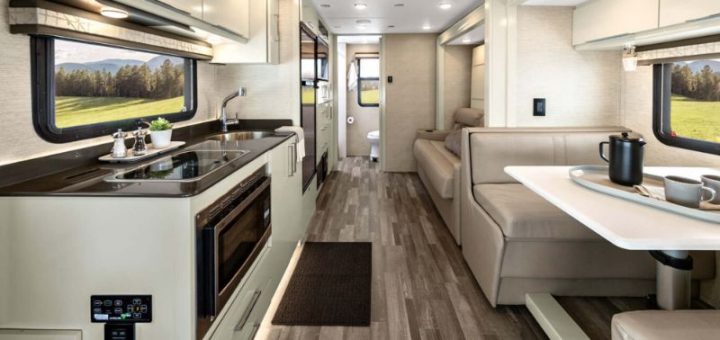 For RVers who are passionate about driving a diesel, the Tiffin Wayfarer Class C motorhome is an excellent option packed with features. This is the best diesel Class C RV. You'll get the luxury and elegance Tiffin has a reputation for and the power and drivability of a smaller motorhome. In fact, the Wayfarer has a 5,000-pound hitch capacity, which is impressive for Class C motorhomes.
Rather than choosing a diesel pusher made for a whole crew, you can scale down to the Wayfarer with its Mercedes-Benz chassis and automatic transmission. At the same time, you won't be sacrificing any Tiffin perks—the Wayfarer comes with optional Wi-Fi, tech-like lane assist, and the smoothest ride you'll find in Class C motorhomes.
Choose from either 24- or 25-foot floor plans—there are four options total—with standard features such as privacy shades, a stereo system, a backup camera, and heated leather seats. A hydraulic leveling system takes the guesswork out of setting up camp, another indicator that Tiffin cares about upgrading your experience—even on standard RV packages. The Wayfarer even includes built-in CPAP machine-friendly outlets for your comfort.
If you're traveling with few passengers or a small family and want luxury in a diesel package, the Tiffin Wayfarer might be the perfect fit.
 Pros
Many exclusive features come standard
Driving-focused support like a backup camera, lane assist, collision prevention, etc.
Range of décor options to personalize your rig
Cons
Somewhat limited floor plan options
Many perks are paid upgrades only
Most Affordable
Thor Four Winds Sprinter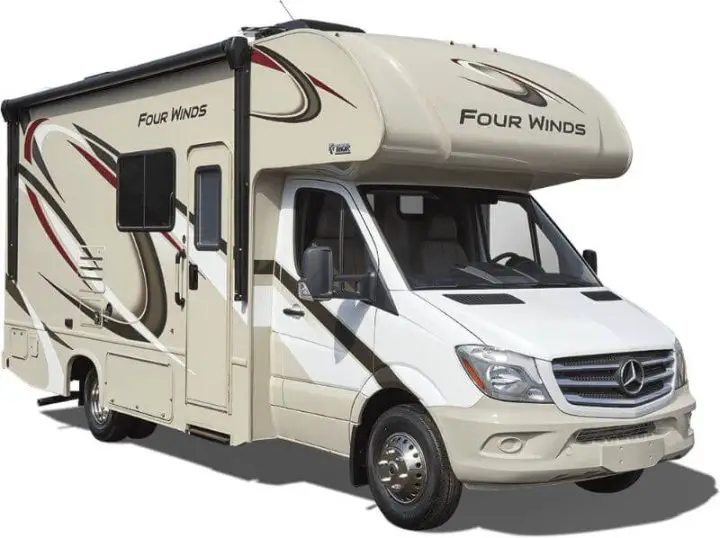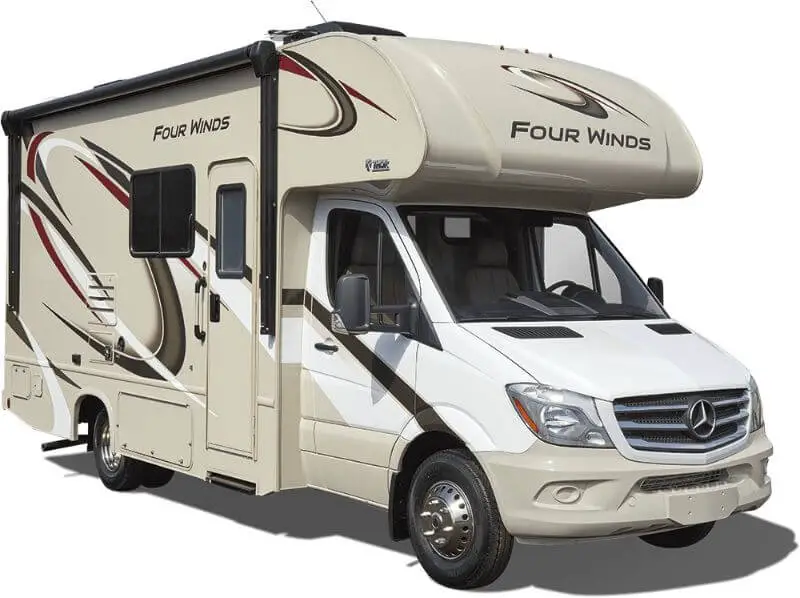 Even budget-conscious RVers can have a good time on the road with the Thor Four Winds Sprinter Class C motorhome. This is the best Class C RV for price. Thor is another brand that knows luxury, which means this luxury Class C has plenty of excellent features in a budget-friendly package. The Siesta Sprinter uses a Mercedes-Benz chassis, but the specs don't stop there.
You'll also find a swivel driver's seat, heated remote mirrors, a backup camera, and even a Wi-Fi hotspot. Each Sprinter comes with a Winegard ConnecT 2.0 device, which has 4G capabilities and lets you stay connected on the road (or on the campground). Thor is another company that cares about its customers: you'll find CPAP-ready outlets in the master bedroom area, along with USB charging ports.
Plenty of family-friendly features—like the cabover sleep area and built-in entertainment selection—make the Sprinter a popular option for families within the Class C motorhomes community. However, there are only two-floor plans available—the 24DS and 24BL—and both are smaller than competitors' layouts.
That said, the rig's layout does lend itself to plenty of in-C RV activities—even if the square footage isn't ideal. For example, an optional cabover bunk net for bunk beds is available for child safety, plus you can have a child safety tether added to the dinette seat as necessary.
Pros
Comes solar-ready—just grab a solar power package
Tons of storage space
Generator included with either floor plan
Wi-Fi device included
Cons
Only two-floor plan options
Best for Large Budgets
Coach House Platinum III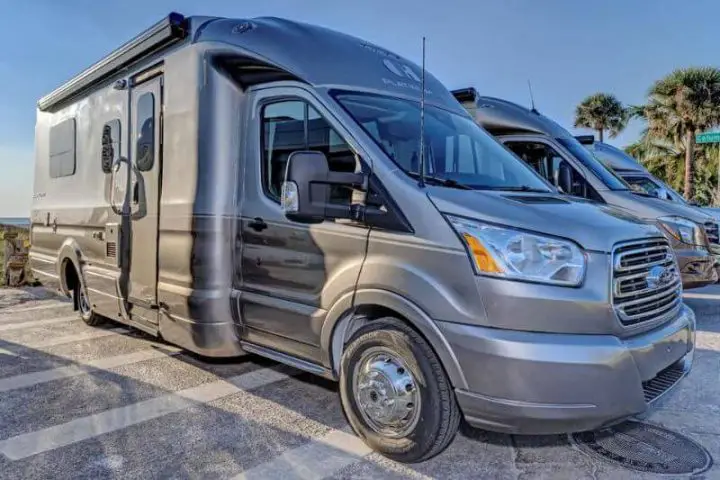 If budget is less of an issue, your best bet is the Coach House Platinum III. Built on a Ford Transit 3500 chassis, this Class C motorhome rig is unlike any other and is the best Class C RV for budgeting. From the one-piece fiberglass body to the 306-horsepower engine, Coach House knows its way around high-performance RVing.
Of course, it's not just the construction that makes the Platinum III appealing. For example, heated holding tanks ensure nothing freezes over—even when you're camping in rugged conditions. As far as interior amenities, you can expect high-end features like an in-dash GPS, a backup video camera with a color monitor, plus a Wi-Fi 4G LTE system with a booster.
Whether you're hoping to go off-road or want to stay super-connected, the Coach House Platinum III might be the perfect RV type if your budget has some wiggle room. And, if you want to upgrade further, you can add a power awning, memory foam mattresses, and even full body paint.
Pros
Plenty of external storage space
High-end construction for long-term performance
Built-in Wi-Fi connection
Cons
Only two-floor plan options
Standard sleeping quarters include two twin beds
What to Consider When Shopping for a Class C RV
You already know that Class C motorhomes are a unique type of recreational vehicle. With a cutaway chassis that leaves plenty of room for R&R plus the maneuverability of smaller rigs, you can't go wrong. Still, there are factors you should consider before splurging on a new motorhome. Here's what to consider when buying a Class C RVs.
Floor plan Options
Choosing a floor plan that works for you and your travel mates is the top concern when choosing an RV. But with a Class C RB, space often comes at a premium. Taking a careful look at the available floor plans for each model above can help you narrow down your top picks.
For example, some Class C RV rigs come standard with two twin beds instead of a queen in the main sleeping area, others may have a murphy bed. If this won't work for you, you may need to skip some models of Class C motorhomes. Or, if you're set on a cabover sleeping area for kids (or other visitors), that nixes a few more rigs from the list.
Overall Length
As you may already know, the average Class C RV ranges between 21 and 41 feet long. Most hover somewhere around 30 feet, and it's important to choose the length carefully. First, you need to recognize that the model name doesn't refer to the exact rig measurements.
Plus, there are both interior and exterior measurements. Looking at interior measurements (and the floor plan and rig layout) can shed light on how much interior space you can enjoy. Exterior measurements are a better indicator of the RV's overall size.
The exterior length is important if you have specific camping destinations in mind. For example, some RV parks don't allow rigs over 40 feet (which may be why you're looking at a smaller Class C motorhome in the first place!). But if you're planning on roadside camping—or maybe in store parking lots, as allowed—you'll want an RV that can fit in tighter spaces.
Towing Capacities
Most Class C motorhome owners don't want to unhook and drive their rigs around after arriving at a campground or RV park. Consider your travel plans and whether you're one of those RVers—and what type of tow vehicle you'll need to bring along if any.
Overall, most Class C RV rigs have the towing capacity to tow a small car. However, not every rig on our list highlights towing capacities as a selling point. In short, we take that to mean they don't come equipped for towing. You'll likely need additional equipment or even upgrades to your motorhome before you can hook up a tow vehicle and head out.
Be sure to read the fine print—including tow limits and necessary equipment—before buying an RV based on its towing capacity alone.
Design and Available Upgrades
Certainly, a class C motorhome interior design can be transformed over time, but when you buy one you should consider whether or not you like the current interiors and design. If you don't, you'll want to factor some remodeling costs into your budget.
Also ask about available upgrades like nicer interiors, appliances, and other features around the camper.
Consider Wi-Fi connectivity too. For many travelers, disconnecting from society is pure bliss. But for others—especially those who are digital nomads—having Wi-Fi connectivity is essential. Whether you're working from the road (or campground) or just want the grandkids (or you) to have internet access, considering built-in RV features can help you make a purchasing decision. Some Class C RVs include Wi-Fi hotspots, while others have wired-in equipment. Consider these specifics if connectivity is an issue for you—or you often camp off the beaten path.
Recap: The Best Class C RVs
Winnebago Aspect – Best for Couples
Coachmen Freelander – Best for Families
Tiffin Wayfarer – Best Diesel RV
Thor Four Winds Sprinter – Most Affordable
Coach House Platinum III – Best for Large Budgets
Final Thoughts
Though touring Class C RVs can be a fun experience, it's essential to know what you're looking at in a Class C motorhome and what will work (or won't) for your family. Fortunately, these top five choices are excellent no matter what type of RVer you are—and you can narrow down the list by following our guidelines for selecting the best Class C RV on the market. Questions? Shoot us a message!
Want to explore different size RVs other than Class C RVs? Check out our other recommendations:
Class C motorhomes are a big investment! Renting Class C RVs first can give you a good sense if they are a good fit for you. Read my guide on the top RV rental companies to get started!