Hey! This site is reader-supported and we earn commissions if you purchase products from retailers after clicking on a link from our site.
The best part about adventure is that it can happen year-round. When you have an RV or camper or travel trailer, you're going to be on the move constantly and even go off-grid when you're prepared. There is only one thing holding you back: heating.
Most RVs are not insulated enough to withstand freezing temperatures, so if you plan on going to the mountains for skiing in an RV, you wind up shivering through the night. That's why you need something reliable to heat the space, something like an RV wood stove. 
A wood-burning stove is an excellent solution to a problem that has plagued campers for ages. How do you warm the interior of an RV without wasting money in the process? Electric and propane heaters are expensive to operate, and you can't go off-grid with them. An RV wood stove, on the other hand, is ideal. 
But how do you know which one to choose? Never fear, we've got the answers right here, as well as reviews of the best camper RV wood stoves available. Let's jump right in. 
Can You Put a Wood Burning Stove in an RV?
Yes, you can put a wood-burning stove in an RV. Otherwise, we would be recommending something totally unsafe! There is a caveat to installing an RV wood stove, though. You need to install the stove and ventilation properly, and you need to be careful when using and caring for it. Do that, and you will have a recreational vehicle that feels warm like home no matter how cool the temperature gets. 
Wood-burning stoves are more beneficial than other forms of heating, too. You can easily make camp or boondock without needing to rely on an energy source for warmth. Operating a wood stove is minimal, as wood is available almost everywhere.
Fire up the stove, and you can cook a meal and warm up quickly. Plus, you can't ignore the incandescent ambiance of a wood-burning stove. You'll actually feel like you're camping instead of huddling around a whirring space heater. 
The other benefit of a wood stove is the type of heat it produces. Dry heat is much preferable to heat from propane. You could end up with windows covered in condensation or mold issues with a propane heater, and no one wants that.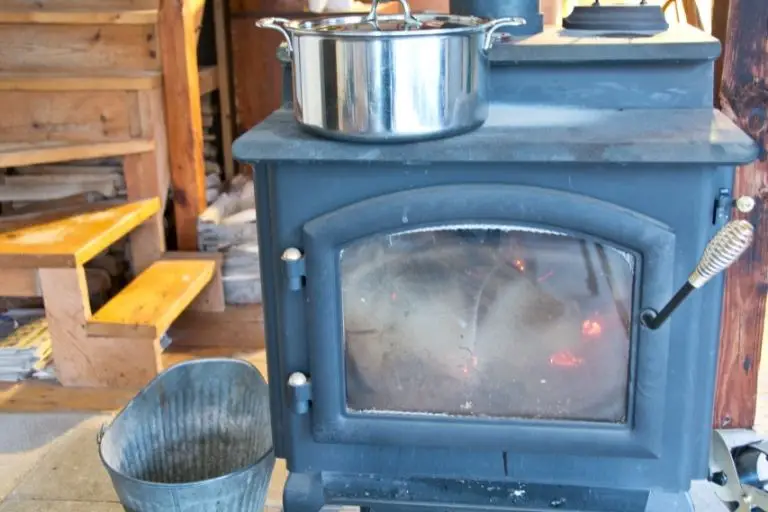 What Is the Smallest Wood Burning Stove Available?
Right now, the smallest wood-burning stove available is the Tiny Wood Stove Dwarf 3KW Lite, which measures 1,360 cubic inches or 10×8.5×17 inches. The Cubic Mini-Cub Wood Stove follows closely behind at 1,386 cubic inches or 11×12×10.5 inches. 
The smaller the wood-burning stove, the less space it will heat. So, if you have a camper van, a tiny wood stove is ideal for heating the whole thing. Larger recreational vehicles and motorhomes are going to need something with far more BTUs. 
Reviewed: The Best Camper RV Wood Stove
Choosing the best RV wood stove can be a challenge. There are a variety of wood-burning stoves out there, but not all of them are compatible with your recreational vehicle or travel trailer. So we did the hard work and researched the top three units.
We compared the heating capacity, dimensions, quality, features, pricing, and safety of each unit before determining which three RV wood stoves top the charts. Then we rated those wood-burning stoves on a scale of 0-10 to show you how they match up against each other. 
Check out our favorite RV wood stoves below: 
1. Best for Small RVs: Cubic Mini Wood Stove
Overall Score: 7.5/10
Capacity: 6/10
Quality: 9/10
Price: 8/10
The Canadian-made CUB Cubic Mini Wood Stove is an extremely popular option for campers and mobile home dwellers. This unit is designed for very small spaces—no greater than 200 square feet—and it's efficient at heating up that space rapidly. If you are looking for a larger version of this RV wood stove, check out the Grizzly Stove from the same manufacturer. 
But it's not just the efficiency of this little unit that makes it a worthy purchase. The Cubic Mini Wood Stove is one of the smallest out there, and it's also beautiful. The golden accents make it appealing in any interior.
With no mechanical elements, the Cubic Mini will provide you with a warm and cozy RV for many years. You can also entertain guests with the open cooking space and entrancing flames. 
Installation is hassle-free. You simply need some fireproofing and a proper mount to get started. There are a few things to consider with the unit. First, being that it is so small, the maximum length of wood in the firebox is 5.75 inches.
Also, the stove tends to eat up wood in less than 3 hours, so you may have to get up throughout the night to keep the RV warm. 
Pros
Installation is easy

Aesthetically pleasing design—looks a bit retro and has a glass front door for ambiance

Removable rail opens up cooking space

Ideal for spaces with low ceilings 

Weighs only 27 pounds
Cons
You have to buy the flue pipe separately

Needs 20 inches of clearance on each side without heat shielding, but if you install fireproofing and mounting, that clearance goes down to 3 inches

Flue limits cooking space and how much cookware can fit

Capacity is small – can only fit in a few pieces of wood not longer than 5.5 inches
2. Best Tiny Wood Stove: Kimberly Wood Stove
Overall Score: 8/10
Portability: 9/10
Features: 10/10
Price: 3/10
The Kimberly Wood Stove by Unforgettable Fire looks sleek and high-tech, adding a futuristic touch to your quaint RV, van, or camper. During operation, the Kimberly is efficient and eco-friendly, thanks to its unique construction.
This RV wood stove has a secondary combustion chamber that burns through particles that make smoke visible, so once the fumes rise from the flue, they are almost invisible. As for efficiency, you never have to worry about burning through wood rapidly.
A single pressed log will burn slowly through the night while emanating a luxurious warmth. And did we mention you can cook on the top? 
The unit was designed to fit both houseboats and RVs, so the design is compact enough for a small space. Plus, the body is insulated. Heat radiates from the front of the stove and the top, ensuring that nothing is being lost to drafts. You don't have to worry about children or pets accidentally getting burned either. The insulation keeps the Kimberly Wood Stove cool on the outside. 
The Kimberly does put out a lot of heat—enough that smaller RVs might get overheated. Another thing to consider is that the Kimberly is very expensive—ten times more expensive than both the Mini Woodsman Stove and the Cubic Mini Stove. But if you are planning on living off-grid for some time and have a larger space to heat, this RV wood stove is a worthwhile investment. 
Pros
Up to 8 hour burn time

Portable (weighs only 56 pounds)

EPA-CSA certified and UL-approved for residential use

Approved for 6-inches of side space (convenient for tighter spaces)

Unique venting systems saves you money on installation

Cooktop surface 

Insulated and stays cool to the touch
Cons
Very expensive initial investment

Puts out a lot heat and may not be suitable for smaller RVs
3. Budget-Friendly RV Wood Stove: Mini Woodsman Stove
Overall Score: 7/10
Capacity: 6/10
Quality: 8/10
Price: 9/10
The Mini Woodsman Stove from North Woods Fabrication is a 15.5×11×11-inch affordable masterpiece that can heat a 100-200 square foot space quickly and efficiently. It's a wonderful option for skoolies, RVs, and smaller campers.
If you are looking for something small and easy to operate, the Mini Woodsman Stove is great. And with the stove emitting enough heat to warm your RV within 10-15 minutes, you really can't say no. 
The design is nothing like the first two. This no-frills RV wood stove is modest and simple, and it doesn't have many features to raise the price. It does have a built-in collar for a flue pipe, but you have to buy that separately.
One thing the Mini Woodsman Stove does well gives you a view of the flickering flames through the glass window. The chrome handles stay cool, so you don't have to worry about using oven mitts to replace the wood. 
One notable downside is how quickly this unit burns through the wood. You will have to refuel it multiple times to keep the heat steady. 
Pros
Fits wooden logs up to 10 inches long

Puts out around 8,000 BTUs of heat

Pre-drilled holes make installation a breeze

Weighs only 23.5 pounds and is compact enough for the average RV

Durable construction

Heat-safe chrome coils on the door and damper stay cool during operation
Cons
Stovepipe venting must be bought separately

Firebox is small and needs to be filled often to maintain heat

You may need to build up the base for easier operation

12 inches of clearance required, even with fireproofing
Buying Guide: How to Buy the Right Wood Stove for Your RV
Now that you have seen some of the best RV wood stoves available right now, you need to know what to look for. Before you decide to make the purchase, here are some things to consider:
Size
You might think that bigger is better, but that's not the case with wood burning stoves. Buying too large of a stove puts you in a terrible position because you not only paid too much for a heater, but you have introduced a safety hazard into your RV. Larger stoves require more wood and produce too much heat. Unless you like roasting, that large wood stove will make your RV unbearably hot. 
Therefore, you should aim for a specific BTU range. 3,000-8,000 BTU is adequate for smaller lightweight travel trailers, vans, campers, and RVs. 6,000-14,000 can heat RVs around 200 square feet. If you have a more spacious RV, trailer, motorhome, or destination trailer, you should aim for 40,000-60,000 BTU. 
Do keep in mind that the amount of BTU/hour needed will change when you go from a temperate zone to a frostier one. For example, if the temperatures drop to near freezing and your camper isn't well insulated, you might need more BTUs than you would for autumn evenings.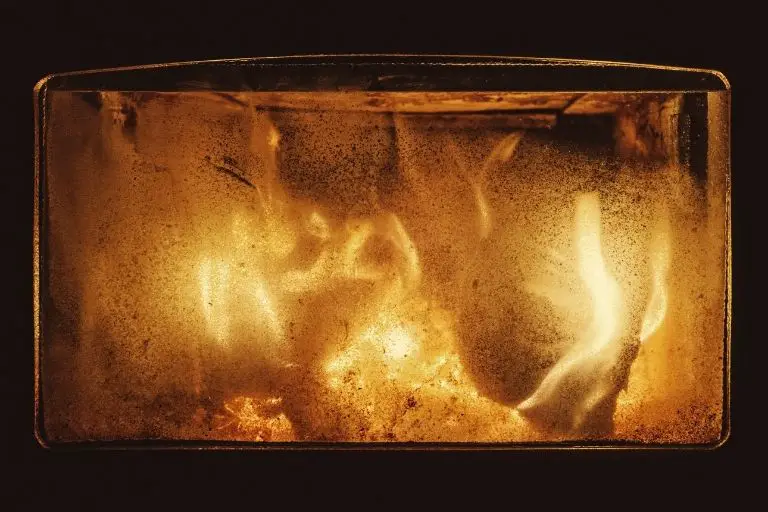 Safety
Many new models come with a slew of features that make wood stoves safer than ever for RVs and other recreational vehicles. Some of these features make heat control and starting easier. Others are made to keep soot from accumulating in the flue.
While these features often increase the cost of a product, it is always in your best interest to purchase a wood stove with safety features, especially if you are traveling with children or pets.
Efficiency
A unit that is efficient is one that uses less wood, puts out more heat, and is better for the environment. Older models tend to be far more inefficient, so look for newer models that have efficiencies higher than 70 percent. You won't regret it.
What does it mean if you can't find the efficiency rating on a wood stove? It's probably not up to EPA standards and isn't worth your time.
Installation
If you can't install a stove properly, it's going to be useless, even when it's the right size. You want to find an RV wood stove with an installation that isn't overly complicated and allows you to set everything up properly. Consider where it will sit and if there is enough clearance between the unit, the walls, and other fixtures.
Maintenance
To ensure your stove is working correctly and won't become a safety hazard, maintenance is mandatory. Clean out the flue at the end of the season and before you start using the stove again. 
If you are unsure about how to maintain your RV wood stove, consider hiring a chimney sweep who is certified. For instance, the Chimney Safety Institute of America has certified technicians who are up to the task of cleaning the stove's flue. They will also be able to inspect and spot any potential safety hazards.
Air Quality
You don't want a pot-bellied stove that burps up smoke and ashes contaminating the air in your RV. Look for units that have low smoke emissions of around 2.0-3.0  grams/hour. There is a listing from the EPA on stoves that emit less than 2.0g/hr to help you find the best unit for you.
FAQs (Frequently Asked Questions)
How do you install a wood burning stove in a trailer?
Most wood-burning stoves for RVs are sold with instructions for installation from the manufacturer. Because of this, the installation may differ between brands. That said, there is always an essential part to installing a wood stove in your RV: finding a safe place. You will need to construct an area using heat-safe materials that can protect the walls and wallpaper of your RV and other surfaces from the heat emitted from the stove. Next, you will need a way to anchor the stove so it doesn't fall over while you drive. The last bit of installation is cutting a hole in the roof so you can feed the flue pipe through for ventilation. You should also consider that there is a driving cap for the top of the chimney. The cap is necessary for stopping air from rushing through the flue pipe and blowing ashes and embers everywhere. Don't forget to remove the driving cap when you have parked for the evening and plan on firing up the stove. 
How do you size a wood burning stove?
When you are wondering how big of an RV wood stove you actually need to heat your RV, luxury travel trailer, or van, always measure first. Sizing a wood burning stove stops you from making a big mistake. In other words, you don't want to purchase the biggest stove available. First, you need to know how big the space is that you're heating. RVs do not get much larger than 400 square feet, meaning a mini wood burning stove like the Cubic Mini Stove (1386 cubic inches) could be enough to heat most of the space. Most wood stoves for RVs are rated in kilowatts (KW), but if you find one rated with BTUs, 1 kW = 3412.14 BTU/hr; you want around 6,000-14,000 BTUs to feel a perceptible difference in temperature. Many retailers also provide calculators to help you find which wood stove size is right for your RV. An RV that is 23 ft long, 7 ft. wide, and 7 ft. tall will need a 5kW stove. 
Are wood stoves worth it?
Yes, RV wood stoves are worth it, and here's why: they pay for themselves. Since you aren't relying on gas, propane, or electricity, you cut down on the cost of utilities. You can go out into the woods and find wood for free. Plus, you aren't reliant on power sources for warmth. This means you can go a little further down the road or find off-the-grid locations without worrying about comfort. Wood burning stoves can also be used for cooking and drying clothing. When you consider these factors alongside the cost of buying and installing a unit, you will find the benefits outweigh the negatives. 
Are wood stoves safe in an RV?
Yes. If you properly install your wood stove, have adequate ventilation, and keep up with maintenance, a wood stove is perfectly safe for RVs. Also, you want to make sure that the stove does not stop anyone from escaping the RV, tent, bus, or trailer during an emergency. If you are worried about the smoke or carbon dioxide, install some detectors in your vehicle for some peace of mind. 
Conclusion
Although small in size, these RV wood stoves are the best of the best at heating your RV safely and sustainably. You can purchase a more budget-friendly model or make an investment that will last a lifetime. Either way, you know that the heat source is reliable enough to go off-grid for a little while. Although each model has some advantages and disadvantages, you should be able to find one that suits your RV or camper and also your preferences.
Related Articles