Hey! This site is reader-supported and we earn commissions if you purchase products from retailers after clicking on a link from our site.
Class A RVs are pretty much the opposite of minimalism – they are the largest of the RV classes and very popular for folks who want a large camper with a lot of features in the RV industry. There are so many options when it comes to the best Class A RVs: additional amenities, features, and a floor plan – it can be tough to choose your ideal RV living space! That's why we're here.
In this article, we provide you with the best Class A RVs on the market to live your RV lifestyle, including a list of key considerations to address before making the purchase. Below is the list of products we decided on, based on amenities, floor plan design, and unique features.
Table of Contents
A Class of Their Own: Our Top Picks
| | |
| --- | --- |
| RV | Category |
| Newmar Dutch Star | Best Class A Motorhome for Couples |
| Entegra Aspire | Best Class A Motorhome for Outdoor Living |
| Tiffin Allegro Bus | Best Class A Motorhome for Families |
| Forest River FR3 | Best Small Class A Motorhome |
| Holiday Rambler Navigator | Most Affordable Class A Motorhome |
| Newmar Ventana | Best Large Class A Motorhome |
A Closer Look at the Best Class A RVs
Ready? Let's dive into each one of our top picks, why we liked them, and some watch-outs.
Best Class A Motorhome for Couples
Newmar Dutch Star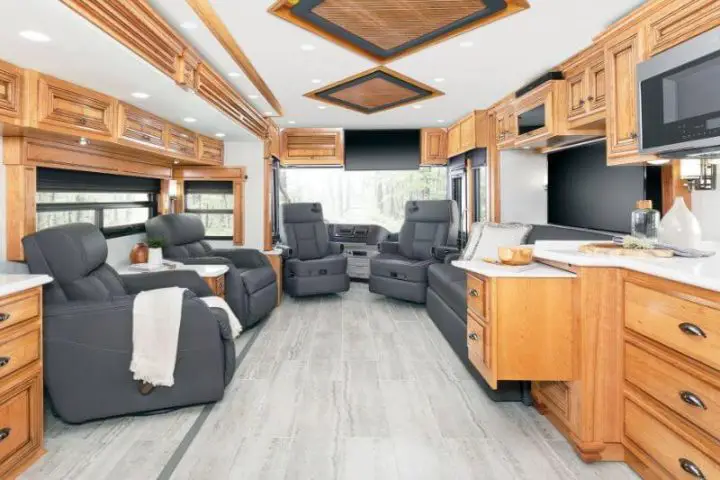 The Newmar Dutch Star provides a luxurious experience for couples who want to escape for that weekend getaway or adventure full-time RV life. The vehicle is backed by keyless entry and a smart technology touchpad for complete control and monitoring. The Cummins generator that comes included is an absolute beast as well and won't let you down.
Couples can relax outside, thanks to the power side awning, which provides extra shade and cooling. If you want to get romantic for a movie night, you can enjoy the optional entertainment center.
Newmar's most significant improvement comes on the inside of the vehicle in the living room. The upgraded ceiling and retractable LED television to provide the ultimate lounging experience. Included with a soundbar and Blu-ray player, you can enjoy the perfect night in with your loved one. The comfortable furniture, heated tile flooring, and heightened bathroom ceilings make this the ultimate RV experience.
Pros
Heated floors are the perfect solution for the colder months
Entertainment center adds extra value for outdoor enjoyment
Cons
More expensive option compared to other products on the market
The dinette table could be more spacious for private indoor dinners
Best Class A Motorhome for Outdoor Living
Entegra Aspire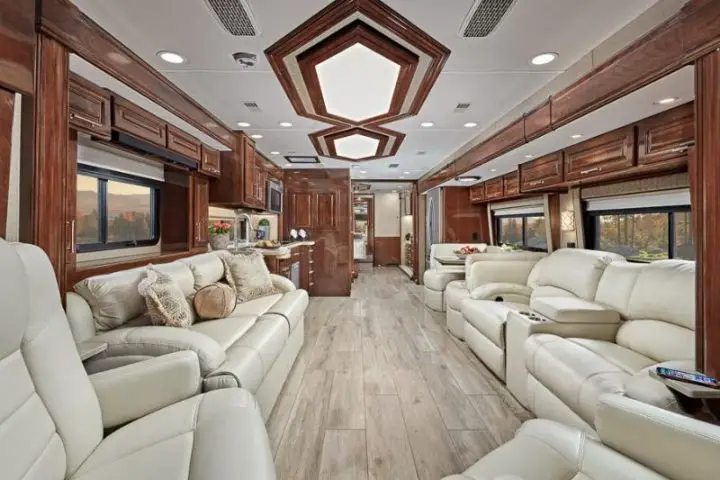 The Entegra Aspire RV is a reliable partner for long road trips or full-time living. You will experience the luxury travel right away with the Villa furniture, which adds extra comfort throughout the vehicle's interior. The stainless-steel appliances are easy to clean, and you will have everything you need to whip up a tasty meal in the kitchen. You can also open the sliding kitchen window for fresh air.
The exterior features are a big reason why the Entegra Aspire RV is an excellent outdoor companion. RV owners can enjoy LED lights, which are located underneath the slide-out rooms. The dual roof-mounted patio awning also provides valuable shade and relaxation for your family outside. Movie lovers will also get to experience the 43-inch smart TV, included with a flexible bracket for an extension.
Pros
The 43-inch exterior television offers a large screen for outdoor enjoyment
Cargo-friendly because of the baggage doors that power lock
Cons
Televisions use the same remote code, so they will turn on simultaneously sometimes, causing technical issues.
Best Class A Motorhome for Families
Tiffin Allegro Bus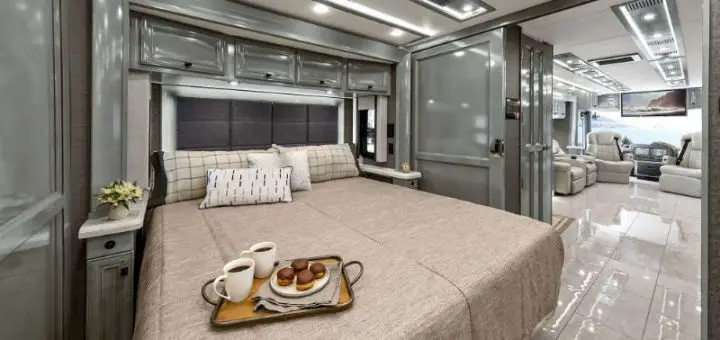 The Tiffin Allegro Bus is one of the more spacious RV options on the market. From the driver's cockpit to the master bedroom, this vehicle provides privacy and comfort for everyone. This elegant RV offers large and small families a quieter, luxurious cross-country trip. Throughout the RV, you will find four high-definition televisions, a robust sound system, and custom-crafted cabinetry.
From the master bedroom sleeping space to the kitchen, it is also a staple for this family-friendly coach because of the ample counter space and quality residential appliances. For families with a lot of luggage, the PowerGlide Chassis will accommodate this space perfect for stress-free storage. This vehicle is also an excellent option for towing because of its ample capacity. You can choose from up to 6 different colors, and then you are ready to hit the road.
Pros
PowerGlide Chassis helps with towing capacity and extra storage space
Integrated patio awning makes for entertaining outdoor activity
Cons
The price is higher than most options on the market (because of the extra space)
You will rack up higher gas charges because the vehicle is not as fuel-efficient
Best Small Class A Motorhome
Forest River FR3


The Forest River FR3 RV are small quality class A motorhomes product option, but it also offers space and convenience for your family. You can choose from four different floor plans, and each one provides optimal furniture and amenity layout that makes your crew feel relaxed and comfortable.
This RV comes with a powered patio awning, which comes with an LED light. You and the family can enjoy a relaxing morning or evening outside with the slide-out room awnings. Storage will also not be an issue with this RV because of the "super storage" pass-through compartment in the rear for cargo. If you get dirty from a long day outside, you can enjoy the built-in outdoor shower.
The interior of the Forest River FR3 was built for relaxation because of the ultra-leather dinette booth and sofa, which comes with dual footrests. If you and the family want to enjoy a movie night, the 33DS floor plan comes with theater-style seating. The vinyl flooring in this camper is also super durable.
Pros
Black walnut wood cabinetry adds a beautiful aesthetic
Ultra-leather furniture and theater-style seating make for the ultimate comfort RV
Cons
There are not as many floor plans to choose from
The AC units are installed as well as larger RVs, which may mean more time spent on repairs
Most Affordable Class A Motorhome
Holiday Rambler Navigator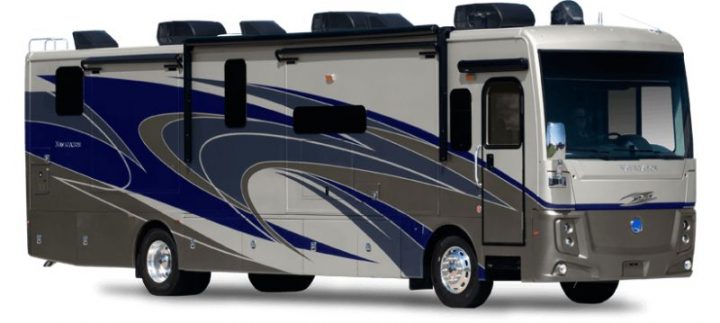 The 2020 Holiday Rambler Navigator gives you the best Class A bang for your buck. This Class A motorhome is backed by villa furniture décor, Whirlpool appliances, and composite-style tile flooring. You receive all the reliable fixtures and arrangements for a family-friendly price. This RV is designed with four different floor plans, which cater to your specific needs and preferences.
For the vehicle's pilot, there is a 7-inch touchscreen that helps monitor and regulates the lighting and other interior features. Visibility is also a vital feature of the Holiday Rambler because the owner will experience a Velvac mirror on the side, which aids in detecting blind spots.
The décor is a strong point of this RV option because the owner can choose from three different wood options: amber high gloss, whispering high gloss, and nutmeg high gloss. You and your family will experience a smooth ride, thanks to the Titan Bridge Chassis, which is a result of the partnership between Holiday Rambler and Freightliner.
Pros
The 7-inch touchscreen and enhanced mirror make this a user-friendly RV option
Five-point build system provides a sturdy, reliable framework for the RV owner
Cons
There are limited floor plan options to choose from
The design on the front end is not as reliable as the rest of the vehicle
Best Large Class A Motorhome
Newmar Ventana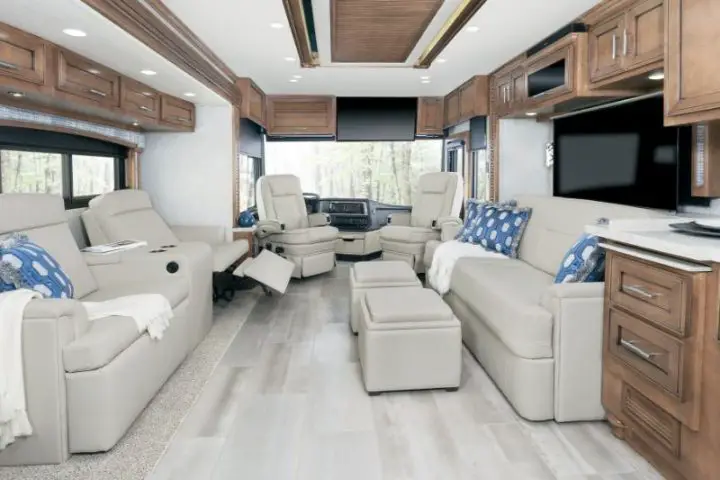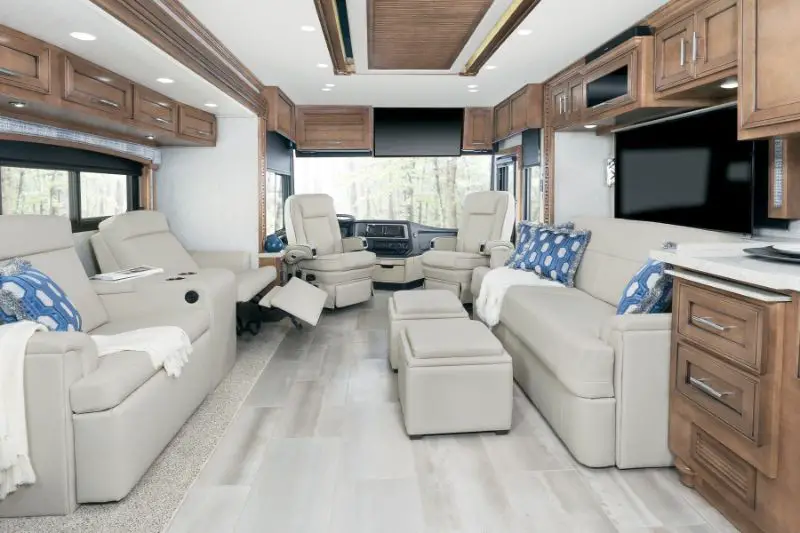 The Newmar Ventana is a product of many upgrades and improvements from previous models. In addition to the styled rear and front caps, Newmar has implemented an integrated awning system that converts the RV into the ultimate entertainment vehicle. The Girard entrance door and power side awnings allow you and your family to experience the outdoors with style.
Backed by a Cummins diesel generator, this diesel motorhome, and a keyless entry door system, the vehicle provides a safe, customer-friendly RV option. Although the entire RV was redesigned from previous sister products, the company focused on revamping its furniture style, so that travelers can relax and nap wherever they want. Penguin heat pump air conditioning also provides an optimal temperature control system.
The entertainment system of the Newmar Ventana is a highlight of the vehicle, complete with an LED television, Blu-ray player, and Bose soundbar, which can be paired with Bluetooth.
Pros
Girard power side awnings are an essential outdoor upgrade for the vehicle
Newly styled furniture adds comfort and luxury travel to the RV
Cons
Not much room for tabletop dining
It is a pricier option that may not fit into a lot of people's budgets
---
Things to Consider When Buying Class A RVs
There are many things to evaluate before making a significant investment in a big RV. You want to make sure you perform your due diligence and look at factors from all angles. Below are the crucial considerations that you should address before purchasing your RV.
How Much You Travel
The first question you must ask yourself is what kind of use you will be getting out of your class A motorhome. You will need to invest in different RVs, depending on whether you are making weekend trips or visiting national parks.
You want to plan out how much distance you will be covered on an annual basis, and then match that to the type of Class A motorhome you get. If you are going long distances, prioritize RVs with excellent gas mileage. Consider a diesel motorhome vs a gas motorhome.
Living Space and Storage Capacity
The RV you get will depend heavily on the number of people who are traveling with you. If it is just you and your spouse, you may not need an RV with ample space for a full family. When searching through the RV manufacturers, consult with the seller on how many people the RV can fit in the sleeping space. When you do your walkthrough of the camper, make sure to visualize how every space will get utilized.
Financing Strategy
When you approach the RV dealer, many quality dealers will have a variety of lenders to refer you to. If you want to go directly through your bank or a third party, you can always obtain a vehicle loan. Financing can be a simple and straightforward process if you have an excellent credit score and put down a larger down payment.
The critical thing to remember is that you are more likely to get better rates through the dealer or bank. If you resort to going through a third-party lender, you may not get as good of a deal. One last thing to analyze is the projected monthly payments and how they fit into your budget outlook. You want to make sure you can cover all future expenses associated with the RV.
Inspection and Test Drive
Before you make any down payment on an RV, it is essential to audit every inch and corner of the RV. You want to discover any potential pitfalls or problems with the vehicle and then formulate a plan to address them if need be. Cabinets, bathroom fixtures, and plumbing can cause you to stress down the road, so make sure you do a thorough inspection of the RV, especially if it is an older model.
As you go through the entire vehicle, the critical components to look out for are mold, damage to the floors, tire problems, and any exterior issues. Ask the necessary questions to the seller to make sure that you know exactly what you are buying.
Wrap Up
As you can see, there is a diverse selection of Class A RVs that can satisfy all your needs. You will find that many RV manufacturers have multiple floor plan options, so you must visualize how you and your crew will be utilizing it. Part of a stress-free RV travel experience is making sure you have space and amenities to relax.
The most important thing is to be safe and do the necessary research to make an educated decision. Visit online forums, talk to other RV owners, ask essential questions about the gas motorhomes, and perform the best due diligence you can.
Want more recommendations? Check out our guides for other RV classes:
Class A RVs are a big investment. If you're not familiar with them, consider renting recreational vehicles first to get a feel for them. Read my guide on the best RV rental companies to figure out which companies to rent from!