Hey! This site is reader-supported and we earn commissions if you purchase products from retailers after clicking on a link from our site.
Living in a motorhome or RV means learning how to deal with the precious little amount of space you have. Since RVs tend to be cramped, even when they are considered luxurious, every inch of space is necessary. That is why RV medicine cabinets are not only vital but also a creative way to store all kinds of items you can't live without. Finding the best RV bathroom cabinet and keeping it organized, though, takes a little time.
That is why this article outlines how to shop for the best RV medicine cabinets, what to look for, and how to make your cabinet more useful. Let's begin.
Table of Contents
Different Kinds of RV Medicine Cabinets
Since your RV is home for however long, you want things that are aesthetically pleasing. This is why so many RV owners go through such great lengths to wallpaper their walls, customize the dining area, and make their bedrooms as cozy as possible or other space optimizations. The RV medicine cabinet will have an effect on the rest of the décor, so choose wisely!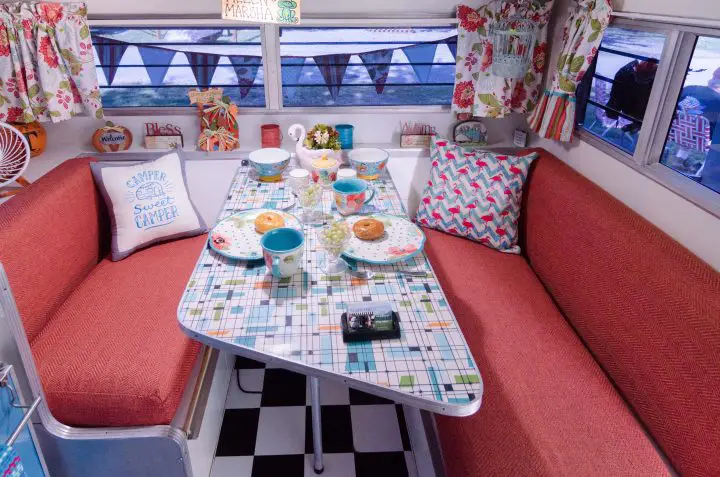 The three design options you often see for RV bathroom cabinets include:
1. Adjustable Mirror Cabinets
This is considered among the fancier choices for your RV bathroom organization. Aside from holding all kinds of medicines, cosmetics, and toiletries, these medicine cabinets come with an adjustable mirror. In other words, the magnified mirror moves up and down, so everyone in the RV can adjust it to their height.
2. Mirrored Medicine Cabinets
These are the most common medicine cabinets in RVs. The mirrored exterior or interior is convenient. Interior mirrors help you see what's far back in the cabinet, for example. On the outside, the mirror is ideal for cutting hair, doing makeup, and so much more.
3. Illuminated Mirror Bathroom Cabinets
If you don't have any other lights in the bathroom, this is the route to take. Also, these mirrors make getting ready in the morning easier, because the light focuses only on your face and lightens shadows. In the evening, you can dim the light and use it as a night light for younger children.
How to Choose The Best RV Medicine Cabinets
Now that you know more about what is available, it's time to discuss the features that you should consider. Depending on the size of the bathroom, the number of people living in the RV, the storage solution you will need, and so on, some medicine cabinets are going to be better than others. For instance, you wouldn't want a cabinet with doors that swing open while you're on the road. Imagine the mess every time you make a left turn!
So keep these things in mind:
Hardware
Choose a medicine cabinet that is built to last. Moreover, choose one that has high-quality hardware. It's easy to ignore the construction of the hinges, screws, and knobs when you're looking for something nice, but these elements are what keep the medicine cabinet anchored to the wall. You're going to be using the bathroom cabinet all the time, so you want durable materials and hardware that will allow you for a good more bathroom closet organization.
Doors
Typical medicine cabinets come with two doors. Modern RV medicine cabinets may have one door that opens up wide. Single doors are better because two door models tend to fall apart faster. Furthermore, those two doors might not fit within the space you have and could block other cabinets or doors from opening.
Weight
A lot of RV owners overlook the importance of weight. While a medicine cabinet might not affect the gross weight of the vehicle, a heavy unit could stress the wall. Select RV medicine cabinets that get mounted with support studs. Not only does that displace the weight, but the medicine cabinet won't come crashing down on a bumpy road.
Dimensions
This is easy to overlook but can make or break the space. Consider the way the door opens, the depth of the unit, as well as door hinges, light switches, and other hardware that could get in the way.
Recessed or No?
Are the walls of the RV thicker than average? Then you may be able to install a recessed medicine cabinet and free up some space! The downside? Installing a recessed medicine cabinet requires a lot more labor.
Additionally, while non-recessed medicine cabinets are great and have ample room inside, you don't want one that juts out too far.
Latching Mechanism
RV medicine cabinets aren't the same as the ones you use in your home. For starters, you are in a vehicle that's rolling down highways and around campsites. You need a medicine cabinet with a decent latching mechanism (or at least some kind of magnetic lock) to keep the door shut.
Finding medicine cabinets with latches can be hard. Most are designed for medical offices. So, if you notice that your medicine cabinet might come open, you can also install an adhesive baby safety latch to the cabinet. That should keep the door secure and closed.
Best RV Medicine Cabinets
If you are looking to replace your current medicine cabinet with and upgrade your RV bathroom, you will find that plenty of options exist. But which RV medicine cabinet is right for you? Take a look at some of the best RV medicine cabinets available right now.
These cabinets have been rated for their durability, features, appearance, and dimensions. One of them is bound to be a good fit for your camper or RV.
1. LVSOMT Bathroom Cabinet
If you're looking for a RV medicine cabinet that has plenty of features for a reasonable price, this model from LVSOMT should do the trick. It does have a mirror on the front, the design is simple and minimalistic. It comes with extra space and a great hanging options.
LVSOMT 27 Inch Bathroom Wall Mounted Cabinet, Aluminum Medicine Mirror Cabinet, Storage Organizer, Over The Toilet/Vanity Sink White Hanging Cabinet with Shelves, Towel Bar, Door (White)
Large Storage Spaces: It is designed with open storage shelves that you can use to place daily essentials.

Practical Mirrored Door: A mirror is additioned on the door, so you dont need to buy an extra one, making it space and cost-saving.

Various Occsions: The wall cabinet is perfect for the bathroom, bedroom, vanity room, kitchen or in any other room where you require some additional storage.
Prices pulled from the Amazon Product Advertising API on:
Product prices and availability are accurate as of the date/time indicated and are subject to change. Any price and availability information displayed on [relevant Amazon Site(s), as applicable] at the time of purchase will apply to the purchase of this product.
The unit is sleek and made with a premium MDF wood and lacquer, both of which are eco-friendly. Behind the door is a shelf that can be set to 3 different heights, as well as 2 hooks for hair ties or accessories.
Assembly can be a little difficult, and you will need some of your own hardware to hang the shelf (the screws are a bit too small). Once you have the cabinet installed, though, it adds a touch of simplicity and durability.
2. ExBrite 20×26-inch LED Bathroom Medicine Cabinet
You might assume that a medicine cabinet that looks so futuristic could be lightweight and small enough for an RV bathroom. But this one can. At 20-inches by 26-inches, this bathroom cabinet is slim enough to fit into tight spaces. Plus, you can choose if you want the hinges on the right or left side. No more than 20 pounds, this RV medicine cabinet won't put too much stress on the wall either.
The main benefit of having a lighted mirror is the extra illumination and motion sensor light. There are also 3 levels of storage and a decent amount of depth. You won't have to worry about finding more storage space elsewhere in the bathroom.
Installation is also relatively easy. All the materials are rated for durability and water-resistance, too. You won't have any problems with this cabinet, and it will last for many years.
3. Design House White Semi-Gloss Medicine Cabinet
Simple in design but well-constructed, this RV medicine cabinet from Design House is an excellent choice. Made to be 30-inches tall and 4.75 inches deep, the medicine cabinet has ample storage space. Plus, it has a beautiful semi-gloss finish and is made from durable materials. It will stay in great shape through frequent use. Plus, the paint comes with a waterproof coat, so you don't have to worry about damages from humidity in the bathroom!
The cabinet also comes with a reliable surface mount. You also get a 1-year warranty on the product.
The downside? This cabinet is a little tall and might not fit in smaller spaces.
4. Kohler Frameless Medicine Cabinet
Don't want to live without a mirror in the bathroom? Now you don't have to. This Kohler medicine cabinet is ideal for RVs that have a bit more space and thicker walls. That's right—you can install it either as surface mount or recessed mount (and you receive hardware for both). Constructed with anodized aluminum, this is a cabinet that will hold up for years. Plus, it looks sleek.
Prices pulled from the Amazon Product Advertising API on:
Product prices and availability are accurate as of the date/time indicated and are subject to change. Any price and availability information displayed on [relevant Amazon Site(s), as applicable] at the time of purchase will apply to the purchase of this product.
Inside are two tempered glass shelves that you can adjust. There is also another mirror on the opposite side of the door, so two people could use the mirrors at the same time. Overall, it's a stylish cabinet that isn't too difficult to install. The main downside is that it doesn't have any other features and doesn't have a whole lot of space.
5. Topeakmart Wall Mount Medicine Cabinet
If you have a little more space available in your bathroom, consider a medicine cabinet with double doors and an additional shelf. At a decent price, this RV medicine cabinet comes with a plethora of useful features, such as adjustable shelving, mirrors, and a magnetic door catch for more bathroom storage ideas in place. The white surface is also water-resistant and cleans up well. This unit is also lightweight, which is great for RVs and campers with thinner walls.
One of the downsides to this model is the assembly and installation. You have to put it together yourself, which may not always be problematic. You can indeed improve upon it with better hardware. However, the directions are not entirely clear.
How to Organize an RV Medicine Cabinet
Even with the best and biggest RV medicine cabinet, you are still going to be begging for more space. While there are few ways to create more space in an RV, knowing how to maximize what you have is just as important. Therefore, here are a few tips to help you organize your RV medicine cabinets.
Tiered Shelves
When you open a medicine cabinet in a camper or RV, you will notice that there is very little shelving. While this is great for larger toiletries, it does leave a lot to be desired. That's why tiered plastic shelving is such a boon. Without requiring any extra space, tiered shelving adds more room for more items. This is ideal if several people are using the cabinet. You can have tiers for each person to store their things.
Plastic Containers and Bins
Are your cosmetics and toiletries scattered about the medicine cabinet? Do you waste minutes trying to find one thing among several? There is a way around that frustration: plastic containers. Use small trays and bins to organize toothbrushes, toothpaste, cosmetics, medications, and more. You can separate these things up in labeled containers, so you never have to question where something was stored.
Adhesive Hooks and Toothbrush Mounts
If your medicine cabinet doesn't have much space, then you're going to have to make some of your own. Chances are that you have space on either side of the cabinet, as well as a flat surface. Can you fit adhesive hooks in there? What about a toothbrush holder? If it makes sense, add some accessories to the outside of the medicine cabinet. That will free up some space inside while keeping things off the sink.
Get The Most Out of Your RV Medicine Cabinet
Renovating and organizing an RV for more space can be challenging. But once you have a decent RV medicine cabinet installed, things won't seem as cramped. While RV medicine cabinets are only a small portion of the motorhome, they do make a difference when they hold more and have other features. So choose the RV bathroom cabinet that makes your life on the road more convenient than ever!