Hey! This site is reader-supported and we earn commissions if you purchase products from retailers after clicking on a link from our site.
We're all guilty of accidentally leaving the radio or lights on in our vehicles from time to time… it's only natural. The problem is that while that late-night radio host is jabbering away to an empty driver's seat, our car battery plummets, leaving us in a sticky situation when it finally bottoms out.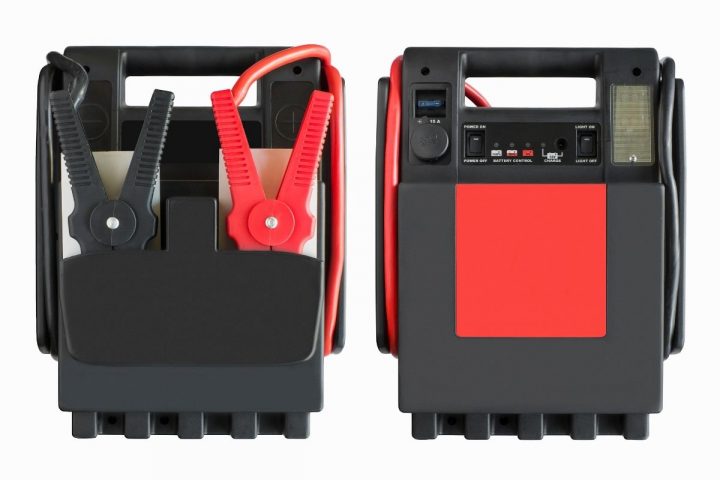 Now, if you're lucky, a neighbor, colleague, or perhaps even a sympathetic stranger will reach for some jump leads and be your knight in shining armor, but you can't always count on other people. Nope, the only way to provide true security in the event of a dead car battery is to keep a jump starter kit in your ride at all times.
So, to make sure you're never left stranded at the side of the road with an unresponsive vehicle, we've done the research, we've done the testing, and now, we're bringing to you the five best jump starters on the market!
Table of Contents
The Boost Plus from industry giants, NOCO, is a solid catch-all jump starter. With a maximum rated output of 1000 amps and 12 volts, it's capable of sparking life back into almost any consumer-grade vehicle.
NOCO claims that it can jump start 20 batteries on a single charge, and during our testing, we found that is indeed the case, yet despite this impressive capacity, we found that it only takes about 3 hours to charge — not bad, not bad at all.
An extra compact device, you really won't even notice this thing tucked away in your trunk, and as it weighs just 2.3 lbs, it's super easy to manage, but that's not to say it's flimsy. Thanks to a rubberized enclosure, heavy-duty clamps, and high quality cable materials, it's certain to stand the test of time.
It's an exceedingly safe jumper, arriving with both spark and reverse polarity protection, but that's not all. With baked in USB ports, the Boost Plus can be used to charge your small electronics, and the 100- lumen flashlight is an absolute godsend if your battery dies after dark.
Pros
Build quality — Enclosure and clamps are tough as they come
Capacity — 20 jumps in one charge
USB ports — Charge your phone in emergencies
Flashlight — Saves the day when jumping in the dark
Cons
Cable Length — Could be longer, but this likely won't be an issue for most vehicles
The NOCO Boost Plus can also be found at…
The big pull of the NEXPOW Jump Starter is the uncompromising safety of the design. Packed into this compact unit you'll find reverse polarity, reverse connection, overcurrent, overload, overcharge, over-discharge, and short circuit protections. 
And, as if that isn't enough, it also has an audible error warning, so you know instantly if something's gone awry, giving you the opportunity to solve the issue before it can damage the jumper or, god forbid, you.
What's more, when I say "compact", I really mean it. This little beauty measures a minuscule 8.6 x 5.1 x 3.9", which isn't much larger than the average smartphone, so it's not going to hog space and get in the way of your grocery shops.
It's a ridiculously powerful jumper, too. During our tests, we discovered that the 2500 amp peak output is capable of bringing both 8-liter gas and diesel vehicles back from the brink.
Pros
Advanced safety features — You are in zero danger when using this jump starter
Compact — Won't steal too much trunk space
Power — 2500 amps is insane for the unit size
Baked-in USB port — Keeps your devices juiced on the go
Flashlight — Great in emergencies after dark!
Cons
Deep discharge — Powerful, but won't revitalize a completely flat battery
The NEXPOW Battery Jump Starter can also be found…
If you've got yourself a sizable ride, and you need a reliable jumper with all the trimmings, the Boost Pro is absolutely the one for you.
Rated for 3000 amps, it's more than capable of shocking some life into gas and diesel engines with 10-liter capacities, and in our tests, we managed to eke 40 jumps out of a single charge, which is nuts!
Of course, the downside to a high-power jumper battery is that it takes a while to charge, 6 hours at 2.1 amps by our watch, but hey, it's a small price to pay for such comprehensive protection, and speaking of protection…
Featuring reverse polarity and anti-spark technology, you can clamp with confidence, knowing that you and those around you are perfectly safe during a jump — hooray!
In terms of build quality, this thing is a work of art. The high discharge lithium tech ensures it's safe to use in pretty much any climate on the planet, the enclosure is IP65 water-resistant, and an over-mold rubberized casing protects it from dings in transit.
Pros
Safety features — No operational hazards here, folks!
User-friendly interface — Easy for first-time jumpers
Nice extras — USB for small electronics and a flashlight for jumping in the dark
Power — 3000 amps is nothing to scoff at
Capacity — 40 jumps to a charge
Cons
Charge time — Big battery = big charge time
The NOCO Boost Pro can also be found at…
Cards on the table, we chose this monster for its raw power. The SuperSafe from GOOLOO has a rated max output of 4000 amps, making it the perfect lifeline for any 10-liter + motor in your garage.
To harness such power in such a small device (8.97 x 3.92 x 1.49"), GOOLOO had no choice but to use top-notch materials. From the robust cable casing to the all-metal clamps, everything is rugged and ready to roll with the punches.
It also comes with 10 discrete safety features, including overload, overvoltage, overcurrent, and overcharge protection, ensuring you and your jump starter will live a long, happy, shockless life together.
You'll also be happy to hear that it arrives with a couple of awesome nice-to-haves including dual USB ports for charging your phone, your tablet, your GPS, your digital camera… you name it.
Pros
Power — Best on the list for large vehicles
Dual USB ports (1 x QC) — Charge small electronics quickly while out and about
10 safety features — Your battery may have died, but you don't have to!
Build quality — Built like a tank
Cons
No display — All communication via LEDs
The GOOLOO SuperSafe Car Jump Starter can also be found at…
A breakdown is an objectively stressful situation, but a jumper cable with an intuitive interface and a clear means of communication can help take the edge off the predicament, which is exactly why we love the HULKMAN Alpha85.
Featuring a 3.3" smart screen, the Alpha ensures that you're never out of the loop, no matter how panicky the situation gets, helping you to deal with the issue in a safe and timely manner, but it's more than just a nifty screen.
With 9 safety features in place, you can rest assured that you'll be safe during a jump, and should something go horribly wrong, you can use the included flashlight to flag down help.
It's rated for 2000 amps, which is plenty enough for most consumer vehicles, but what's really impressive is the jumper capacity. While testing, we managed to hit 58 jumps, just shy of the advertised 60, which is very impressive indeed.
Pros
Smart screen — Makes it a joy to use
Capacity — 58–60 charges? Forget about it!
Power — 2000 amps is enough to jump start most vehicles
Flashlight — Find your way around a jump in the dark
Forcestart Mode — Helps to jump start utterly depleted batteries
Cons
Price — Quite expensive for the output
The HULKMAN Alpha85 Jump Starter can also be found at…
Best Jump Starter Buyer's Guide
With any luck, you haven't needed to use jump starters before, but if you've never really come across them, how do you know what you're looking for?
Well, not to worry, friend; we've got you covered with this brief yet informative jump starter kit buyer's guide.
Battery Size — Voltage
Engines arrive in all kinds of shapes and sizes, and the larger one is, the larger the battery needs to be in your vehicle, and the larger the battery, the more powerful a jump starter kit needs to be to "Frankenstein" it back from the dead.
The good news is that any jump starter manufacturer worth their salt will include the maximum engine capacity on their kits to ensure buyers can find suitable gear first time round, rather than engaging in a lengthy trial and error process.
Most small- to mid-sized vehicles run on 12 V batteries, but this isn't a universal standard, so you should always double-check before purchasing your jump starter. If you're looking for a jump starter that will be compatible with, say, an SUV and a small 125 cc bike, you'll need one with a variable voltage output.
Engine Size — Amps
Hefty engines and beefy batteries don't just need more volts, but more amps, too, and bear in mind that diesel engines typically have larger batteries than petrol engines of the same size.
You can use the following figures as a baseline to start your search, so you're not going into this consumer conundrum completely blind.
Diesel engines:
4-cylinder = 300–450 amps
6-cylinder = 450–600 amps
8-cylinder = 600–750 amps
Gas engines:
4-cylinder = 150–250 amps
6-cylinder = 250–350 amps
8-cylinder = 400–550 amps
Our advice is to purchase a jump starter with plenty of headroom to account for the depth of your battery's discharge.
In other words, you're going to need some extra power if your battery has completely run dry. Don't worry about a jump starter being a little overpowered, as most modern kits are equipped with technology to protect against excess energy.
Size — Sealed Lead Acid vs Lithium
Not so long ago, jump starter kits were humongous beasts that would take up the majority of your trunk space. Thankfully, that's no longer the case. These days, jump starter batteries can be as small as the portable power pack you use to keep your phone juiced when you're out and about.
The reason jumper kits are so diminutive these days comes down to lithium-ion battery technology. Older designs were based on the sealed lead acid blueprint, but there are still some doing the rounds.
Our recommendation is to avoid the sealed lead format completely and stick with a quality lithium-ion design. They're lighter, smaller, super powerful, and not much more expensive.
Safety Features
Jump starting a vehicle can be a dangerous task, and some jump starters aren't as safe to use as others. As your safety should always be priority number 1, you need to look out for a kit that looks out for you.
The best jumpers arrive with short-circuit and overcharge protection, anti-spark technology, reverse polarity, and feedback protection. 
Don't worry, though, you don't have to go through the headache of seeking each of these features in the fine print of every product you consider. Just keep an eye out for a smart jumper cable module. If a kit has one of these, then it typically has all the features listed above.
Jumper Cable Quality
It's not just high-tech features that make a jumper kit safer and easier to use than another, but the quality of the cables as well — we're talking cable length, cable material, and clamp quality.
The positive and negative poles of your vehicle battery may be further apart than you think, especially if it's something of a bruiser, so giving yourself enough cable to work with is essential. 
Sturdy cable materials will protect you from electric shocks and ensure a long service life, which is what you want from an item that's going to sit idle for what could be years between uses.
Looking for copper-coated clamps with a super-dense core metal is the best way to ensure an optimal current and a strong connection.
Nice-To-Haves
Lithium-ion jumper kits tend to come with a few nifty extras to sweeten the deal. Many will double as portable chargers for your general electronics, which is pretty neat.
You may also run into a few with flashlights, LCD, compasses, USB ports, air compression facilities, emergency tools, and even wireless charging pads for your smart devices.
Feel free to add one or more of these features to your want list to help narrow down your options when shopping around for your new jump starter kit.
Grab Your Jump Starter!
And so concludes our ultimate guide to jump starters. We hope you found what you were looking for, or, at the very least, learned a little that's going to make your search beyond this article somewhat easier.
Remember what we discussed in the buyer's guide, and you'll find the perfect jump starter for you and your vehicle in no time!
Frequently Asked Questions
While we've got you, let's run through some jump starter FAQs. If our buyer's guide didn't have the info you're looking for, you'll find it here.
How Many Amps Is A Good Jump Starter?
A 400 to 600 amp jump starter should be all you need to get 99% of consumer vehicles back on the road, but particularly small vehicles won't need anywhere near as much juice — we're talking around 150 to 250 amps.
For larger, commercial-grade vehicles, you could be looking at 1500 to 2000 amps.
Can You Jump Starter Start A Dead Battery?
Yep, you absolutely can jump start a dead battery, but you'll need a jump starter with some serious crank amp oomph. That's why we suggest choosing something with plenty of headroom.
Are Battery Jumpers Worth It?
Battery jumpers are an essential part of your on-the-road emergency kit. Asking whether they're worth it is kind of like asking if a first aid kit is worth it before jumping down a flight of stairs.
Even if you never have to use your jump starter kit, the peace of mind it provides as you go about your day-to-day life is well worth the price tag.
Are Lithium Jump Starters Better?
Are lithium jumpers generally better than SLA? Yes, they're way smaller, and way lighter, making them the most practical option. Now, does that mean that all lithium jumpers are better than all SLA models? No.
As is the case with everything in this life, the devil is in the details. A high-quality SLA jump starter will always outperform a trash lithium jumper. So, while we do recommend choosing lithium over SLA, we say that with the understanding that you'll choose a quality design.
Can You Overcharge With A Jump Starter?
It is possible to overcharge with a jump charger, but most modern lithium jumpers will have safety measures in place to prevent this from happening.
How Long Do Car Jump Starters Last?
On average, car jump starters last between four and seven years, but that's not to say yours will last as long as four years or break the seven-year threshold. The longevity of your jump starter comes down to three things: the quality of the hardware, how often it's used, and the level of maintenance and care you give it over the years.