Hey! This site is reader-supported and we earn commissions if you purchase products from retailers after clicking on a link from our site.
What qualities should you look for in the best camping stove? While there are hundreds of options for each outdoor occasion, there are a few critical factors.
As a general rule, you'll want something robust enough to be used where you set up camp, but yet portable and lightweight enough to carry about (unless you're vehicle camping, in which case it's just a matter of available car space).
Additionally, it helps if they are straightforward to use especially at the end of a long day while making dinner in the dark.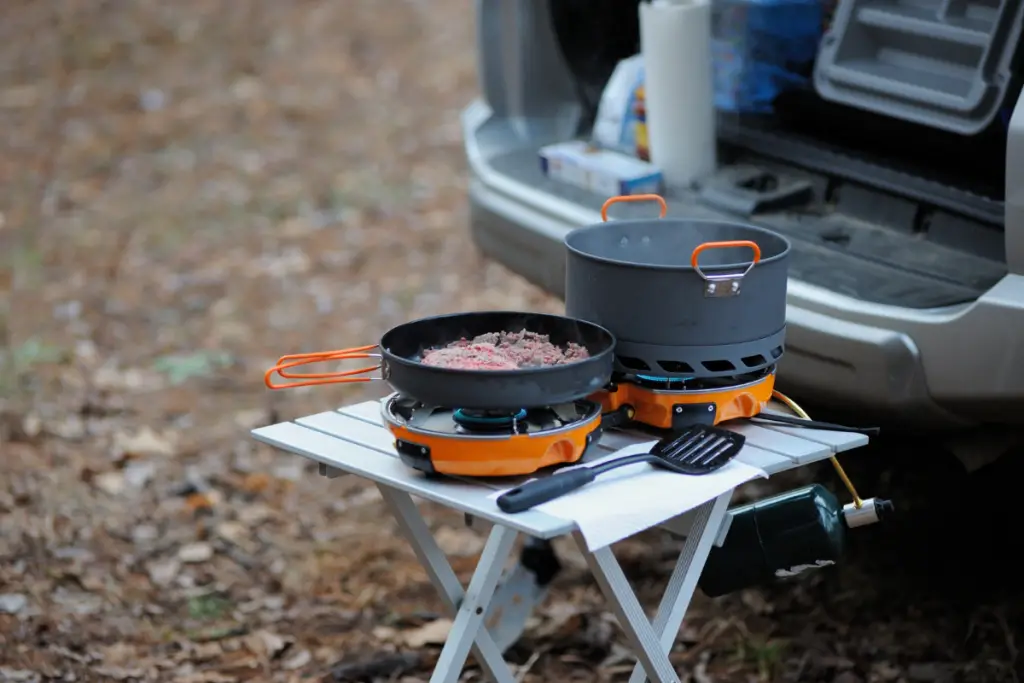 If you're looking for a single stove that can handle everything, a simple portable gas stove is probably your best choice, since they're simple to maintain, tough to break, and quick to ignite. 
These stoves are also frequently lightweight, which makes them ideal for a range of situations, ranging from hiking excursions to weekend car camping. If, on the other hand, you're looking for more firepower and want to solely car camp, a larger, more robust option will be ideal.
Here are the very best camping stoves you can buy right now. If you're not sure what to look out for when buying one of these items, then take a look at our buyer's guide at the end of this article.  
Primus is no stranger to stoves, and the Primus Firestick demonstrates exceptional engineering combined with cutting-edge burner technology. This ultra-compact and lightweight gas stove is packed with innovative features. 
To begin, the stainless steel pot supports curve around the central gas burner, protecting the delicate components with a steel shroud that is both useful and attractive.
A regulated valve is placed deep inside those parts, guaranteeing a consistent burn when the gas canister empties, significantly simplifying flame management.
This is all already great, but the cherry on top is that the piezo igniter is placed in a separate pencil-style gadget, which allows you to leave it at home when it breaks. Finally, the woolen storage pouch is meant to be used as a gripper for pots. 
The end product is all that great outdoor equipment should be: simple to use but fun to handle, flexible but not impractical, and entirely dependable. This is a genuine keeper of a stove that you'll return to time and time again.
Pros
Very fuel-efficient – you will hardly have to add any fuel at all to this stove to keep it alight
Durable and robust – as with any camping equipment, you'll want to make sure that it can hold up will when used outside. This stove is very dependable and won't break down
Cons
Needs a shield if it is windy – this stove will need to be protected from the wind as this will cause the flame ot go out
The Vango Atom incorporates all of the benefits and drawbacks associated with gas stoves. This little (6x4cm folded) and lightweight (66g) stove is as simple as they come, yet it still produces a robust 3000W, sufficient to boil a litre of water in 3.5 minutes.
This is a fantastic alternative if weight is a factor (backpacking, trekking, or climbing). Among the negatives is the likelihood of instability when fully laden with a large pan of food and the inefficiency of gas at low temperatures or altitude.
However, for everything else, this is an excellent option, particularly at this price.
Pros
Very simple design – there are no added extras on this, it does what you need it to do and that's it
Super lightweight and compact – if you are spending a few days hiking, then you don't want to be carrying around a lot of heavy equipment with you. That is why this stove is perfect for these kinds of adventures
Cons
Could potentially fall over – if a heavy pot or pan is placed on it, there is a chance it could become unbalanced and fall over. This can be avoided by playing it on a solid and steady surface, and keeping a watchful eye on it when cooking
The BioLite CampStove 2 is a multi-faceted appliance that improves on numerous fronts over the original, very similar-looking CampStove. This is effectively a miniature fire pit, which means you'll need access to nearby woods for twigs or you'll need to bring some pellets with you. 
Apart from that, the little stove packs a punch, charging an inbuilt 2600 mAh battery by the heat of the fire, resulting in 3 watts of continuous electricity to charge gadgets.
A portion of the produced electricity is used to power a strong fan system that provides a clean burn and has upgraded four fan speeds that can be controlled via the LED dashboard on the side. 
Also, an articulated USB light can be added to provide added light in the light. It is also very useful when adding in more fuel. 
Apart from the charging technology, the CampStove 2 has an integrated pot stand, a boil time of 4.5 minutes for a litre of water, and a separate kettle pot and grill if you want the complete package. 
The primary disadvantage is the weight, which comes in at just under a kilo, which means this is mainly used for vehicle campers. However, as an off-grid charger, focal point fire pit, and oven, there is little competition out there as this is one of the best and tech-heavy stoves that you can buy. 
Pros
Packed with features – is able to charge your devices, provide extra light, and be controlled by an LCD screen
Wood fuel – gasoline or diesel can be both inconvenient to carry and can small really bad while also benign bad for the environment. Wood fuel is much easier to handle as you can collect this resource once you have pitched your camp for the night, and it is much better for the nature around you
Cons
Heavy – weighing just under a kilo, this might be one of the heaviest pieces of equipment that you will take camping with you. It is not really suitable to take on hikes and works better for those who are having a casual camping trip and have a vehicle to get to the site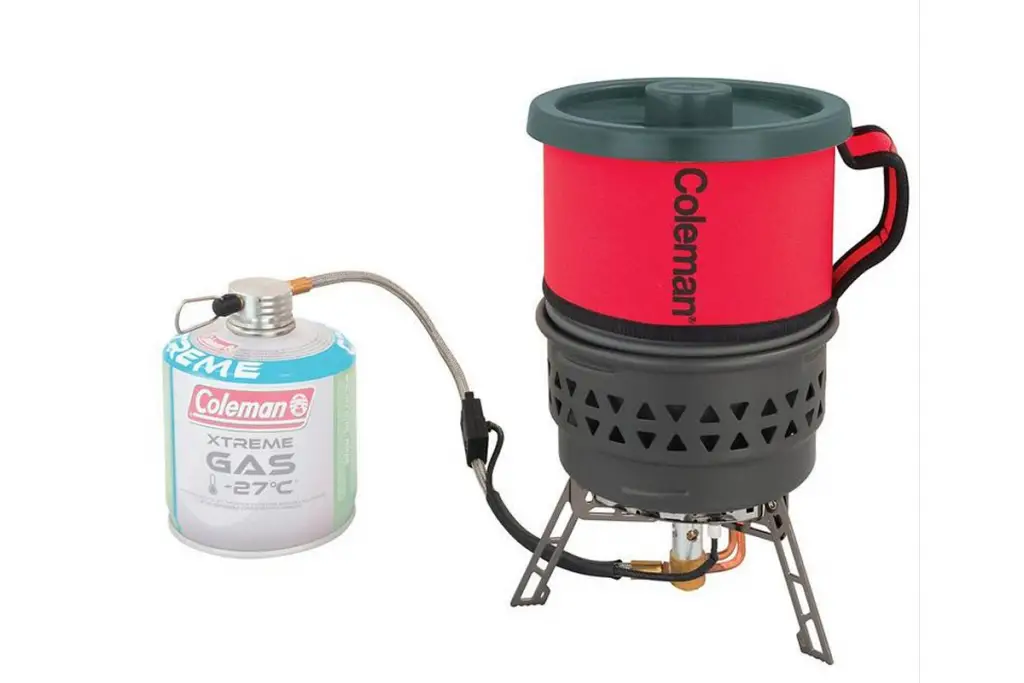 The Coleman Fyrestorm PCS (Personal Cooking System) is one of the best camping stoves because it is a compact, all-weather performer with a lot of functionality at an inexpensive price.
The primary body of the stove is made up of a gas burner and a large 1.3L cooking pot, as well as a hose that connects to the gas cartridge, which has a lot of advantages over other setups.
Due to the external gas cartridge's lower center of gravity, the main pot is more stable, and in cold environments, the gas cartridge may be kept warm above the ground, therefore decreasing gas pressure loss due to cold. 
Wind protection is included into the burner, as is heat retention, which increases efficiency. Coleman claims a 2200W output and a rapid boil time of fewer than four minutes in calm conditions, increasing to six minutes 35 seconds in heavier winds. 
Additionally, a built-in igniter makes starting this stove much easier compared to using matches or a lighter. Another good feature is the possibility to peg the stove feet down for increased stability.
There are lighter stoves available, but Coleman's convenience at the end of a long day will make all the difference.
Pros
Efficient in almost all weather conditions – whether sunshine or windy weather, this stove can handle almost everything. It may even hold up in slight rain so long as it is a bit sheltered
Very stable – thanks to the way the stove legs are designed, you can push this into soft ground to keep it more stable when cooking 
Cons
Works best with its own pot – Colman makes their own range of pots and pans to go with its stove, which means that these stoves were designed with these products in mind. While this stove will work with your own pots, it could cause it to become unstable
This stove is perfect for cooking whole meals while you're out camping. Do you want a full fry up for breakfast? It can do that easily. What about dinner? It's a breeze thanks to its split cooking surface area, which allows for the simultaneous management of many cooking types or pots. 
When the wind picks up, you'll find the integrated windshields proved useful, sheltering the flame from stronger gusts that would damage lesser camping stoves. 
It's also pretty easy to clean, thanks to the detachable drip tray and grate, so you won't be faced with a massive clean-up job once you've returned home and unpacked your camping stuff. Even amateurs will be up and running in a matter of seconds with this stove.
It should be equipped with a supply of gas cartridges, which makes powering it easy as well.
Pros
Can cook a lot at once – thanks to its dual cooking area, you will be able to feed everyone quickly using this stove
Has wind protection – most stoves can't handle windy conditions at all as it causes the flame to go out, but that is not a problem with the Jimbo stove
Cons
Not very durable – if dropped, some components of this stove may break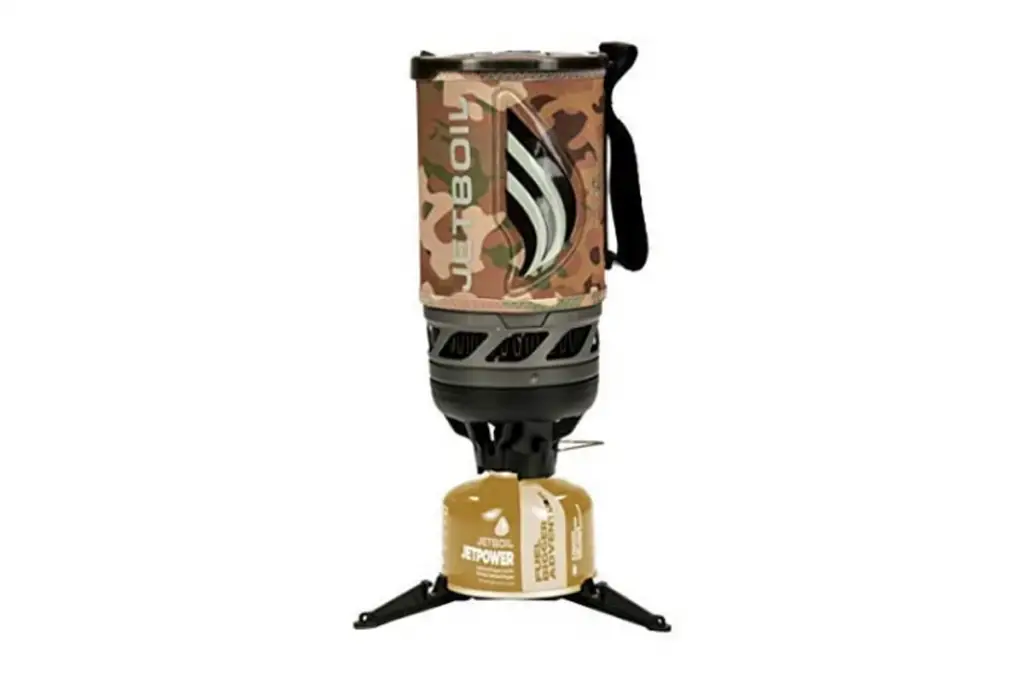 To the displeasure of its various competitors, the revised Jetboil Flash camping stove retains the same degree of water-warming performance while weighing less than the previous model as well as others on the market. 
With a claimed boiling time of 100 seconds for every 16 oz (1/2 Litre) of water, the emphasis is on efficiency and speed with every aspect of this stove.
The Flash features a color-changing sleeve that signals whether the contents are hot which is helpful for avoiding unintentional burns while maintaining the flux ring and built-in piezo igniter seen on previous models.
Although the Jetboil's cooking skills are restricted as there is no frying option it swiftly produces boil-in-the-bag and rehydrated meals.
Jetboil has been hard at work producing an ever-growing assortment of accessories, including the simple yet specialized Coffee Press, an even more specialized Hanging Kit (for big-wall climbing expeditions), a Pot Support, a Skillet, and an extra-large FluxRing Cooking Pot. By and large, it is a great stove and is an improvement on their already excellent first model.  
Pros
Boils water quickly – you won't have to wait long to make a cup of coffee in the morning thanks to this
Fuel efficient – a little goes a long way with this stove
Cons
Cannot fry food – if you wanted some bacon and eggs for breakfast then you're out of luck because of this
As implied by the name, the MSR Windburner's biggest selling point is its ability to remain lit in windy conditions, making it ideal for climbers, hikers, and adventurous souls looking to camp closer to the end of the year. 
The 'loct pot' form is ideal for retaining heat when it's chilly outside, and the insulated cozy with handle makes it easy to transport. Additionally, the burner operates at a high rate of efficiency.
If you're looking for a camping burner for your next adventurous expedition but can't justify the price of other similar stoves, then this in=s an excellent alternative.
Pros
Works in windy conditions – while so many stoves cannot function in this weather, this is where the WindBurner thrives
Lightweight and very portable – this stove is super easy to carry around with you on long hikes and adventures 
Cons
Stability issues – while it works great in the wind, it can become unbalanced easily if heavy pots are used on it
If you want ultimate mobility and don't want to deal with solid fuels this is the stove for you. This little titanium burner weighs just 25g and, when coupled with a matching titanium pot, will give you hot tea in minutes.
The downsides are mostly due to the design's compact size, which compromises stability and renders the tiny pot support arms incapable of holding much weight.
Additionally, despite the 2700w of power claimed, flame control is restricted (on or off). However, as a low-cost, practically weightless burner, it is amazing. 
It is a simple stove and you can't cook a lot on it but for quick snacks it's perfect. 
Pros
Super lightweight – you won't even notice that you are carrying this stove
Can boil water quickly – if you're craving a hot drink when out in the cold, you won't have to wait long
Cons
Not stable – if you try to put any large pots and pans on this stove it will fall over
Buyers Guide
Now that you know about the best stoves out there, here are the features that you need to look out for when buying one for yourself. 
Fuel Type
If you're cooking three times a day and making hot beverages, you're going to want a quick and trustworthy fuel source, such as gas or gasoline. Both have their downsides though, as they can be hard to carry, can spill out, and just in general smell. quite bad. 
Another common fuel type is wood. This is a bit easier in terms of weight as you don't have to carry any around with you so long as you are walking in a wooded area, you can just take the natural resources around you. However, this won't be a good choice if you are going places with few trees. 
What You Want To Cook And How Much
If you will be cooking a lot of food in one go, you'll want to get a stove that has more than one burner. If it is just you though then you could get a smaller stove that is suitable for one-pot meals like rice or beans. 
Size And Weight
If you are gouging for a long hike, one that might take a few days, then you don't want to be carrying around a heavy piece of equipment as that will make the whole experience a lot more difficult.
Check the weight and size of the stove you want to buy to first see if it will fit in your bag, and then to check if you will feel comfortable carrying that weight on your whole trip. 
If you're interested in an RV wood stove, visit our guide!
Frequently Asked Questions
What Fuel Is Better, Gas Or Propane?
Because propane has a higher heat output, this fuel is slightly more efficient when it burns. It's not a significant difference due to the relatively low temperature of a camping stove, but propane is the more energy-efficient fuel compared to butane.
Are Camping Stoves With The Purchase?
If you are going on a camping trip, a stove is definitely worth bringing along with you. After all, without it, you will have to eat packed food for days on end that won't give you the sufficient energy to keep going with your trip. And at the end of the day, what's better than a hot meal?
You can find stoves that can work in almost all weather conditions, and they are so easy to use that after a try or two anyone will be able to use one.