Hey! This site is reader-supported and we earn commissions if you purchase products from retailers after clicking on a link from our site.
When you are looking for a fun family destination, Idaho might not be at the top of the list. Think again! The Treasure Valley area is booming with places to see. There are especially a ton of things to do in Meridian, Idaho. Whether you are visiting in the summer or winter or sometime in between, Meridian, Idaho has the attractions and adventures you and your family craves.
Get your itinerary ready, because you're going to want to add these activities!
Table of Contents
About Meridian, Idaho
Nestled between Boise and Nampa is Meridian, Idaho. Over the past few decades, the population of Meridian has exploded as the city grows and becomes something amazing. Since 1990, the population has gone from 9,500 to a whopping 114,000—as of 2019.
Where did the name come from? Meridian, Idaho rests in the region known as Treasure Valley and sits on the Boise Meridian. The Public Land Survey System of the US named 35 principal meridians in the country, and Meridian is on one of them.
Being that Meridian, Idaho is at the center of many attractions, national parks, and cities, it's an excellent location to find a hotel and go exploring.
Take a virtual tour of Meridian with this video:
17 Best Things to Do in Meridian Idaho
Whether you are spending a few days or a week in Meridian, Idaho, there are plenty of activities for children and adults to enjoy. You will find no shortage of shops, restaurants, museums, and parks in this area. Plus, Meridian is a short drive away from other cities, including Boise.
To get you inspired, here are some of ideas for what to do in Meridian, Idaho:
1. Visit the Village at Meridian
One of the best things to do in Meridian is walk around the Village. This is especially true if you want to wine, dine, and have a great time shopping. Not only that, the Village is exceptionally beautiful throughout the year. Think babbling water features and Christmas illuminations. During the holidays, a skating rink is available.
In fact, if you ask a Meridian citizen what to do in their city, they will most definitely bring up the Village. It's an ideal spot to get your feet wet, as well as have a few special moments with friends and family. And if you're hungry, you won't be when leaving the Village. There are several restaurants and eateries in the area, and they are also reasonably priced. A happy wallet and belly spells a good time!
2. Find Solace at Settlers Park
Settlers Park is not just a neighborhood in Meridian. It's a gorgeous plot of land with tons of things to do. Settlers Park covers 57 acres within Meridian and is a favorite place for outdoor fun. The Adventure Island playground area for children is open throughout the year and has plenty of things for children to do. Aside from the playground, there are water fountains where you can cool off on a hot summer day.
Do you love outdoor cinemas? Settlers Park plays movies under the stars during the warmer months. There is also an outdoor picnic area that can seat up to 400 people. You can also make a reservation for a spot, if needed.
You can also find an assortment of sports facilities for baseball, tennis, golfing, and archery.
3. Pet The Animals at Linder Farms
Locals and tourists alike love Linder Farms. For more than 30 years, Linder Farms has offered seasonal attractions for visitors. In other words, you have plenty of chances to make memories. Throughout the year, there are corn mazes, a petting zoo, and inflatable slides up and running. Hayrides are offered for tours around the farm, too.
During the Halloween season, you can partake in pumpkin carving. Kids will love the opportunity to pick their own pumpkin, too.
Aside from that, you can enjoy some sweet treats. Linder Farms makes corn dogs, donuts, caramel apples, and other delectable snacks.
4. Have a Roaring Springs Adrenaline Rush
Roaring springs water park is the largest water park in the entire Northwest is found in Meridian. Roaring Springs water park has over 20 water attractions, equaling fun for the entire family. Open between May and September, Roaring Springs is a must for summertime.
Lounge on the Lazy River while the more adventurous members of your group take on the Snake River Run, which has a loop; the six-story drop in Cliffhanger; and the Northwest's first ever 360-degree looping water slide of Corkscrew Cavern.
Younger children can have a blast at Barefoot Bay, where the wading pool is warm and there are kid-friendly features for playtime.
The park also has a number of meal options, including four restaurants. If you want luxury, you can have it with a private cabana and waiter service.
5. Bike or Walk Along the Boise River Greenbelt
Both Boise and Meridian have plenty of green scenery to behold. Take, for instance, the Boise River Greenbelt. The river descends from the north through Meridian then continues onward to Boise. This means you get about 25 miles of riverside trails for walking, jogging, and biking.
The Greenbelt is also connected to over 850 acres worth of park land. So, if you are looking to spend a day in nature, hop on the Boise River Greenbelt and see where you end up.
A lot of people come to this winding pathway for birdwatching, as well. Many species tend to pass through the area. You never know what kind of birds you are going to spot!
Lastly, if you want to get on the water, look no further for a myriad of water-based activities. Paddleboards and rafts are available for rent along the river.
6. Watch Cars Whiz By at Meridian Speedway
Love racing vehicles and speed? There are few places like Meridian Speedway, especially in Idaho. In other words, it's a novelty—one that your race car loving friends will lose their minds over. Since the Meridian Dairy Board owns the Meridian speedway, you can expect a venue that is well-maintained and organized.
Weekly races are scheduled throughout the summer and spring at Meridian speedway. You can watch race after race, if you want. Cool down with some beer and some delicious pub-style food such as tacos, hot dogs, burgers, and wraps.
One of the most famous events is the Eve of Destruction, which happens at the beginning of August. If you want an exhilarating show, book a time to see the show or one of their many events with fireworks. You will be talking about it for weeks.
7. Take The Kids to Wahooz Family Fun Zone
Meridian, Idaho has a bunch of family-friendly attractions. Another great place to go is Wahooz Family Fun Zone. Ideal for both indoor and outdoor fun, Wahooz family fun zone has something for everyone. Outside, you can race around the go-kart track, put some balls at the 18-hole golf course, swing a bat in the batting cages, and even try out some bumper bumps.
Indoor Wahooz family fun zone, there are 24 lanes for bowling, laser tag, a climbing (or bouldering) wall, amusement park rides, a sprawling arcade with over 80 machines, and so much more. Many of the activities are seasonal, so be sure to check out what is being offered during your visit. However, most of the fun stuff, like the mini golf, is open throughout the year.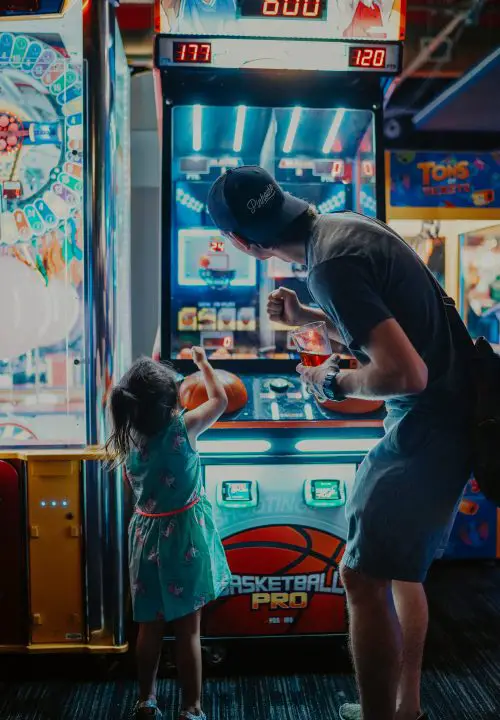 8. Wander Around Julius M. Kleiner Memorial Park
Is it a beautiful sunny day? Wondering what things to do in Meridian? Check out the 58 acres of Julius M. Kleiner Memorial Park. Kleiner lived from 1892 to 1972 and played a major role in the creamery and dairy industries. During the later years, he devoted much of his time to philanthropy.
Wander around the wide, open Kleiner memorial park using the Grand Promenade and Kleiner Memorial Park Loop. It's a great way to get to 10,000 steps! Plus, there are two ponds at the center of Kleiner memorial park. At the northern pond, you can find a large amphitheater and stage for summertime concerts.
9. Visit Pojo's Family Fun Center
Similar to Wahooz and Roaring Springs is Pojo's Family Fun Center. The facilities are complete with hundreds of arcade games, as well as amusement rides and bumper cars. You can spend hours here with children or adult friends. There is something for everyone. The best part is that the center is inclusive to all.
After having played for hours on end, treat yourself to some pizza. You will find that many people visit Pojo's just for a slice or two, because the recipe is so unique.
10. Walk Around Downtown Meridian
Downtown Meridian may not be as sprawling as some downtown areas, but it does have charm. This section of the city is full of quaint little shops and a vibrant personality. You can find dozens of restaurants, bars, boutiques, and picturesque, tree-lined sidewalks.
Pause at Generations Plaza for a picture and some shade. Then find yourself some place to peruse or something to eat. Speaking of food, you can find all kinds of cuisines in Meridian. For example, there is Eight Thirty Common, where gastro fare is served. Hit up Original Sunrise Cafe for a diner experience.
Or you could even try Basque cuisine from Epi's, which is still family-owned and operated!
11. Visit the Idaho State Capitol Building
For those who love history and architecture, consider checking out one of the most famous buildings in the state. The Idaho State Capitol Building is an architectural marvel. Designed using Classical Revival elements, the capitol building is absolutely stunning and has some European flair. People liken it to St. Peter's Basilica, especially when describing the neo-Baroque dome.
Tours of the grounds are conducted regularly. You can learn about the history of the building as the state. You will also be guided around to see several statues, including one of George Washington on horseback. Once the tour is over, don't leave right away. There are also hidden surprises, such as statues of Nike of Samothrace and the explorers Lewis and Clark.
12. Get Chills at the Old Idaho State Penitentiary
Another place of historical significance for Meridian and Boise is the penitentiary. The location is within the foothills, amid wonderful scenery. Presently, the Old Idaho State Penitentiary is taken care of by the Idaho State Historical Society. However, between the years 1872 and 1973, it was home to some of the most devious and heinous criminals who had plagued the West.
Because the old prison is immaculate, there is a lot to see while walking around. There are 30 historical buildings in total. You can peek at the solitary confinement cells, blocks, and gallows. There are also furnished collections, including the J. Curtis Earl Memorial, which shows all kinds of historic weapons from across thousands of years.
The Old Idaho State Penitentiary also has exhibitions discussing the lives of the prisoners, including their daily schedules, who some of the most infamous among the people were, and also about the riots that took place.
13. See the Idaho Botanical Garden
Although the sprawling Idaho Botanical Garden is not located in Meridian but 23 minutes away, it is one of the most worthwhile attractions to visit. Not just for those who love nature and flowers, a botanical garden is also a place for education. Plus, the Idaho Botanical Garden is located among other attractions, like a historical prison. You can visit both and learn a little about the history of the prison, its gardens, and more.
The Idaho Botanical Garden is a beautiful stroll on a sunny day. The park is divided up into 13 subsections, including an English garden with the gorgeous Summer House and 1,300 perennial flowers and plants. During the summer season, the Rose Garden is a must-see. Kids will love the Children's Adventure Garden, too.
Overall, the gardens are breathtaking and the perfect place for some memorable photographs. Be sure to visit while traveling around Idaho!
14. Go Skiing at Bogus Basin
Located about an hour from Meridian is one of the top ski destinations in Idaho: Bogus Basin. Despite the name, Bogus Basin is anything but fake. It has 2,600 acres of skiable trails and vast scenery. The set up of the organization is also noteworthy. Bogus Basin is a non-profit organization. This means that all of the profits it makes go back into the maintenance of the mountain, facility and equipment upgrades, and community programs.
The winter sports facilities season runs between Thanksgiving and April. You can also schedule private lessons with exceptional tutors. There are 80 runs to try and 10 lifts to bring you throughout the ski zone.
But you don't just have to visit Bogus Basin when it's snowing. During the summer, Bogus Basin is the main place to find high-speed mountain biking, hiking, and horseback riding.
Oh, and if you were wondering how some place could be called "Bogus Basin," it's a name that originated during the Gold Rush. Swindlers used the hills around the basin to manufacture gold dust, thus scamming the inhabitants of Boise.
Here's a video about the beauty of the ski resort and what's offered there:
15. Learn About Aviation at the Warhawk Air Museum
Take a drive down the Vietnam Veterans Memorial Highway. At Nampa Municipal Airport, you will find one of the best things to do in Meridian, Idaho. The Warhawk Air Museum is one of a kind and will be a very interesting stop. The museum goes deep into the history of World Wars I and II, as well as the Korean, Vietnam, and Cold Wars.
You can learn a lot here. Plus, for those who are a fan of aircraft, you can see a small but well put together collection of preserved planes. This includes a P-40E Kittyhawk, Fokker DR-1, P-51C Mustang, F-104 Starfighter, and an F-84G Thunderjet. But the fan favorite? That would be one of the few remaining Curtiss P-40 Warhawks, which was seen in the 2001 film, Pearl Harbor.
Along with the aircraft are artifacts from the wars, memorabilia, and much more to be seen. The guides are all very interesting and entertaining, too. You're sure to have a great time.
16. Take a Drive to Eagle Island State Park
Located 10 minutes outside Meridian's city center is Eagle Island State Park, where there are dozens of things to do in the Great Outdoors. At the lakes and rivers, you can take a dip, fish, kayak, and canoe. There are places for picnicking, sunbathing, and horseback riding. Of course, you could always strap on your hiking boots and wander the miles upon miles of easy to moderate-level trails.
If you find yourself looking for things to do in Meridian, Idaho during the winter, consider checking out Eagle Island's Snow Hill. Wintry fun abounds here. During the summer, Snow Hill also features a zip line.
Kids will enjoy the rock wall at the playground, as well as the water slide. There is a lot to do here, so be sure to come prepared for a full day in the sun.
17. Learn About Fish at the Aquarium of Boise
Thinking about taking a day trip outside of Meridian? Need something to do on a rainy day? Located just 23 minutes from Meridian's downtown is the magnificent Aquarium of Boise, Idaho. The aquarium is home to over 250 species of animals, including a vast amount of marine life. Kids and adults alike will love the expansive exhibits featuring sharks, sting rays, and even an interactive tide pool.
Outside of the marine exhibits, you can also visit an aviary full of brilliantly colored birds and a reptile house. The attraction is outstanding.
Everything's Prime in Meridian
There are many fun and exciting attractions for travelers of all ages in Meridian, Idaho and Boise. You will certainly make many memories while visiting. Meridian is full of charm and offers a doorway to many other places to go throughout the Treasure Valley region. In fact, there are so many things to do in Meridian, Idaho that you will have to come back a few times to do it all. Looks like it's time for a family holiday!
FAQs (Frequently Asked Questions)
What is there to do in Meridian, Idaho?
There are many things to do in Meridian, ID. Aside from spending time outside along the Boise River Greenbelt, you can visit Settlers Park, take a hike around Bogus Basin, or wander around the Village. In the evening, head to Downtown Meridian for some delicious eats and treats. You can also visit an aviation museum, historic prison, and botanical gardens. What can't you do in Meridian?
What is Meridian, Idaho known for?
Meridian is known for having loads of attractions and history, such as the Old Idaho State Penitentiary, and for sitting on one of the 53 meridians in the US. There are hiking trails, rivers and ponds for fishing, white water rafting, camping, and more for outdoor enthusiasts. There are also art galleries, fine dining, museums, and shopping for those who love city life.
Is it better to live in Boise or Meridian?
That depends on who you ask! Meridian is smaller than Boise in terms of population, but it doesn't pale in comparison when looking for things to do. Both Meridian and Boise have numerous museums, excellent nightlife, and plenty of outdoor spaces to explore. It really comes down to what you are looking for. But since they are in close proximity to one another, there is no reason you can't enjoy both.
What is there to do in Treasure Valley?
Treasure Valley consists of the Boise River Greenbelt, as well as the cities of Meridian and Boise. You can see the Warhawk Air Museum, Old Idaho Penitentiary, and much more. You can find a lot pertaining to the Oregon Trail and Gold Rush in Treasure Valley, too.
Other things-to-do-related pages: