Hey! This site is reader-supported and we earn commissions if you purchase products from retailers after clicking on a link from our site.
Full-time RV living is challenging, but great. You have freedom, an open road, and a rather luxurious place to call home around the clock. Unfortunately, RVs and motorhomes, no matter how big or small, usually do not have a predefined RV workstation. You're probably tired by now of taking conference calls in the bedroom or using the kitchen as your desk. That means that if you want an RV with desk space, you're going to have to be creative.
If you're absolutely fed up with working with your computer on your lap, there are dozens of RV desk ideas for you to try. Use the list below as inspiration to make your RV a perfect RV office on wheels!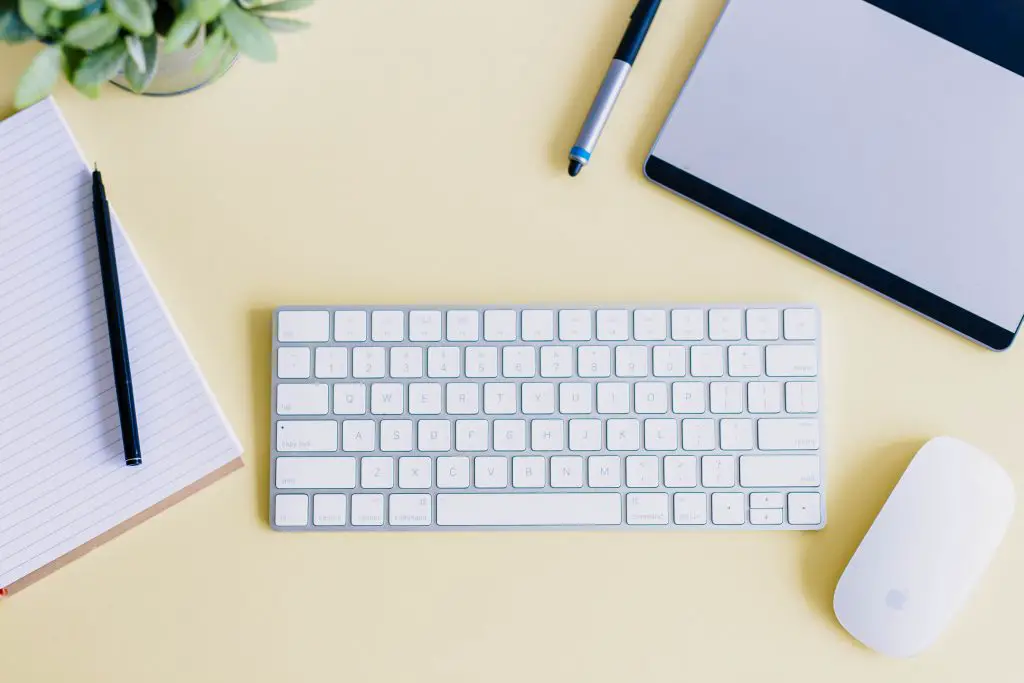 4 Things to Consider When Setting Up an RV Workstation
Before you start loading a bunch of RV computer desks into the virtual shopping cart, you need to consider a couple of things:
The size of the RV
Type of work you do
Number of people in the RV
Willing to renovate your RV?
The Size of the RV
Space has a limiting role in much of the renovations you will do to your RV. If you're traveling around in a Class A RV, you're going to have more room than one that's only 20 feet long.
The bigger the RV, the more space you have to work and to carve out the ideal workspace. If you have a smaller RV, you might have to sacrifice some comfort to create a comfortable RV desk.
(But if you use the RV desk ideas in this article, you should have no problems utilizing what you have!)
Type of Work You Do
Are you writing the next bestseller? Do you record videos? Paint? If you require more than just a computer to fulfill the requirements of work, you are going to need more than a corner desk or a monitor on the wall. You will need a vastly different space if you're a game developer then you would as an online tutor.
Dial in on your personal needs. If there are two or more remote workers in the RV, try to customize the desk to meet those requirements. Otherwise, the RV desk won't be practical, and you'll have a hard time getting anything done.
Number of People in the RV
If you're alone in your motorhome or camper van, then you're in luck. The space belongs solely to you, and you are free to play around with as many RV desk ideas as you want. But if you're living with other people, you need to consider how your desk is going to affect them.
It's necessary to assume that a big desk encroaches on the shared living space. Therefore, you need a setup that won't intrude on anyone else. Try for a versatile RV desk that can be collapsed and stored when not in use.
Willing to Renovate Your RV?
Some RV desk ideas can be made a reality with the purchase and some shuffling of furniture. Others might require much more work. Most RVs aren't equipped with the hardware for adding wall-mounted computers, shelving, and additional furniture. You might have to get creative with installation.
If you don't know how to do renovations or don't have the budget for it, there are still plenty of simple, budget-friendly options out there for you.
15 RV Desk Ideas to Inspire You
You want a workstation in your RV to live the digital nomad lifestyle. Well, here are 15 RV desk ideas to get the creative juices flowing:
Lap desk on the cooktop
Traditional wooden desk
A standing desk
Commandeer the dinette
Bed storage space
The commander's seat
U-shaped RV desk
Fold-out furniture
Utilize the corner spaces
Grab a bedtable
A wall-mounted monitor
A true WFH office
Steering wheel RV desk
Folding shelf brackets
Go outdoors
1. Lap Desk on the Cooktop
One of the easiest ways to make an RV desk is to buy a lap desk-one of the pillow ones for laptops-and set it on the stovetop in the morning. This is a good option for when other places are being used by the kids or your spouse, or when your actual workstation is located in a space that is currently in use.
Of course, there are some downsides. You're not going to have a lot of space, maybe just enough for the desk and your computer. Plus, it might be hard to maneuver yourself to work comfortably. But when you're in a pinch, anything goes, right?
2. Traditional Wooden Desk
If you have the space, there is no reason not to go a more traditional route. Go on, grab that davenport and a feather quill. Similarly, you can get a wooden secretary with a drop-down desk section. It will double as storage for all your electronics and paperwork whenever you aren't working. This is best if your RV has a more rustic or timeless aesthetic about it, or if you keep your Renaissance Faire décor year-round.
There are some customization options out there that allow the wooden desktop to fold down into a bureau or shelving while you drive. You can also use this wooden desk and shelving combo to replace the dinette, especially if you're alone.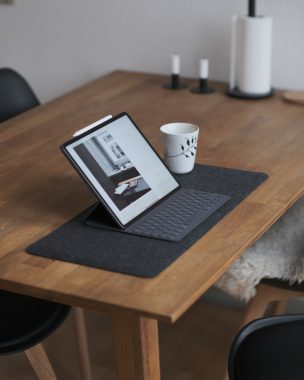 3. A Standing Desk
After having driven for a few hours, you're probably not going to want to sit and do work too. Standing desks are the perfect way to balance your work/life rituals. Plus, you get to benefit from the health benefits, like burning more calories and better concentration.
There are always a variety of ways to add a standing desk to your RV. You can purchase adjustable standing desks that fit into any space or buy a more budget-friendly version and put it on a countertop.
4. Commandeer the Dinette
Most RVs, regardless of their size, have a simple dinette that might be reminiscent of a cheap restaurant table. If you're up for renovating a little, you can remove that dinette and convert it into an RV workstation. There are plenty of examples of bar kitchen islands with drop-leafs, sitting space, cabinets, and drawers.
Optionally, you can opt to upgrade your dinette and find booths with storage to keep your work materials. Then, you can set up your computer and have everything already there when you need it.
5. Bed Storage Space
Sometimes, you are going to need to be a bit unconventional. The most obvious spaces might not be the best ones. Case in point: Look to your beds. If any of the mattresses flip upwards for storage, you can use that to place a collapsible table and anchor it in. This means you take nothing away from the current floor space, so you can pull up a chair and work comfortably.
That under-the-bed storage is also ideal for storing work materials, particularly screens and recording gear for bloggers.
6. The Commander's Seat
Don't want the hassle of adding yet another chair to your RV? Don't. Occupy the space between the driver and passenger seats. All you need is a narrow desk or a wheeled end table. Even a collapsible end table would work. Place it in the space then rotate the driver's seat.
Ta-da! Instant workspace. The best part is that you'll enjoy the comfort of the driver's side.
Working from this space is also great if you want an excellent view or natural light. Roll up the blinds on the windows. Enjoy the landscape while you work.
7. U-Shaped RV Desk
There may be places in your RV where you can remove some of the furniture that it originally came with and upgrade it. For instance, if you have a nook with two armchairs right outside the bathroom, get rid of the seats and add a U-shaped RV desk or L-shaped desk.
Not only are you sectioning off a piece of the RV for an RV office, but you give yourself plenty of storage space for documents and utensils.
Depending on the size of the RV, you can really get creative with this idea. Consider a fifth wheel with bunk beds. You could potentially get a loft bed instead than set up the U-shaped desk underneath it.
8. Fold-Out Furniture
Lift-top tables and ottomans, as well as fold-out tabletops from the arms of couches and chairs, are a boon when you have limited space.
You can get rid of the coffee table between the driver and passenger seat and replace it with a lift-top table. Side accent tables with fold-out tops are excellent for minimalist interiors since they don't take up the room until you need them.
Fold-out computer desks are also available. You can leave the desk section collapsed until you're ready to write or surf the web, which frees up space when not in use.
If you don't mind working from the couch or bed, a fold-out coffee table could be ideal. RV office supplies can also be housed under the top when you're not working.
9. Utilize the Corner Spaces
Did you ever notice how there seem to be corner spaces everywhere in an RV? By the closets, between the bed and the wall of the bathroom, or even behind the passenger seat and entryway. Now, there are some RV models out there that make use of the corner spaces by supplying you with fold-out workstations already. If you have it, good.
If not, here's a unique RV desk idea for you: a minimalist corner desk. You won't need much, just a wide enough ledge to fit your laptop or computer, a mouse if you use it, and maybe a pull-out drawer for your keyboard.
Depending on where the windows are, you could even extend the sill into the corner, so you have a lengthier shelf to place your belongings.
10. Grab a Bed Table
Was a massive bed an absolute must-have when you purchased your RV? Well, here's another reason to stay in bed more often. Get a bed table. Many varieties exist, including ones with fold-down legs and adjustable heights. Some even have little drawers for notes, pens, and charging cables. Another option is a wheeled bedside table.
Most models are very stable and can be carried to other sections of the RV when the bed is occupied.
The only time this wouldn't work is if there is storage above your head, making it impossible to sit correctly. You could potentially get rid of the cabinets to free up headspace, but that could be limiting.
11. A Wall-Mounted Monitor
Here is one possibility that can be blended with other RV desk ideas in this article. By mounting the monitor to the wall, you can use a standing desk for your work items and keyboard. Another method would be mounting the monitor near the dinette and working from there.
Secure the monitor to a corner space or near a window and set up a collapsible table beneath it. If you have a fifth wheel with a garage, this setup is even easier, because you have so much wall space in the rear of the RV.
In the bedroom, set up a wall mount computer station on a wall close to the bed. You can sit on the mattress and work.
12. A True WFH Office
Some RVs have enough space for you to rearrange everything. In that case, why not go the complete RV home office route? Rather than making an RV with desk space, go for an RV with an RV office space. You can look into getting an industrial desk installed, along with cabinets on either side to frame it. Since there are computer desks of varying sizes available, you can find one that fits the space you have available.
This is also ideal if you have more than one person working on the computer. You will both have adequate desk space and storage options.
13. Steering Wheel RV Desk
Maybe you don't do a lot of work on your laptop, but you would still like a desk to call your own. In that case, why not consider a steering wheel desk? Some designs hook right into the steering wheel, making the table secure enough to place food, drinks, and lightweight computers on it.
Others are a bit more durable, coming with a reinforced pocket that fits snugly over the wheel. Flip the desk portion down and set up your laptop for the day. Voila, is an easy desk.
This is also an option if you're in a very small RV or don't have the option to renovate extensively. Using the driver's seat to work while you aren't driving is a great way to eliminate cluttering somewhere else.
14. Folding Shelf Brackets
One of the greatest innovations to ever be created for minimalist spaces was the folding shelf. Now, most RVs aren't set up for mounting things to the walls, especially additional shelving, but if you have the time and the experience (or know someone who does), using folding shelves to make a desk in your closet or nook is perfect.
Store the desk when you don't need it. Use it for extra space when you do. Folding shelf brackets can completely transform your whole RV. Consider placing the folding shelves for your RV desk near windows or somewhere out of the way.
This is also a great way to free up the space taken by clunky dinette designs. You could opt for a couple of folding shelves where the dinette used to be, making a pair of desks for two or three people to work in tandem.
15. Go Outdoors
When all else fails, you can grab a fold-up table and chair and haul it outside when the sun is shining. After all, nothing is more motivating than a gust of fresh air and an amazing view while you work. While this might not be the most ideal scenario for some, working outside can give you the much-needed space you crave while letting others do their thing inside the RV.
Say Hello to RV Desk Inspiration
Living on the road has hundreds of perks. And now, you don't have to worry about seeking out a comfortable spot to work with all these amazing RV office ideas. From minimalist spaces to more creative applications of furniture, there is an RV workstation for everyone.