Hey! This site is reader-supported and we earn commissions if you purchase products from retailers after clicking on a link from our site.
Shoes are one of the most important items of personal kit for sailors. Good sailing shoes with a solid grip can keep a sailor firmly planted on the boat's deck while battling that spinnaker or leaning over the rail for a dolphin picture. The right sailing shoes give sailors confidence to walk the decks, work the winches, and tackle that tack.
But what are the best shoes for sailing? Should you buy a multi-use shoe that will grip the boat's surface one afternoon and take you on a mountain hike the next morning? Should you buy all-weather foulie boots and look the part of a salty, prepared sailor? Or should you opt for the classic-looking, low-profile, high-class Sperrys?
Let's take a look at the different categories of sailing shoes and then delve into specific shoes.
Traditional Boat Shoes or "Yachtie" Shoes
Yachtie Shoes are the sleek, trendy deck shoes you imagine movie stars and Instagram influencers donning. Sperry "Top Siders" are the most well-known brand in this category. Traditional Sperrys look fantastic, are comfortable, and feature non-slip soles. However, they aren't usually waterproof, and their suede or leather construction and low-profile design aren't as sturdy as waterproof sailing shoes or foulie boots. The stars of the Greatest Catch might wear Sperrys on a date night, but not on the heaving decks of their salty, freezing, wet fishing boat.
Yachtie Shoes are the sleek, trendy deck shoes you imagine movie stars and Instagram influencers donning. Sperry "Top Siders" are the most well-known brand in this category. Traditional Sperrys look fantastic, are comfortable, and feature non-slip soles. However, they aren't usually waterproof, and their suede or leather construction and low-profile design aren't as sturdy as waterproof sailing shoes or foulie boots. The stars of the Greatest Catch might wear Sperrys on a date night, but not on the heaving decks of their salty, freezing, wet fishing boat.
If the crew of Below Deck don't encounter freezing conditions or storm weather, they are likely to wear these type of shoes while they serve mimosas or scrub the galley.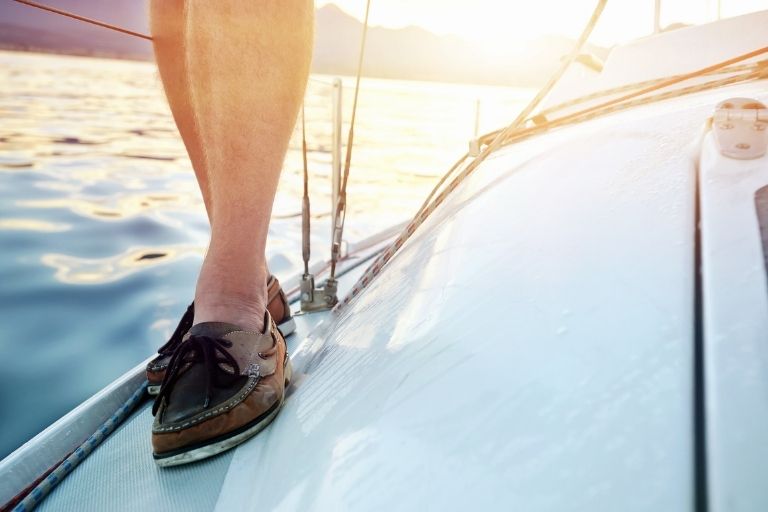 Modern Multi-Use Sailing Shoes
Modern sailing shoes are more purpose-built than the stylish Sperrys. These multi-use shoes are made from synthetic materials instead of suede and are designed to provide ultimate traction on wet decks. These modern shoes might be sleek and low profile, resemble waterproof Sperrys, or be a little bulkier and resemble waterproof hiking boots. Coastal sailing crews use modern sailing shoes to keep their feet dry and step sure on challenging voyages. 
These shoes fit the bill for daily wear for coastal cruisers, liveaboard sailors, and occasional offshore sailors. Mixed-use shoes can be worn on deck during a sail, out to the bar for happy hour, and on a waterfall hike the next day.
Water-Resistant and Waterproof Sailing Shoes
These shoes are more likely to be sailing-specific rather than multi-use. They feature synthetic materials and are quick-drying and easy to clean. These shoes tend to be a little hardier than yachtie shoes without being bulky and heavy like foulie boots.
Foul Weather "Foulie" Boots
Now, this is what the crew of the Greatest Catch are most likely to wear. These boots are reminiscent of wellington boots or rain boots but are purpose-made to survive the harshest, wettest, coldest conditions while keeping your feet dry, toasty warm, and on deck. Because they tend to be heavier and bulkier, they usually aren't worn non-stop on ocean passages but are pulled out and put on during challenging conditions.
Five Best Yachtie Shoes
The Sperry Authentic Original appears exactly as described. This classic yachtie shoe offers timeless nautical style, leather uppers, hand-sewn "tru-moc" construction with Sperry's trademarked lacing system. Trademarked Wave-Siping technology gives sailors traction on wet and dry surfaces. A shock-absorbing heel cup is built in to offer comfort and cushioning.
The Sperry Billfish 3-Eye Boat Shoe is similar to the Authentic Original but offers air-mesh upper panels to increase comfort in warmer weather.
The Dunham Captain shoe is another great contender in the yachtie shoe category. It features waterproof leather uppers with water venting mesh sidewalls. Like the Sperrys, these shoes have a 360-degree lacing system to keep the shoes secure. The midsoles feature water channels and foam pods for long-lasting comfort. The rubber outsole also has grooves to channel away water and is siped for the perfect grip. This means the rubber is cut in a special way to enhance traction. The Dunham Captains look great and have the technical specs to keep your feet happy on deck.
These classic-looking boat shoes feature traditional leather uppers and hand-sewn construction with 360-degree lacing. Durable outsoles have siped rubber for improved traction. The EVA footbed is cushioned with a molded EVA heel cup for all-day comfort.
These J. Crew boat shoes continue the traditional classic look. They feature a hand-sewn leather upper with 360-degree leather lacing. The non-marking rubber sole features excellent traction in wet and dry conditions. These good-looking low-profile shoes are the perfect companion for a leisurely daysail and high-class sundowner get-together.
Five Best Modern Multi-Use Sailing Shoes
The Bahama Vent PFG (Pro Fishing Gear) Laced Relaxed shoe is an excellent example of a more modern boat shoe. The uppers are leather and canvas and are treated with trademarked Omni-Shield Blood n' Guts water and stain-resistant treatment. The textile lining provides increased breathability. The midsole features trademarked Techlite technology with cushioning and drainage ports. In addition, trademarked Omni-Grip rubber outsoles provide exceptional traction in wet conditions.
These lightweight shoes with modern styling and materials take you from the yacht to the yacht club to the trail. They feature a drop-in heel with breathable upper mesh. Stylish embossed leather eyestays add to the shoe's trendy appeal. The dual-density footbed has a comfortable gel insert and a quick-drying mesh footbed. It's breathable, removable, and washable. The outsole has trademarked Wet-Grip rubber, lugged pod design, and is siped for exceptional traction.
These comfy shoes are great for sailing, fishing, and hiking. Keens have excellent traction on wet and dry surfaces and are easy to slip on and off while staying secure while worn. These Newport Boating Shoes are great for liveaboard and cruising sailors who don't have a lot of space for many pairs of shoes. They can be worn sailing, in the dinghy, to protect your feet while wading in the water, and even on a trip to the grocery store or a hike in the mountains. 
The sandal style provides excellent airflow on hot days and ensures water doesn't weigh the shoe down. The closed heel protects wearers from stubbing their feet and getting toe injuries. Their synthetic materials make it easy to clean, and the shoes are machine washable. Or, you can just hose off these quick-drying shoes.
These Sperrys combine a traditional look with athletic shoe performance. The Sea Kite Sport Moc Boat Shoe features trademarked Wave-Siping outsoles to provide traction on wet and dry surfaces. The full-length EVA footbed is removable and provides maximum comfort. The uppers feature a mix of water-resistant leather and mesh to promote quick-drying, comfort, and style.
These quick-drying, water-shedding shoes are perfect for sailing or hiking through a stream. Created with water-friendly synthetic uppers, they have a secure elastic cord and lock lacing system. The trademarked Hydramorth midsole channels and ports provide air ventilation and water evacuation. The trademarked Kinetic Fit BASE EVA insole is water-friendly and removable. The lugs are sipped for traction in wet and dry conditions, and the outer sole has trademarked M Select WET GRIP technology. What's more, the synthetic materials are vegan-friendly. These Hydrotrekkers are great shoes on the boat, sloshing through a water trail, or an evening stroll.
Five Best Water-Resistant and Waterproof Sailing Shoes
Gill is well known in sailing and racing circles for its quality sailing apparel. These Race Trainers are made of breathable, quick-dry materials. The Trainers are comfortable and lightweight and have a water drainage system for those pesky green waves over the bow. Mesh lining is quick-dry, lightweight, and breathable. The outsoles have a non-slip compound that provides traction in wet and dry conditions. The insole absorbs impact, and the outer toe has additional molded protection to keep your extremities safe. These Gill Trainers are low profile with a sleek and modern look.
These shoes feature a rubber outsole with an excellent grip. The proprietary GripDeck rubber with GripFlex tread gives sailors a firm grip in all conditions. The synthetic mesh construction allows heat and water to vent out quickly. Anti-microbial protection provides skink-free use. The shock-absorbing heel cage offers a secure and comfortable fit.
GORE-TEX technology is well-known for being lightweight, waterproof, and extremely hard-wearing; much-needed attributes for salty sailors. They look like sneakers but provide robust protection against the elements. These Nova 2 shoes have a padded collar, removable EVA insole, and a rock plate for protection. The Merrell Air Cushion in the heel absorbs shock. There are also cushioning pods in the forefoot and heel. These synthetic shoes are vegan-friendly. The rubber soles are trademarked Vibram technology and provide exceptional grip on all surfaces. You will wear out before these GORE-TEX shoes do!
These waterproof hiking boots provide excellent weather protection for your feet. They feature an ALL-TERRAIN rubber outsole for a high-traction grip. In addition, these boots provide excellent arch support for all-day comfort. The KEEN.DRY technology is waterproof yet breathable. KonnectFit technology on the heel provides a secure fit. The footbed is removable, and the lining is quick-dry.
These deck boots bridge the gap between sailing shoes and foulie boots. These boots are more casual than foulie boots but retain waterproof properties for complete protection from wet weather. They feature a nubuck upper and a neoprene bootie for a secure fit. The removable footbed is EVA molded. The contoured midsole provides cushioning and shock absorption. The rubber outsole features molded wave-siping for ultimate flexibility and traction in wet and dry conditions.
Foul Weather Boots
XTRATuf makes a variety of deck boots that are perfect for sailing in the worst weather. These waterproof, full protection boots will keep your feet warm and dry in all weather conditions. This performance boot features front and rear pull-on tabs for easy on and off wear and added durability. The outsoles feature slip-resistant chevrons for non-slip traction. The liner is made from breathable mesh for all-day comfort. While these boots will be heavier than a lightweight water shoe, they provide superior protection for your feet.
These quick-drying boots are exactly what sailors have in mind when they think of waterproof sailing boots. The Short Cruising boots look similar to simple wellington boots but have all the features boaters need to stay safe on the water. These Short Cruising Boots feature removable cushioned insoles. The quick-drying polyester lining keeps sailors comfortable all day. The reinforced heel, instep, and toe provide protection. The outsoles are non-slip and razor-cut to provide traction in the wettest conditions.
These are serious boots for serious conditions. They feature a 3mm neoprene inner. The EXPLORE+ 3-layer external gaiter keeps water out with a secure elastic cord. The thermomolded outsole provides superior traction in all conditions. These Offshore Boots also have a reinforced heel, instep, and toe to prevent injury and protect your feet.
These boots are guaranteed to keep your feet warm and dry in all conditions. They feature a removable cushioned interior footbed that provides all-day comfort. The flexible design means that sailors can move about the deck quickly and safely. The Shark Grip slip-resistant outsole grips slippery decks.
Be the boss of the deck with these foulie boots. These 100% waterproof boots provide a great combination of easy movement on deck with full protection from the elements. They feature a thermo-regulated anti-microbial cooling liner. The asymmetrical topline is designed for comfort while moving about the decks and prevents the annoyance of the back of the boot grinding against your legs as you scurry on deck. In addition, the siped gum rubber outsoles provide traction on wet and dry surfaces.
Are Sailing Shoes Worth it?
Sailing shoes and boots are a vital part of every sailor's wardrobe. Whether you're going out for a daysail with a celebrity or battling green water offshore of Bermuda, you need a solid pair of shoes to keep you safe and comfortable. Whether you have a fish-on or are battling an angry spinnaker, you want to focus on the issue at hand instead of worrying about traction on deck. If you're a liveaboard sailor traveling from tropical climes to the Arctic Circle and then telling the tale at the yacht club, you might need a shoe in each category.