Hey! This site is reader-supported and we earn commissions if you purchase products from retailers after clicking on a link from our site.
Despite their magical powers to make us feel cool and comfortable, there is nothing magical about your RV air conditioner. You can narrow down many air conditioning system problems with basic troubleshooting steps. Knowing a little about how your system works and what makes it tick helps too.
The first thing to do if your RV air conditioner turns on and off repeatedly is to check the air filter and clean it if necessary. Otherwise, you could have thermostat issues or frozen coils.
In this article, we'll look at what to do if your RV air conditioner turns on and off repeatedly, a problem commonly called short cycling.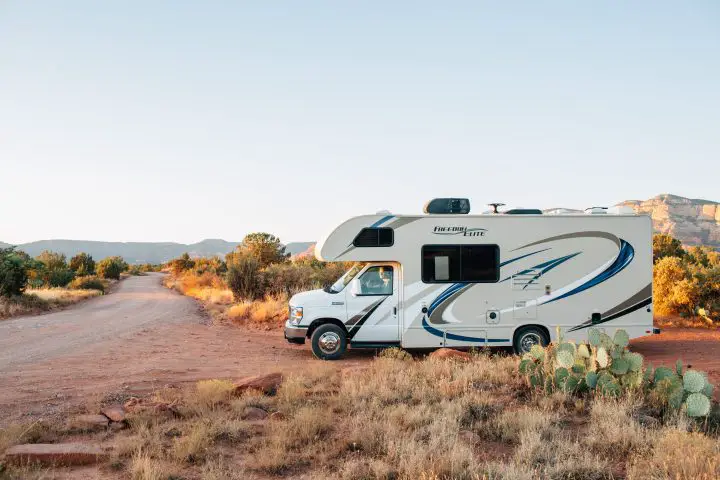 What Do You Do if Your RV Air Condition Shuts Off? First Step – Don't Panic!
If you're having AC troubles, it's undoubtedly hot outside, and temperatures are rising in your camper. Fear not–the chances that your precious climate control just went kaput are minimal.
As with many problems that may pop up while you're on the road, it's helpful to know what to look for before you call for help. The more self-reliant you can be, the greater the chance you can at least keep things working until you get home and salvage your weekend trip.
The air condition is no different. It's a simple system that is highly reliable. However, there are a few things worth checking whenever you have a problem with your RV AC.
Basic RV Air Condition Operation
Troubleshooting your RV AC will require critical thinking and careful observation skills. First, identify exactly what the unit is doing.
Under normal circumstances, the air conditioner fan cycles air. When the air temperature, measured at the thermostat, is higher than the set temperature, the compressor kicks on, and the cold air starts blowing in the cabin. Ideally, it should keep blowing until the cabin is cool.
In actuality, however, it blows until the temperature, measured at the temperature sensor in the thermostat, is cool. So if your thermostat is very near where the cold air is blowing, your unit might shut down before the rest of your cabin gets cool.
So, start your troubleshooting by looking for the exact point in the process where the malfunction occurs. Is the fan running? Is there power to the thermostat and the rest of the unit?
If all of that checks out, does the compressor come on? Does cold air start blowing at all? If it does, does it shut off too soon? Is it getting cold near the thermostat but not where you're sitting?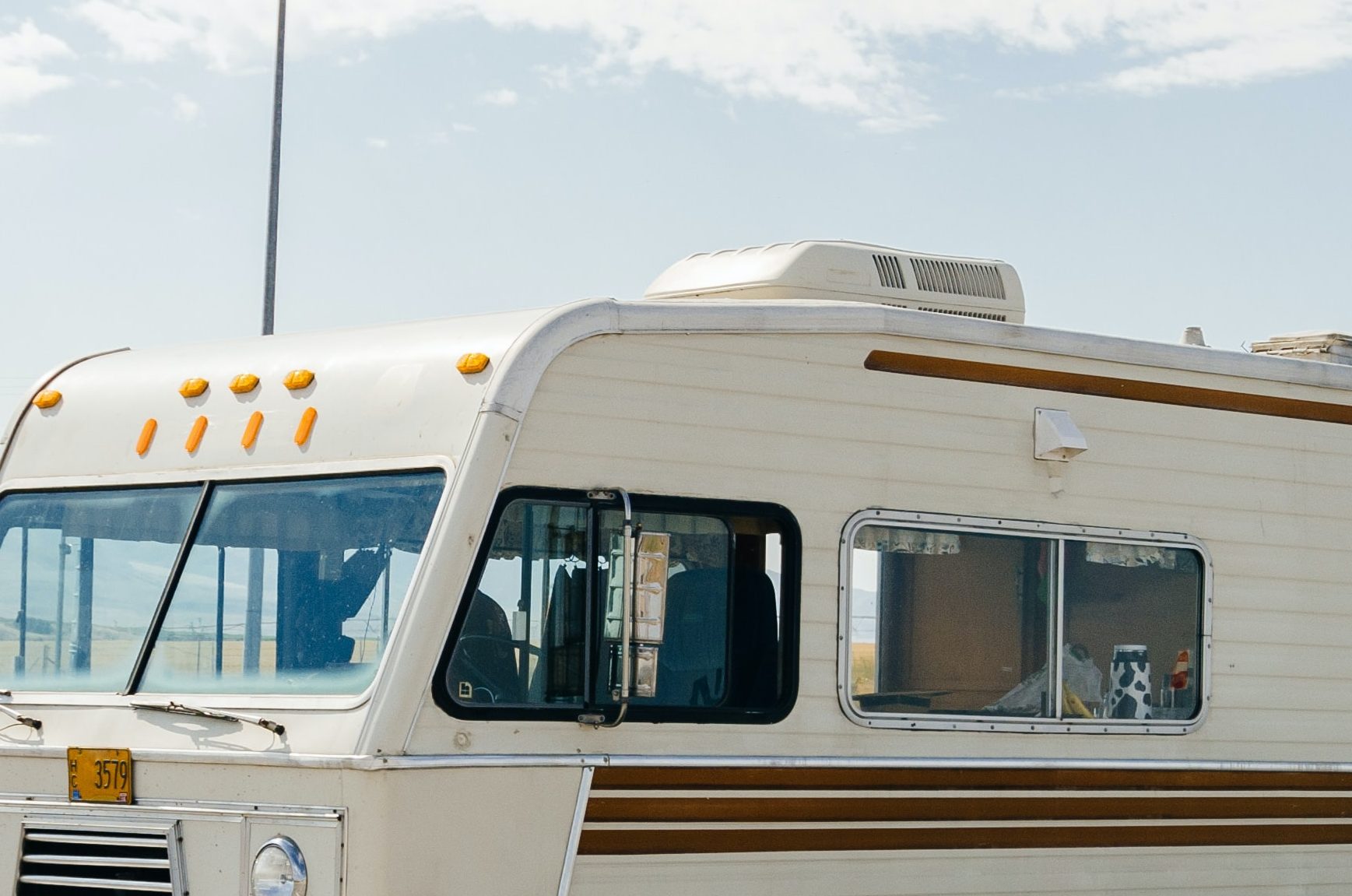 Air Conditioner Short Cycling Troubleshooting – The Easy Stuff
Start your troubleshooting by looking into the issues that you can quickly solve. There are a few maintenance tasks that you ought to do every few weeks, like cleaning the air filter.
Dirty Air Filters
A dirty air filter will limit airflow through the unit and could cause a problem if your RV air conditioner compressor kicks on and off unexpectedly.
If the air filter is completely plugged up, insufficient air will flow over the evaporator coils. As a result, the compressor will work as hard as it can until it overheats. Once this happens, the system will switch it off until it cools down.
This could also happen if your air return is lower in the cabin and becomes blocked with a blanket or a piece of furniture. With rooftop units, it's unlikely that something completely covers the filter, but it still needs to be cleaned over time.
This isn't the most viable solution, but it is always step one in the troubleshooting process. Start with the easiest things and work up to the more complicated fixes.
Thermostat Issues
Some thermostats run off a simple small battery. If your thermostat is having trouble or giving you some funny indications, see if you can't just pop a new battery in. You'd be surprised how many problems this easy fix can take care of.
The other possibility is that the thermostat is getting colder than the rest of the room. In this instance, the air conditioner is working correctly, but it is switching off too soon. Perhaps you have an air duct blowing directly on the thermostat or the temperature sensor. This could make the unit short cycle and leave the rest of the room too hot.
This might be caused by an installation problem, which we'll discuss below. But it might also be something easy to solve. For example, can you redirect the air vents to blow to the other side of the room? This might allow the camper to cool evenly.
Finally, you might need to leave the air conditioner on longer by setting it lower. In some instances, camper air conditioners will need to run nearly continuously. Campers absorb a lot of heat and are much less well insulated than a home. Big windows can let in too much warmth as well. Set the thermostat cooler and see if that helps the problem.
Air Conditioning Unit Frozen Coils
Air conditioners work by cycling the interior air around the evaporator coils. As the coolant inside absorbs heat, the air is chilled and returned to the RV's cabin.
But if you leave the windows and doors open, you will force your air conditioner to work very hard, almost constantly. And since the air that returns to the evaporator will be continually hot and humid, an enormous amount of moisture can build up around them.
This can lead to icing. You'll find a unit has iced over when its compressor overheats and shuts down unexpectedly. The compressor might try to come back on but then go off again if the ice hasn't melted.
Icing indicates that the air conditioner is working too hard and that the air coming back hasn't already been cooled down. It might happen to you when you first park your RV in a very hot and humid location. But it could happen if you leave a window open or go in and out of the door.
The immediate solution to the problem is to let the ice melt. You can speed the process along by running the unit in fan-only mode. That will move air around the coils and ice, allowing it to melt away. Once it's melted, you can restart the AC unit, but close all the doors and windows until the unit has thoroughly cooled the cabin.
In the long run, problematic icing can result from poor insulation or window seals. Look into what you might be able to improve with basic gaskets. You might also want to double-check that there are no other gaps in your camper letting air in.
Not So Easy Problems with RV Air Conditioners
That wraps up the easy solutions. If none of those things fix your issue, you'll have to look at some bigger and deeper problems that might need more expensive solutions.
AC Unit Installation Problems
Have you always had a problem with your air conditioner short cycling? If so, it might be the result of an installation problem.
Thermostat Location
In small spaces, getting the thermostat too close to the air vents is easy. On rooftop installations, this won't matter, but in central air setups, it matters a lot.
If the thermostat has any reason to be much warmer or cooler than the rest of the surrounding room, you may have troubles when your RV air conditioner compressor kicks on and off. It can even be a problem when it's too near the kitchen or a hot window.
Too Large an AC
Having too large an air conditioner can lead to many problems. That might surprise some since one would think that a bigger AC would work better. But the truth is that an air conditioner must be correctly sized for the space provided. If it's too large, it will cool the space down too quickly and short cycle.
Faulty Control Board
When you've eliminated the other options, it will become time to call in the big guns and admit that you might need some new parts. For example, if your air conditioner isn't coming on and off like it's supposed to, it might be the main control board.
The control board is like the brain of your air conditioner. It has inputs from the various components and sensors in the system and is responsible for ensuring the compressor switches on and off when it should.
So if the simple fixes didn't solve your problem and you know that your system is otherwise installed correctly, chances are something has gone wrong with the equipment. You'll want to double-check with the manufacturer and contact their tech support for further help.
If you're in an area where you can get an RV HVAC tech to come to take a look at it, now would be the time to call in a professional.
Proper RV Air Conditioner Maintenance
A well-working air conditioner starts with proper maintenance. Even though they aren't very complicated, air conditioners need everything working well to function properly. Among the tasks, you should complete regularly, make sure you check the following items off your list.
Clean the air filters
Clean the evaporator and condenser coils
Clean the drip pan drain
Keep the plastic cover in good shape
Clean the Air Filters
As described above, cleaning the air filter is an important part of RV maintenance. It's a simple task that you can complete from inside the cabin. Most filters are reusable and designed to be easily cleaned with a soft brush, soap, and water.
There is also usually a lightweight filter that gets out most of the dust and debris. These filters are usually found on the air return vent. You can replace this filter with simple foam filters available at any big box store.
Clean the Coils
Cleaning the coils on your air conditioner is a bigger job. Many people hire professionals, but the project is well within the abilities of most do-it-yourselfers. Cleaning the coils will ensure that your air conditioner works at its peak performance for many years.
Cleaning the coils properly requires getting on the RV's roof and removing its plastic cover. Be careful with the covers as they are an important part of keeping junk out of your air conditioner!
Once you've got the cover off, clean the coils with a specialized cleaner. Be careful not to bend any fins on the coils, as this will restrict airflow and reduce its effectiveness over time. If the fins are bent, you can get special tools to bend them back in place.
Don't use a water hose to rinse the coils. These cleaners can be rinsed off with a spray bottle. But most importantly, you'll likely flood your RV in the process!
Cleaner for Evaporator Coils
Prices pulled from the Amazon Product Advertising API on:
Product prices and availability are accurate as of the date/time indicated and are subject to change. Any price and availability information displayed on [relevant Amazon Site(s), as applicable] at the time of purchase will apply to the purchase of this product.
Foaming Coil Cleaner for Condenser Coils
Prices pulled from the Amazon Product Advertising API on:
Product prices and availability are accurate as of the date/time indicated and are subject to change. Any price and availability information displayed on [relevant Amazon Site(s), as applicable] at the time of purchase will apply to the purchase of this product.
Fin Brush
Prices pulled from the Amazon Product Advertising API on:
Product prices and availability are accurate as of the date/time indicated and are subject to change. Any price and availability information displayed on [relevant Amazon Site(s), as applicable] at the time of purchase will apply to the purchase of this product.
Condensation Drain Blocked
Here's another basic cleaning task that shouldn't be overlooked for too long. All air conditioners make a certain amount of condensation. The exact amount depends on the humidity of the air and how much the unit is running.
While some air conditioners allow the condensate to evaporate off, most have a drain to allow it to run out of the unit. The problem with this in an RV is that if the drain becomes clogged, it can start a nasty leak down into the inside of your camper.
Cleaning the condensation drain involves getting up on the top of your RV and removing the air conditioner's plastic shroud. Under the evaporator, you should see a drain pan. Looking around its edges, you'll find how the water is designed to drain out. Clean out the drain tubes with a Shop-Vac or a good set of pipe cleaners. It's very common for debris, bugs or ants to get trapped in there. Here is how to keep ants away.
It's also important to realize that the drain is integral to the system's design. Some people seal up the drain on accident when trying to solve a leak or reseal their RV roof.
Keeping the coils clean, as described above, is another important step in ensuring you don't have a clogged drain or other problems with leaks.
Maintain the Plastic Cover
The shroud cover over your rooftop AC is important to keeping debris out of the drain and coils. Unfortunately, they become brittle over time and may need to be replaced. In the meantime, you can extend its lifespan by taking good care of it. If you notice cracks starting to form, mend them and keep them from worsening. And always make sure you securely attach the cover since it is exposed to highway speeds.
RV Air Conditioner Turns on and off Repeatedly? Don't Sweat It!
There's nothing worse than having trouble with your AC on a hot day. If your RV air conditioner shuts off and you don't know what to do, start with basic troubleshooting and ensure everything obvious has been taken care of. Take note of what it is doing and what it isn't doing. Ultimately, it's most likely to be something simple and easy to fix. And if it's not so easy or your unit has served a long and distinguished career, check out these RV air conditioning-related articles: