Hey! This site is reader-supported and we earn commissions if you purchase products from retailers after clicking on a link from our site.
Have you ever been boondocking or camping off grid in a remote location when you had to leave because you were nearly out of fresh water? If you answered yes to this question, then I have a solution for carrying extra water without the hassle of using bulky jerry cans or other vessels that take up valuable storage even when they're not being used.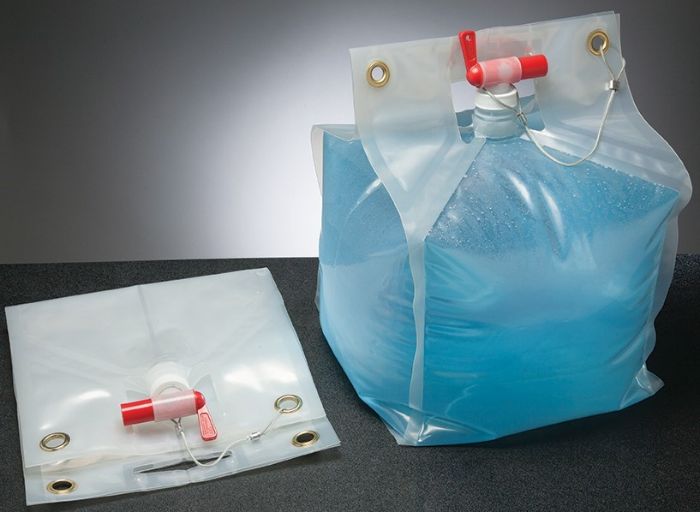 Recently, while doing research for another article, I came across this company call Smart Bottle® and after reviewing their product I came to the conclusion that this would be a handy item to have when boondocking to keep some extra water for those people with smaller water storage tanks or none at all.
Probably the biggest benefit to using these water bottles is that once they are empty, they can be folded down small enough to fit into kitchen cabinet drawer, so they save you a lot of space when not in use. Another feature to using these containers is that they have gromets on the top and bottom, so once they are emptied, they can be hung upside down from a hook to drain any remaining liquid and dry out. They also have a nice cut out handle making them easy to transport.
The water jugs come in three different sizes, with those being a one-gallon container, a 2.6-gallon size and their biggest being the 5.3-gallon model. They also have a 750 ml size which would work well when backpacking.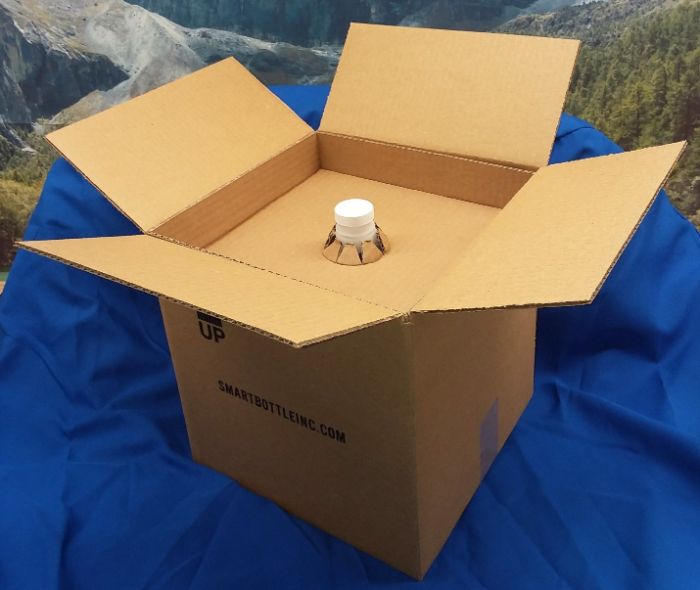 While their lowest-priced fold-down containers are made of a durable and thick poly-ply already, they can be ordered in a double ply for an extra charge making them even less likely to be punctured over time. However, they also sell a reusable heavy-duty box that would work well for RVers that have converted vans or home built designs such as converted box trucks or small buses. These boxes would also work well for someone that has storage compartments and even storage areas in their RV such as a closet or under seating area.
Personally, were I to buy and use these containers, I would buy four of the 5.3-gallon containers without the box and I would store them in my shower basin when traveling. It's highly unlikely that they'll be punctured while traveling since my shower basin in fully enclosed with no protruding hardware or raw building materials such as wood framework that could damage or puncture them. With that said, they can be easily moved temporarily when I need to access the shower and when I decide to add them to my water tank.
Last update on 2023-09-20 / Affiliate links / Images from Amazon Product Advertising API
How can these temporary holding containers be added to your water tank?
If you're not in a campground or staying at a location where electrical use for conventional 110v is typically used, the best way to pump water from your storage containers into your RVs water tank is using a cordless drill. This particular model works very well for this task and once you have correctly connected your cordless drill into this pump, it will evacuate the water from the 5.3-gallon tank in a little over two minutes.
Last update on 2023-09-20 / Affiliate links / Images from Amazon Product Advertising API
With that said my friends, I hope this article has enlightened you on an alternative way to store your water or take more with you when you're off grid camping. As always folks, stay safe, stay healthy and happy RVing to you all. Perhaps one day, we'll see you out there on the road.