Hey! This site is reader-supported and we earn commissions if you purchase products from retailers after clicking on a link from our site.
Editor's note: Dave is an unbiased party and in no way gives his opinion on whether or not to buy a vehicle. He simply presents the data to clients to help them make their decision. Please enjoy Brian's interview with Dave below!
Table of Contents
In my last article, I explained the need to have an RV inspected by a trained professional before making such a large RV purchase and in this article, I'll share some information I learned when I interviewed one of the National Recreational Vehicle Inspectors Association NRVIA certified RV inspector who currently works out of the Fort Myers, Florida area in the winter and the Holland, Michigan area during the summer season.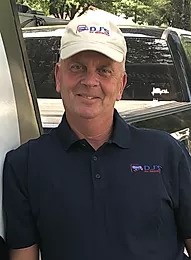 Recent retiree Dave Kuiper is a national RV inspectors association certified level two RV inspector that I spoke with during a brief interview I had with him recently.
When asked why he became an RV inspector and started his own business "DJ's RV Services LLC", Dave told me, "DJs RV services came into existence based on the desire to maintain our own trailer and save money. Our family has camped since 1986 in various units beginning with a popup, to a travel trailer to a fifth wheel which we keep in Florida.
I decided to take control of normal routine maintenance tasks by taking a course at the NRVIA in Athens, Texas. I really enjoyed the class and saw an opportunity to help others get into the right RV and to be able to enjoy the great RV experience. I took the second class and have since become a level two RV inspector.
In the fall of 2019, I took classes to become a registered RV technician with the Recreational Vehicle Dealers Association (RVDA) after which I took the exam and passed. I now hold that credential as well."
"What are your ultimate criteria when RV inspecting an RV?" I asked.
"I want my inspections to be as thorough and accurate as I can supply to my customers. So, I am looking at three criteria. These would include endorsing the price, meaning I would approve the price the seller is asking and then recommend to the buyer that it is worth the money to purchase the RV.
My second criterion would be to determine whether the buyer should negotiate a lower price because of issues I have detected during my RV inspection. These may include poor fluids analysis, water damage, and many other problems associated with the age, mileage overall wear and tear of the RV. And the final criteria I am looking for is whether the buyer should exit the sale because the cost of repairs would far outweigh the value of the RV."
Related: RV living cost
When asked how many RV inspections he performs annually, Dave answered, "I do between 45 and 50 RV inspections, and these RV inspections are almost evenly split between towable RVs and motorhomes."
"Between your two seasonal office locations, which one generates more business?" I asked.
"Definitely the Florida location," Dave replied. "I have a lot of clients that are from other areas of the country and they are shopping for RVs here in Southwest, Florida."
"On average Dave", I asked. "What does the RV inspection cost?"
"There are a lot of variables per RV inspection, but for a towable RV, the RV inspection cost would be about $300 to $450 dollars. For a motorhome you can probably expect to pay $500 to $650 dollars and it would be best to have all of the fluids analyzed as well." Dave told me.
Editor's note: These prices are set by Dave and not standard by NRVIA. Each RV inspector sets their own pricing and is based off a Points of RV Inspection checklist. Customers should compare the list of RV inspection points and services provided to truly understand the value of the service.
Fluid analysis is an important thing to consider when purchasing a new RV or used RV, especially if it's a class A, B or C motorhome. Most NRVIA certified RV inspectors offer this option when RV inspecting any vehicle but you will incur additional charges. Fluid analysis includes the engine motor oil, the coolant system, transmission fluid and an analysis of the fluids in the onboard RV generator.
What Should I Do to Have an RV Properly Inspected?
According to Mr. Kuiper's website, the process of a thorough RV inspection could take anywhere between five to eight hours and the RV should be presented as follows:
The RV Inspection Process
In order to give a customer, the most thorough RV inspection, it is better to have the unit hooked up in a campground or on a level place where full-service hookups are available. The area around the unit should be clear of any obstructions that would prevent access to anything on the roof, sides, end caps or underneath the RV. For a proper and thorough RV inspection to take place please follow these instructions:
Sign the pre-inspection contract and pay for the RV inspection.
The RV needs to be RV hooked up to power, water and sewer with the gray water holding tanks and black water holding tanks empty. The refrigerator should be turned on at least 12 hours prior to the RV inspection to allow it to get cold.
All the aisles, appliances, furniture, doors and RV-related electrical systems should be clear and easily accessible. Ideally all RV owner possessions should be removed.
The on-board water tank should be at least 1/3 full of water.
All RV keys, remote controls and manuals should be made available.
The propane tanks need to have propane in them so that they can be evaluated properly.
The travel trailer batteries need to be charged.
If an RV generator is installed, it needs to have fuel in it so that it can be tested.
Ideally the slides need to be extended or there needs to be room to extend the slides as they will be tested.
The client needs to be present at the beginning and end of the RV inspection process. They will be contacted via text or phone call towards the end of the RV inspection to give you time to come back
Would I Hire an RV Inspector if I Were to Buy Another Camper?
Of course! I'd also do some due diligence and I'd research the purchase and the RV inspector. That said, I would absolutely hire NRVIA inspector Dave Kuiper because he is an excellent representative of what that organization represents. I would also recommend using an NRVIA inspector wherever you may be located.
As always folks, thanks for following my column here, and safe travels to you all.