Hey! This site is reader-supported and we earn commissions if you purchase products from retailers after clicking on a link from our site.
Table of Contents
Does My RV Need an RV Skirt or Will a Pair of Jeans or Leggings Do?
It's unlikely that your RV will ever need leggings or jeans, but if you plan on camping in any area that has colder climates or temperatures, you'll definitely need RV skirting panels around your rig. What is RV skirting? RV Skirting is a barrier that may be custom to fit your rig by you, a contractor or some RV manufacturers. This barrier improves the exterior aesthetics of your RV as well as channels wind and snow away from blowing under your rig while you're parked in wintry conditions.
Besides improving your RV more cosmetically visually from the exterior, the RV skirting for winter will save you money on heating costs, help to prevent frozen water lines, and give you added storage for items such as lawn furniture or seasonally items you would otherwise try to store for the winter season in your limited storage compartments.
In my opinion, properly RV skirting your rig while camping in cold climates is essential when you are staying in one place for an extended amount of time. Always keep this in mind, as it will keep the cold air from circulating beneath your RV which ultimately will help to keep your rig warmer.
When I first installed RV skirting panels on my rig one winter in northern Michigan, it made an incredible difference in the temperature of the floor in my 5th wheel. Look, I'm a barefoot type of guy when I'm in my own home.
Walking on ice-cold woodwork, ceramic, or linoleum-type floor when it has been chilled for several hours by below zero winds is uncomfortable at best. Installing a good RV skirting is the way to go and now we're going to take a look at the best options when installing that protection to your rig.
Hiring a Contractor to Install RV Skirting Kits
For many RVers, this is a viable solution when installing RV skirting or any other upgrade when it comes to the construction and design of your RV. For example, most full-time RVers have no idea how to install solar panels. But yet, it's something that is essential for them if they plan to travel off-grid. The same can be said for proper insulation and RV skirting of your rig.
If you lack the knowledge to properly install RV skirting on your rig, maybe you should contact a contractor. The location of your RV is especially important when installing the Rv skirting as is the leveling of your rig. Would I recommend hiring a private contractor? Absolutely not.
Personally, I have the knowledge to design my own RV skirting and I don't need the help of private contractors. I would prefer to install these safeguards on my own, but others that lack that knowledge would be better advised to hire a professional for these upgrades.
Searching Your Own RV Manufacturer for RV Skirting
This is a good option for some RV owners, but as a rule, it is not offered by most RV manufacturers. Many fifth wheel manufacturers and camper manufacturers will offer this option when purchasing the rig, however, the design may not fit the lifestyle you have in mind as it will need to be removed and reinstalled each time you move your rig.
The best option to do here is to find a company that specializes in easily installed RV skirting that works well for keeping your RV at one certain location for longer amounts of time. By this, I mean I wouldn't be taking the time to install these types of DIY RV skirting options if I were camping for just one or two nights, but once you have it cut and prepared to hang each time you want to use it, it is certainly worth having it with you if you want to stay longer or seasonally at a campsite.
One company that I found when searching for do-it-yourself RV skirting is made by EZ Snap®. The most commonly sold RV skirting kit from that company is sold to the consumer factory directly for $814 and this comes with 80 feet of fabric and all of the necessary hardware needed to install it on your RV.
While it would require several hours of your time to install, it is easily removed, stowed, and reinstalled in between moves once you have the hardware in place and the fabric cut to fit.
I recommend reviewing this tutorial from EZ Snap RV skirting to see if this option would work for you. I particularly like how this vinyl fabric RV skirting is installed using their specially designed hardware with small adhesive studs that are glued in place with the pre-installed pads of 3M® VHB (very high bond, more effective than velcro and other skirting material). Another one of its vinyl RV skirting pros is that it requires few tools to install and most of them you will already have on hand.
One drawback to the system is that it requires one of those self-adhesive studs to be installed approximately every ten inches along the base of your exterior RV walls so when your RV skirting kit isn't hanging on your rig, these will be quite noticeable.
Another thing to keep in mind is that you MUST be very aware of where any exhaust ports are located and never cover them up with this application. To do so, would put you and your rig at risk of a fire, or worse yet, asphyxiation should your propane stove or furnace have blocked exhaust ports.
Can I Design My Own Custom RV Skirting?
Absolutely! In fact, when I bought my 5th wheel, I designed my own custom skirting for it, and I built a nice porch for it too! I knew I was going to be staying at that campground for three years and since it was located in Northern Michigan, I knew I was going to have to keep the bitter winter winds from flowing beneath it. Just make sure you don't go cheap and use a tarp. That never works out well.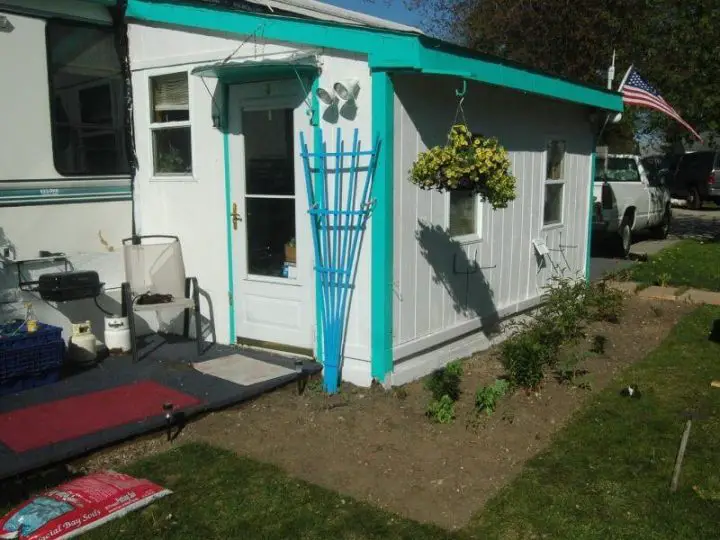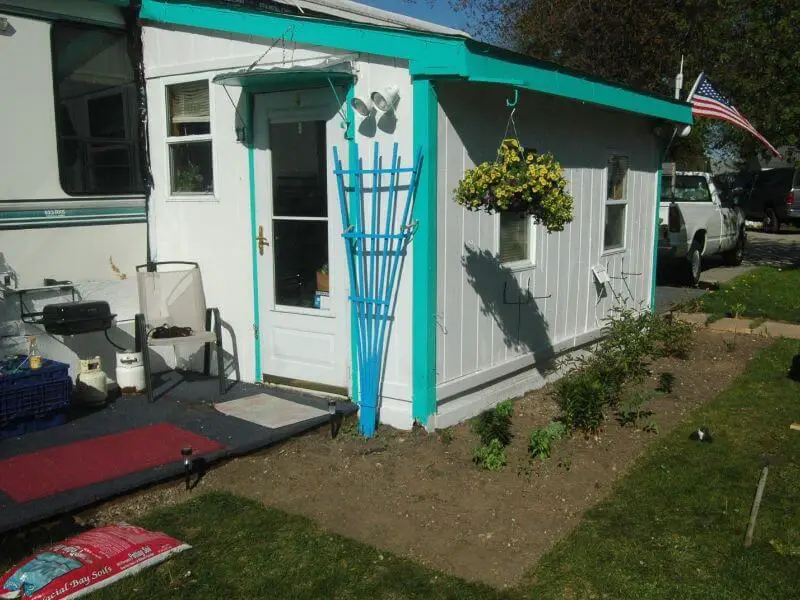 The first thing I did was RV skirt my rig to keep the wind from blowing under it. I did this by building a simple framework of 2" x 2" boards and ½" plywood. I anchored the top of the RV skirting frame to my rig using 3" carriage bolts, and for the bottom of the frame I had to get a little more creative.
My solution was to drill 3/8" pilot holes and using nine-inch barn spikes, I secured them into the ground to keep the RV skirting when the wind was blowing strongly. Once I had the framework securely installed, I sealed it in with the plywood skirting and installed a few access doors where I could get under it if need be and store things like tools, garden supplies, and lawn furniture.
Once I had completed that project, I decided to add an eight by the twelve-foot porch to my rig. I did this because I needed the extra storage for my fishing equipment, a nice place to sit and relax in the summer as well as a small freezer and refrigerator. Additionally, I added a nice little vegetable and flower garden.
This photo was taken in the spring, and by the time summer was in full swing, the garden was flourishing, and that blue trellis was full of snow peas and climbing green beans.
I also installed a nice little patio for sitting outside by recycling old wooden pallets and covering them with indoor/outdoor carpets. The hitch area presented another challenge for me and designing RV skirting for that wouldn't work for that area. My solution to this was to box it in and install a door on it.
While I did have to bend over to get into that area, it was a large enough area for me to build a small workbench in that area where I also had a small stool that I could sit and work at the benchtop. It was a nice little project room to tie fishing flies and, in the winter, I heated with a small propane heater and wired it for lights.
Another thing to keep in mind when camping in colder climates is the amount of propane you will use to heat your rig. To solve this problem, I contacted the local propane company and for a small fee, they rented out two 100-pound tanks when one ran out of propane I simply switched it over to the other tank and then called the propane company to come to switch out my empty tank with a full tank and they would simply bill me for the propane plus the small tank rental fee.
These are things to keep in mind when you're full-time RVing in colder climates. Another thing to consider when you're also in those weather conditions is your water supply and how to keep that system from freezing up. In an upcoming article, I'll be walking you through those steps, so you don't damage that system when cold weather RVing.
Final Thoughts
Preparing to camp in various climates requires preparation and a great deal of thought. For example, RV skirting solutions can be essential even in warmer climates. Snowbirds, or people that leave their RVs in places like Florida or Arizona, then go home to their permanent residences in the summer should definitely consider custom RV skirting their RVs because the sun and heat can take a toll on the tires and other components in your rig.
It also helps to keep out pests and rodents so I would definitely recommend RV skirting solutions if you are a seasonal camper regardless of the RV skirting cost. As with most parts of life, RVing is full of proper maintenance and a lot of problem-solving. Take care my fellow RVers, stay healthy, stay safe and always remember…home is where you make it.