Hey! This site is reader-supported and we earn commissions if you purchase products from retailers after clicking on a link from our site.
As someone that has spent some time driving commercial vehicles for a living, and more specifically semi-trucks and trailers, I naturally prefer using a fifth wheel configuration over a gooseneck hitch when towing my home. Personally, I believe they're safer and that they ride smoother than a gooseneck hitch, but more on that later.
What is a gooseneck hitch?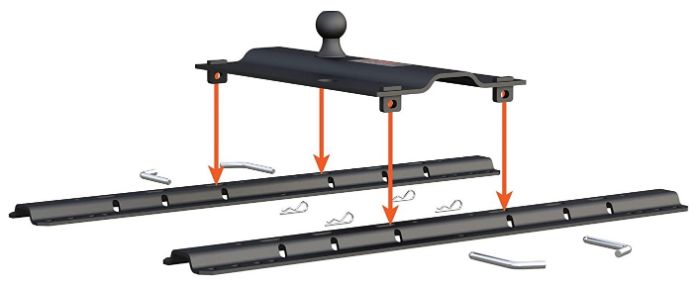 All fifth wheel camper trailers have connector installed under the forward bedroom called a king pin. This pin connects your gooseneck trailer to the hitch. What a gooseneck hitch does is it allows you to connect an adapter to the king pin that then connects into a ball and coupler that is welded to an adjustable plate that rides on two rails that are bolted to the bed of your pickup truck. Their towing capacity is typically rated up to 30,000, but it really depends on the brackets you use or the towing capacity of the truck.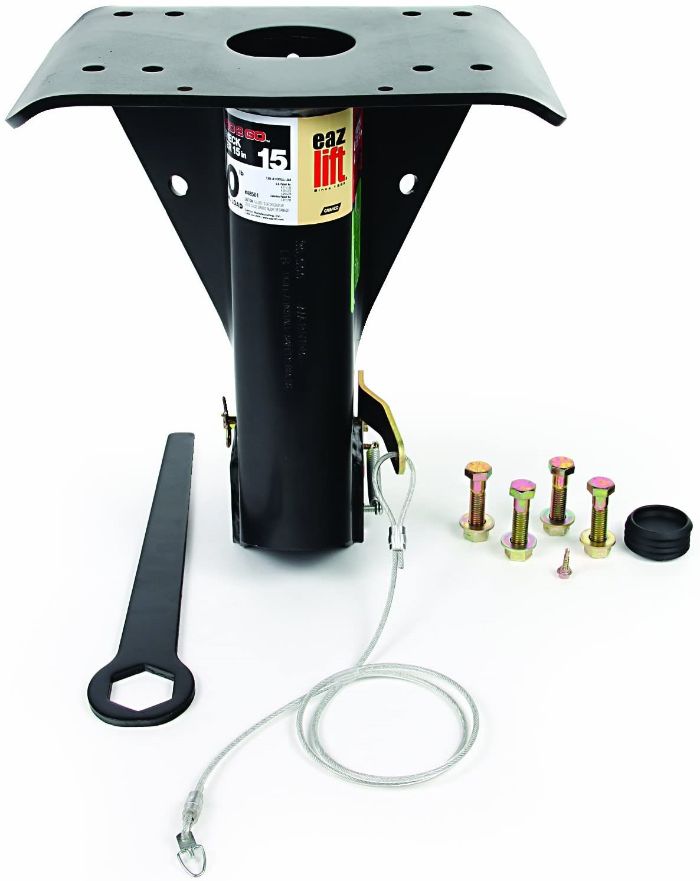 As you can see, this hitch is bolted on to your trailer over the king pin and the lower part of the adapter then locks into a ball hitch located in your pickup truck bed. These adapters come in three sizes with those varying by heaths in 12", 15" and 17".
Sale
CURT 16055 Bent Plate 5th Wheel to Gooseneck...
MAXIMUM FUNCTIONALITY. This unique gooseneck hitch is a 5th wheel to gooseneck adapter. It is...
5TH WHEEL FIT. For versatile application, this gooseneck 5th wheel hitch fits any industry-standard...
DEPENDABLE TOWING. This 5th wheel gooseneck hitch is tested and rated to tow 25,000 lbs. gross...
Last update on 2023-11-05 / Affiliate links / Images from Amazon Product Advertising API
Related: Best gooseneck to fifth wheel adapter
---
What is a fifth wheel hitch?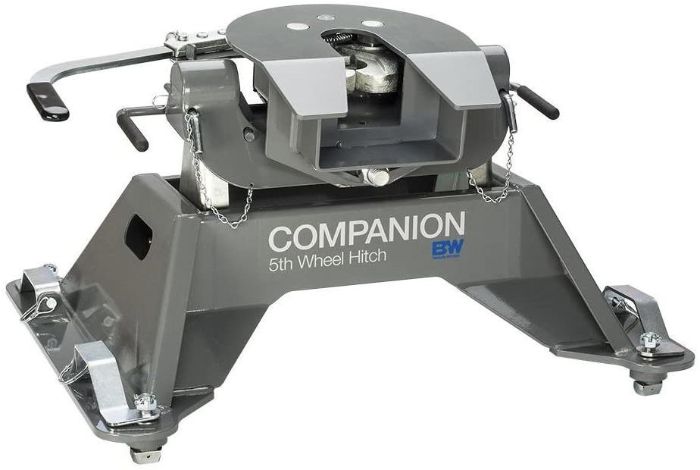 The fifth wheel hitch is bolted directly on to your truck bed and it locks on to the king pin that was installed on your camper by the manufacturer. These are basically a smaller version of what you would find on a commercial semi-truck.
When selecting this type of hitch, I would recommend those manufactured by B & W. These hitches are designed with the model of your tow vehicle in mind, so they manufacture three different models based upon who manufactured your truck. This is done so that the hitch will match a particular bolt and bed pattern determined by the truck manufacturers.
Last update on 2023-11-05 / Affiliate links / Images from Amazon Product Advertising API
One nice feature of this hitch is that it has heavy duty clamps that close tightly on your king pin which results in no lagging between your fifth wheel trailer and truck during starts and stops. Additionally, it is far easier to remove this model from the bed of the truck than many other models made by other manufacturers if you need to haul something with your pickup truck.
What would I recommend when deciding between a gooseneck hitch or fifth wheel hitch?
For those of you that follow my articles here, you know that when I am impressed with a product that I will endorse it and recommend that you consider buying it for your use. Some of you folks may have noticed that at no part of this article where I was explaining what a gooseneck trailer hitch for a fifth wheel is, did I recommend what type of gooseneck you should purchase to tow your fifth wheel. That's because I can't and won't recommend a gooseneck hitch to tow your fifth wheel rig.
Frankly, I think they are dangerous and not as stable as a traditional fifth wheel hitch. Because they are an extension between your king pin and hitch, they are not directly connected. Instead, they have two connecting points instead of one. Essentially, this doubles the failure points between your home and tow vehicle. Also, they add more sway into the trailer as you drive down the road because they pivot more than a traditional fifth wheel hitch does.
Another thing to consider when looking at installing a gooseneck hitch is that many manufacturers will void your warranty on your rig if you choose to haul it that way. Should an accident or equipment failure occur, (even if it's not related to the issue at hand) your warranty means nothing to them because you violated the terms of the warranty by installing a gooseneck hitch. Also, this can cause issues with your insurance carrier, so I highly recommend going with the fifth wheel and pin method that I use.
Final thoughts
Look folks, keeping your home locked into your tow vehicle while traveling between campsites is what it's all about. Would I feel 100% doing that with a gooseneck hitch? Absolutely not and neither should you. As always, my friends, thanks for following along and I look forward to seeing you out on road someday.