Hey! This site is reader-supported and we earn commissions if you purchase products from retailers after clicking on a link from our site.
Nothing lasts forever, and that's true of even your lovely camper. Of course, we all dream of trading out motorhomes and campers for a new one, but sometimes that's not in the cards. Trading it in seldom nets you as much cash as selling it outright. But let's be honest–there are some RVs that no dealer wants to touch and that you just can't seem to get rid of.
But fear not. If you've got a junk camper sitting in your yard, there are still some ways to turn it into cash. At the very least, scrapping a camper can be painless if you're willing to pay a few bucks. Here's a look at how to get rid of an old RV or motorhome and some of your options if a traditional sale is out of the question.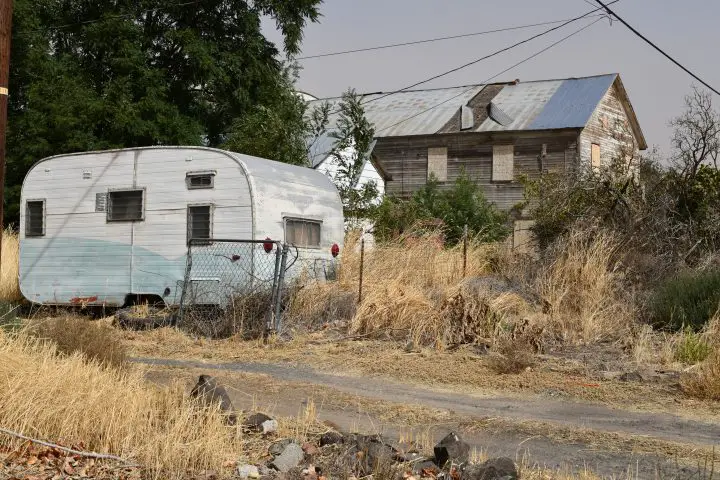 7 Ways – How to Get Rid of an Old Camper Trailer
The process of getting rid of a scrap RV looks different for everyone. But as you research your options, think of this old saying.
How does this apply to how to get rid of an old camper trailer, motorhomes, or parts? Some vintage travel trailers and motorhomes are highly sought-after items. There are renovators and DIY refurbishers all over, looking to get their hands on (possibly) just the camper you've got in your junk pile. So don't give up on selling it just yet–you might just need to know where to look.
Not everyone is that lucky or has enough time to find the right buyers. So here are seven ideas on how to get rid of an old motorhome or RV.
Sell it for cash
Give it away
Upcycle it
Donate it to a charity
Pay to have it picked up
Sell it for scrap
Scrap it yourself
Sell Your Camper Online
The first option is to sell your RV for money. This is easiest if it's worth something! Do you know the true value of your RV? Research as much as possible online since appropriately priced items–regardless of their condition–will often sell.
Many websites will allow you to create free classified listings. While Craigslist is still the best-known, Facebook Marketplace is a popular alternative. Besides the fact that nearly everyone is already using their platform, the benefit of Facebook is that they do some great social media marketing towards folks who have viewed your ad.
Another great benefit of Facebook is connecting with folks who might be enthusiastic buyers. For example, does your brand of camper have an RV owners group? Are there any online RV communities or forums dedicated specifically to the make of your old camper? Look it up and see if there are folks actively searching for the exact camper you have. They might be willing to drive a long way to pick it up if it's what they've been looking for.
And, of course, enthusiastic buyers will pay top dollar. Take a gander around the Facebook Marketplace or eBay listings and see if anything similar is listed. You might be surprised at the prices, especially if you have a diamond in the rough like one of the older fiberglass travel trailers.
Don't discount this tactic just because you think scrapping a trailer is your only option. There are tons of folks out there looking for a cheap trailer they can do a restoration on. It's a great way to get into the lifestyle while reducing the overall RV living cost.
Restored vintage RVs, trailers, and motorhomes are expensive, and many folks have the time to do the restoration but not the money to buy a finished project. Lots of folks just love a good DIY challenge. With the popularity of van life and conversion builds, campers-to-be are picking up all sorts of vehicles and fixing them up with amazing results.
Even if you aren't able to sell an old vintage RV, the RV community is worth connecting with. Other RV owners are a wealth of information and may be able to connect you with salvage yards or vintage trailer fans.
Give It Away Online
The key to selling online is to be realistic about your asking price. If you're already thinking about scrapping a camper, chances are it doesn't show well. And aesthetics aside, if you can't drive it home, you definitely aren't going to get top dollar for it.
It is often easier to get rid of something by selling it for a low price. But if someone is going to have to invest money in hauling it off your property, you might have to give it away for free. Free stuff listings are hit or miss–sometimes it works well, and other times no one wants it. But, in the end, this is still a great option to try. It doesn't cost anything, and maybe–just maybe!–someone who wants it will come and take it off your hands.
Upcycle It!
If you're handy or have some DIY skills, consider an "upcycling" project. Upcycling is when you take something old and ready for scrap but instead make it into something even better than new. So while it might be an option to undertake a restoration on your own, maybe you don't want a vintage RV–be it beautiful or scrap. Here are a few ideas of ways you might upcycle old camper trailers or old RVs…
Make it into an office/work-from-home space
Make it an RV rental on Airbnb or a personal in-laws cottage – perfect for tiny house fans!
Make it a man-cave
Make it a food truck or mobile art studio
Make it into a bunkhouse for your kids
Donate It!
If you don't want to keep it and can't sell it, try donating it. If you find a not-for-profit that will take it off your hands, chances are you can deduct it from your taxes!
Pay to Have It Taken Away
If that doesn't work out, it's time to get serious. This option and those below are for a junk camper no one wants. You've discovered it has no value in itself, and no buyers will come to get it, so it's time to start scrapping a trailer.
The first step is to research the option of paying someone to take it off your property. Because this involves coming and getting it and taking it away, you will be paying for the privilege. This is for campers that you need to get off your property ASAP and with as little trouble as possible.
Some companies advertise that they will pick up any camper in any condition. Do a quick web search for "professional RV removal service" and see if any of them serve your area. This option can work with a camper in any condition.
Sell It as a Scrap Camper
Alternatively, you could call local scrap dealers and see if anyone will take it. If you're able to drive it to the salvage yard, you might be able to get rid of it for free that way. Some scrappers may come to get it from you.
Where can I scrap a pop-up camper or a motorhome? Generally, most junkyards and salvagers will take any size of RV. But some are specialized RV salvage yards, and that might be more beneficial to all involved.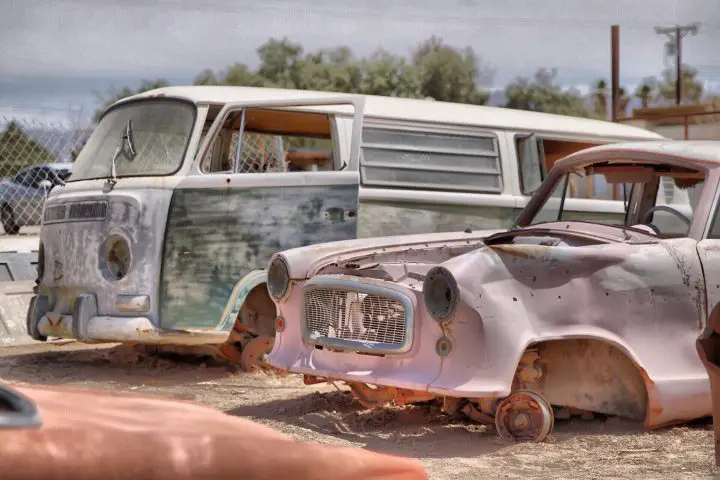 Salvage and Scrap It Yourself
Your final option is to do the dirty work yourself and tear it down. The goal, of course, is to separate the bits that are worth money from those that are not. Start by taking all the appliances, equipment, and fixtures out and listing them for sale on sites like eBay or Facebook.
Dismantle the camper piece by piece, deciding what you can salvage and what is trash. Steel and aluminum can be cut down, loaded on a trailer, and hauled to a scrap metal dealer. They'll pay based on the weights of particular metals.
This method is a lot of work but doesn't require much skill beyond a few power tools. You'll likely want to rent a commercial dumpster for the wood, insulation, and other trash involved. Cut the pieces down so they fit. Then have the trash collector haul it off when you're done. Your local dump might take the bits and pieces, as well.
Here's a video that shows what the process looks like with a big fifth-wheel trailer, from parting it out and tearing it down:
Junk Camper Got You Down?
Before scrapping a trailer, do some research on creative ways how to get rid of an old RV. You might be surprised what creative and resourceful people come up with. Likewise, you might be surprised that your "scrap RV" is a diamond in the rough, just waiting to be found by the right person.
FAQs (Frequently Asked Questions)
How do I get rid of an RV?
Before looking into how to get rid of an old camper trailer or a junk camper, always exhaust your alternatives. The best solution is always to find someone who wants it. RVs are extremely popular right now, and there are tons of DIYers out there looking for renovation projects. Even if you think you've got a scrap RV, try listing it on Facebook Marketplace and Craigslist to see if anyone is interested in buying it. You could also try donating it to a not-for-profit or calling local scrap companies to see if they'd pick it up. If all else fails, you may wind up scrapping a trailer or paying a company to remove it from your property.
What can I do with an old pop-up camper?
Pop-up campers show their age quicker than others due to the canvas tent sides. If these sides need to be replaced, you can often order replacements or have a local canvas shop create them from the originals. If you don't want to restore the pop-up, you might want to look into selling it. If that doesn't work out, consider giving it away or donating it. The best solution is to get it into the hands of someone who wants it and wants to restore it. If you can't find anyone, you'll have to look into harsher methods of how to get rid of an old RV, like scrapping a trailer for parts and metal.
How do you clean an old trailer?
Trailers that have sat outside for years or decades may need more than a simple clean–they may need a full restoration. First, inspect the trailer carefully, especially the axle and frame. If there is serious rust damage and structural issues, you might want to look into scrapping a camper rather than cleaning it. If the camper checks out structurally, undergoing a restoration might still be a bigger job than you want to partake in. Water leaks often mean you'll be replacing cabinets, walls, and under flooring due to mold, mildew, and rot. If the trailer isn't that bad, cleaning it shouldn't be a big deal. Steam clean all upholstery, and use degreasers and regular RV soap to wash the exterior. It may take a while and a few coats of paint, but most RVs can be cleaned up to look pretty good!